Spaghetti Squash Street Tacos
These bring tacos to a whole other level…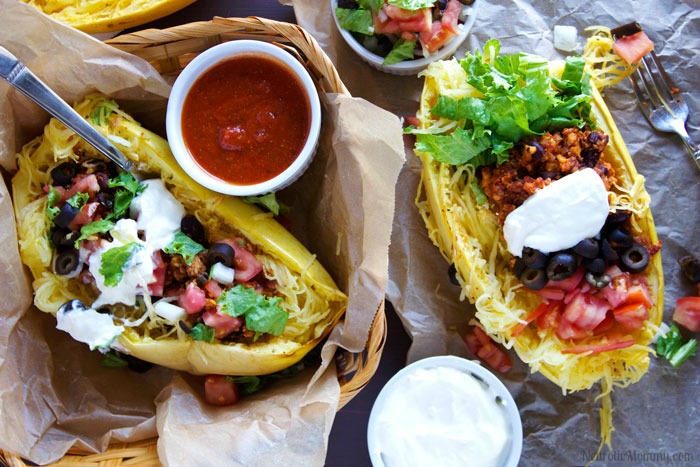 Spaghetti Squash Street Tacos are what's going down today. If I had a food truck I would be parked on that corner of happy and healthy selling these babies (thanks John Corbett because I can never get that hook out of my head).
Tacos happen in my home at least once a week. We have Taco Tuesday, Taco Thursday, Taco any day. So when we do it we go big. And by big I mean spaghetti squash big.
I know you must be thinking "Hey Jenn aren't you a vegga-ma-vegan, plant based or something?" Why yes, yes I am so the big surprise is the meat sub for my tacos goes to…drum roll please…Tempeh! (Hooray and the crowd goes wild)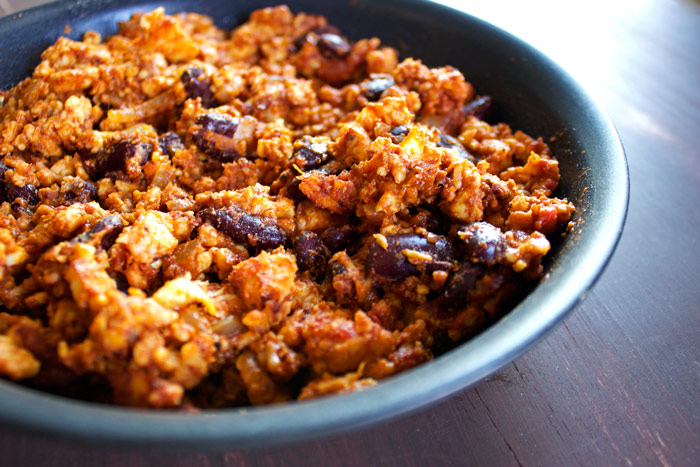 Tempeh is by far my favorite in this dish because it really looks and has almost the same texture as beef. But better, in every sense.
Tempeh is so so so easy to cook. Like seriously, you don't have to be a pro in the kitchen. It's fermented so you can actually eat it straight out of the package. We all know fermented foods are an amazing probiotic right and totes good for healthy gut flora? Ok well if ya don't know now ya know (throwin' some Biggie on ya)
All you have to do is remove the package and cut it into small cubes. Once it starts to get warm in the fry pan I like to take my spatula and start breaking it up. Thats when I add my sauce and seasonings (will be in recipe below). It breaks up just like beef. This will have any suspect meat eater wanting more, believe me. My hubs use to be one of them.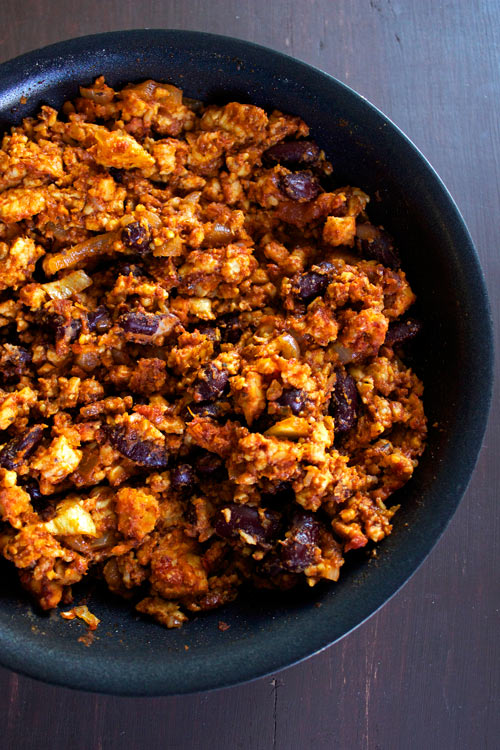 The best part is it doesn't take long at all to do this. You can make it ahead of time or while the spaghetti squash is in the oven and set it aside.
Now let's look at this beautiful squash.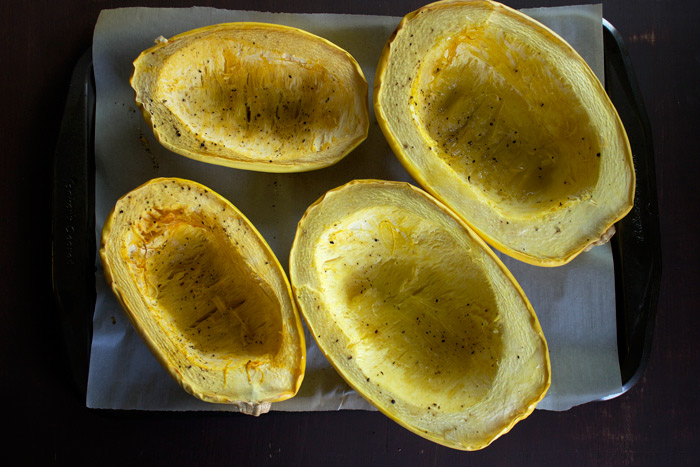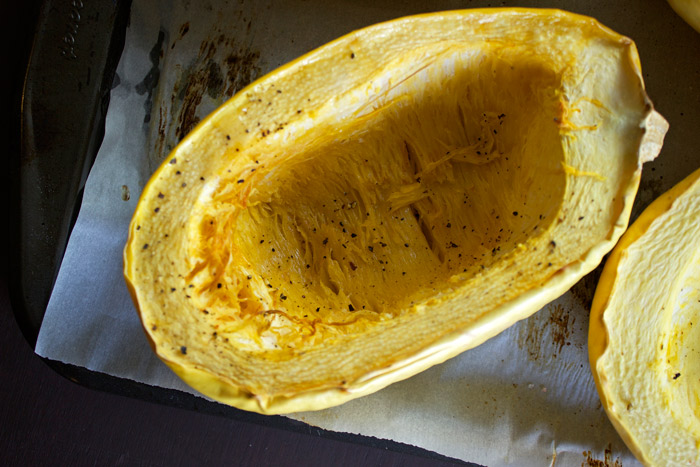 I'm going to hit you up now with some nutritional info on spaghetti squash. It's a great great source of potassium, high in vitamins A, C and B. Contains Omega 3 fatty acids and Omega 6 fatty acids. While omega 3's are amaze for inflammation issues and keeps the heart healthy Omega 6's are essential for proper brain function. Because of all the goodness this winter veggie has going on it can prevent cell damage and is wonderful for blood circulation. I can go on and on here with all that's right with this veggie but I think you get my point. If my point went over your head it's to eat more spaghetti squash!
Bonus! Spaghetti Squash is ideal for people who are trying to shed some pounds and stay away from those bad carbs. Clearly this resembles spaghetti so it's a great substitute for pasta dishes. Not only will you be fueling up on essential vitamins and minerals you will also be loosening up those jeans!
Aren't they beauties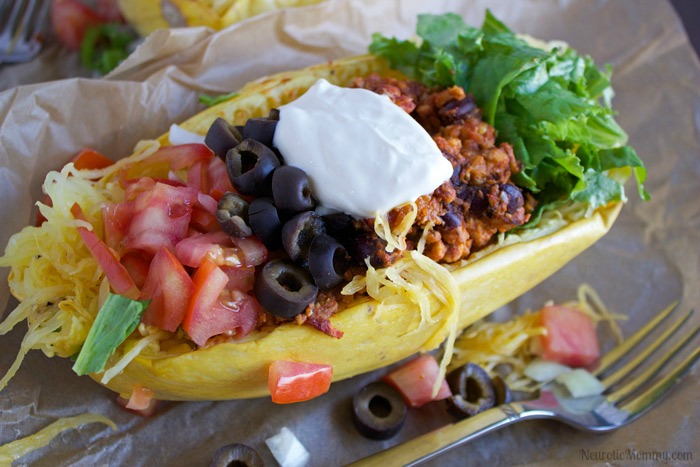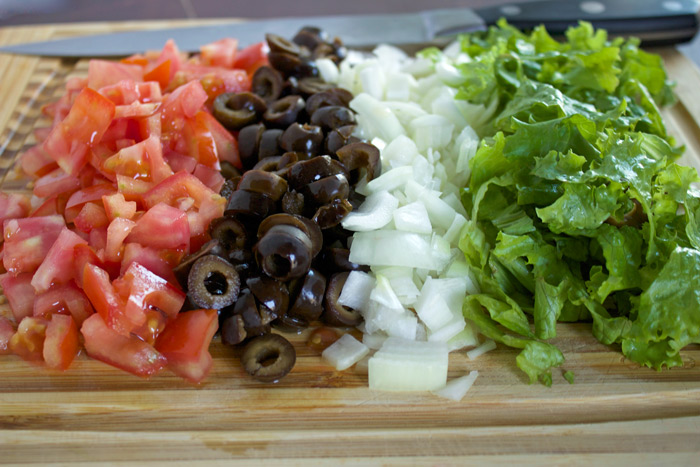 You will feel slightly guilty for eating this but then it will hit you that it was just all veggies. Literally. Your insides are going to be doing a little dance and making a little love tonight. Ahhh it's alright you can thank me later.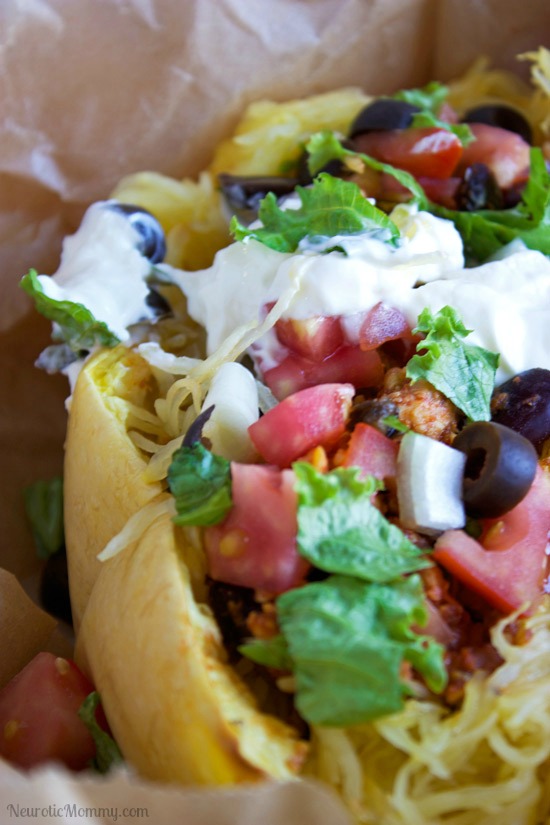 I used a vegan sour cream to top this off. It just goes so well with the dish but that is completely optional (and the only not so healthy thing in this meal but it's just one little dollop).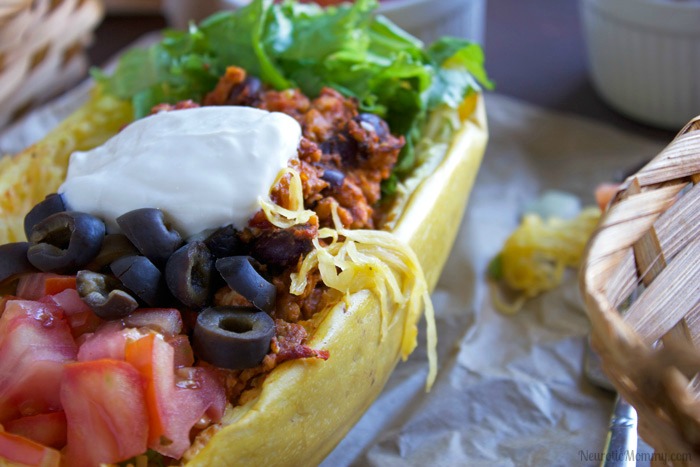 I called them street tacos because actual street tacos are quite different from traditional tacos. They tend to be much smaller in size, in a flour tortilla and more open faced but with loads of flavor and deliciousness. Although these are pretty giant in size they are not traditional. I took the traditional version and put a healthy spin on it. So many people get bored with healthy eating and I've come to the conclusion it's because they don't know what else is out there (and also because they probably haven't met me yet) Enter Big Cheesy Smile here.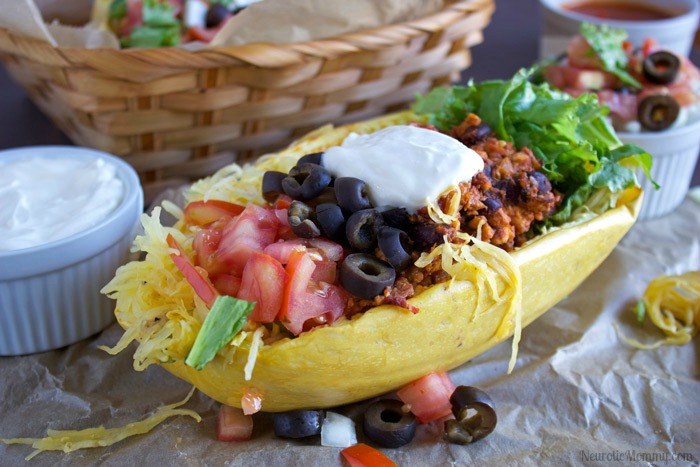 These homemade street tacos are easy to whip up right in the comfort of your own kitchen. Finish them off with all of your favorite healthy toppings and extra sauce to spice it up.
Spaghetti Squash Street Tacos
Author:
Prep time:
Cook time:
Total time:
Serves: 4
These homemade street tacos are easy to whip up right in the comfort of your own kitchen. Finish them off with all of your favorite healthy toppings and extra sauce to spice it up.
Ingredients
2 spaghetti squash, cut lengthwise and seeded
2 tbsp extra virgin olive oil, divided
pinch of salt and pepper for each half before baking
8oz package of organic 3 grain tempeh
1 tbsp extra virgin olive oil
1/2 c tomato sauce
1/2 of a 1.25oz bag of taco seasoning
1/2 yellow onion, diced
1/2 c red kidney or black beans
1 1/2 tsp onion powder
1 1/2 tsp garlic powder
salt/pepper to taste
[b]Toppings[/b]
green leaf lettuce, chopped
black olives, halved
1 tomato, diced
1/2 yellow onion, diced
vegan sour cream (optional)
hot sauce (optional)
Instructions
Preheat oven to 350F and line baking sheet with parchment paper.
Cut squash lengthwise, remove the seeds and poke some holes in the rind on all 4 halves.
Drizzle half a tablespoon of EVOO into each half and season with salt and pepper.
Bake for 45 minutes.
While that's baking prepare the tempeh. Remove from package and cut into small cubes.
In a medium fry pan or skillet add 1 tablespoon of extra vrigin olive oil.
Put cubed tempeh into pan coat well with oil.
Once the tempeh starts to warm up it will be easier to break up to a more "meat like" consistency.
Use your spatula to break up the pieces.
Add in sauce, beans, onions, garlic and onion powder, taco seasoning, salt and pepper. Mix well.
This should take you no longer than 10 minutes. Set aside once finished or if squash is done assemble accordingly.
Prepare toppings by cutting the tomato, onion, lettuce and olives into smaller pieces. Set them in bowls for easy access to assemble.
Once squash is done remove from oven and let stand for 5 minutes. They will be too hot to touch.
Once cool enough to touch take a fork and shred the inside of each halve. This will form the "spaghetti".
To assemble place tempeh filling first followed by desired toppings.
Add hot sauce for a little extra kick! Enjoy!