Pumpkin Pull Apart Bread
jump to recipe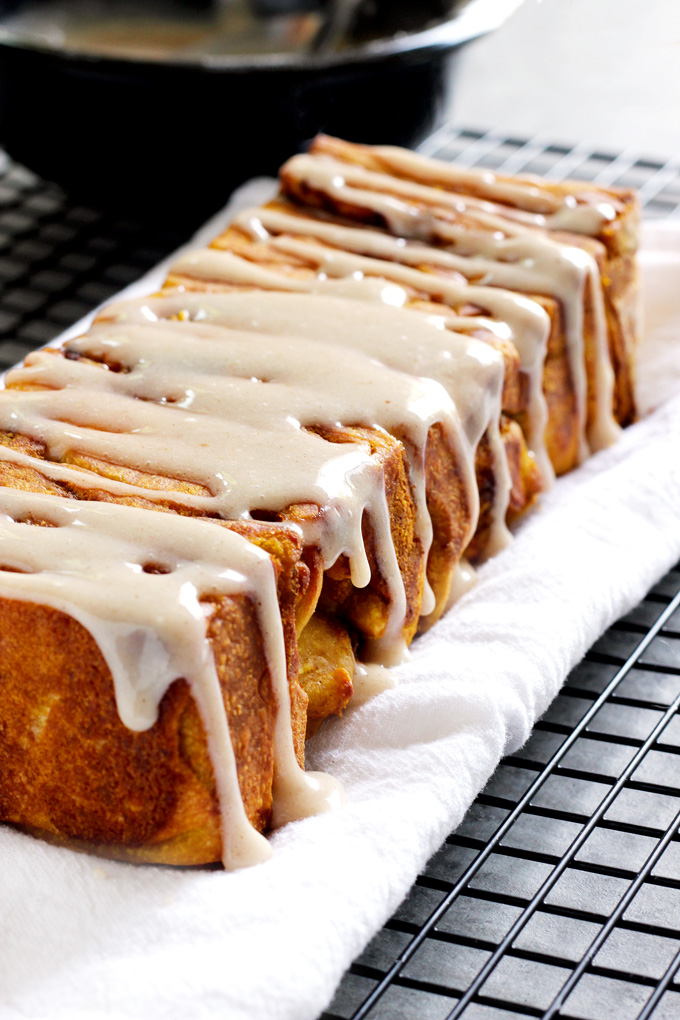 Can you even deal with the fact that it's fall. Like seriously, it's fall people! I do love this time of year though, minus the fact school's back. But anyway… Pumpkin Pull Apart Bread anyone???
Pumpkin is in full swing this time of year. I went into Trader Joe's the other day and they had pumpkin everything, I'm not even kidding. From cereals to muffins, to cookies, coffee, ice cream, and anything else you can think of, they had it. They even had a pumpkin cookie crunch spread. I was like whoa. (Step away from the spread Jenn) I honestly didn't know how to contain myself.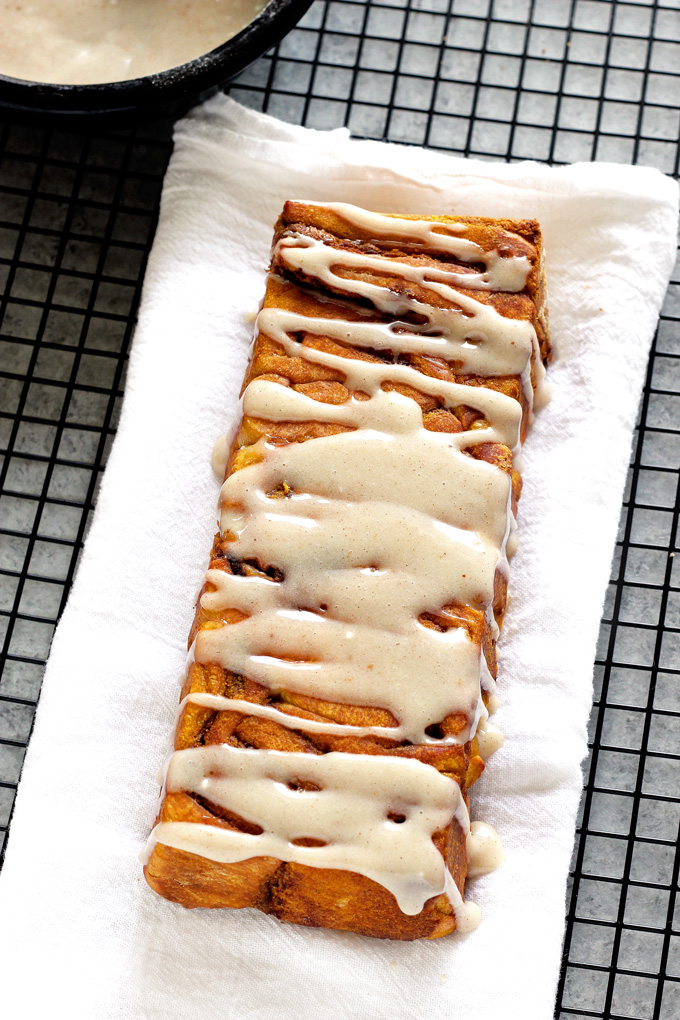 Luckily I walked away with just a few things pumpkin and didn't go too overboard. Or so I thought. When I got home lets just say it looked like a mini pumpkin packed Trader Joe's…Whoopsi. 🙃 How could I not though!
I thought this recipe would be perfect to kick us off  as it's easy, vegan, on the healthier side, with tons of options to suit anyones personal needs. And it's utterly, mouthwatering, delicious.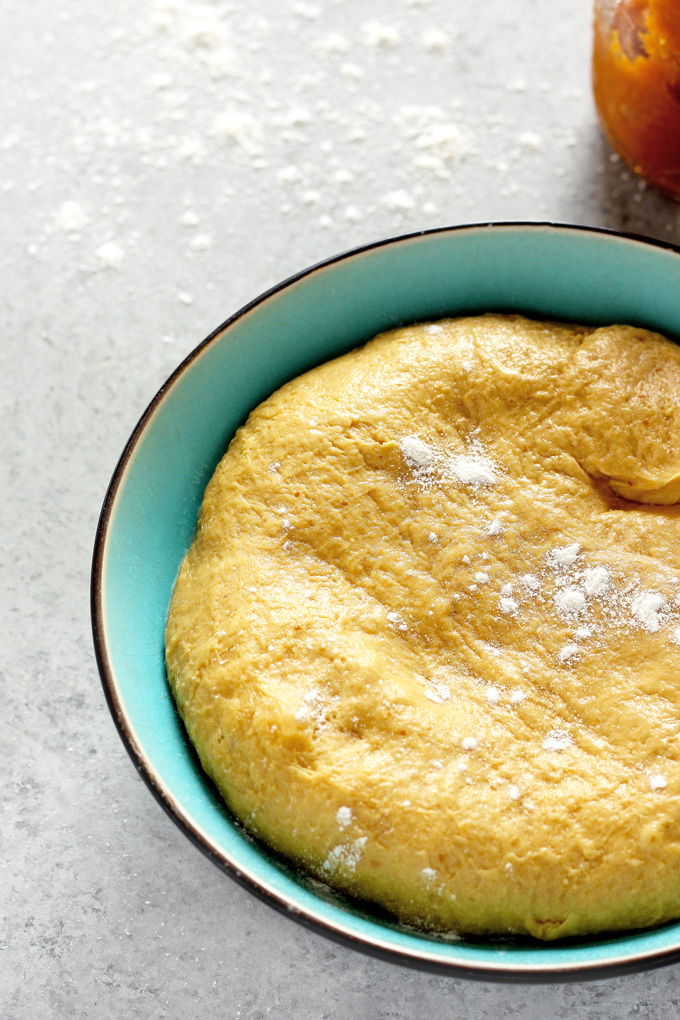 Pumpkin dough overload! 😍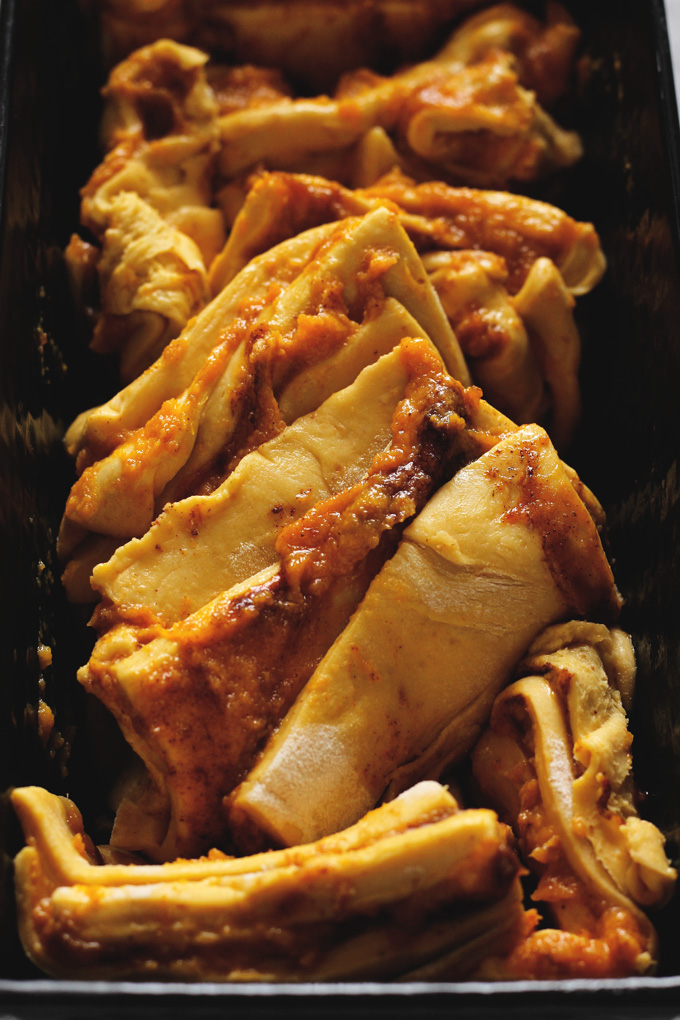 The dough and filling for this are super easy to throw together. For the dough you'll need almond milk, active dry yeast, ap flour, pumpkin puree, melted vegan butter, coconut sugar, one flax egg, and a pinch of salt.
For the filling you'll need pumpkin puree, coconut sugar, melted vegan butter, and cinnamon. Easy peasy.
The thing about the dough that's great is you can make it two nights before hand if you want and keep it in the fridge until you're ready to use it. Or you can make it and use it that same day. With this dough if you're going to use it right away, you'll need to cover it with a towel and let it rise in a warm place for 45-60 minutes. By that time it will have doubled in size, as any dough in this nature usually does.
The filling is added to the bread in two parts, first the pumpkin puree mixed with the melted butter, you spread that out on the rolled out dough, then you sprinkle on the coconut sugar and cinnamon to your liking. This filling can be used on anything too, like pancakes, french toast, or even regular toast. If you love pumpkin as much as I do. 😉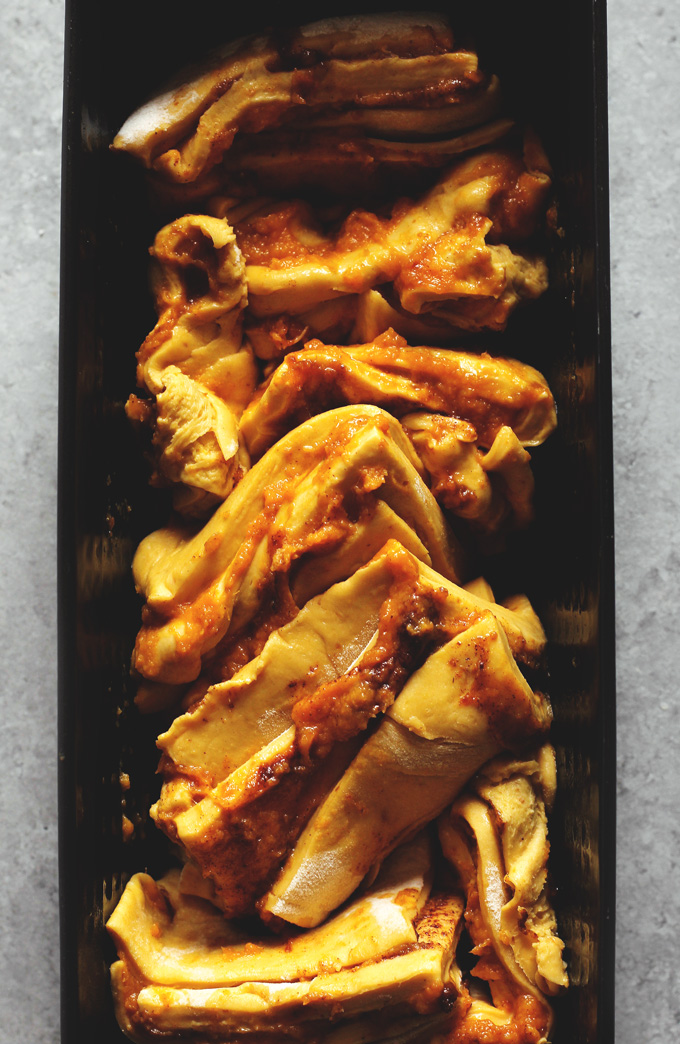 Before & After…Yum!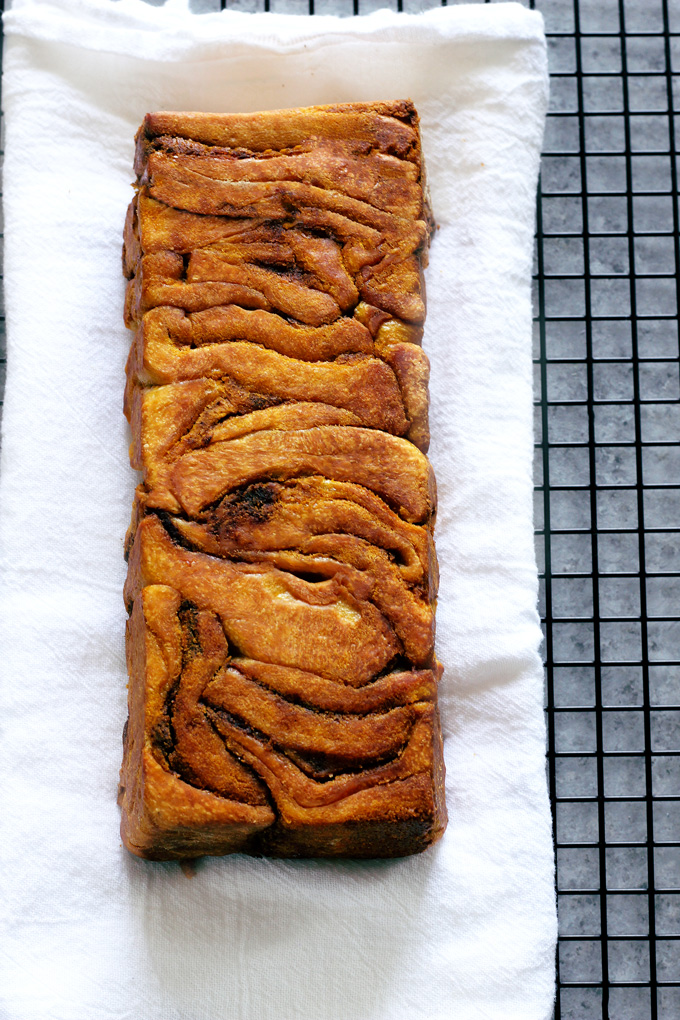 When the bread is finished baking, let it cool in the pan for 10 minutes. I flipped mine upside down and really liked the way it looked so left it just like that (as seen in the photo above). I iced it with a sweet creamy pumpkin spice icing. However you can use a coconut yogurt and sprinkle pumpkin spice on top to keep the sugar content low. I find using coconut yogurt (unsweetened) is a  alternative and one that I actually use a lot in replacing frostings or icings. But sometimes I splurge and need that icing! As do we all. Get a load of that perfect drizzle!👇🏻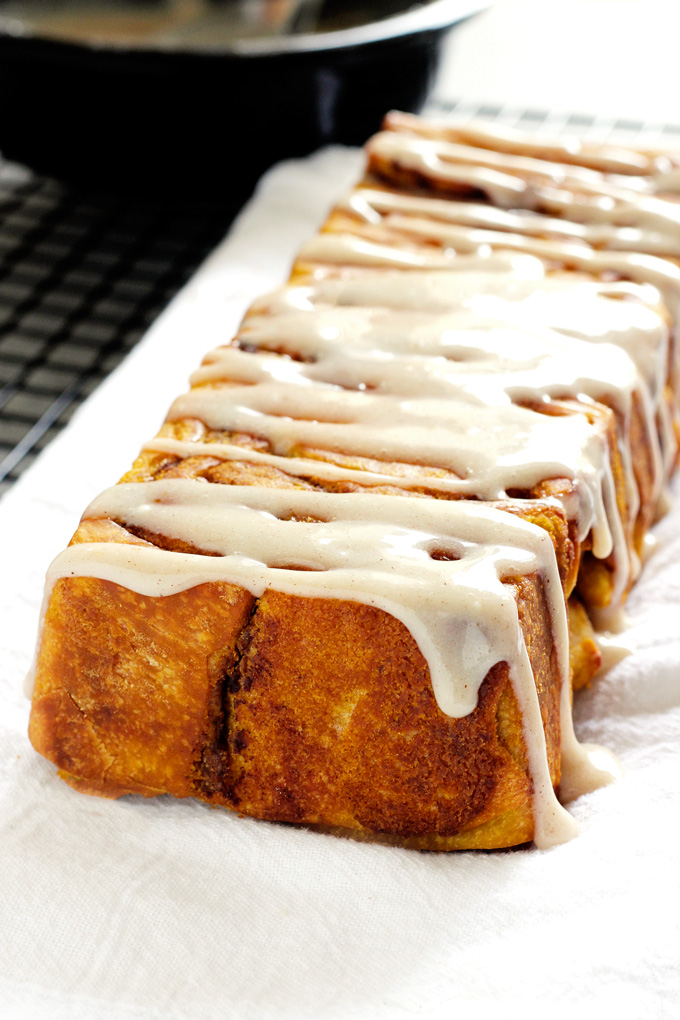 This Pumpkin Pull Apart Bread is perfect for the weekend, to bring to a party, or any time anywhere you want. It's an easy, uncomplicated recipe that's not overly sweet with the perfect amount of the fall warmth we all crave. All you have to do is pull it apart. And the best part is that kids love this!  Substitutions will be in the notes below.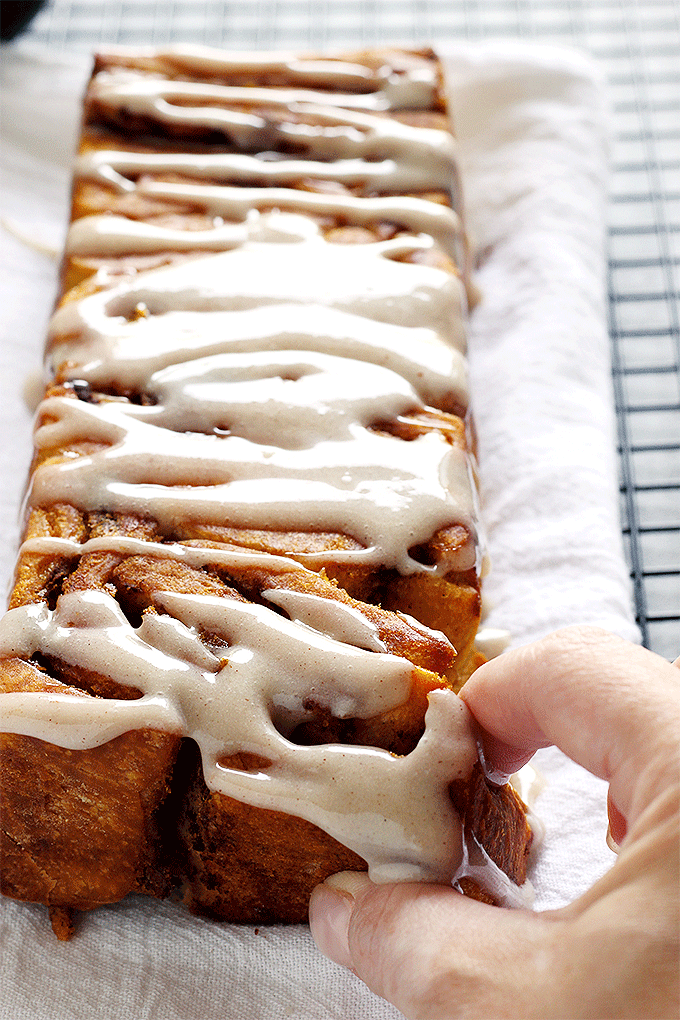 Recipe adapted from Better Homes and Gardens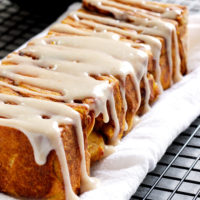 Pumpkin Pull Apart Bread
The perfect comforting snack to kick off the fall season. Drizzled with pumpkin spice icing is a must!
Ingredients:
The Dough
3/4 cup almond milk
1 pkg. active dry yeast
1/2 cup pumpkin puree
3 tbsp melted vegan butter
2 tbsp coconut sugar
1 flax egg
1 tsp salt
3 cups all purpose flour
Pumpkin Filling
1/2 cup pumpkin puree
3 tbsp melted vegan butter
1/2 cup coconut sugar (give or take)
2 tbsp cinnamon (give or take)
Pumpkin Spice Icing
2 ounces vegan cream cheese
1/2 cup organic powdered sugar
1 tsp vanilla extract
1 tbsp pumpkin spice
3 tbsp almond milk (or more if needed)
Directions:
The Dough
In a small saucepan heat almond milk until warm. Transfer warm milk and yeast to a large bowl. Stir to dissolve yeast. Let stand until foamy, about 5-10 minutes.
Beat in 1/2 cup pumpkin puree, melted butter, coconut sugar, flax egg, and 1 1/2 cups of flour until combined. Beat in the remaining flour, scraping down the sides when needed. Beat 3 minutes on medium.
The dough will not be smooth. Shape into a ball and place into an oiled bowl. I used coconut oil spray in my bowl.
Cover, set in a warm place, and let it rise for 45-60 minutes. It will double in size. Alternatively you can cover it and place it in the fridge for up to two days.
Pumpkin Spice Icing
In a bowl beat together all ingredients until smooth. Add in enough milk to make the glaze a nice drizzly consistency.
Assemble
Preheat oven to 350F. Lightly grease a standard loaf pan. Turn dough out on lightly floured surface and roll into a 20x12 inch rectangle.
For the pumpkin filling, stir the 1/2 cup pumpkin puree and melted butter together. Evenly distribute it over the rolled out dough.
Sprinkle coconut sugar and cinnamon over the pumpkin puree as desired or you can use my measurements.
Cut dough rectangle crosswise into five 12x4 inch strips. Stack strips, then cut six 4x2 inch pieces, leaving stacks intact.
Loosely stagger pieces into loaf pan with the cut sides up. Option: you can leave it out another 30 minutes before putting it in the oven. The dough will rise more.
Bake for 35-40 minutes or until golden brown. You can cover the top with aluminum foil for the last 10 minutes so the tops doesn't burn.
Remove from oven and let cool in pan 10 minutes.
Remove loaf from pan to serving plate and drizzle with pumpkin spice icing. Serves 12. Pull apart and Enjoy!
You can use a gluten-free all purpose flour for this recipe.
Any nut milk will work.
Instead of icing you can use an unsweetened, dairy free yogurt to drizzle on top and sprinkle with pumpkin pie spice.
Oven times vary so keep an eye on it from the 35 minute mark.