Creamy Butternut Squash Rice Noodles
It's creamy, it's delicious, it's good for you…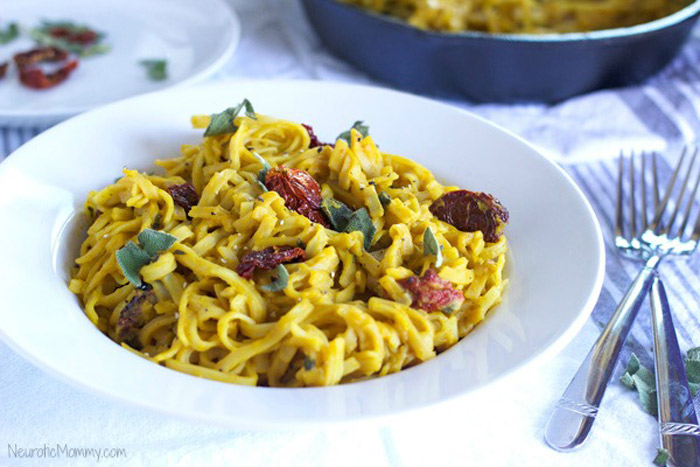 Creamy Butternut Squash Rice Noodles with Sage and Sun-dried Tomatoes is such a healthier option compared to a heavy vodka sauce. I know we all like to indulge from time to time but meals like that can pack the pounds on right to the hips. To say the least.
Instead of using regular pasta I went with a Pad Thai style noodle made of brown rice. Yes I know you can say it…Genius. The original recipe called for a whole grain linguine but I couldn't find an organic whole grain linguine and I didn't want spaghetti. The woes.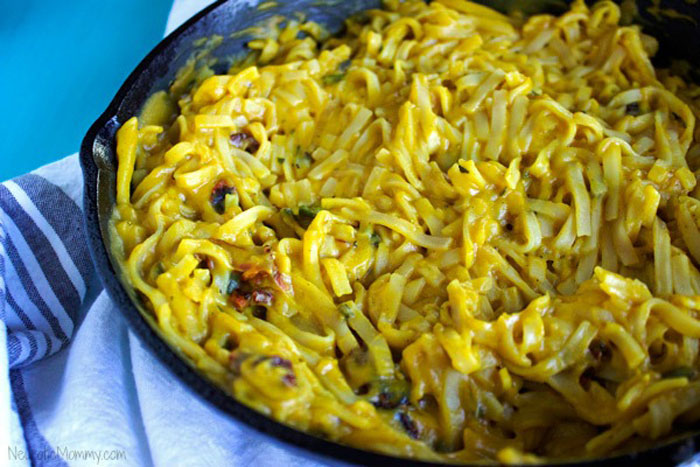 Usually when I make butternut squash I just cut it open, seed it then bake it. But for this I peeled it and chopped it into small cubes. Next time however I am just going to buy it already chopped because it was a pain in the bootay to peel. I'm sure it will save a lot of time to just buy it already chopped up. If you don't mind the labor, by all means do it yourself. But if you're like me and don't want to spend 20 minutes just on peeling a squash then go with the easier choice. I broke a sweat peeling this thing!
This was the first time I used butternut squash to make a "sauce". I absolutely love love love this with sun-dried tomatoes. After the peeling and chopping part the rest was super easy. The rice noodles took me literally 4 minutes to make. No joke.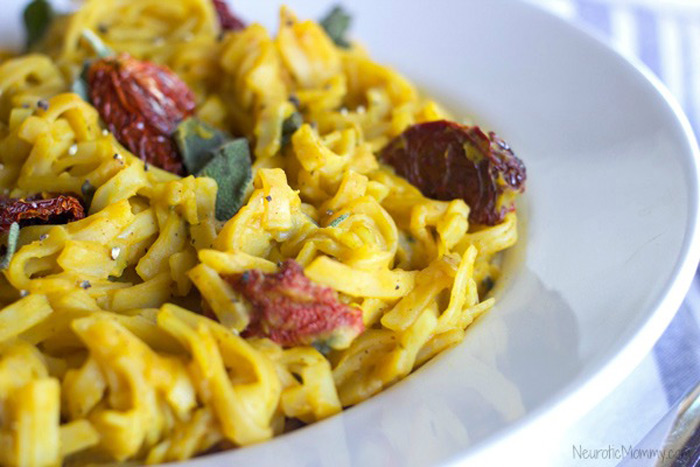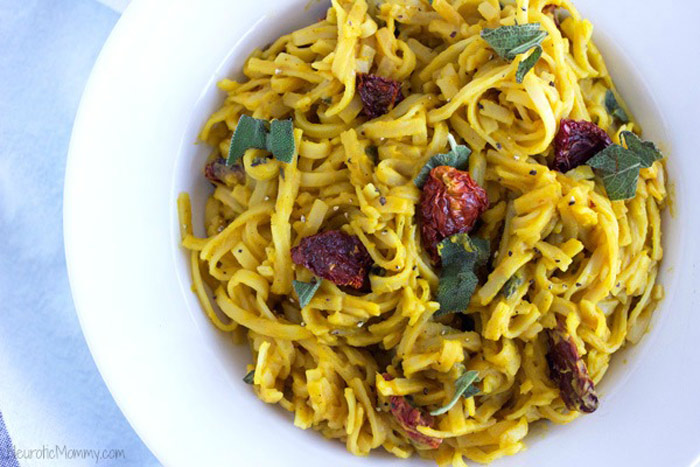 Ok so we all know that eating more fruits and veggies has been rumored to help lower the risk of a lot of things right? Like obesity, high blood pressure, diabetes, heart disease and even cancer. When you make meals like this, you're literally nourishing your insides and giving your body the nutrients it needs and knows what to do with as opposed to eating a candy bar and drinking a soda. When you eat highly processed foods your body has to work overtime to break that down (if it even can) and it uses up precious energy. The older we get the harder it is for our bodies to break down those foreign objects (like gmos's) so we have to take care of ourselves in the now. For instance when I ate this for dinner my body was all like "That's what's up Jenn" and I was like doing a hair flip.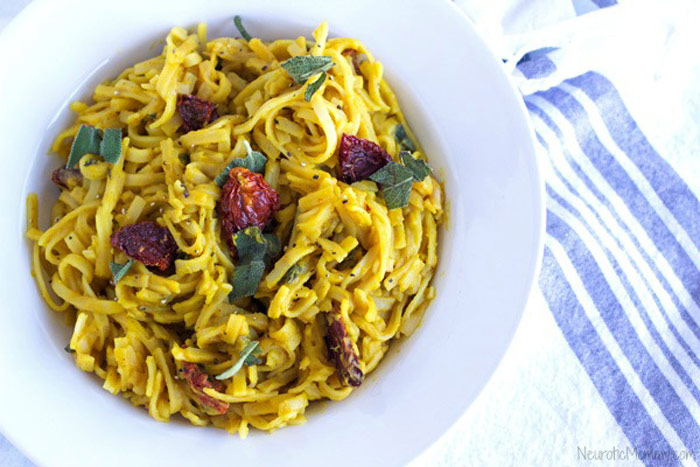 Oh I almost forgot…I have a surprise for you guys on Wednesday!!! I'll give you a hint, it has something to do with fruits and veggies. Yeap, that's all you're getting from me. Guess you're just going to have to wait till Wednesday. Whoop Whoop.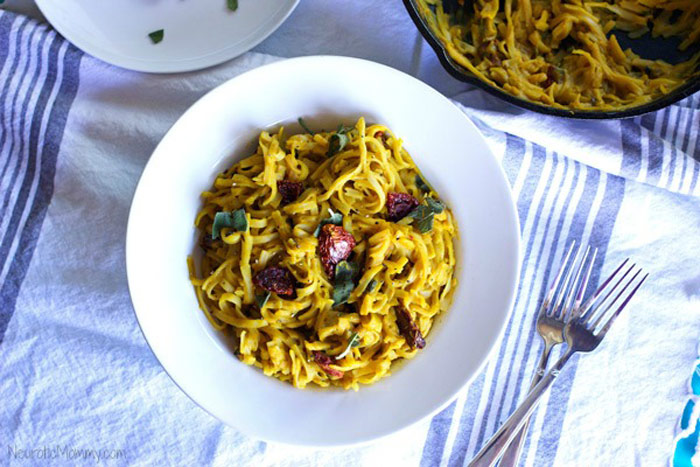 This Butternut Squash Cream sauce gives this dish it's big flavor! Completely healthy and loaded with nutrients. Enjoy dinner tonight!
Recipe adapted from CookieandKate: Creamy Butternut Squash Linguine with Fried Sage
Creamy Butternut Squash Rice Noodles
Recipe Type: Dinner
Author:
Prep time:
Cook time:
Total time:
Serves: 4
Brown rice noodles marinated in a creamy butternut squash sauce!
Ingredients
1 butternut squash, peeled, seeded and chopped into cubes (3 cups)
2 tbsp extra virgin olive oil
1 tbsp fresh sage, chopped
1 yellow onion, diced
3 garlic cloves, sliced
1 tsp all spice seasoning
salt/pepper to taste
1 tsp turmeric
2 cups low sodium vegetable broth
12oz Pad Thai style brown rice noodles or pasta of choice
1/2 cup sun dried tomatoes
Instructions
In a large skillet place chopped onion, squash, garlic and oil. Cook on medium heat until onions are translucent 10 minutes. Season with all spice seasoning, salt and pepper.
Add in 2 cups of low sodium vegetable broth, bring to a boil then lower down to a simmer. Cook until squash is soft about 15 minutes.
Prepare rice noodles according to package instructions. Mine took 4 minutes to cook. I drained and rinsed them under cold water. From personal experience any rice or quinoa noodles should always be hit with cold water other wise they can get mushy.
Once rice noodles are done, set aside and make the butternut squash cream sauce.
When butternut squash is soft remove from heat and let cool for 5 minutes.
Transfer all contents in skillet to a blender along with the turmeric and puree until creamy.
In the same skillet toss in rice noodles and cream sauce.
Top pasta with sun dried tomatoes, sage, salt and pepper to taste. Enjoy!