Vegan Blueberry Lemon Buttermilk Pancakes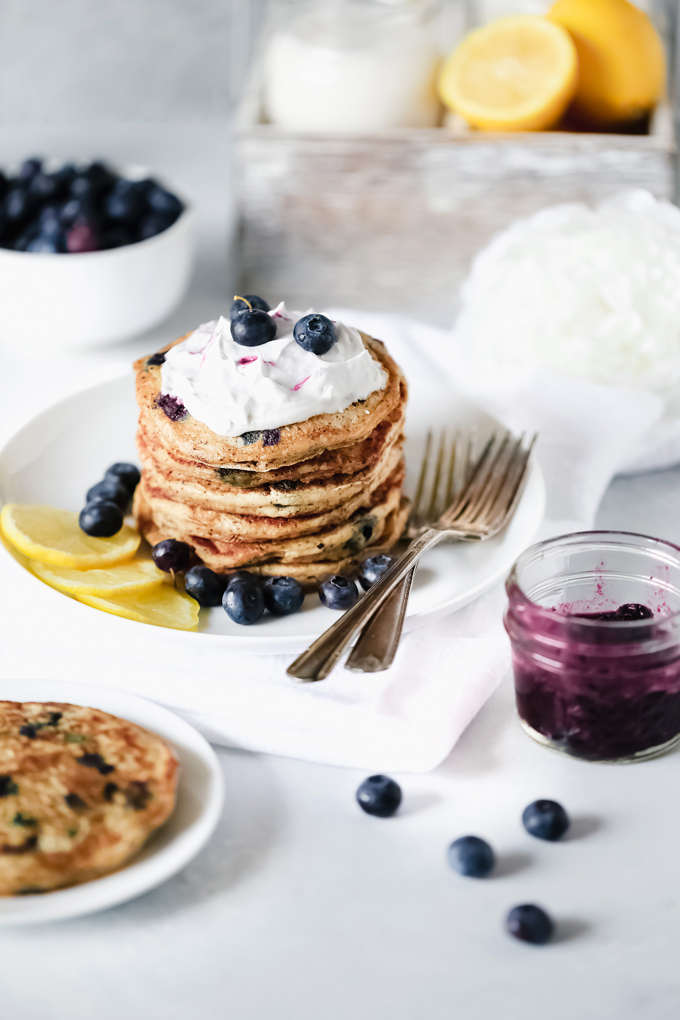 Ok lots and lots of things going on like I started my 200 hour Yoga Teacher Training and in the same week I started my Crystal Healer Certification Course.  – So. Freaking. Exciting. –  I've always been very into the healing properties of crystals and energy healing in general so this is the perfect route for me. Also the YTT is super intense and challenging but something I feel I'm meant to do. Yoga is so much more than just the poses but I'll save all that for another post.
Even though my weekend was super busy, I still made the boys pancakes, it's like our thang. I made them these Vegan Blueberry Lemon Buttermilk Pancakes and they are all the breakfast rave. I personally love the good ole chocolate chip banana combo but this comes in close second. Or maybe they're tied. Ok I've just decided, they're actually tied in first.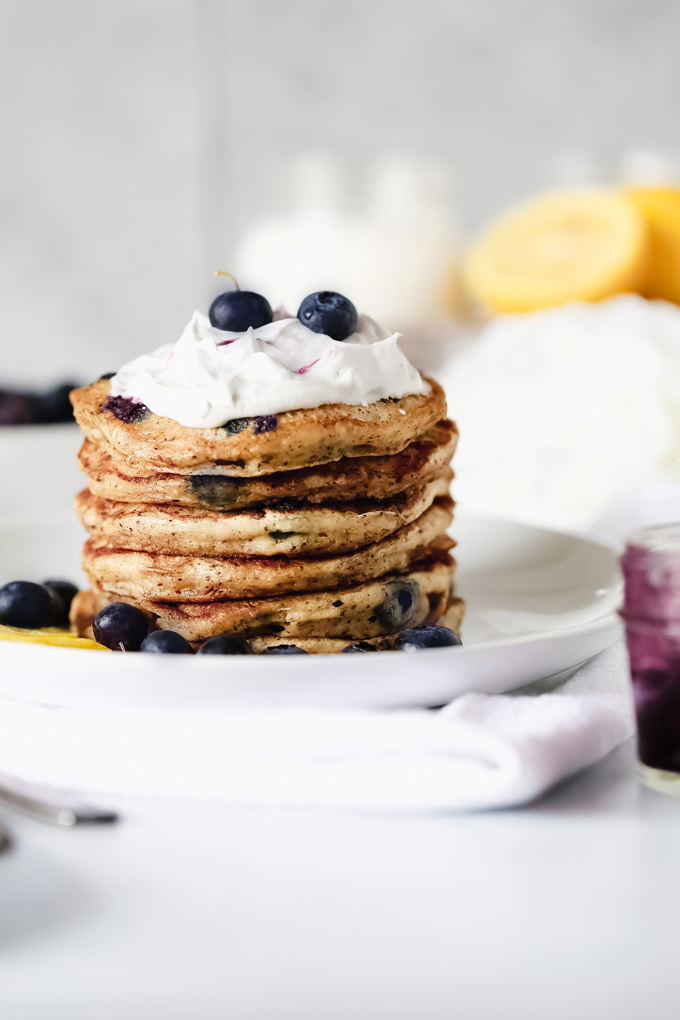 Super Fluffy Tips
In my experience, for my vegan pancakes to be super fluffy and super butter milky, I use organic all purpose flour (affiliate). You can absolutely use any other flour you want, I like spelt for instance, but they won't be as fluffy. The taste however, will still be effin' fantastic and you won't even notice the less fluffiness.
I remember the first time I made my own recipe with spelt flour (affiliate) and they were on the thinner side but still super good. So just a heads up there.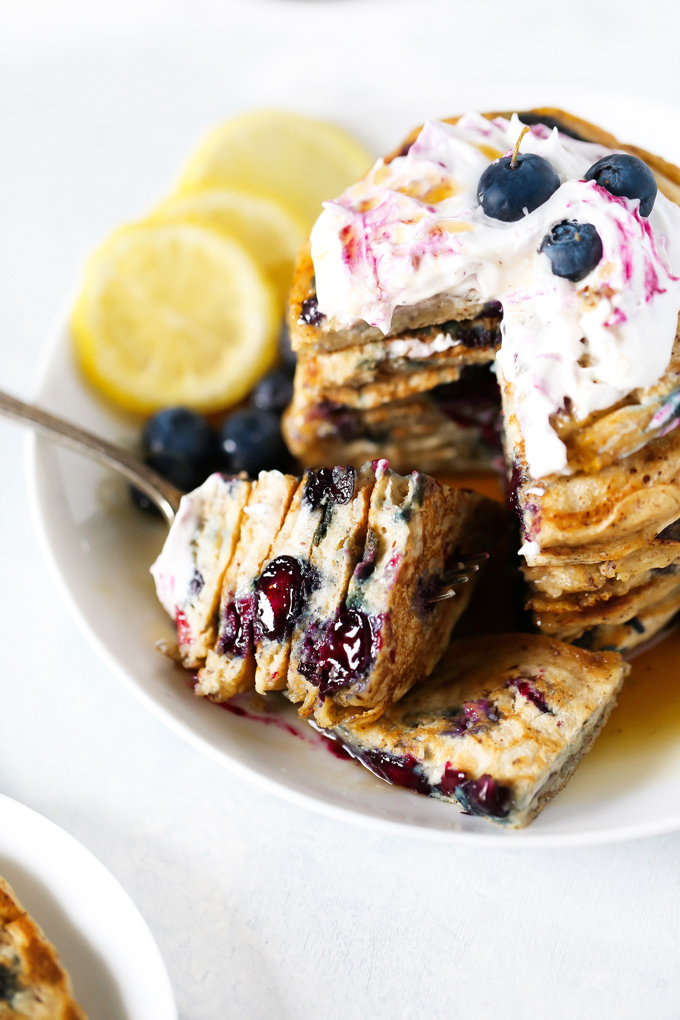 Toppings are where it's at…
When I add the blueberries to the batter I give them a little roll around in some flour first. Not too much just some dusting. For the extra blueberry topping I like to heat about a handful or two up on the stovetop with some water. It creates a nice blueberry compote of sorts. It's sweet and as it cools it gets thicker. You do not need anything else other than blueberries and like a tbsp or two of water. It's fantastic. All you have to do is take the back of your spatula and press down on them while they're warm so they burst and you'll get more juices going that way. I normally put the blueberry compote in a jar or small bowl as an extra topping. I like coconut whipped cream, my blueberry compote mixture, maple syrup and I'm so good to go.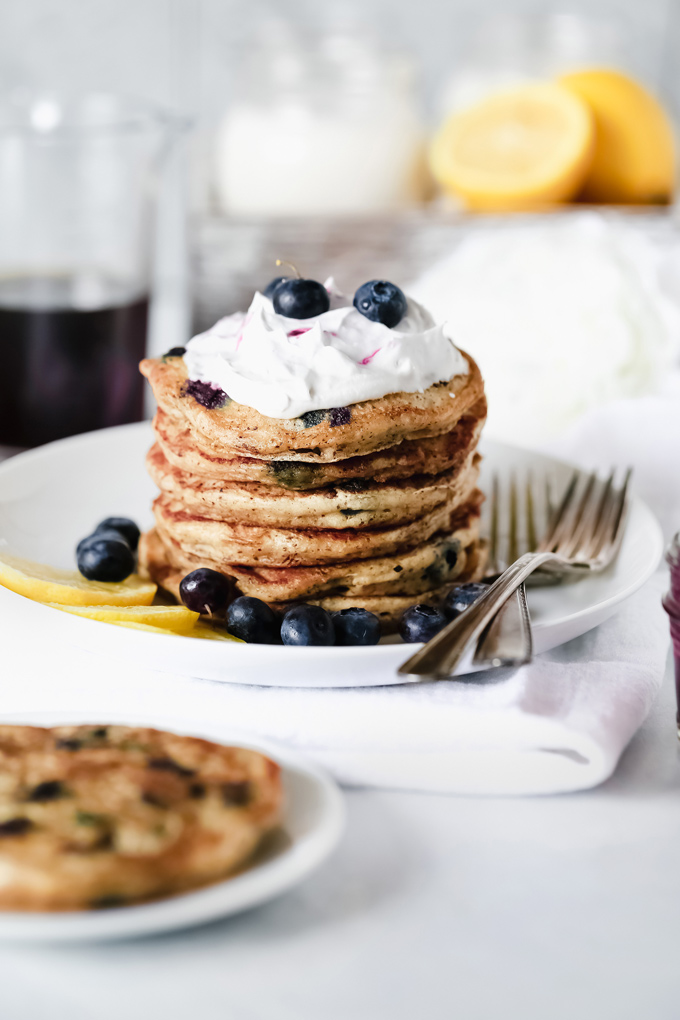 Oddly enough, I don't own a griddle specific to pancakes. I kind of just eye the size in a large pan and cook 3 at a time because this recipe makes 10, nice size pancakes. If you have a pancake pan specific to just pancakes (which by the way I totally want to get this one) (affiliate) use that and make them any size you want. If you don't, no worries just eye your size. I take 1 small ladle spoon full and that's it and that's about 1/4 -1/3 cup.
You could never have too many different variations when it comes to pancakes, I mean the more the merrier right. On the other hand if you just like plan ol' vegan buttermilk pancakes remove the blueberry and lemons and you'll have your stack of sweet tradition. Enjoy them either way! Xo
Vegan Blueberry Lemon Buttermilk Pancakes
The BEST VEGAN Fluffy Buttermilk Pancakes you'll ever have! With blueberries and lemon in every bite and topped with coconut whip cream, maple syrup and a blueberry compote.
Ingredients
2 cups all purpose flour
2 tsp baking powder
1 tsp baking soda
2 tbsp coconut sugar
pinch of salt
2 flax eggs, (2 tbsp chia seeds to 6 tbsp of water)
2 cups plant milk I like almond or coconut , (unsweetened)
1 tbsp apple cider vinegar
2 tbsp lemon juice
1 tsp vanilla extract
1 cup fresh blueberries, (and an extra handful for the berry compote)
1/2 tbsp vegan butter per pancake
Blueberry Compote
handful of fresh blueberries
1-2 tbsp water
Toppings (optional)
Maple Syrup
Coconut Whip Cream
Instructions
Prep the flax eggs first and place them in the fridge while you get the rest of the ingredients together.

In a large measuring cup, pour almond milk, apple cider vinegar, lemon juice and vanilla extract, mix and let it sit there while you whisk the dry ingredients together. The apple cider and lemon juice in the plant milk will give it a curdle making it a vegan buttermilk.

In a large bowl whisk together all dry ingredients: flour, baking powder, baking soda, salt, and coconut sugar.

Pour the vegan butter milk in and your flax eggs, and mix with a fork until just combined. You don't want to over mix, it's ok if there are lumps in the batter. Let it sit for 5 minutes.

Lightly dust your blueberries in some flour and mix them in with the batter.

Heat up some vegan butter on a pancake pan or any fry pan you use to make pancakes. Pour about 1/4 to 1/3 of the pancake batter on the pan and let cook until the top bubbles and the sides are golden brown. Flip and cook for another 2-5 minutes. Repeat this until you're completely through with the batter.

To make the blueberry compote drop a handful of blueberries into a fry pan with 2 tbsp water. Put this on medium heat, and as the blueberries are heating up smash them down with a spatula and release the juices. Once you see the water thicken up you can take it out and top the pancakes right away or serve it up in a small bowl.

Top pancakes with coconut whip cream, maple syrup, and blueberry compote, serve and enjoy!
Notes
You can sub all purpose flour for any flour.
To have traditional vegan buttermilk pancakes omit the lemon and blueberries.
~Pin This Recipe~