Vegan Strawberry Cream Tart
Well whattaya know…it's a Vegan Strawberry Cream Tart kind of Saturday.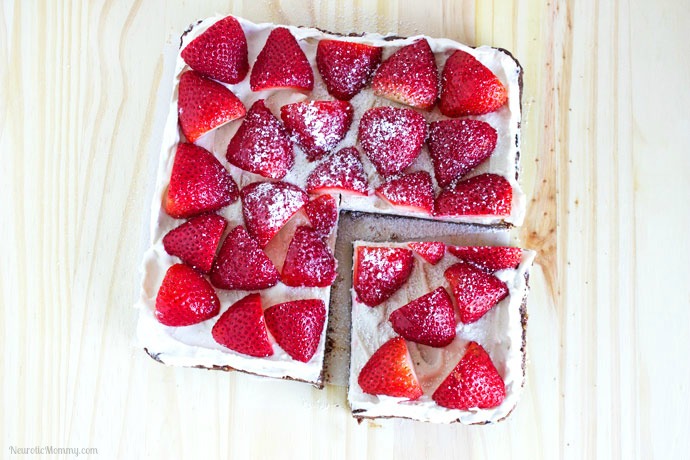 When I think "Oh it's the weekend" my mind automatically goes to food (and more food). I don't know what it is about the weekend but I guess it's just instilled in us that on the weekend the rules of the week don't apply. It's a no holds bar type of thing, anything goes on Saturday and Sunday. I mean, you can try to get away with it on Fridays but you know deep down, Saturday and Sunday are all about that grub. You could be doing good eating clean all week long and no matter how old you are, when you wake up on a Saturday morning you know you want some pancakes, desserts and whatever else you can shovel into your pie hole for the next 48 hours. Cuz remember, Mondays we start fresh (hahaha).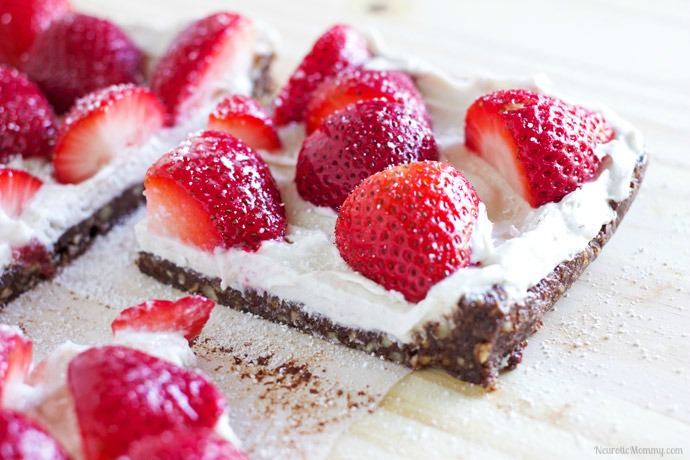 Don't even get me started on holiday weekends like the one we have coming up, one of the most cherished…Mother's Day. Ahhh Mother's Day. It's like being pregnant just for one day (if you aren't really pregs). Everyone wants to take care of you. Everyone goes out of their way and basically gives you anticipatory service to accommodate your every need. You're a Mom after all and that is quite respectable and admirable. To be honest I enjoy the pampering. In fact I kind of milk it. I'm all like "Saturday, the day before Mother's Day is really important. It's Pre Gaming for Moms." If you didn't know about this well now ya do and totally use it to your advantage. One must prepare for such a grand affair, Am-I-right?!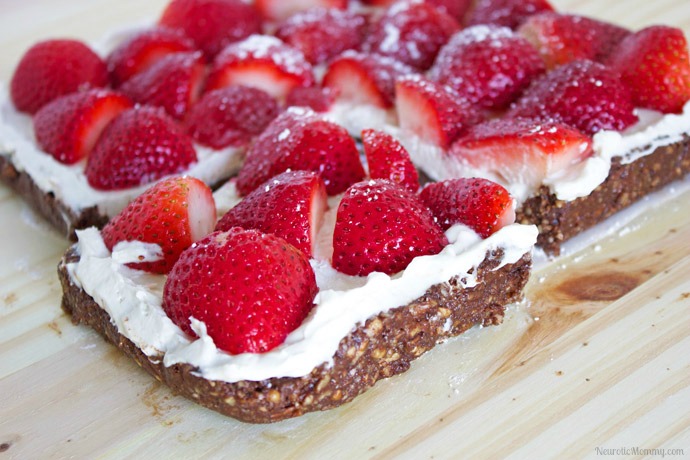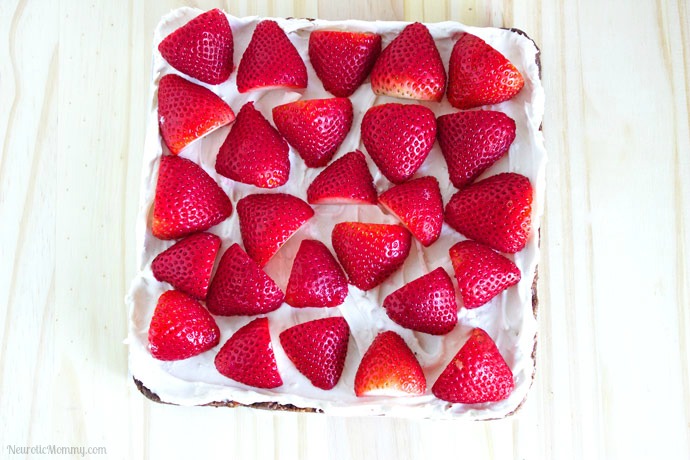 If you caught my Mother's Day Peach Coconut Waffles post yesterday you'll know I used coconut whipped cream for my filling. Since I made so much cream and had quite a bit leftover I made this tart with it. (No cream gets left behind.) It lasts about 3 days in the fridge so it's wise to put it to good use.
Now the crust on this thing is un-freakin-believable. For. Realz. A no bake, raw base (because you know I'm all about that base bout that base no treble lol) that is completely made up of all things good for you. (Unless you're allergic to nuts then this is not completely good for you.) But for us non nut allergy peeps this is where it's at. Chocolate plus Cream plus Strawberries equals total healthified dessert that tastes like it should be sinful but it's not. See, you can make delectable treats that won't clog or mess up your insides. All the ingredients are whole, real foods that really do a body good. Snacks or desserts like this I make regularly and am always trying out different recipes. I like to keep my things like this handy so when that sweet tooth comes out for a visit I know just what to give it to satisfy it's oh so nagging and unbearable (at times) cravings.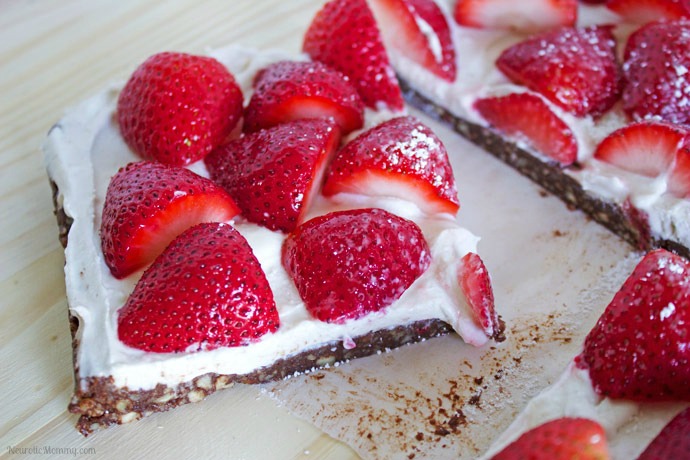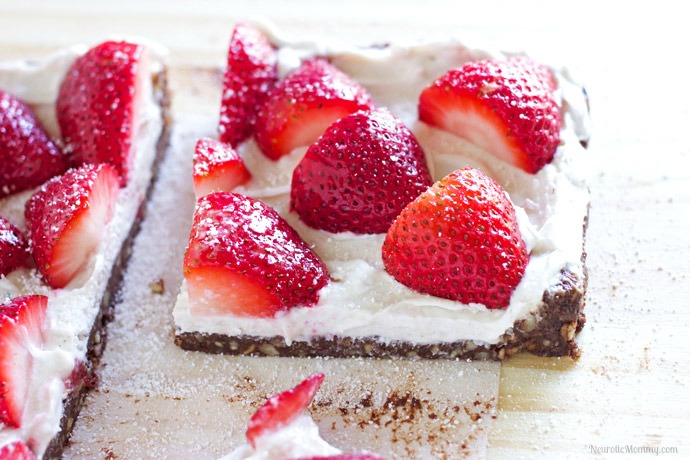 This vegan Strawberry Cream Tart made with an insanely delicious chocolate crust will be what gets you in the kitchen getting your non baking on. It's easy, quick, healthy and is super crazy amounts of tasty.
Do it up on Mother's Day. Go all out and make everything. Just remember to start fresh on Monday (ha!)
Chocolatey
Creamy
Light
Fruitastic
Vegan Strawberry Cream Tart
Recipe Type: Dessert
Author:
Prep time:
Cook time:
Total time:
Serves: 6 bars
Chocolatey, Creamy, Light, Berry fantastic Tart that is quick, easy, healthy and jam packed with super crazy amounts of deliciousness.
Ingredients
[b]Chocolate Crust[/b]
2 cups pecans
3 tbsp cacao powder or cocoa powder
3 tbsp maple syrup or brown rice syrup
1 1/2 tbsp coconut oil, melted
1 tsp vanilla extract
pinch of salt
[b]Filling[/b]
1 can full fat coconut milk left in the fridge overnight
2 tbsp maple syrup
1 tsp vanilla extract
[b]Toppings[/b]
1 cup strawberries cut in half
powdered coconut sugar to top (optional)
Instructions
Line an 8×8″ baking dish with plastic wrap.
In a food processor combine all crust ingredients and process until crumbly and sticks together well.
Take crust and press it in the bottom of the pan. Be sure to evenly smooth it out. Place in freezer to set while you make the filling.
Make coconut whipped cream by scooping out the cream from the full fat can of coconut milk left in the fridge overnight. Add maple syrup and vanilla extract.
Using a hand mixer, mix until fluffy.
Pour cream over crust using a spatula to evenly layer it on top then place back in the freezer for 2 hours so it sets completely.
Remove from freezer and place sliced strawberries on top.
Top with powdered coconut and cut into bars or slices.
Keep stored in the fridge for up to 4 days.
Enjoy!
Notes
I put 2 hours cook time in the recipe portion of this because although there is no bake time necessary, it needs 2 hours to set in the freezer. Most of the labor is in the waiting process because everything else is super easy. [br][br]You can sub the maple syrup and brown rice syrup with your liquid sweetener of choice.[br][br]You can sub pecans for another nut like walnuts.[br][br]You can add 1 1/2 tbsp cacao powder to the coconut whipped cream recipe and make it all chocolate! YUM