Vegan Coconut Macaroons
jump to recipe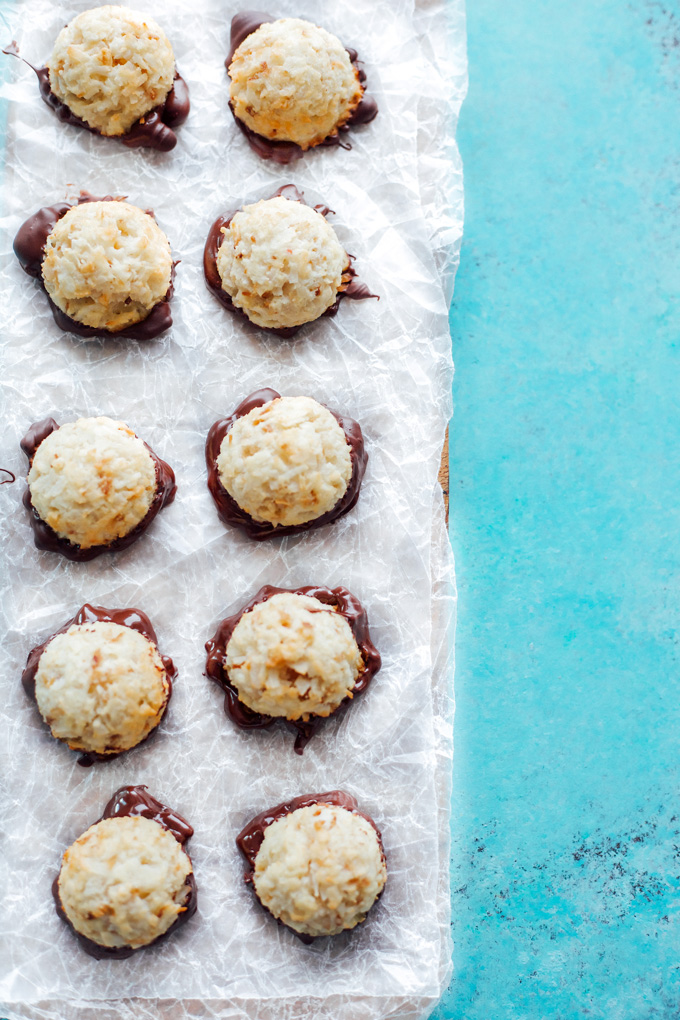 This post contains affiliate links in which I may make a small commission. I appreciate your support in this way.
These Vegan Coconut Macaroons are lightly sweetened and have the perfect amount of healthy fats for you to enjoy. They're a great snack to help you stick to your new year's resolutions or if you're doing the low carb thing, they're keto friendly…Yaaay!
I'm a huge coconut lover and a huge chocolate lover so when the two are together naturally I'm one happy Momma. What I really love about these macaroons is that they're gluten-free, sugar free (even with the chocolate coating), and clearly dairy free!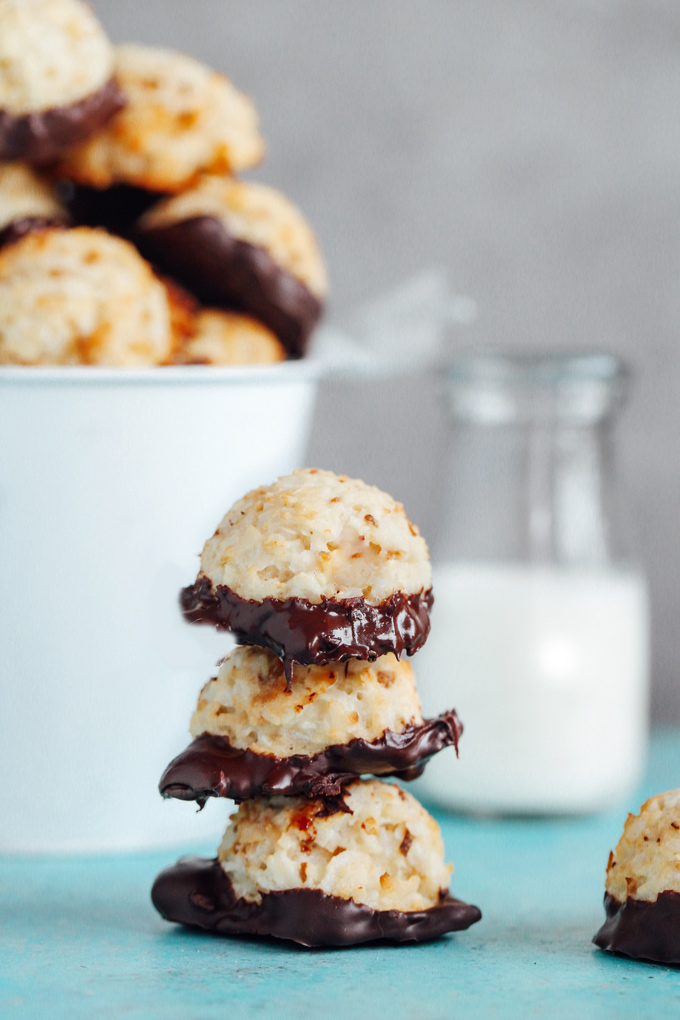 I used monkfruit to sweeten them. If you're looking for an absolute 100% better alternative to sugar I highly recommend it. It doesn't cause blood sugar spikes and it's low on the glycemic index. It's suitable for just about anyone. I know some people complain about the bitter after taste that stevia has (I don't mind it much) but this sweetener has no aftertaste and works just as well in all my recipes as regular sugar would. I really love that I can use this and eat my healthy snacks not worrying about the sugar content. I'm really digging this whole low carb, sugar free thing by the way too.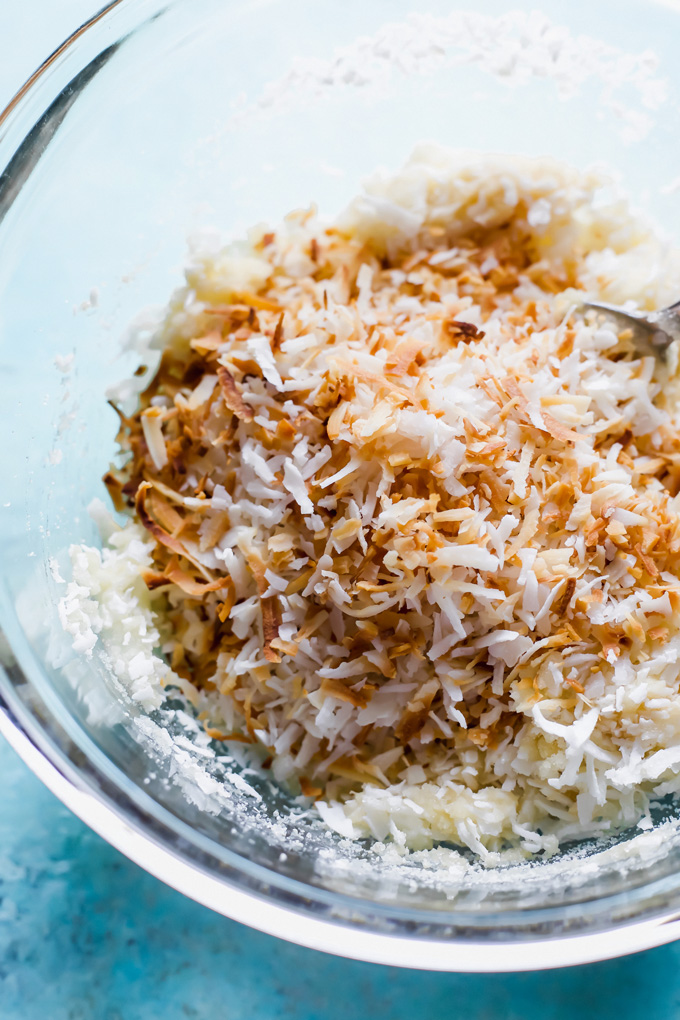 The recipe calls for 2.5 cups of coconut. What I like to do is take a cup of coconut and toast it for 8-10 minutes. I really love how the toasted coconut compliments the whole recipe. Obviously duuuuh because it's coconut
When the coconut is done toasting, I just throw it right in the bowl with the rest of the ingredients. Super easy.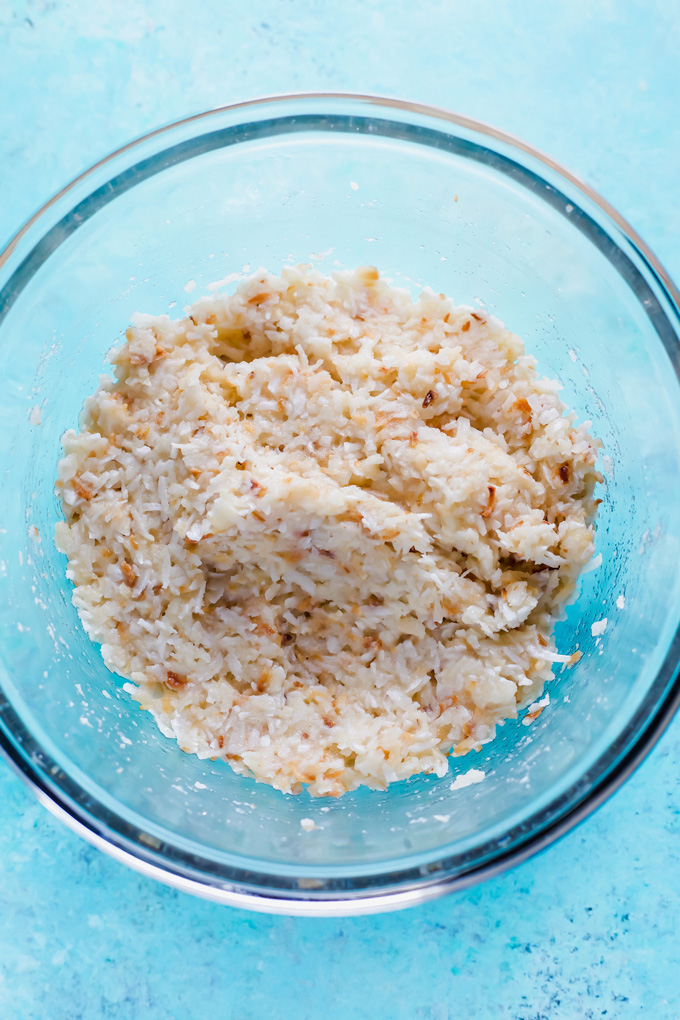 I use aquafaba in this which takes the place of egg whites. Aquafaba is the water you get when you drain a can of chickpeas. The thing is, you don't have to whip it up and wait for it to form into peaks. You just use the water as is.
I've used aquafaba in a lot of my snacks because it works so well. See my 2 ingredient mousse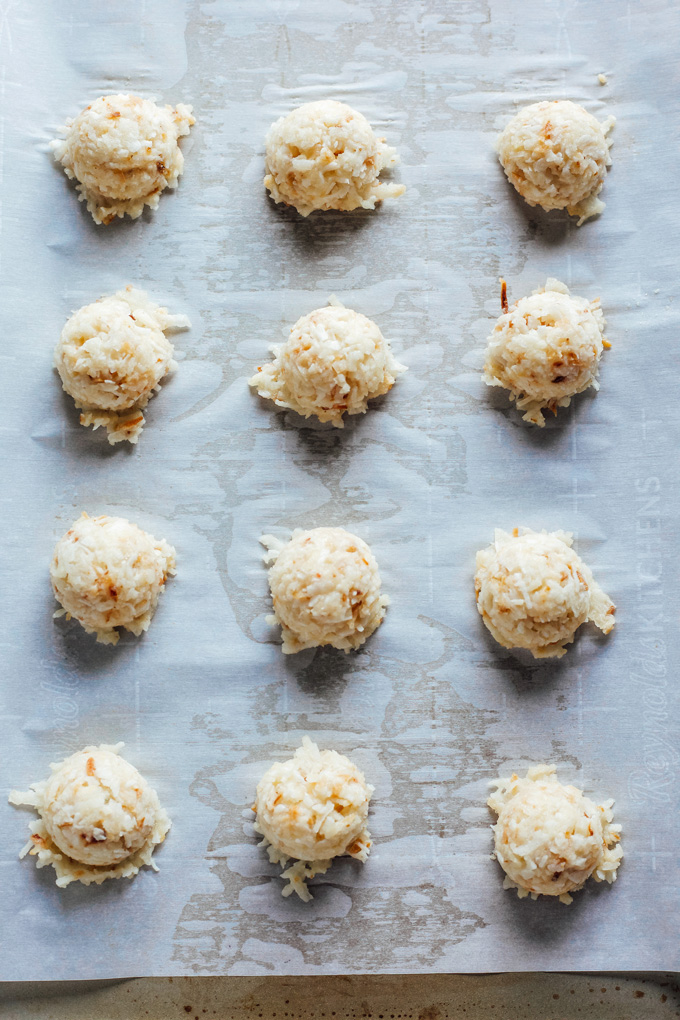 I then take tablespoon size portions and place them on a baking tray lined with parchment paper. You an also use a silicon mat but I don't currently have one of those.
Place them in the oven for 18-20 minutes and wait for the goodness. The longest part of this recipe is the wait time, to put them together will take you no more than 5 minutes.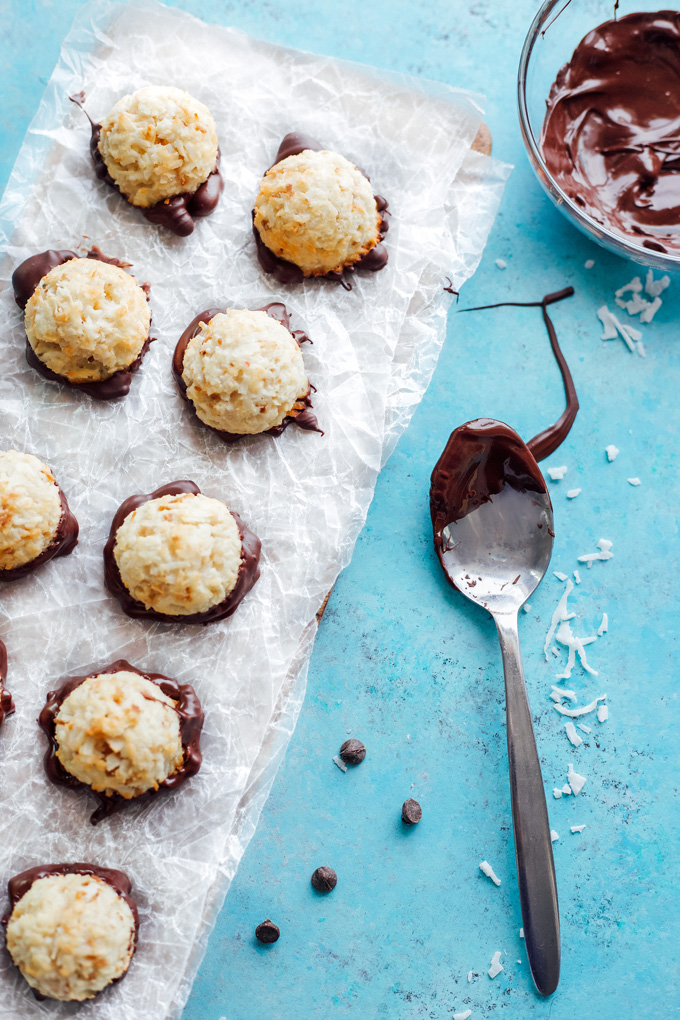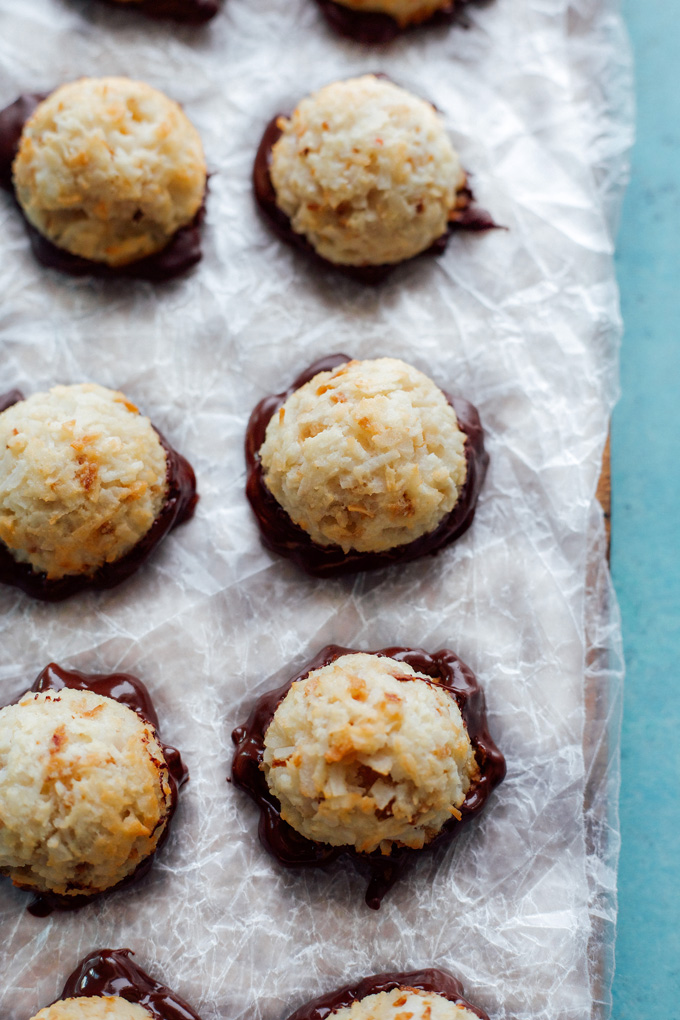 I recently found this dark chocolate that I am in love with, (it's vegan and sugar free, whoop whoop). I melt it down in my oven or you can use the double boiler method and when the macaroons are cool to touch I dip them right in. If you're going to dip them in chocolate, which I highly recommend, place them in the fridge or freezer after for about 10 minutes so the chocolate sets.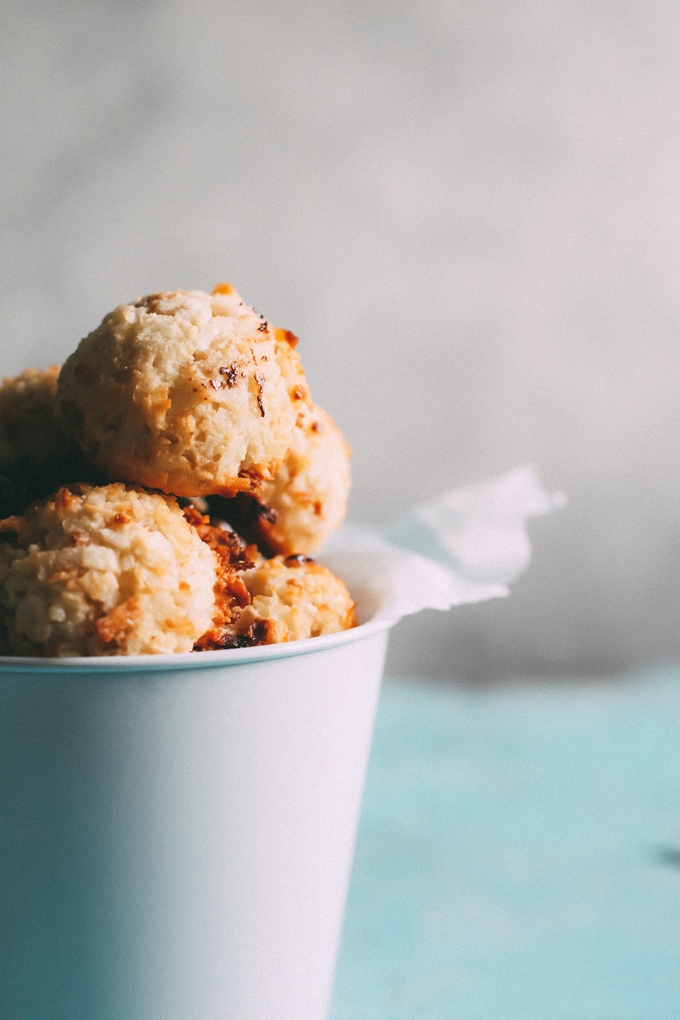 When you're done you will be left with 24 delicious little coconut gems that you will not be able to keep your hands off of. They're so delicious you won't believe they're actually good for you. They come in at 50 calories each and have 2g net carbs. Enjoy!
Here's another low carb recipe for ya: Maple Walnut NOatmeal (Oat free Oatmeal)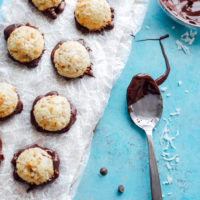 Vegan Coconut Macaroons
Dipped in dark chocolate, these are full of healthy fats and sweetened with monk fruit. A perfect fat bomb for keto.
Ingredients:
2.5 cups unsweetened shredded coconut, divided
1/2 cup almond flour
1/2 cup monk fruit sweetener (or sweetener of choice)
1/2 cup aquafaba
1 tsp vanilla extract
1/2 tsp almond extract
pinch of salt
1/2 cup vegan dark chocolate, melted (for dipping)
Directions:
Preheat oven to 350F and line baking dish with parchment paper or silicon mat.
Take one cup of coconut and place it in the oven for 8-10 minutes.
Add all ingredients to a large bowl including the toasted coconut and mix well.
Take tbsp round cookie scoops and place on baking sheet.
Bake for 18-20 minutes.
Melt down 1/2 cup of vegan dark chocolate. When cookies are cool to touch, dip the bottoms in and place them on parchment paper, and put in the fridge to set for 5-10 minutes. If you're not dipping them chocolate they do not need to be refrigerated.
Serve with your favorite non dairy milk and enjoy!
~Pin For Later~