Jumbo Fruit Cups with Coconut Yogurt
Good day misters and misses. How bout we all stop what we're doing and make ourselves some Jumbo Fruit Cups with Coconut Yogurt…yes? Yes!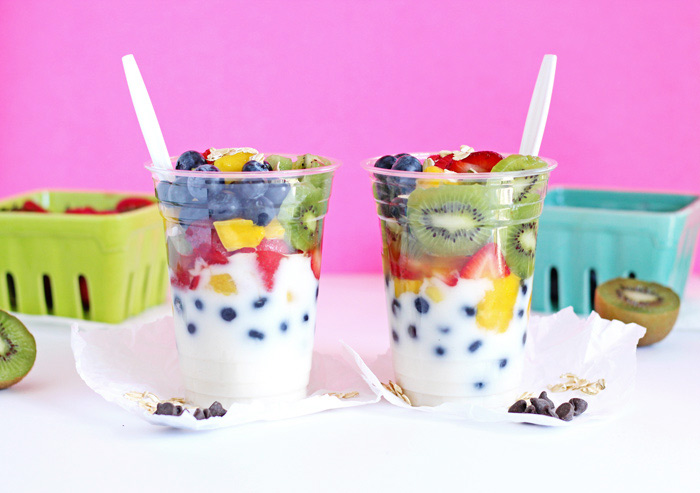 Uuum hello gorgeous! Right? I know. When you make fruit cups like this a party must be started. Who cares if you're by yourself, at the office or on a bench in Central Park scrolling through IG. Take 5 seconds and have yourself a dance party…Whoop Whoop! I can just feel the excitement.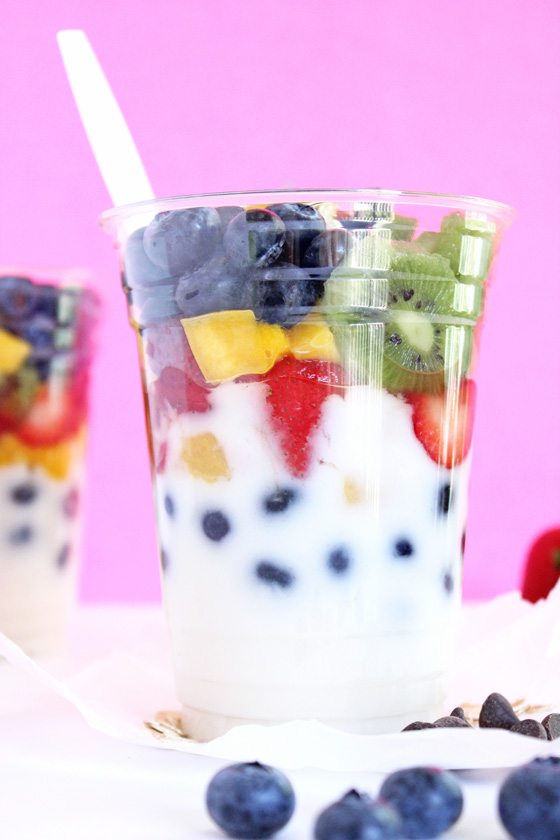 I'm a parfait lover which means I love to make parfaits. If I can parfait it, I will. So I did. I'm like a parfait gangsta. Anyways, when my food is this colorful and not artificial my body screams for it. It's like "YAAASSS!!!"
In the photos I used 16 ounce cups. I know they're super big hence the title of the post but feel free to use smaller cups. I just love the vibe these have going. They're like something you'd get at a juice bar along the beach somewhere. I love it. The fruits are full of antioxidants and anti-inflammatory properties which are super good for you. We want those. I sprinkled some oats and chocolate chips because well why not. Chocolate goes with everything. It's like a great pair of shoes. After I assembled these lovelies I proceeded to shovel it into my pie hole. I did not hold back and neither will you. Especially on a hot summer day (or hot rainy day or any day that ends in day). See what I did there. Enter and LOL here.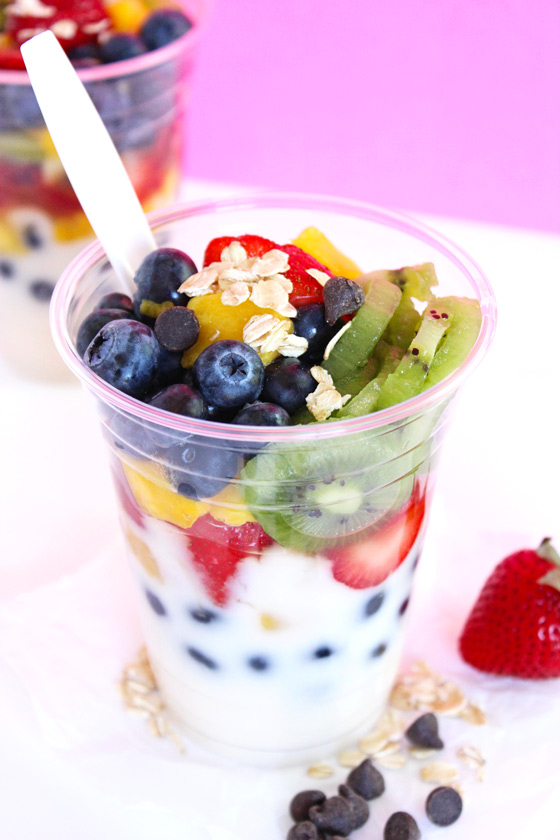 Now I'm just going to bottom line this for you and not take up too much more of your time. I convinced you (I think) that these are a MUST HAVE and you need to get on it. Ok? ok. They are absolutely refreshing, easy to assemble and even easier to eat! haha. No but seriously they will do a world of wonder for your insides and just what you need to build up healthy gut bacteria. You can use any yogurt just make sure whichever one you choose is Organic, Non GMO and you'll know it's not pumped up with hormones and antibiotics. Probiotics are great for aiding in healthy gut flora so we want to make sure we are ingesting the right foods to promote that. Leave me a comment below letting me know the ways you like to get in your probiotics!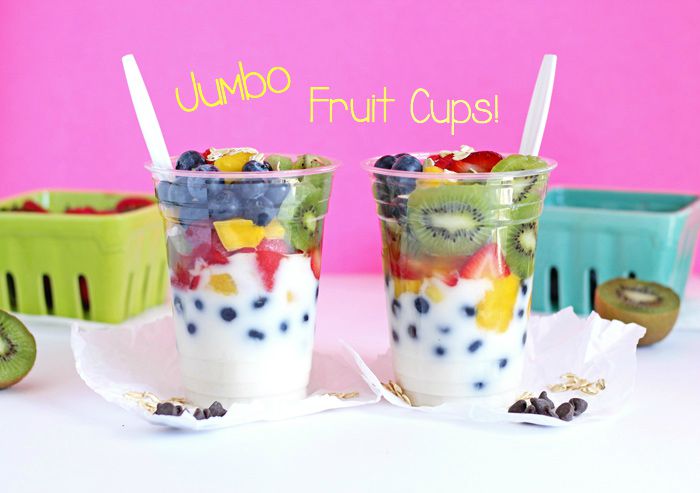 This snack is super easy and will take you no time at all! This is the real fast food. It's refreshing, fun and healthy. Enjoy this whenever, wherever and don't forget to share with your friends (or not but don't say that came from me)!
Hey Healthee's, Let's stay connected! There are a ton of ways to stay in the know of what I'm up to. You can subscribe to my blog and get emails right to your inbox of all my latest posts. All my recipes will be right at your fingertips!
Find me on Instagram, Facebook, Pinterest and Twitter!
If you want one of your photos and recipes to be featured on @NeuroticMommy or @TheChocolateCorner please email me JenniferRose(at)NeuroticMommy(dot)com or use the hashtags #neuroticmommy #chocolatecorner
Jumbo Fruit Cups with Coconut Yogurt
Recipe Type: Snacks
Cuisine: Vegan
Author:
Prep time:
Total time:
Serves: 1
Refreshing summer snacks that will fill you up right. No artificial flavors when you're working with what mother nature intended. Eat the Rainbow!
Ingredients
To make one 8 ounce cup you'll need:
1/4 cup coconut yogurt (or any preferred yogurt)
1/2 cup blueberries
5 large strawberries, chopped
1/3 cup fresh or frozen (thawed) mangos, cut into chunks
1 kiwi fruit, skinned and sliced
sprinkle of oats and chocolate chips (optional)
Instructions
This is going to be real easy.
Start assembling with yogurt, blueberries, strawberries, mangos and repeat as necessary.
Top with desired toppings, stick a spoon in it and have yourself a grand ole time.
Enjoy!
Notes
This is the recipe for one 8 ounce cup. To make for larger cups just add a bit more of yogurt and fruit.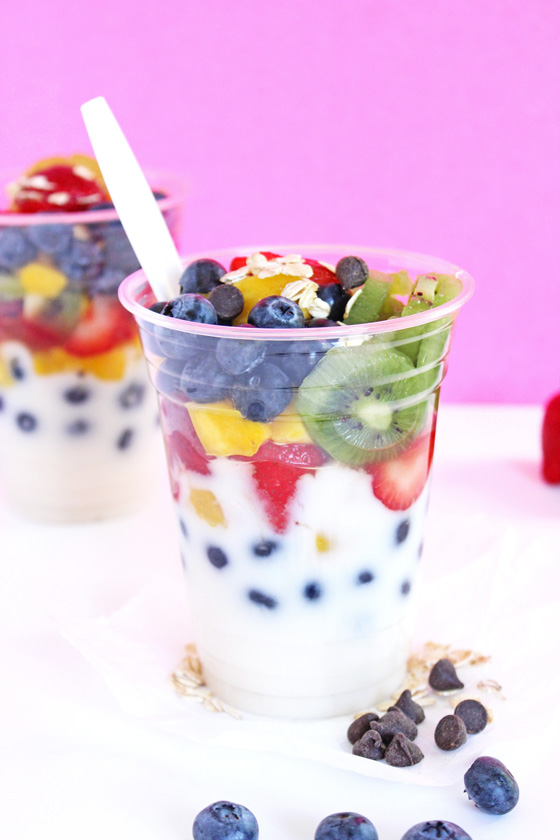 XoXo Jenn