No Bake Chocolate Raspberry Tarts
These deliciously sinful, No Bake Chocolate Raspberry Tarts are filled with sweet vegan chocolate and topped with summers brightest berries. A dessert whipped up in minutes and eaten in seconds.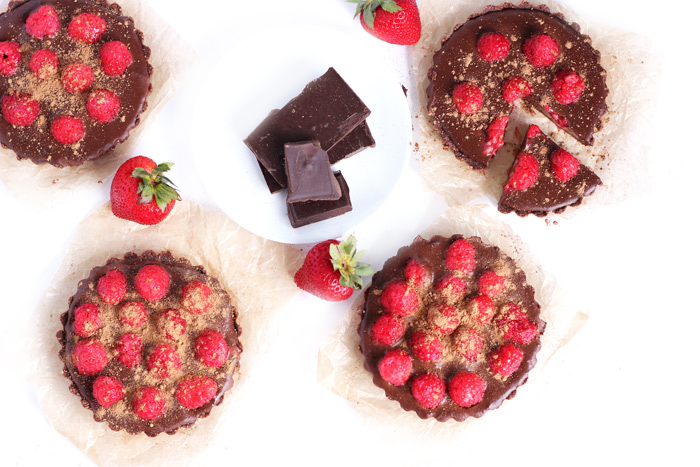 I can't say I'm upset about summer coming to an end and fall beginning. I actually really love this time of year. I miss sweatpants, there I said it. I love wearing big sweaters, boots and bringing in my cool fall fashion. There is nothing like going out on a nice fall day and being able to throw a jean jacket on (with anything) with some boots. Usually and for the most part chocolate is always on my mind. Is that terrible?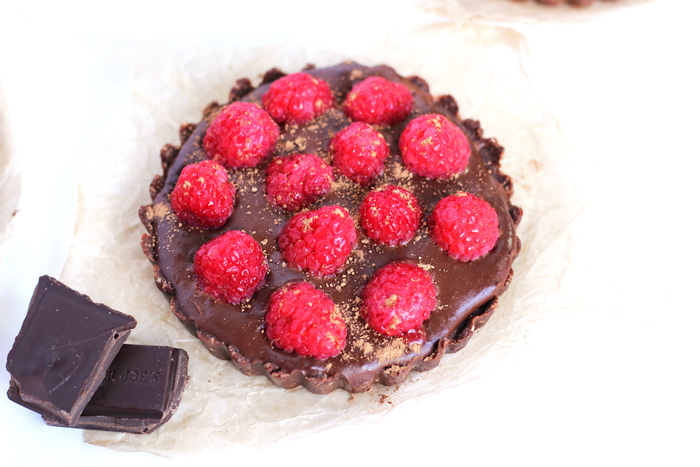 Probably not the worst thing I've thought about
. However, I can tell you that these tarts will hit the spot in the sweet tooth department. They are super rich but with each bite you will be making that "Hmmm, OMG" sound we are all too familiar with. Mine goes something like this: "Hmmm OMG this is so good, hmmm". I wouldn't say it's obnoxious because if someone else is with me, tasting the deliciousness, such as  these tarts, chances are they are doing their own moaning and groaning. My peeps know I don't judge.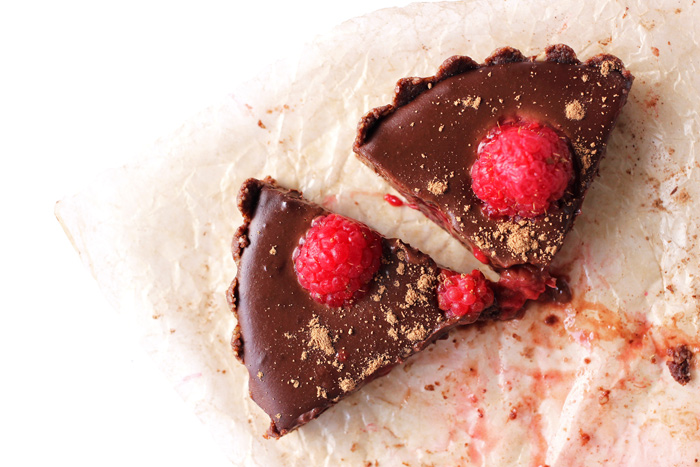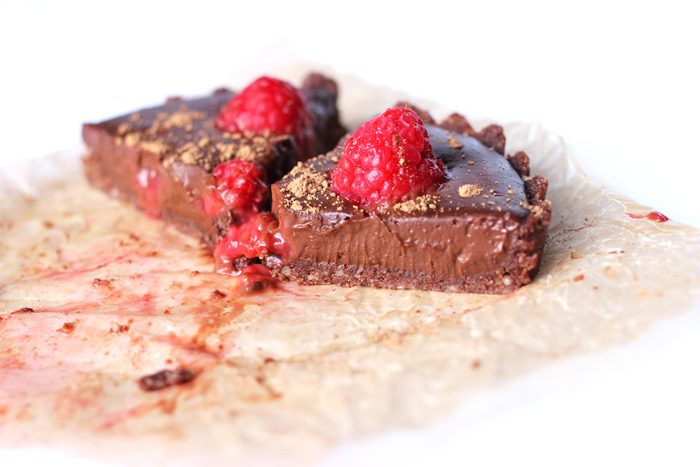 So most kids went back to school this week. This is the perfect snack to have ready for them when they arrive home! It looks like it might be a lot of work to do but it only takes 10 minutes! Can you even believe that!? Hopefully you'll have some left over if you don't eat it all in one shot. But don't do that. Well at least don't do it while anyone is watching. (I'm terrible right, but it can happen, just sayin') LOL.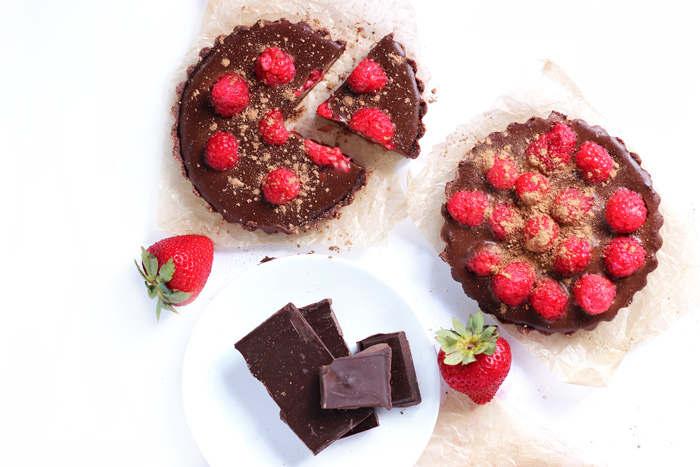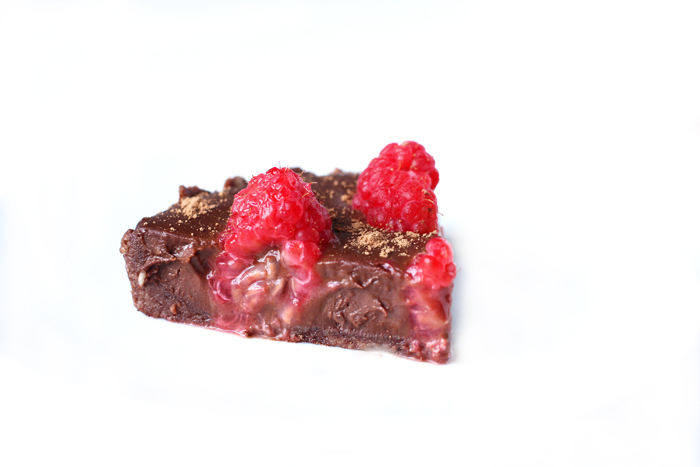 Wait, there's a twist! It's, drum roll please, Healthy! Yaaay! I said that in my most game show host voice I could muster. So it was pretty loud in my head. haha. It's not something that you'll eat and feel guilty about. It's one of those desserts that's tricky. You'll feel like maybe you shouldn't be eating it but then you'll soon realize again the ingredients you used and start to chew with ease again. Happens all the time.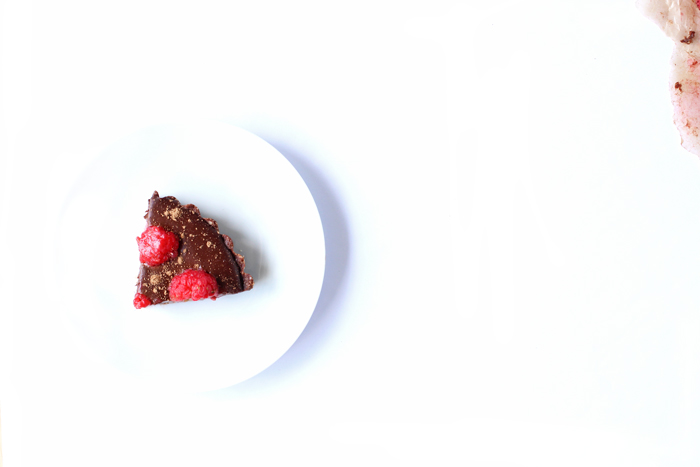 Even when people come over to visit and I have desserts made they are usually pretty skeptical because they know I'm all about "healthy desserts" so they pick up a piece of cake or muffin with hesitation. I stand there thinking oh geez just shove it in your mouth so you can then quickly grab for another or ask for a bigger slice. Again, happens all the time.
These No Bake Chocolate Raspberry Tarts are simple, decedent, rich, smooth, creamy and oh so yum-mazing. This is a dessert that will not disappoint and won't end up hanging out on your glutes for a lifetime.
Stay connected with NeuroticMommy: You can find me on all things social!
Instagram | Facebook | Pinterest | Twitter
Use the hashtag #neuroticmommy on Instagram so I can see your creations!
This recipe is from Bakerita. When I saw her No Bake Raspberry Chocolate Tart I knew I needed it in my life and then to share it with you because I'm a good friend
.
No Bake Chocolate Raspberry Tarts
Recipe Type: Dessert
Cuisine: Vegan/Raw
Author:
Prep time:
Cook time:
Total time:
Serves: 4
[i]These No Bake Chocolate Raspberry Tarts are simple, decedent, rich, smooth, creamy and oh so yum-mazing. This is a dessert that will not disappoint and won't end up hanging out on your glutes for a lifetime.[/i]
Ingredients
[b]For the Crust[/b]
1 1/2 cup almond flour
1/4 cup cacao powder or unsweetened cocoa powder
1/4 cup coconut oil, melted
1 tbsp maple syrup
pinch of himalayan pink rock salt
[b]The Filling[/b]
1/2 cup full fat coconut milk (not light)
6 ounces of chocolate either melted or finely chopped or grated
1/4 cup raspberry preserves or jam
1 pint (2 cups) fresh organic raspberries
Instructions
Spray 4, 4-inch tart pans with removable bottoms with coconut oil spray or non stick cooking spray.
For the crust, mix all ingredients until well combined. Evenly divide the crust and press into the prepared tart pans, coming up the sides a little bit. Put in the fridge to set while you make the filling.
Prepare the chocolate by having it either melted or grated. In a small sauce pan bring coconut milk to a boil. Pour hot coconut milk over prepared chocolate and let sit for one minute.
Stir raspberry preserves or jam, coconut milk, and chocolate until smooth and creamy.
Pour chocolate filling into prepared crust. About 1/4 cup of chocolate mixture for each pan.
Top with fresh raspberries and a sprinkle of cacao powder.
You can eat it right away or keep it stored in the fridge.
Enjoy!
Notes
You can use a 9″ tart pan with a removable bottom. Instructions will still be exactly the same just everything will be in one pan.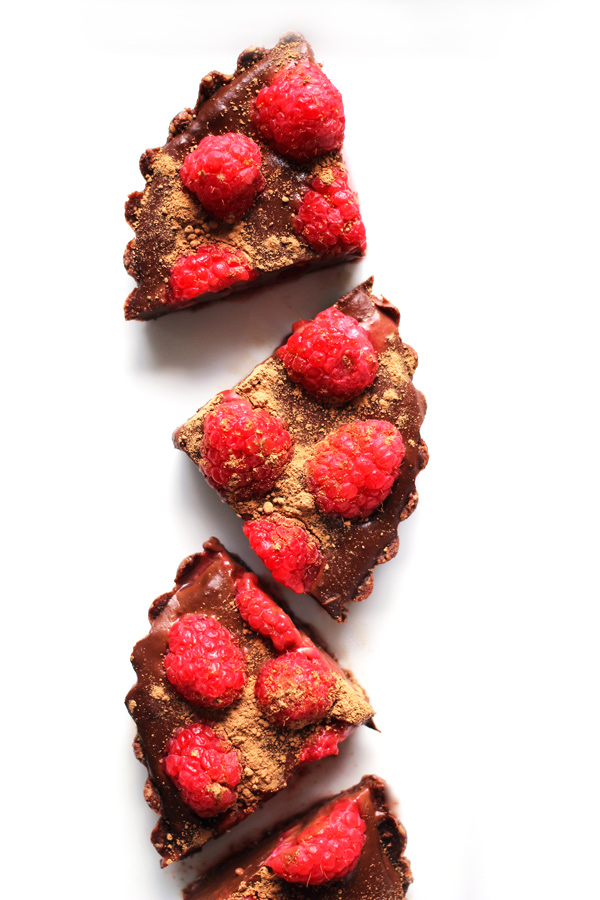 XoXo JenniferRose
Want more things Berry? Check out the related posts below!