Grilled Chocolate Banana and Peanut Butter Sandwich
jump to recipe
Melted dark chocolate, creamy peanut butter, and sweet bananas all wrapped up in one sandwich. All this amazingness in each and every bite!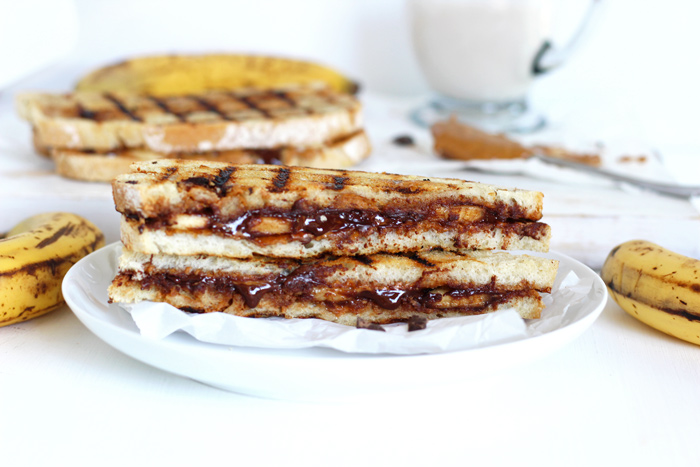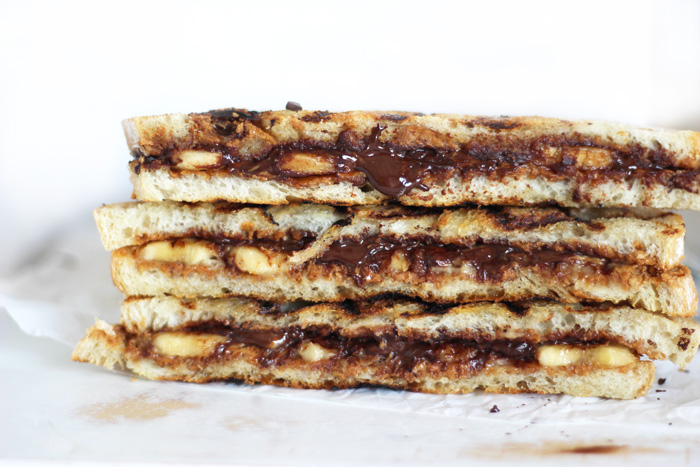 Boy oh boy my dear friends it has been one heck of a week! Who else is so looking so forward to the weekend? I know this gal is, fo sho. To kick start us off, this sandwich is a must. I mean, is it a crime to want to just sit and eat a sandwich filled with chocolate, peanut butter and bananas? No, it's not. In fact I highly encourage it. Please, trust me, you'll feel better.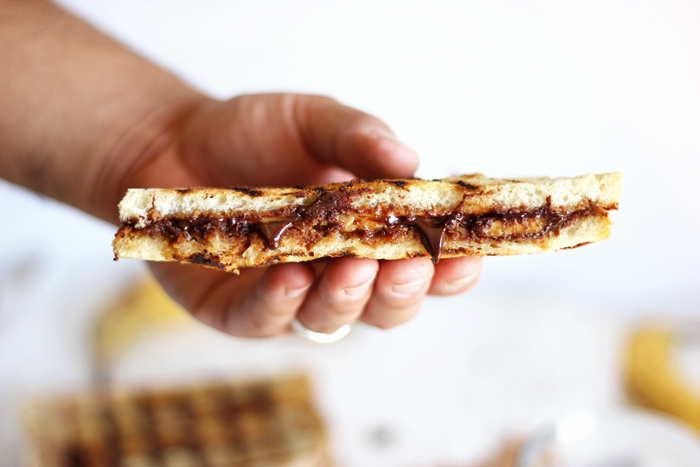 Dreamy
…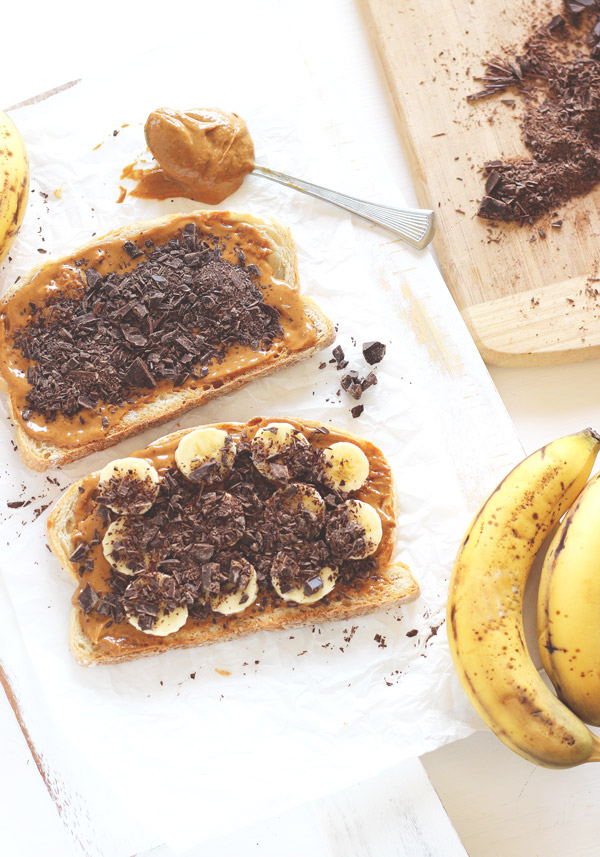 If you have peanut allergies you can sub the peanut butter for almond butter or even sun butter. I love both substitutions and I switch it up depending on what I'm in the mood for. Sometimes the ingredients don't even make it to the bread. Whoopsie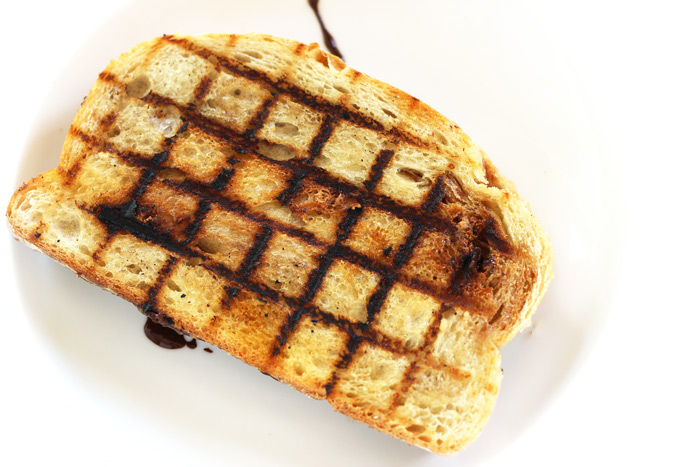 You don't need a panini press or even a grill for that matter. I used my stove top grill because it was out already and I particularly like the lines in makes on the bread. What you can do is just toast the bread first, then make it as you would a grilled cheese. After toasting, you'll spread the nut butter first, add the sliced bananas, then top with the chopped dark chocolate. Spray a fry pan with either coconut oil or use vegan butter to lightly grease the pan. Gently place the two breads together to form the sandwich (some chocolate will fall out but that's alright).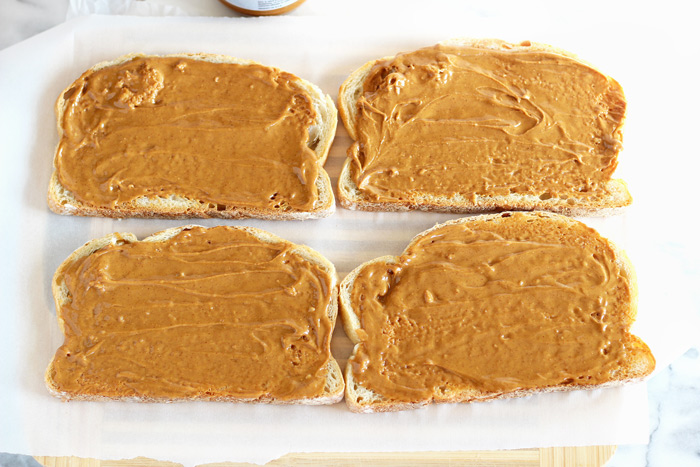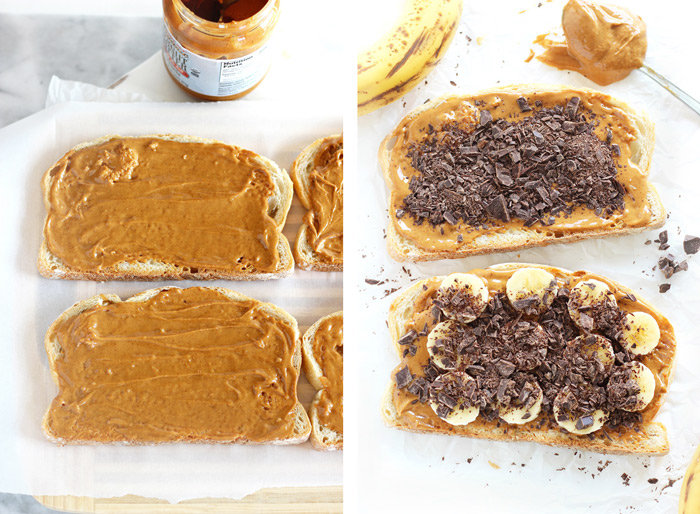 Place the sandwich in the fry pan and cook on both sides until golden brown and chocolate is melted. You don't necessarily have to toast the bread before hand but if you're using a sprouted bread or spelt bread it tends to fall apart, so toasting it slightly before hand does the trick.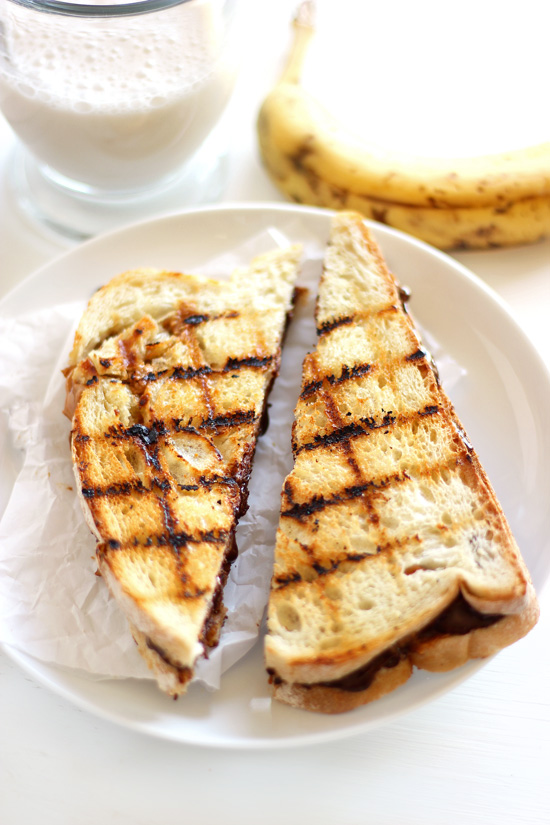 Another thing is to make sure you chop your chocolate, not too small and not so large. If it's too small the chocolate will become too runny. You want it to stay some what thick but melty at the same time. Just thinking about that makes my mouth water!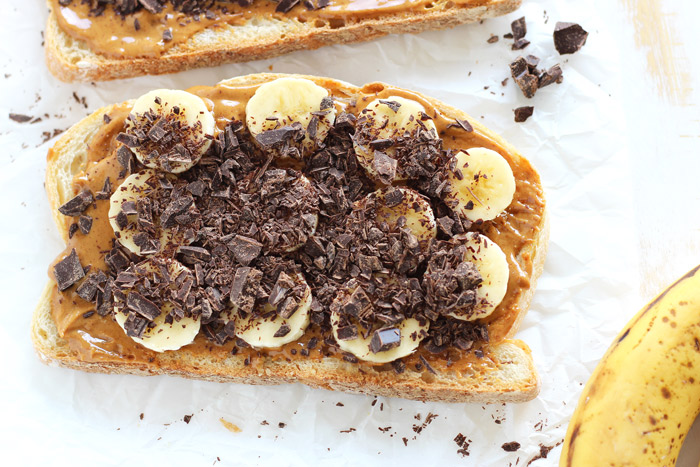 Look at that melty, delicious chocolate, it's Excellence!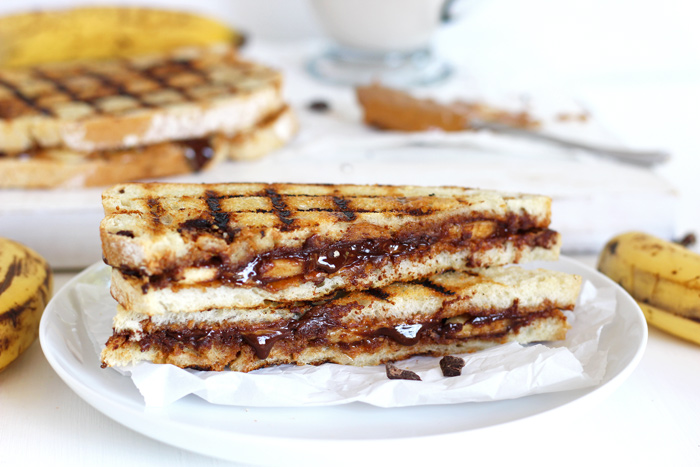 The moral of this Grilled Chocolate Banana and Peanut Butter Sandwich story? Well that's simple. It's for you to indulge this weekend in something that not only tastes elfin' fantastic but is good for too! Go with an organic bread that is verified non gmo. Carbs are not the enemy. Over eating on processed junk food is. Select the right foods and you'll be alright. Now…let's getsta grllin'.
Stay up to date with NeuroticMommy:
Instagram | Facebook | Pinterest | Twitter
Use the hashtag #neuroticmommy on Instagram so I can see your delicious creations!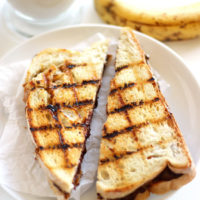 Grilled Chocolate Banana and Peanut Butter Sandwich
Delicious melted dark chocolate, creamy peanut butter and sweet bananas all wrapped up in the best sandwich ever! Snack time is here to stay.
Ingredients:
For One Sandwich:
2 slices of bread (sprouted or whole grain)
2 tbsp creamy peanut butter (sub almond or sun butter)
1 banana, sliced
2-3 dark chocolate squares, chopped
Directions:
Slightly toast bread before grilling and assembling.
Once toasted, spread 1 tbsp peanut butter across both sides of bread.
Place banana slices on one side.
Sprinkle on chopped dark chocolate to both sides of bread.
Brush both sides of bread lightly with vegan butter.
Place sandwich inside panini press, grill or fry pan and cook until both sides are golden brown and chocolate is melted.
Enjoy!
If you have peanut allergies sub for almond butter or sun butter. Be sure to toast sprouted bread prior to assemble so it does not crumble easily.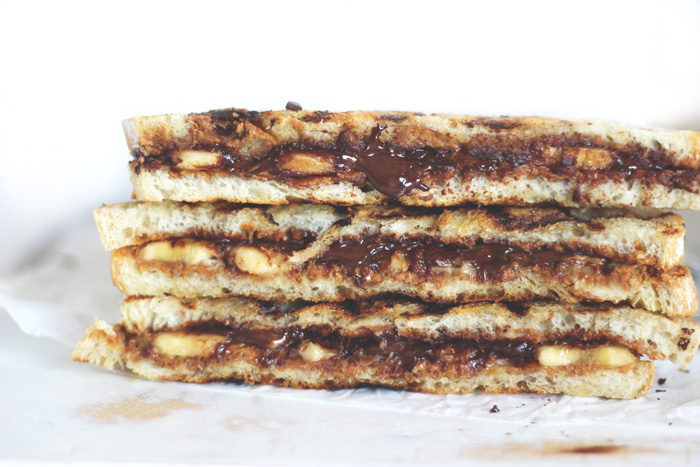 For more recipes like this one, check out the related posts below!