Vegan Mozzarella Stuffed Rice Balls with Lentils and Red Quinoa
jump to recipe
Thank you Village Harvest for sponsoring this post. Every day Village Harvest is planting seeds of change and growing possibilities, one bag of goodness at a time.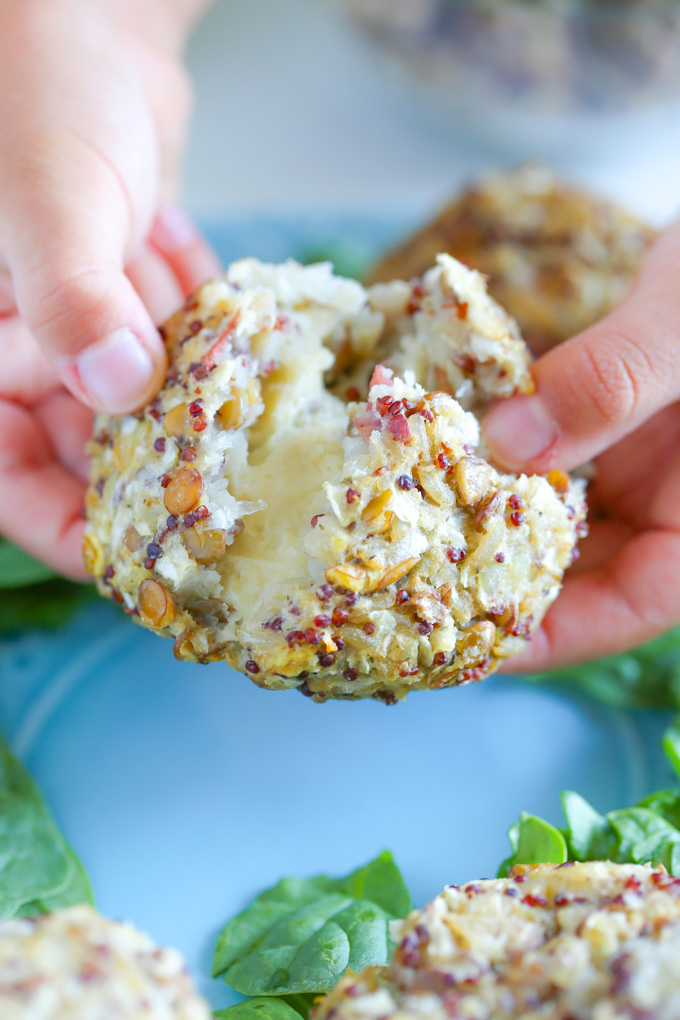 When I make these Vegan Mozzarella Stuffed Rice Balls with Lentils and Red Quinoa, they are gone almost immediately. The name screams healthy eating. I mean come on, lentils and quinoa?! It's the magical world of plant-based protein and thanks to Village Harvest's Organic Gluten Free Protein Blend made up of brown Jasmine, lentils, and red quinoa, this unique combination offers protein, complex carbohydrates, and enough dietary fiber to keep you feeling satisfied and energized all day long!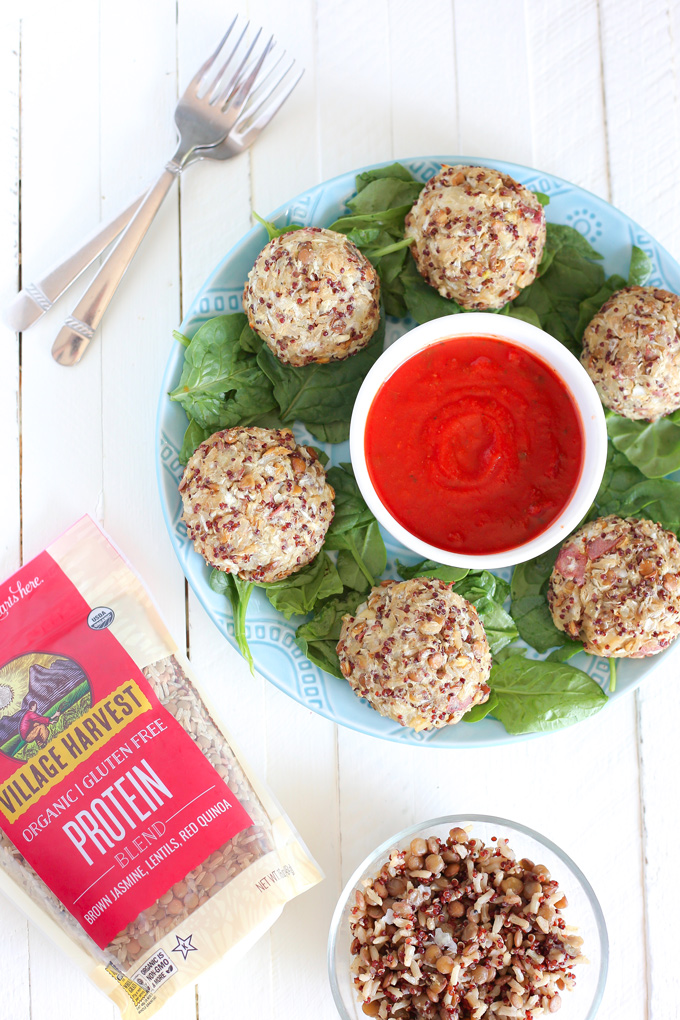 And then people wonder where vegans get their protein from – it's from whole grains, lentils and seeds such as these! Quinoa and Lentils are both one of the highest forms of protein you can get, even more so than meat. Not to mention our bodies are better equipped to break this down and it's very easy on the digestive system. As long as it's cooked because obviously raw would be a no no.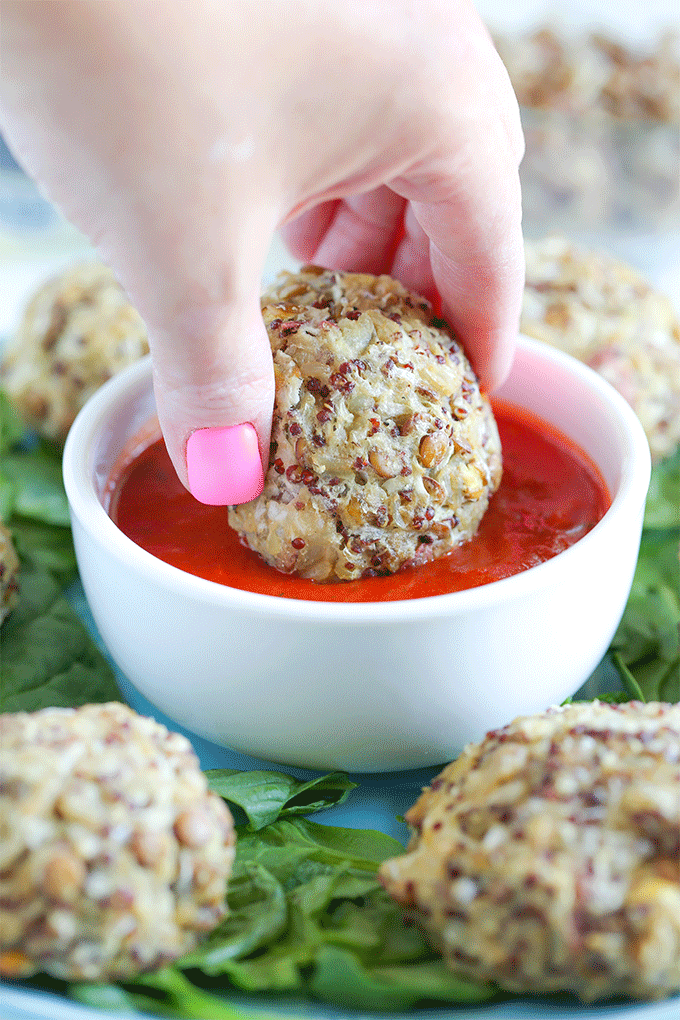 *That marinara dip though*
What I really love about Village Harvest is that they offer 3 different Organic Benefit Blends:
The one I'm using in this recipe which is  –  Organic Protein Blend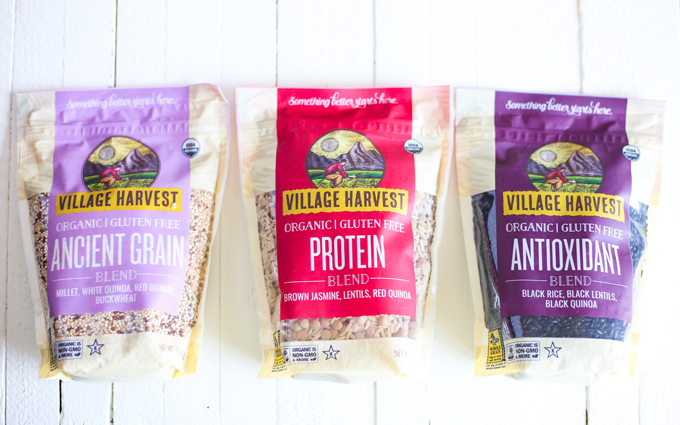 I think it's a huge plus when a company is not only about keeping us and our kids eating healthy, but also the planet we live in. We really need to nurture Mother Earth. She's been taking quite a beating from us and it's time we help and be part of the solution rather than be part of the problem. When you eat this way and introduce your kids to eating this way, you're also helping reverse the damage that's been done to our planet. I think it's important to encourage the continuous health and well being of where we live because without it there would be no us.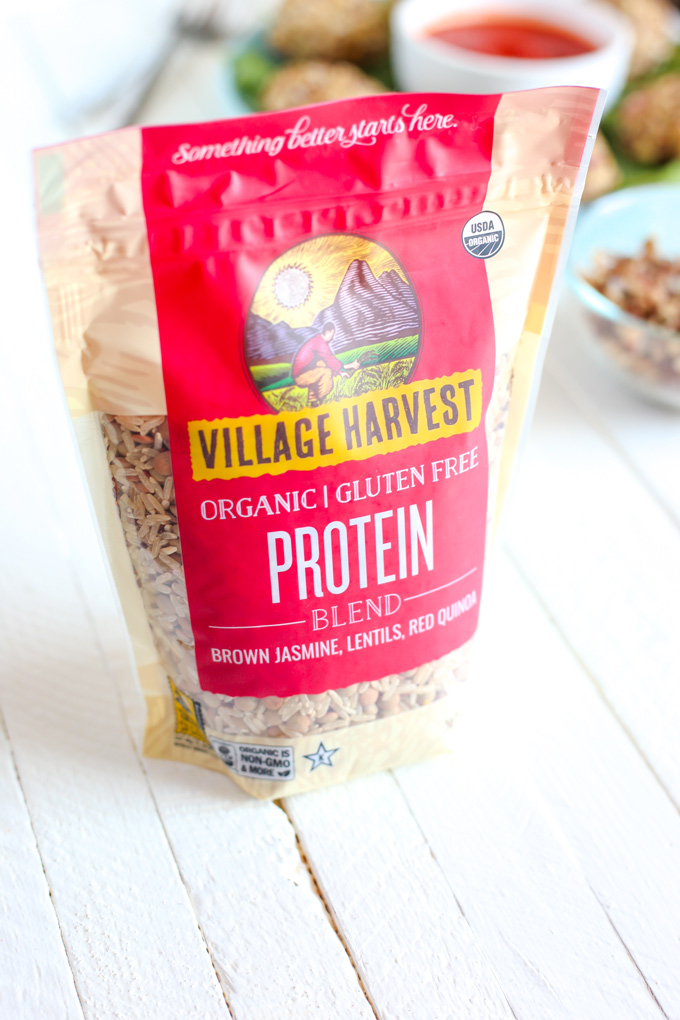 -Village Harvest products are more than just rice, they are about discovering new possibilities at home in the kitchen, or thousands -of miles away in the fields. Their motto:
Something Better Starts Here.
–Village Harvest defines social sustainability to not only mean caring for our planet, but also the workers that help to bring whole, healthy grains to your door.
-Village Harvest has pledged 1% of their profits to run programs that give back to the farmers and local communities from which they source their products.
–Village Harvest has pledged to donate 1% of their employees' time to charitable causes and sustainability efforts.
They're also organic and verified Non-GMO, so you know it's a trustworthy product. Also in the ingredients list there are no "natural flavors" or anything sketchy. It's just exactly what it says it is on the front packaging.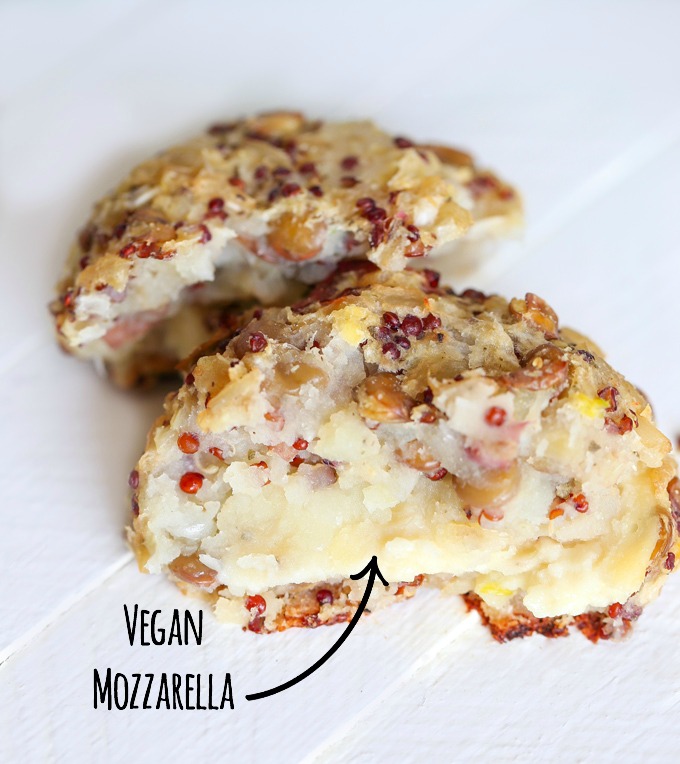 Can we talk for a second about what all this goodness is hiding in the middle?! That's right my favorite easy to make Vegan Mozzarella Cheese! This is another reason why my son looks for these when he comes back from playing outside and I'd bet when school starts he'd be looking for them when he gets home from there too. I use to make these with just regular rice but since having Village Harvest Blends I like using this for all the added nutrients. And it's so healthy and good for my son's growing body and also for the little baby growing inside me. That little guy needs all the nourishment as well.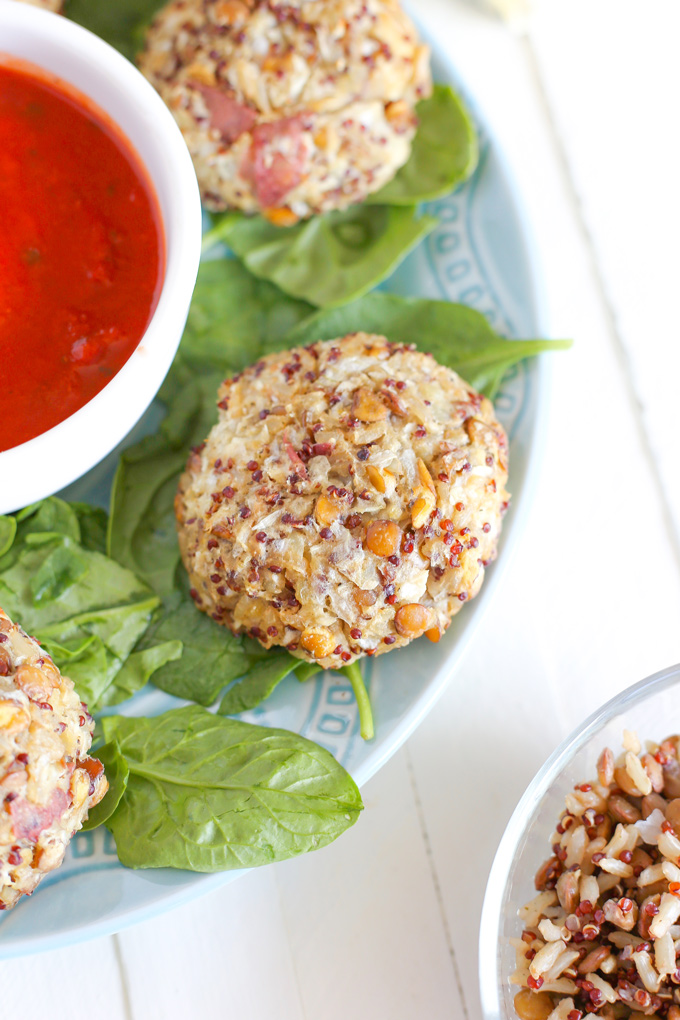 Being a mom and having things like this to make for my family  really puts a smile on my face because I know I don't do everything right and I make mistakes and I'll continue to make mistakes but at least I know I feed my kids good quality stuff. And that it's easily available for me. Now I'm not saying we eat super clean 24/7, we do not, I love snacking, but for the most part we eat healthy.
What I do is I take our traditional recipes, turn them plant-based, and make them healthy. I like things to taste super good not bland and boring, which can happen a lot of the time when you're eating on the healthier side. But not all has to be lost. With the Vegan Mozzarella for instance. It's made up of cashews some water and a few spices. It goes perfectly in the middle of one of these bad boys. Dip these vegan mozzarella stuffed rice balls with lentils and red quinoa in some marinara sauce and you've got yourself a healthy party full of nourishment but without sacrificing flavor and of course fun.
Purchase one of these amazing blends by visiting Village Harvest.
Don't have any stores that sell these blends near you? No problem, fill out this product request form.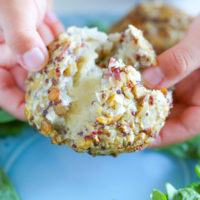 Vegan Stuffed Mozzarella Rice Balls with Lentils and Red Quinoa
A high protein plant based snack or meal you can eat by itself or atop of a salad or even paired with pasta! Super cheesy and delicious.
Ingredients:
2 1/4 cup low sodium vegetable broth
1 vegetable bouillon
2 medium red jacket potatoes
4 garlic cloves, minced
1 medium yellow onion, diced
1 tbsp onion powder
1 tbsp garlic powder
1 tbsp basil
1 tbsp vegan butter
salt/pepper to taste
1 batch vegan mozzarella cheese for stuffing (optional)
1 cup warm marinara sauce for dipping
Directions:
If you're using the vegan mozzarella make that first and place it in the fridge until ready to stuff the rice balls with.
Prepare the Village Harvest Protein Blend by adding 1 cup of the blend to 2 1/4 cup of low sodium vegetable broth or alternatively water. Add the vegetable bouillon, let it get to a boil then lower to a simmer and let cook for 20 minutes. It's done when all the liquid is absorbed and the blend is fluffy.
While this is cooking cut your potatoes (you don't have to peel them if you don't want to) and boil them until tender. Takes about 10 to 15 minutes.
Once the potatoes are tender remove them from the water and place them in a large bowl. Mash them with a fork and add 1 tbsp of vegan butter. You can sprinkle some salt and pepper in this.
Once the protein blend of rice, lentils and quinoa are done, add the 2 cups of that along with the rest of the seasonings to the large bowl. (Diced onions, minced garlic and all seasonings.)
Mix until everything is well combined together and you have a moist mixture.
Preheat oven to 375F and line a baking sheet with parchment paper.
Using a measurement of 1/4 cup scoop out the mixture, roll it into a ball and flatten it. Place a tbsp amount of vegan mozzarella to the middle and take another 1/4 cup of rice mixture to place on top. Roll that into a ball and place it on the baking sheet. You can make these smaller or bigger depending on preference. You can also skip this step if you're not adding cheese.
Once all the mixture is assembled put in the oven to bake for 20-25 minutes.
Remove from oven and let sit for 5 minutes. Heat up your favorite marinara sauce then serve, dip and Enjoy!
Stores well in the fridge for up to 3 days in an air tight container.
I was selected for this opportunity as a member of CLEVER and the content and opinions expressed here are all my own.