Easy Brownie Batter Breakfast Bake
jump to recipe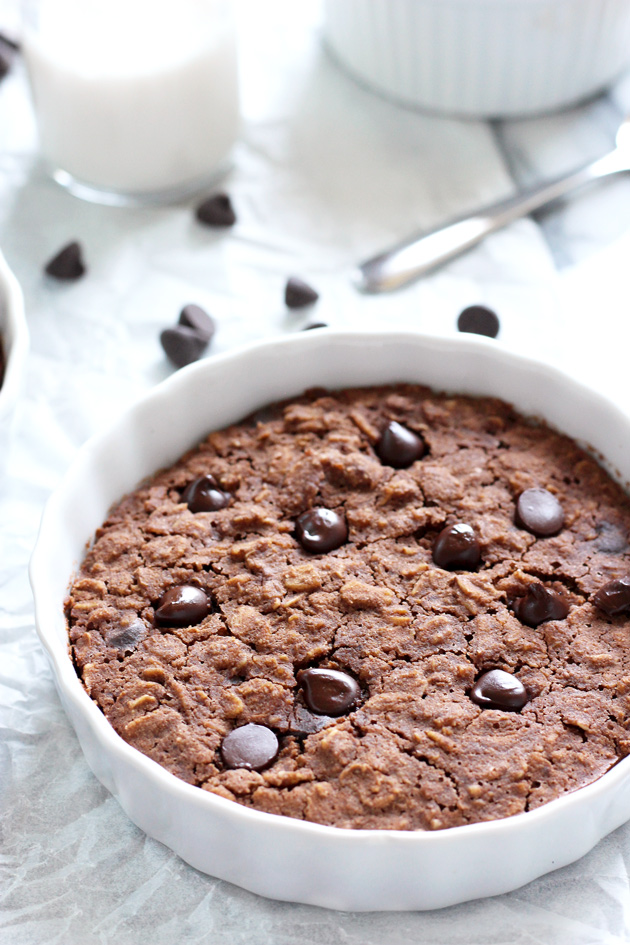 When you wake up in the morning and know that chocolate is on the menu for breakfast, one would tend to be extremely excited about it, amirite? For instance, this Easy Brownie Batter Breakfast Bake just happens to fall into your lap, you eat it up and are like whoa, what just happened. I know I know, let's all take a moment☝🏻…(moment taken).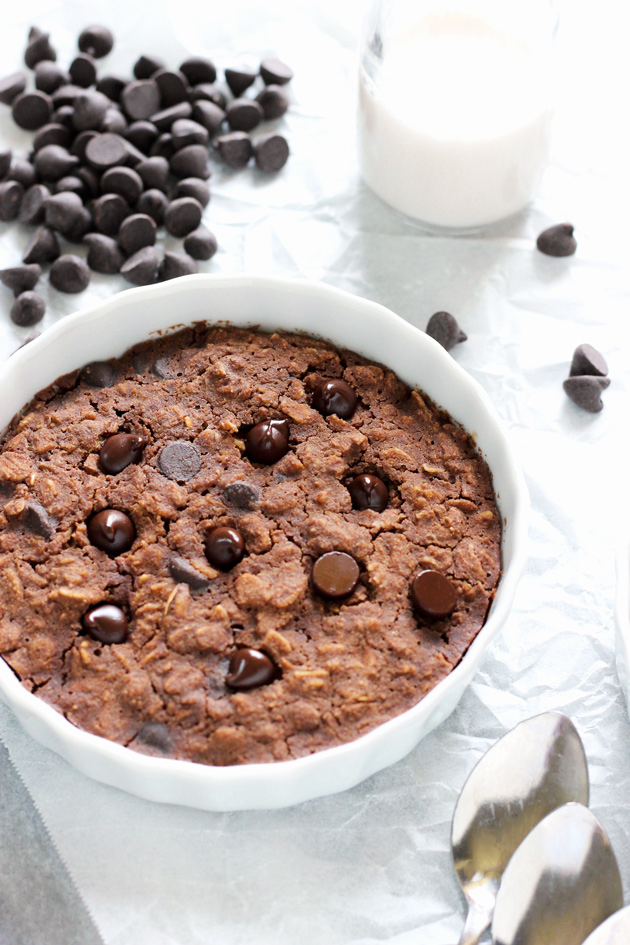 I have THE sweetest sweet tooth. Like seriously. And although I don't eat anything genetically modified or processed, I still like my sweets, even the healthy ones. I mostly use dates or date paste, maple syrup, coconut nectar, or brown rice malt syrup to sweeten things up a bit. I think to myself how on God's beautiful green earth were things like that missing from my life! I almost shed a tear thinking about the lost times I could have had with something like this bake, but I will not dwell on the past and instead embrace the future because me and this guy (the easy brownie batter breakfast bake) have a lot, and I mean a lot of good times ahead.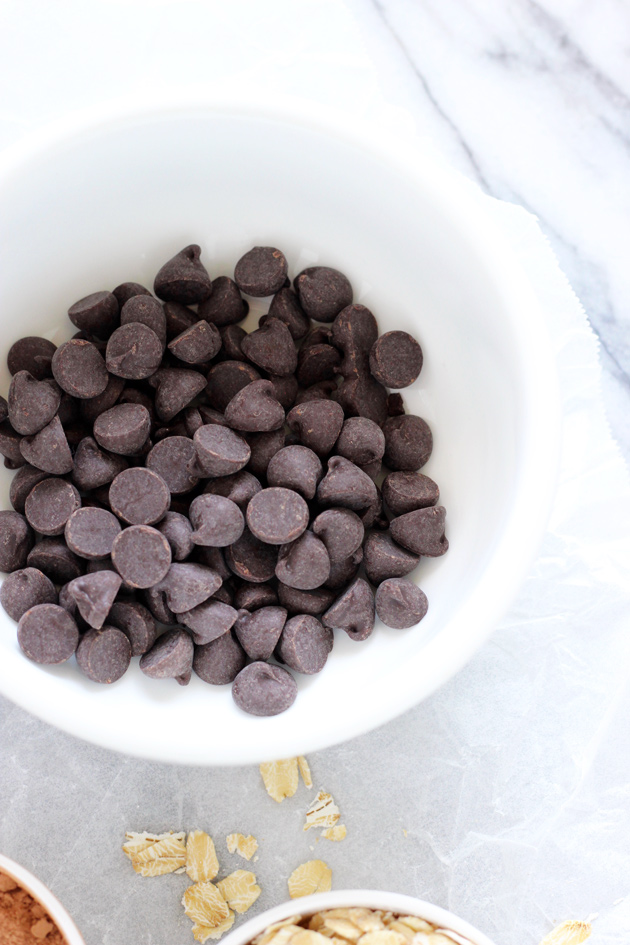 Chocolatey Carob Chips 😍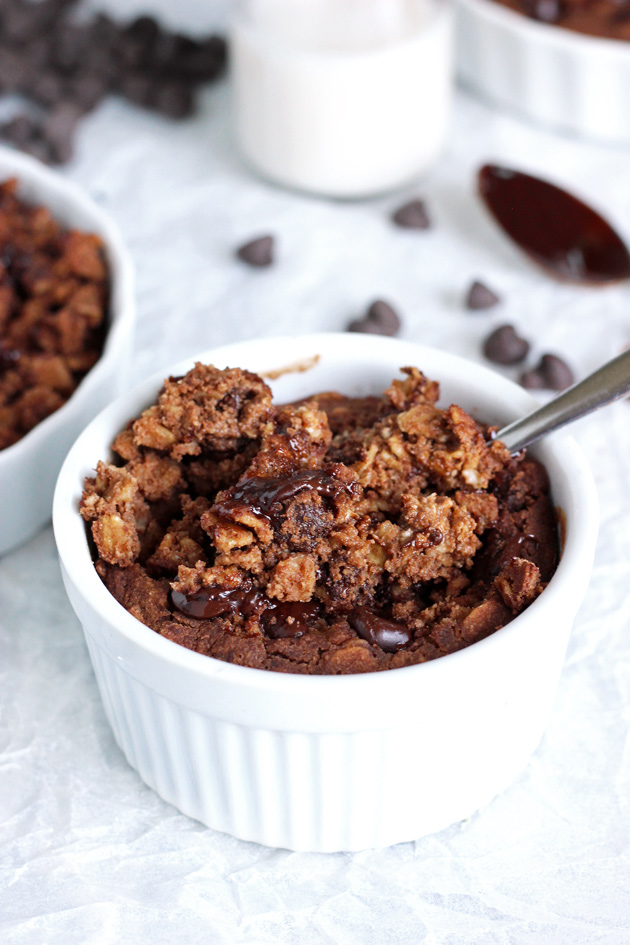 I'm known to add chocolate to everything, well ok maybe not everything, just most things. (wink wink) It's just a staple for me and kinda helps get me through the day.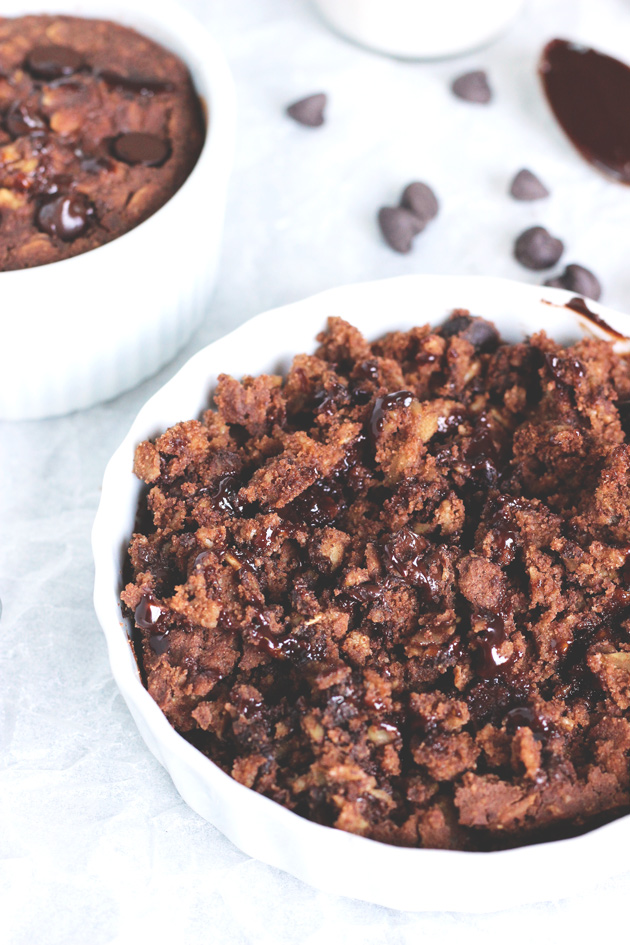 Nutrition Tip of the Day:
The original recipe calls for cocoa powder but I used cacao powder because of it's high antioxidant properties. Cacao is the purest form of chocolate you can consume. It's essentially raw and not processed like regular chocolate or cocoa powder. Cacao is high in magnesium, calcium, sulfur, zinc, iron, copper, potassium, and manganese. The vitamin content is out of this world amaze as it's rich in vitamins B1, B2, B3, B5, B9, C, and E.
Cacao has a higher antioxidant activity level compared to it's friends, green tea, black tea, and organic red wine. Overtime our bodies are bombarded with free radicals and toxins like heavy metals, lead, mercury, etc. These harmful substances that we live through everyday can lead to other health problems and chronic illnesses. We need powerful antioxidants like cacao to help our bodies fight against these pathogens and keep our immune systems strong and powerful not suppressed and weak. It's like do I need to give you a reason to eat more healthy chocolate?! I reckon I don't.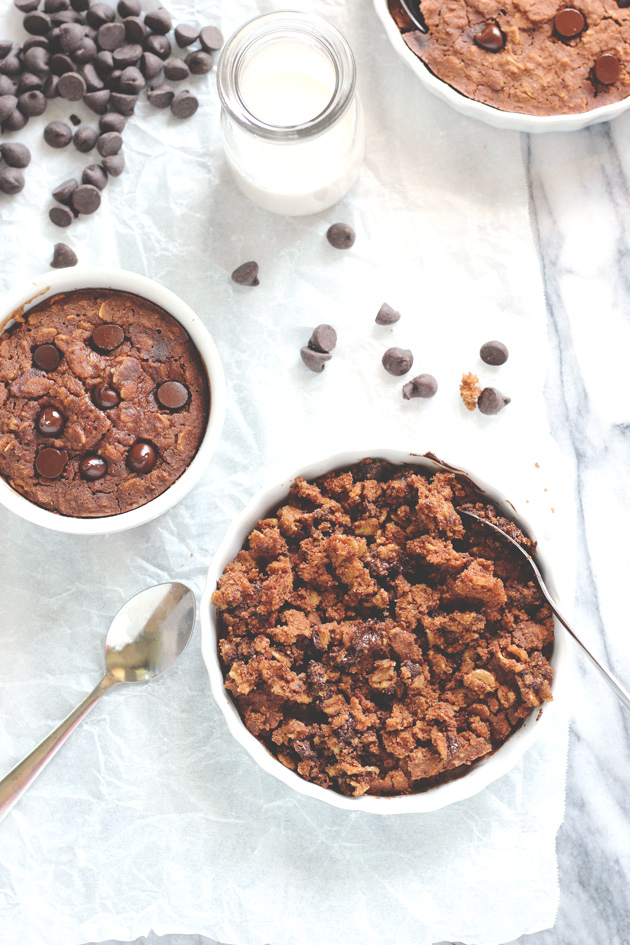 The vegan chocolate chips aside this Easy Brownie Batter Breakfast Bake is packed with all the essentials, healthy carbs, fiber, fats, and plant protein. It's the perfect balanced breakfast so you can switch things up in the morning and not continuously have the same thing over and over again. But who says this has to remain strictly for breakfast? It can be eaten as a snack, perhaps for lunch, heck even dinner. I love breakfast for dinner, I don't know about anyone else and I'm also a sucker for carbs after dark.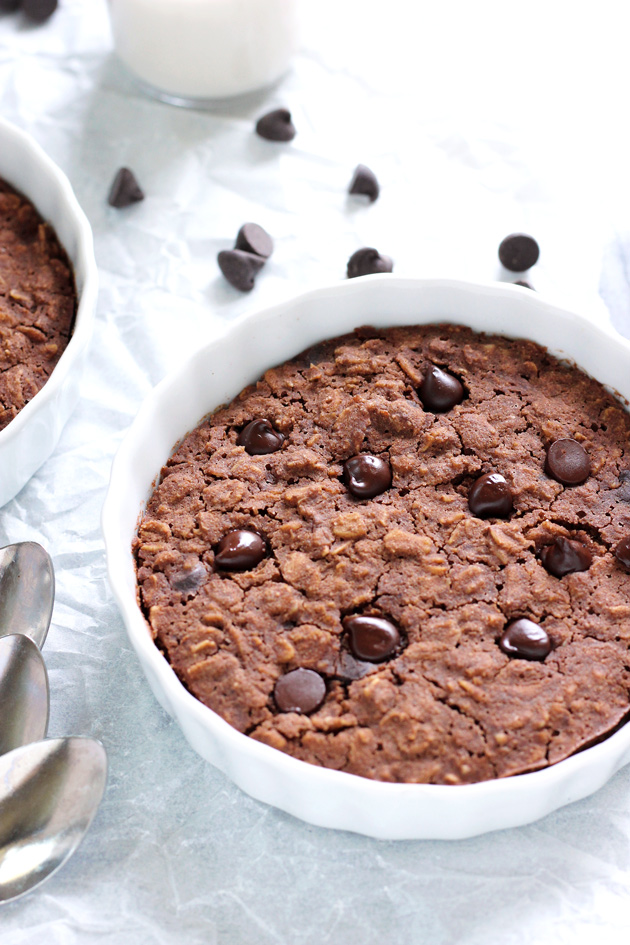 Holy Deliciousness!🍪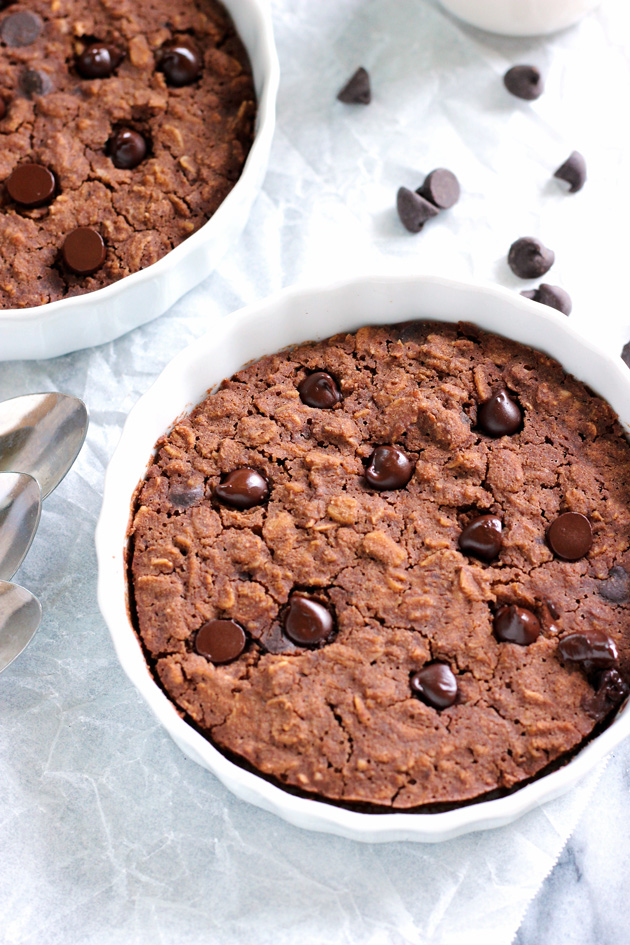 And no I do not consider this a "cheat meal". To me a cheat meal is a straight up doughnut or entire pizza that you damn right know isn't good for you.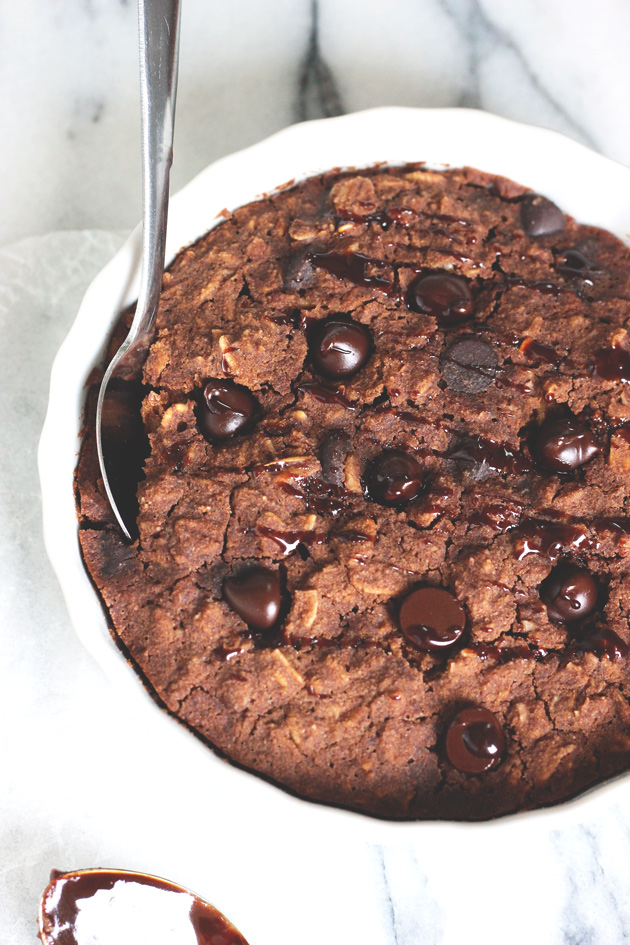 Double or triple this recipe if you have more mouths to feed and enjoy your healthy easy brownie batter breakfast bake like Shakira says, whenever, wherever!
I also have some amazing news to share with you lovely people out there! The revamp of my app NeuroticMommy Desserts 2.0 has now launched and is available to download on iTunes. Sooo exciting! In the app there are over 50 (yes 50) vegan HEALTHY dessert recipes for everyone to enjoy. They're ALL kid friendly, and trust me I know, they're tried and true by my number one taste tester, my son, who doesn't lie. In this updated format you'll see a new sleek design, clean and crisp, easier than ever to navigate thanks to TouchZenMedia for their expertise in beautiful app development and bringing my vision to life🙏🏻. The pictures are bright, the desserts are delicious, I mean you seriously can't go wrong! You don't have to go dessert-less in the summer, shirtless, maybe. Download your app today and give yourself permission to treat yo-self in yummerly ways. Chocolate is involved people, and we know how I feel about that…Ahem…hence this post.😉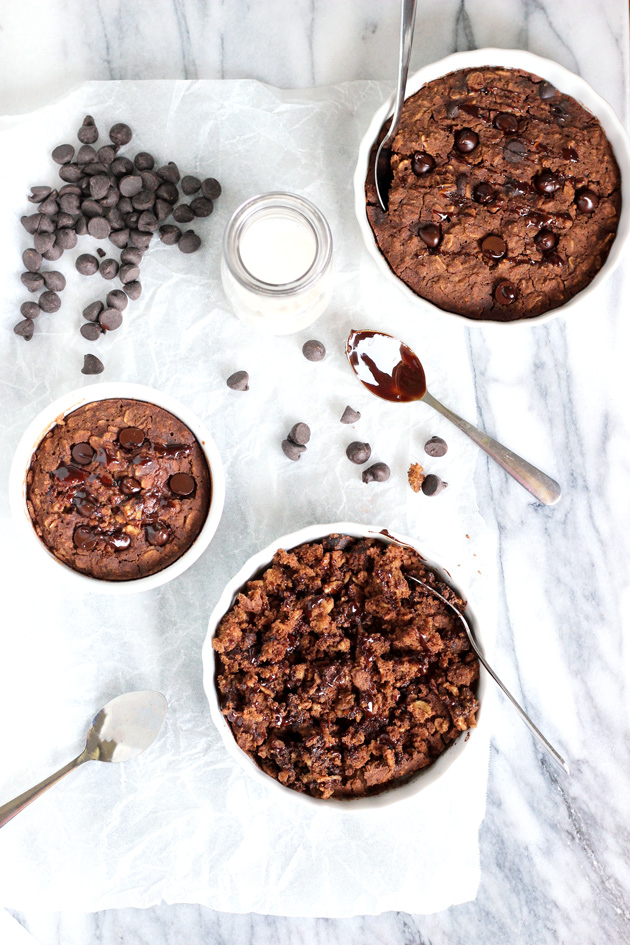 Ps. Snap of shot of any of the desserts you make from my app and post them to Instagram using the hashtag #neuroticmommy for a chance to be featured on @neuroticmommy, @thejennspot, and even @thechocolatecorner!
Download the app here:
NeuroticMommy Desserts
Recipe adapted from runningwithspoons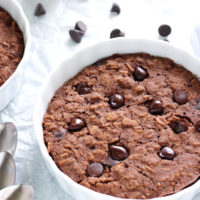 Easy Brownie Batter Breakfast Bake
Yes, you can have brownies for breakfast! Loaded with chocolatey goodness that's high in antioxidants to fight off those free radicals.
Ingredients:
2/3 cup gluten free rolled oats
4 tbsp brown rice flour
3 tbsp cacao powder
1 tsp baking powder
pinch of salt
2/3 cup almond milk
2-3 tbsp maple syrup
2 tsp coconut oil, melted
1 tsp vanilla extract
3 tbsp carob chips or non dairy chocolate chips
Directions:
Preheat oven to 325F and spray ramekins with coconut oil spray or non stick cooking spray.
In a medium bowl whisk together oats, flour, cacao powder, baking powder, and salt.
Add in all wet ingredients and mix until well combined.
Fold in carob chips.
Distribute batter evenly among the ramekins and bake for 15-20 minutes
Remove from oven, let cool for a few minutes and top with extra carob chips, pour some almond milk on it and Enjoy!