Healthy Candy Corn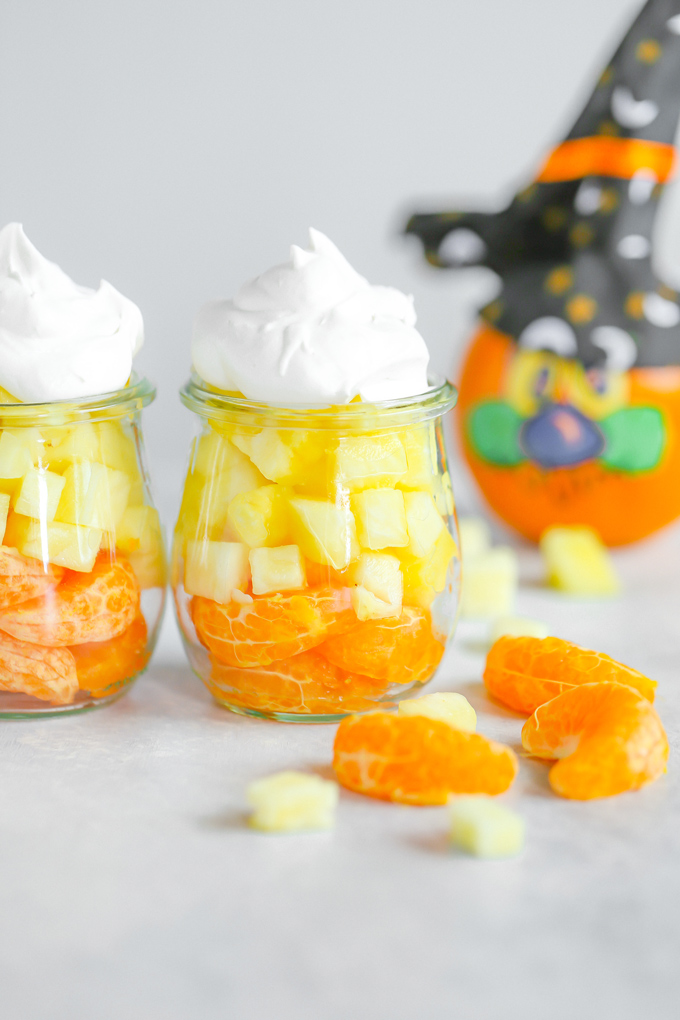 Ok I don't want to take all the fun out of Halloween for the kids but I have to say giving kids better alternatives to traditional (not so good for you) faves like this Healthy Candy Corn is at least an option. It's fun, totally delicious, and so easy to make they can actually do it themselves. And great as an afternoon/after school snack for both adults and kids!
I know I would get massive eye rolls from children worldwide about this but I promise them, they'll love it if they just give it a try. And don't be mad at mom or dad for whipping this up for you. They just care about you and don't want to fill you guys up with chemicals and sugar because although it tastes wonderful, it's not so good for your growing bodies.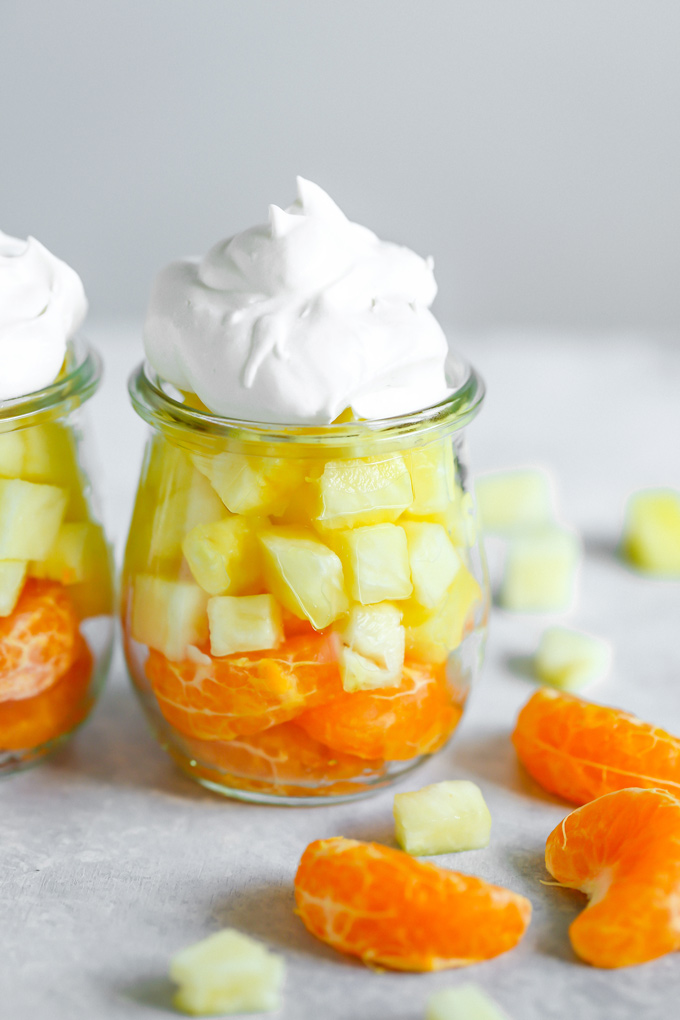 But I get it, we all get it. Halloween is for candy galore, and it's the one time of year kids get to dress up however they want and shove their faces with pounds of chocolate. I've actually been there an done that, haha. When you're young and don't have a care in the world including what foods you eat, it's no stress and so much fun. I don't want to take away the innocence of that either. Let your kids have fun and enjoy the day.
We use to go trick or treating and just give all the candy away that my son would get. Then as he got older he wanted to keep some. Now we let him keep some and he gives the rest away. Alternatively, we let him get a coloring book, book, toy, or game. If you don't agree with this that's ok, do what works for your family.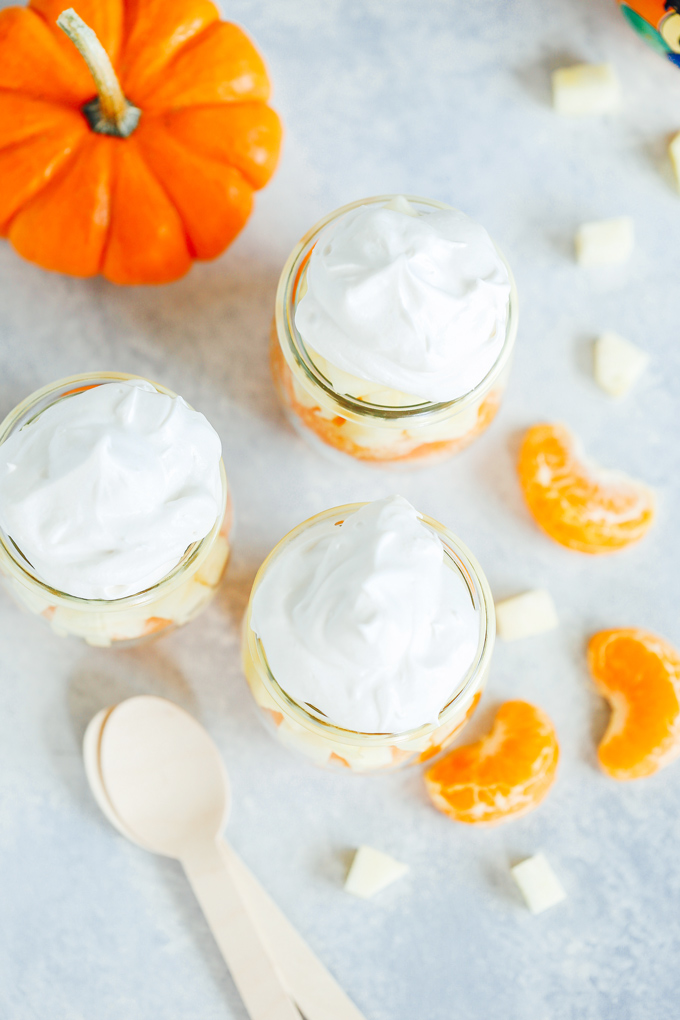 So back to this healthy candy corn. I've been making this since 2012 or 2013. I love how simple and easy it is to put together too. This is not only for Halloween but for anytime of the year. Also it could be any fruit (obviously) but I just love how the colors actually look like it's an enormous candy corn in a glass.
I use mandarins or tangerines but you can even do oranges, clementines, and mangoes for the bottom part. For the middle I chop up some fresh pineapple and then just top it with homemade coconut whipped cream. Seriously, it's a dazzler.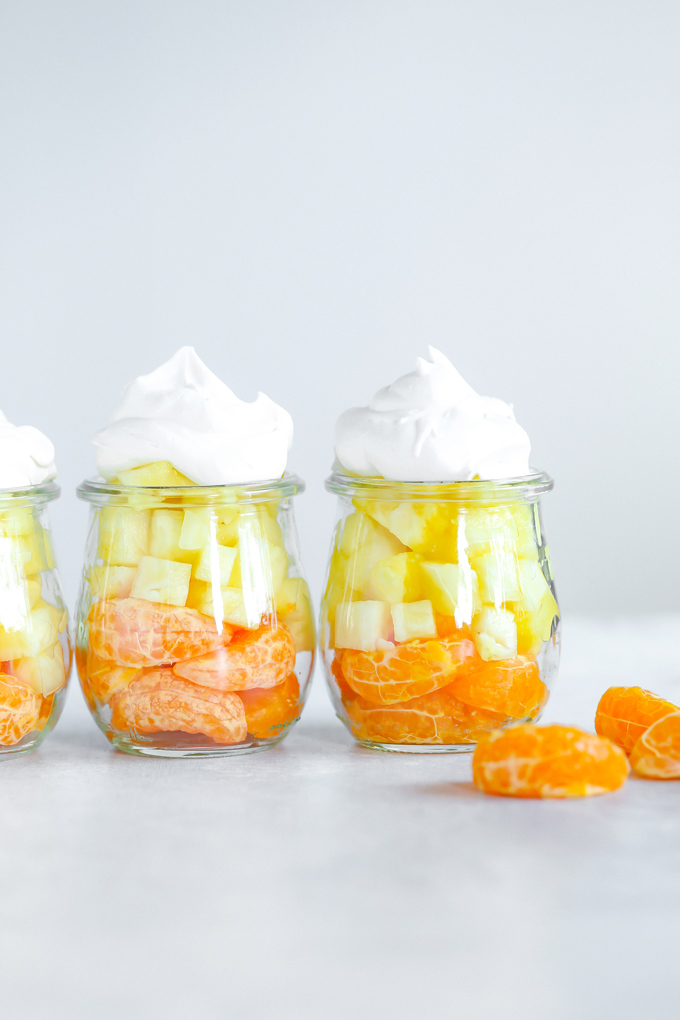 *THIS POST CONTAINS AFFILIATE LINKS, WHICH MEANS THAT I MAKE A SMALL COMMISSION OFF ALL ITEMS YOU PURCHASE AT NO ADDITIONAL COST TO YOU. I APPRECIATE YOUR SUPPORT IN THIS WAY AS IT HELPS KEEP NM UP AND RUNNING.*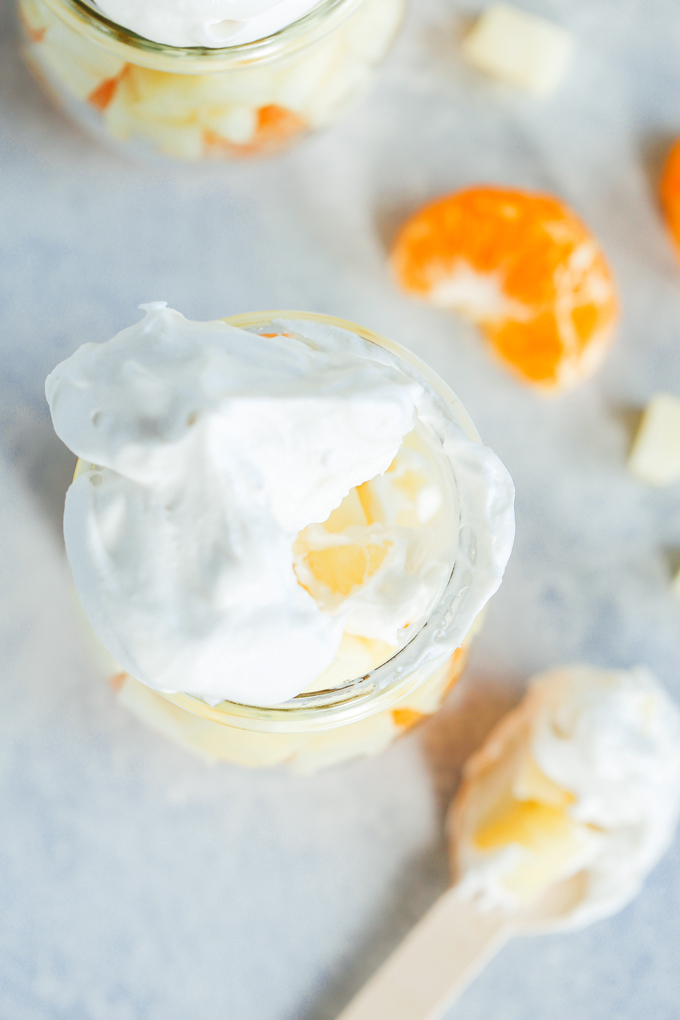 I love all things fun and candy plus chocolate and cookies so if you want more Halloween ideas you can check out these spooky spider cookies and this chocolate peanut butter banana bread (always a hit). Your kids won't be mad at you for bringing in more delicious goodies that just so happen (coincidentally) to be good for them. 🙂
Healthy Candy Corn
A healthier, tastier option to the original. Fun and creative, something the kids will love to make and eat!
Ingredients
2 manderines or tangerines
1 cup fresh chopped pineapple
2 tbsp coconut whipped cream (to top)
handful of shredded coconut (optional)
Instructions
Peel mandarin or tangerines and place at the bottom of the glass and top that with chopped pineapple. Dollop a generous amount of coconut whip cream on top and a sprinkle of shredded coconut if desired. Do this for however many glasses you want to make. Serve and enjoy!
Notes
can use oranges, clementines, or chopped mangoes for the orange portion as well.
~Pin This Recipe~

WE ARE A PARTICIPANT IN THE AMAZON SERVICES LLC ASSOCIATES PROGRAM, AN AFFILIATE ADVERTISING PROGRAM DESIGNED TO PROVIDE A MEANS FOR US TO EARN FEES BY LINKING TO AMAZON.COM AND AFFILIATED SITES.