Peanut Butter and Jelly Stuffed Dates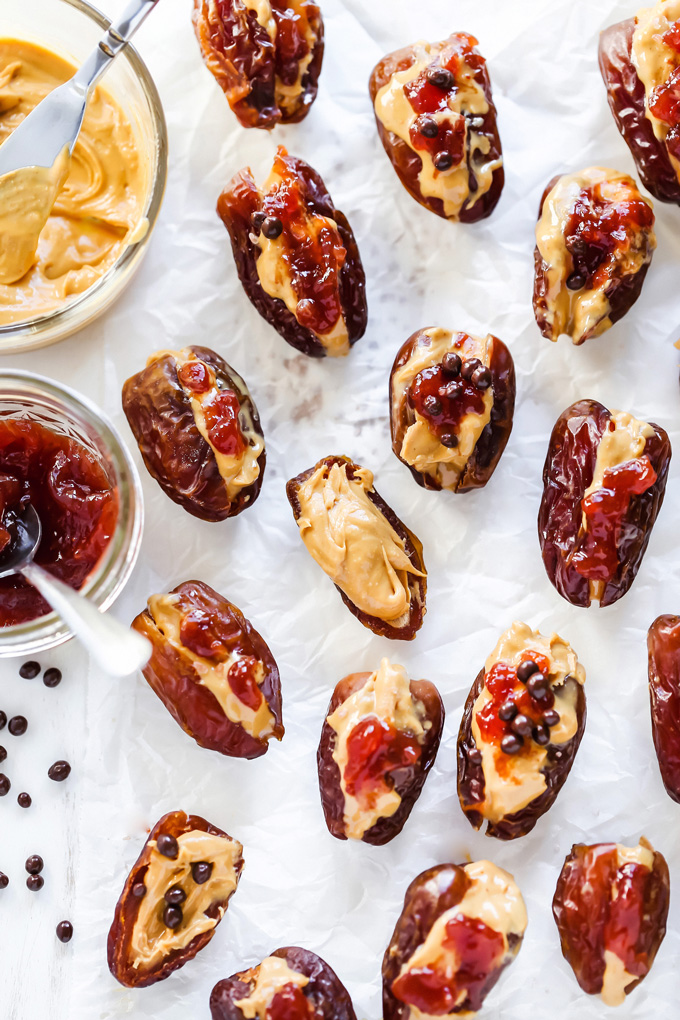 Growing up I use to get a shmear of peanut butter and jelly on white bread to take to school. I hated it. To me it was the most boring lunch ever and I had to watch all my friends with these giant hoagies actually enjoy lunch. I'm not saying I didn't have days in the lunchroom where I didn't shine, but peanut butter and jelly stand out to me because of how it made me feel back then. So sad.
Now as an adult, well, that's a different story. I smother my bread with copious amounts of creamy (or crunchy) peanut butter and I layer sweet strawberry or grape jelly on top of it. I enjoy the hell out of a sammie like that, let me tell you and so do my kids.We can't take peanut butter to school but at home it's game freakin' on.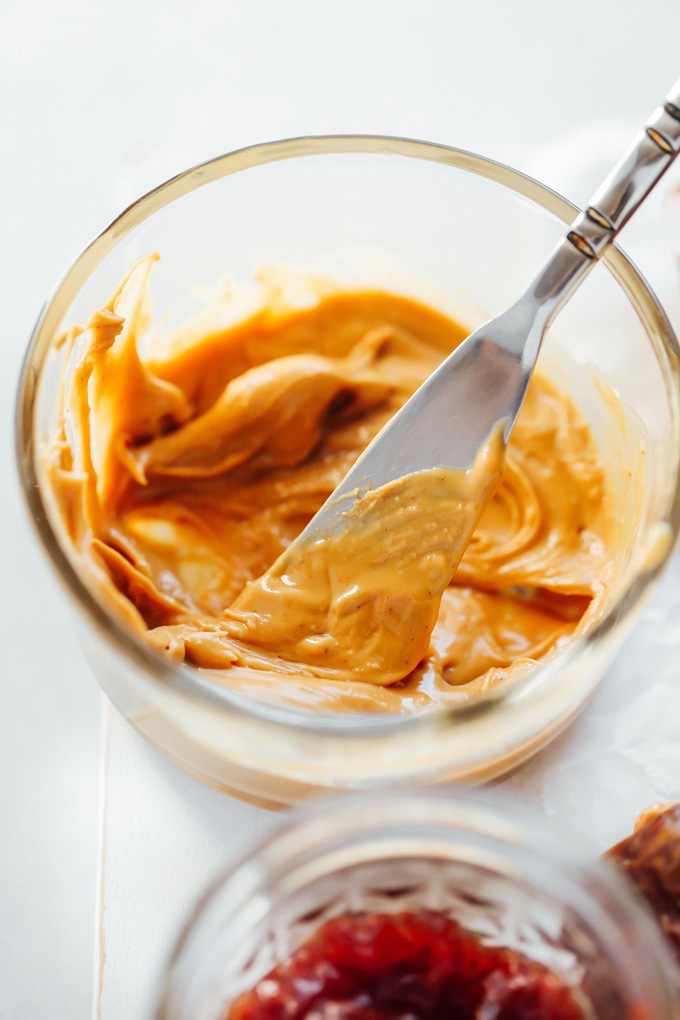 Dates are one of the most nutritionally dense fruits out there. Dates are a fresh fruit, yes. They're not a dried fruit like most people tend to believe. They are actually harvested from the date palm, big, tall trees, that hang higher than 50 feet off the ground. They grow in bunches kind of like grapes do. Once picked they are cleaned, sorted and packaged right away. There's no processing, they look like that all on their own.
I spy with my little eye…
Here's the one thing about dates no one tells you: YOU NEED TO ALWAYS CHECK YOUR DATES. I always talk about this on Instagram. Check the insides, ALWAYS! They are natures candy and other things out in nature like to nuzzle and nestle in there as well like small bugs, bug eggs, dead bugs, dirt, and black powdery mold (see Instagram Story clip below).
When I first started eating dates I would just throw them in my blender without checking them or eat them straight up without looking first. Until one day I was like what in the god's name am I crunching on, low and behold, exactly what you're thinking…All. The. Yuck. – So Gross. Needless to say I now and forever adamantly check my dates, no questions asked.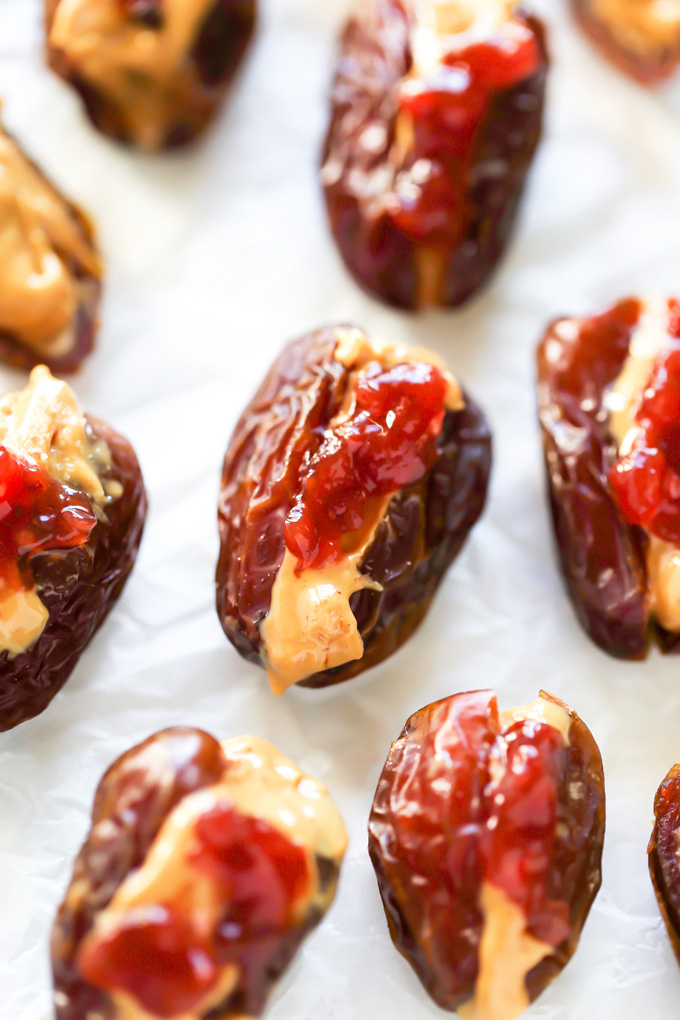 After I'm done inspecting them thoroughly I like to make a bunch of different things with dates. I clearly like to stuff them with Peanut Butter and Jelly (you can use any nut or seed butter). I like to add dates to my smoothies, desserts, treats, and I love making date paste out of them too. So much to do with these gems.
Health Benefits
Not to mention their health benefits. Dates are so easily digested they make it super easy for you to gain and benefit from all their nutrients. They're super high in fiber, helping move things along in the colon region, they're super high in disease fighting antioxidants, they promote brain and bone health, are an amazing natural sweetener, and so much more! Eat your dates!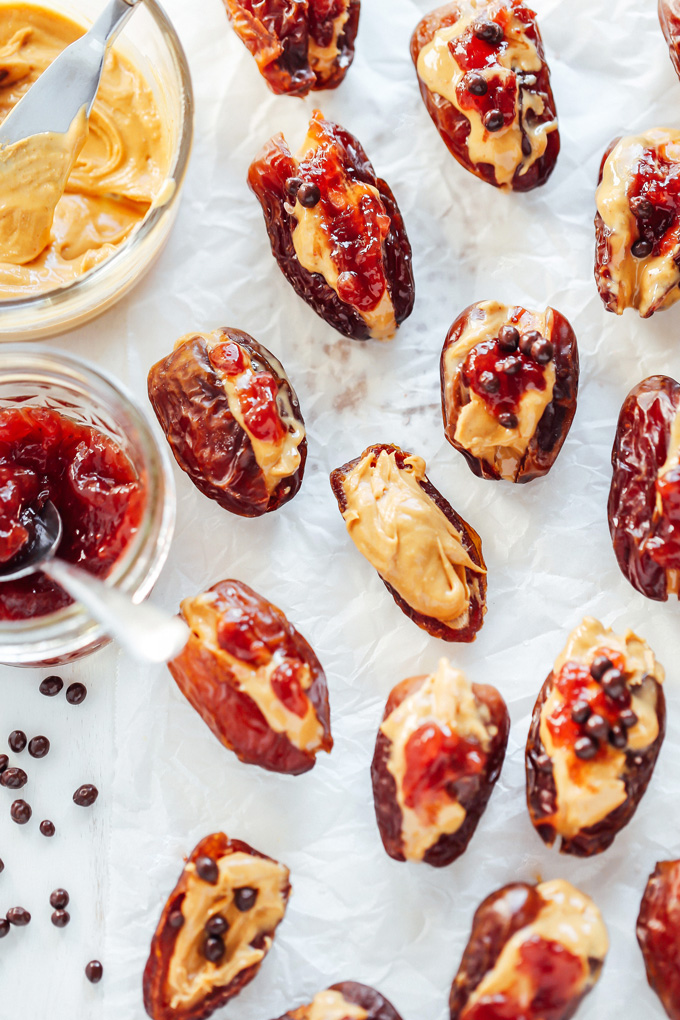 Since dates are naturally high in sugar people do tend to stay away from them if they don't really know better. Low on the glycemic index, dates are in no way like a candy bar that's for sure. It's reported that there are no significant blood sugar spikes when you eat dates in individuals healthy or diabetic. 1 to 3 a day should be fine with a healthy diet and good exercise. It's the high fiber in dates we're really after.
So now that you have the low low down on dates from all angles you can enjoy them as a snack by themselves, or stuffed to the brim like I did here. You can also scour the web and Pinterest and find so many different variations to stuffed dates, just pick the one that you want to try most and have at it. But don't stuff it with like an oreo cuz that would just defeat the purpose. But then again…naaah, never mind. Enjoy!
Peanut Butter and Jelly Stuffed Dates
Filled with creamy peanut butter and sweet strawberry jam, these are THE snack to have. Jam packed with goodness.
Ingredients
Approx. 16-20 dates
creamy or crunchy peanut butter
strawberry or grape jelly
1 cup hemp seeds
1/2 cup dairy free chocolate chips melted
1 tsp coconut oil
Instructions
Rinse dates, cut them open, remove the pits and inspect the inside.

Stuff each date with 1/2 tbsp of peanut butter and 1 tsp of jelly

Melt down the chocolate chips and coconut oil. Remove from heat and add in the hemp hearts, coating them evenly. Scoop them up with a fork, let any excess chocolate drip off and place them on parchment paper. Pop them in the freezer to set for about 10 minutes.

Sprinkle the tops with chocolate covered hemp seeds, chocolate chips or cacao nibs or leave them plain, totally up to you. Serve right away and enjoy!
Notes
There is a brand that sells dark chocolate covered hemp seeds at WholeFoods but it contains milk so check the ingredients list before purchasing. 
Looking to use more dates? Try these easy recipes to start!
Raw Vegan Walnut Brownies with Chocolate Ganache
~Pin This Recipe~