Almond Butter Banana Bread Blondies
jump to recipe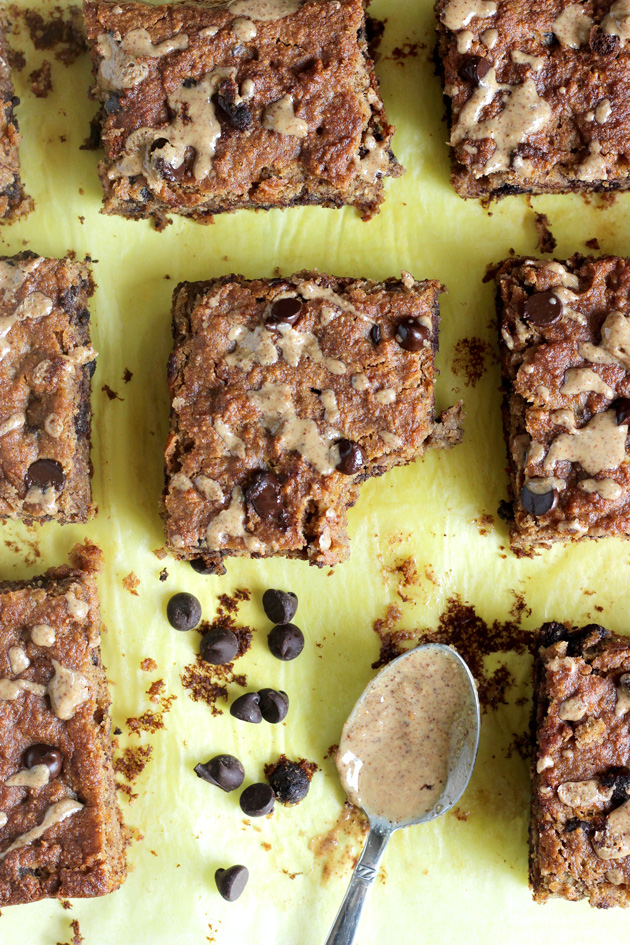 It's Friday…WooHoo! Time to kick off Memorial Day Weekend with some Almond Butter Banana Bread Blondies! They say blondes have more fun right, and they certainly do especially when chocolate, bananas, and all other things good for you are involved. Let me start by saying, not only are they vegan, they're also…wait for it…gluten effin free! I know you must be thinking like ok so who cares they're gluten-free, well lots and lots of people are gluten sensitive and people who tend to live a healthier way of life like to avoid gluten for personal reasons. Now although I am not 100% gluten-free myself, I like to make desserts that everyone can enjoy…like errrbody.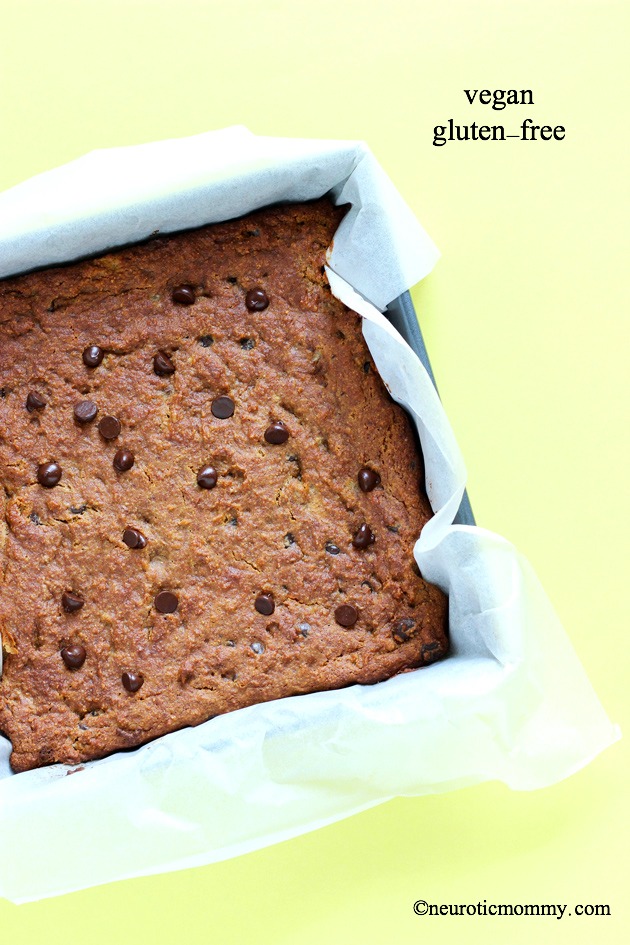 Nutrition Tip of the Day
I'm a big fan of ooey, gooey, chocolaty things, obviously right. So I always like to add a major ingredient into each of my recipes that stands out and for this one the ingredient of the day is Almonds (and the crowd goes wild)! From almond butter to almond meal these flourless blondies are packed with nutrients I can't even begin to describe! Well I can and I will because almond butter or almonds for that matter fall under the radar in the health department, especially if you're plant-based. This is a major source of protein. Like major. But that's not all. Almonds or almond butter are:
High in fiber
High in magnesium
Supports bone health
Aids in weight loss
Lowers cholesterol
Promotes healthy cardiovascular function. Say whaaa💁🏼.
Adding any nuts into your diet like almonds (if you can) helps keep blood sugar in check and can lower your risk of heart attack. In the US the main health issues on the rise are heart disease, diabetes, cancer, and obesity. Each year the numbers climb the charts higher and precede the previous years. So basically the numbers keep going up and up. We want to reverse that.
Don't Be Afraid of the Fat Content!
Almonds are full of healthy fats which we need to function. We all need healthy fats, it's the saturated fat that we don't need or want.  A serving of almond butter say contains about 18g of fat and those fats are mostly unsaturated fatty acids. What's that? These are the fats that help lower cholesterol and help your blood stream fight or prevent against cardiovascular disease, and on top of that, provide the body with energy. We need energy for everything we do even sleep, so quality energy is essential.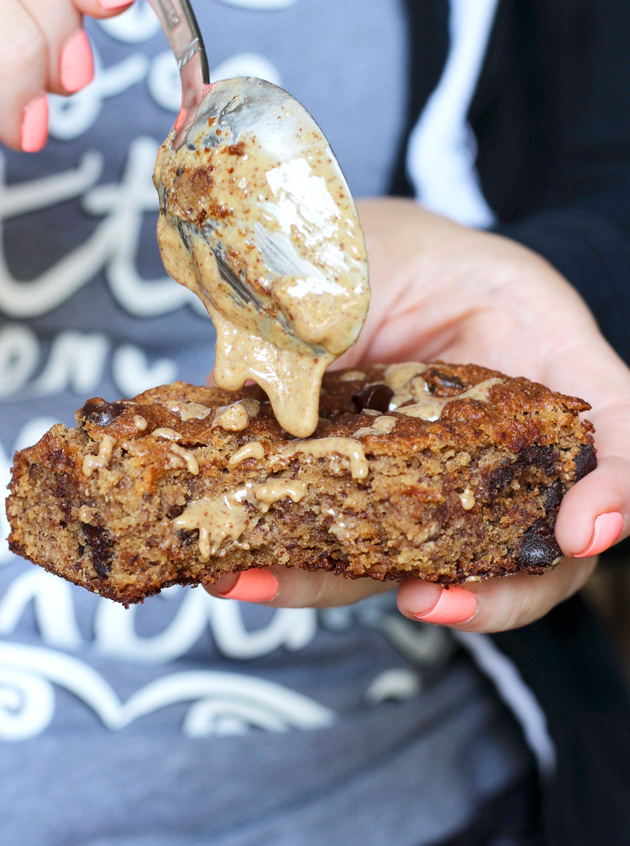 Errr Ma Gawd😍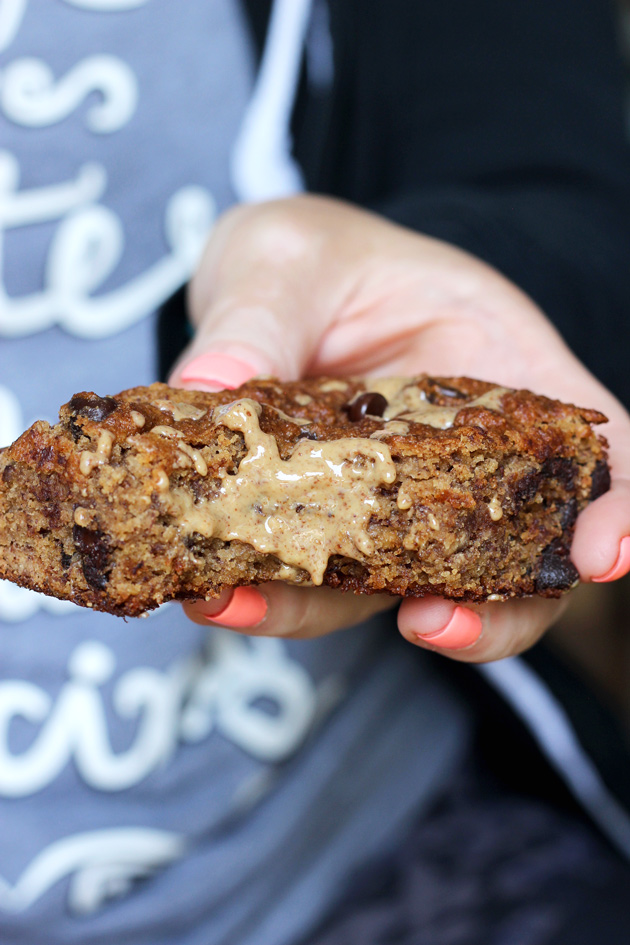 Now that you're up to speed on all things almonds we can dive right into the goodness of these blondies. If you love brownies, blondies, and banana bread, you've landed in the right place because I got you covered on all fronts. I wanted something cake-ish, something fudgey, something banana bread-like. I brilliantly put all three together and came up with this because what's life like without any of it. Ba-oring!😴 snooze
The almond butter with mashed bananas and melted carob chips are an amazing trio that needed to meet and make these beautiful, delicious babies. Just by the looks of them, I know you can agree. Don't you want to just lick your screen/phone/whatever other device you're viewing this on? No judgements…tissue? LOL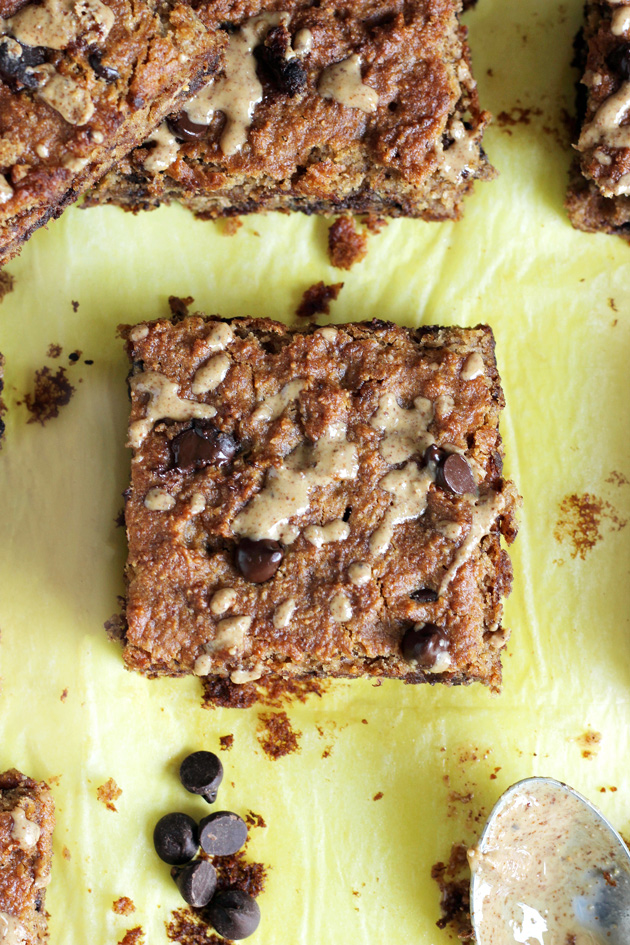 Love🍌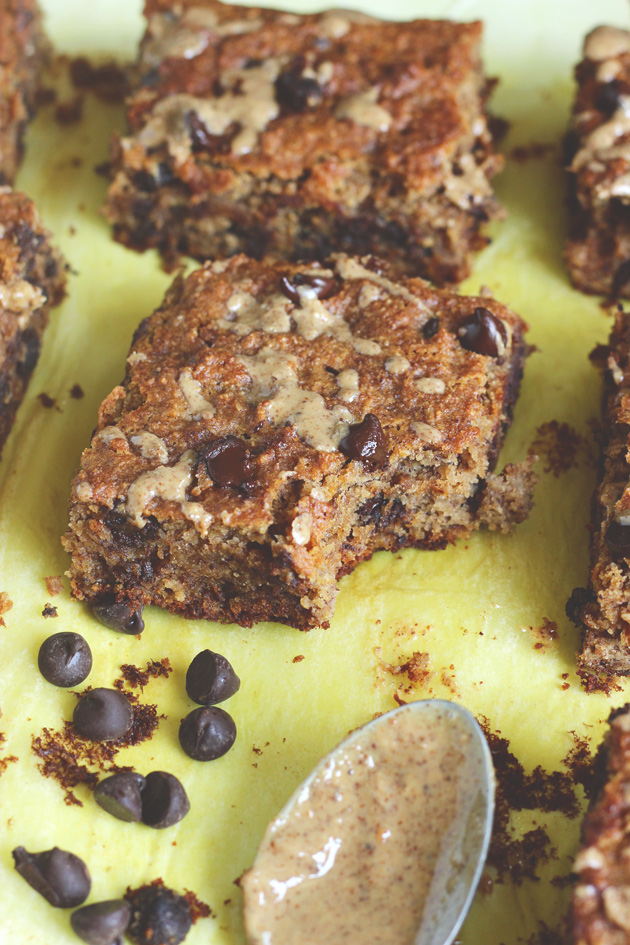 Enjoy your holiday weekend without worrying about anything but having fun and keeping safe. Remember, don't text, drink, talk, or anything else while driving, eat and drink responsibly, and make these Almond Butter Banana Bread Blondies, because if you don't, I'm going to tell your Mother (LOL). Don't hold out on your family, it is the start of the summer after all, why not kick it off with a hot blonde! (See what I did there😉)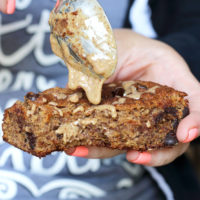 Almond Butter Banana Bread Blondies
These vegan, gluten-free blondies are just in time for summer. They're healthy, full of delicious healthy fats and fiber, oh and most importantly stuffed with creamy almond butter, bananas, and chocolate!
Ingredients:
2 bananas, mashed
3/4 cup almond butter (and extra for drizzling)
2 tsp vanilla extract
1/2 tbsp coconut oil, melted
1/2 cup almond milk
1/3 cup coconut sugar
1 1/2 cup almond meal
3 tbsp coconut flour
1 1/2 tsp baking powder
1 tsp baking soda
2 tbsp cornstarch or arrowroot flour
pinch of salt
1 cup carob chips or any other dairy free chocolate chips
Directions:
Preheat oven to 350F. Spray a 9x9" banking dish with coconut oil spray or non stick cooking spray then line it with parchment paper.
In a large bowl mix all wet ingredients first: mashed bananas, almond butter, vanilla extract, coconut oil, and almond milk until nice and creamy.
Add in all dry ingredients: coconut sugar, almond meal, coconut flour, baking powder & soda, cornstarch, and mix until well combined.
Fold in chocolate chips or carob chips.
Pour batter into prepared baking dish and smooth tops out evenly with a spatula. You can wet the tips of your fingertips to smooth it out even more.
Add more chocolate chips on top if desired and bake for 30-35 minutes until a toothpick inserted comes out clean.
To get the almond butter to easily drizzle, heat up a tbsp in a small sauce pan until liquidy. Once blondies are done remove from oven and let cool in the pan for 5 minutes. Remove from pan, drizzle with almond butter and cut into squares.
Serve right away or wait till later and Enjoy!
Will stay good at room temperature covered for up to 4 days but you can refrigerate them too.
You can sub almond milk for any nut milk.
Some almond butters are more oily than others so if you feel your almond butter is on the more oily side go down to using half a cup instead of 3/4.