Mind Blowing Vegan Tiramisu
jump to recipe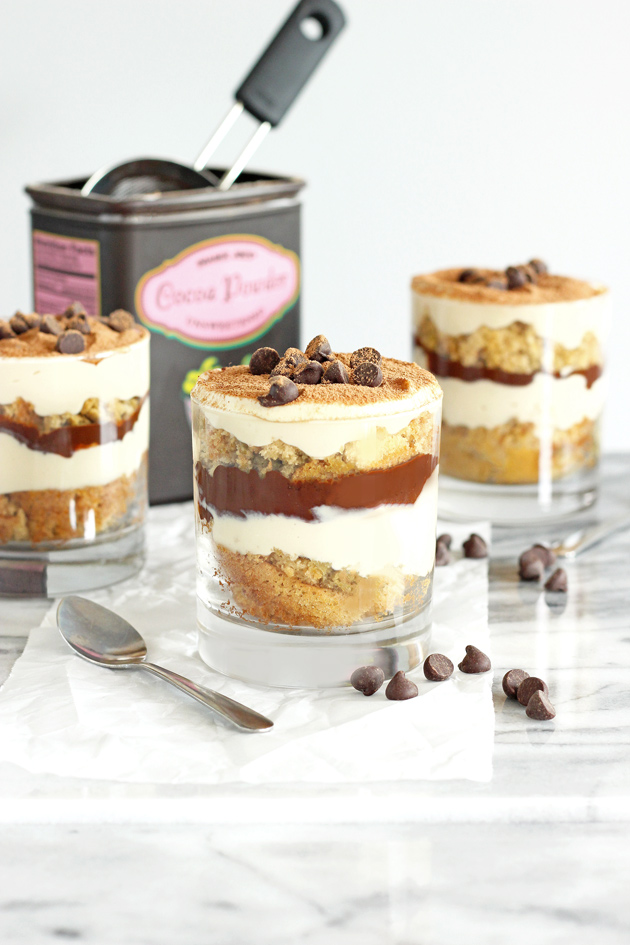 Guys! Hello, how are ya!? I know you've probably missed me and I totes missed you too! I haven't forgot about you. I've been super busy working and creating incredible stuff for you, like this Mind Blowing Vegan Tiramisu. I could not wait to share this recipe with you and  let you in on the deets to my new found favorite dessert…again. I say again because I've always loved tiramisu. I even made a raw version of it that you can find on my Instagram. But anyway I really missed "the real thing".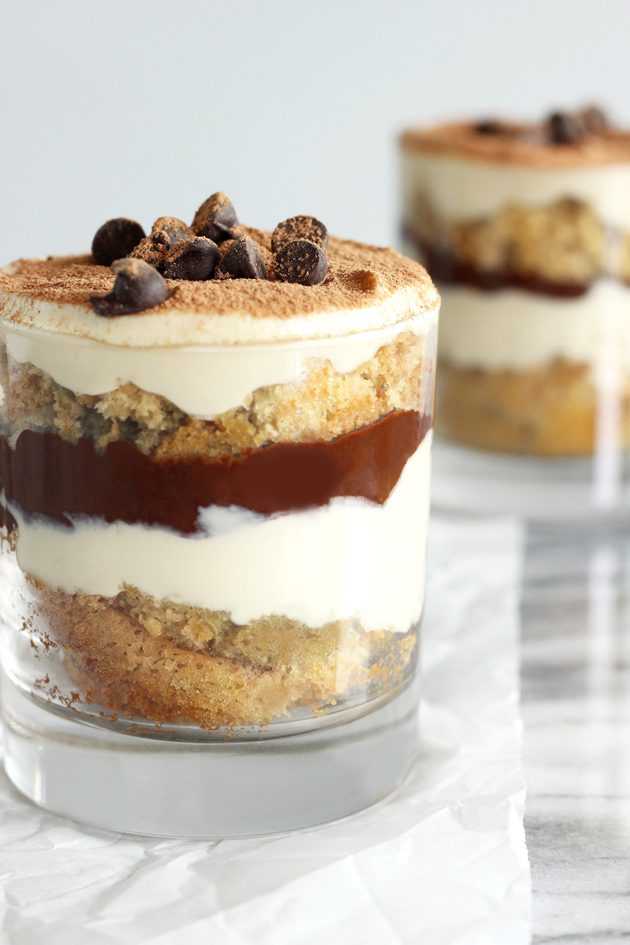 Since it's the summer we try to hit the beach up as much as possible. I'll wake up early do whatever work I need to do and then we head out. On the way home we love stopping at our favorite vegan spot called Good Karma Cafe in Redbank, NJ. I saw they made vegan tiramisu that wasn't frozen or raw so I was like ok let me give it a go. Needless to say I fell in love and wanted the recipe stat. I thought what a brilliant idea to make a nice vanilla sponge cake in place of the lady fingers. And of course, I knew I'd add extra chocolate. Tiramisu is always better with more chocolate IMO (in my opinion).😬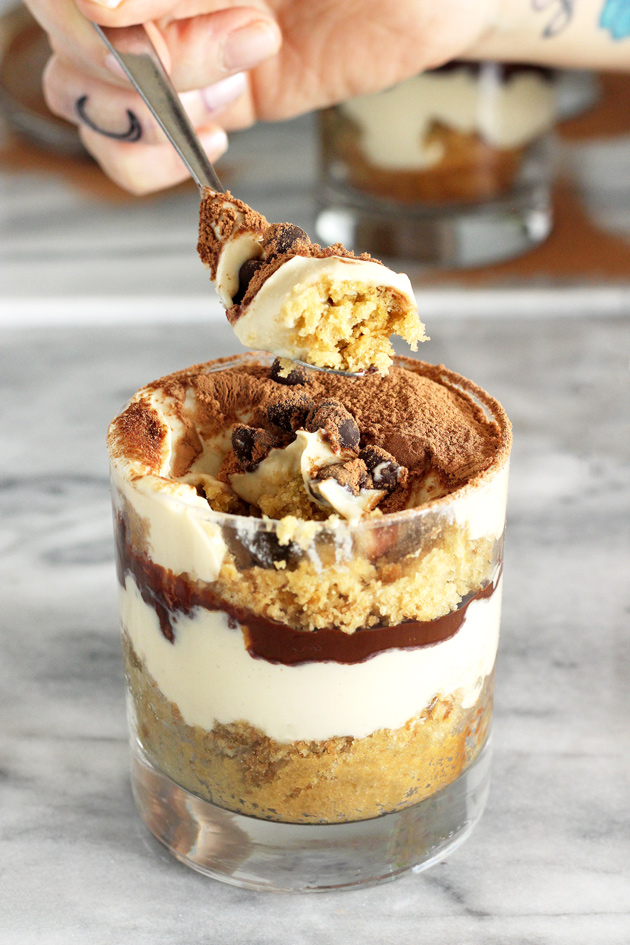 So I bought the cookbook and got to work. Whenever I make a recipe for the first time and test it, usually I have to make a few adjustments to my liking. For this one I didn't make any extreme changes, I just added more sweetener to the cream filling, and added chocolate sauce between the layers. Let me tell you…bomb.dot.com. Like, no joke. Can't you tell?!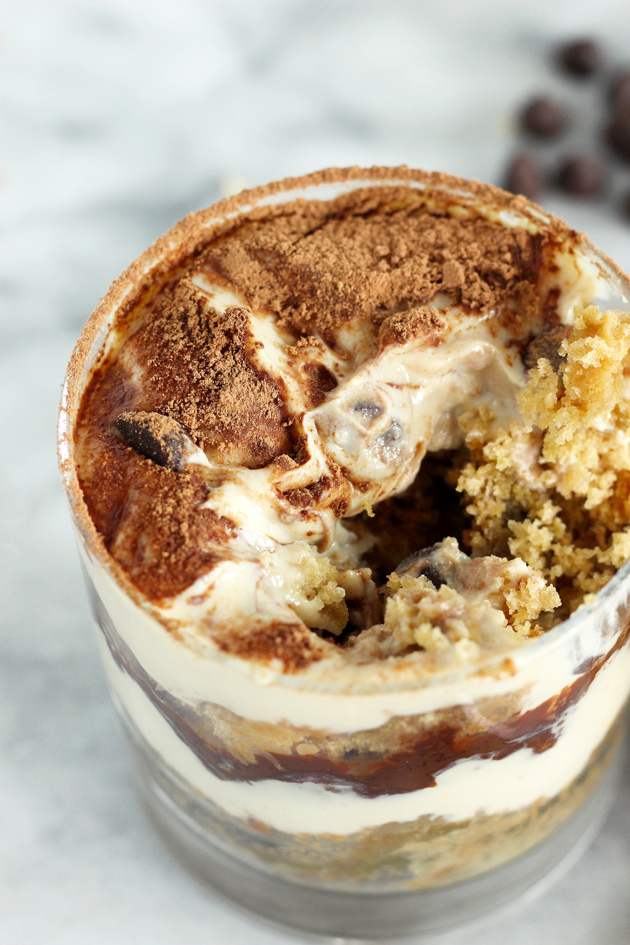 What's healthy about it is this…there is no refined sugar in it at all, not in the entire thing! Genius! Look at these ingredients for the cake: whole wheat pastry flour (or any flour you'd like would work), baking powder & soda, coconut oil, maple syrup, water, vanilla extract, and apple cider vinegar. Say whaaat.
The chocolate sauce is made up of cacao powder, maple syrup, and coconut oil. Super easy to make. Melt the coconut oil and whisk it together with the maple and cacao powder. You can use cocoa powder but it doesn't have the same nutritional value of cacao. Like the high antioxidant properties, boosts brain levels, is an anti-inflammatory, and can help you shed fat. Just think, a tiramisu that has a component in it that can help you shed fat. Score!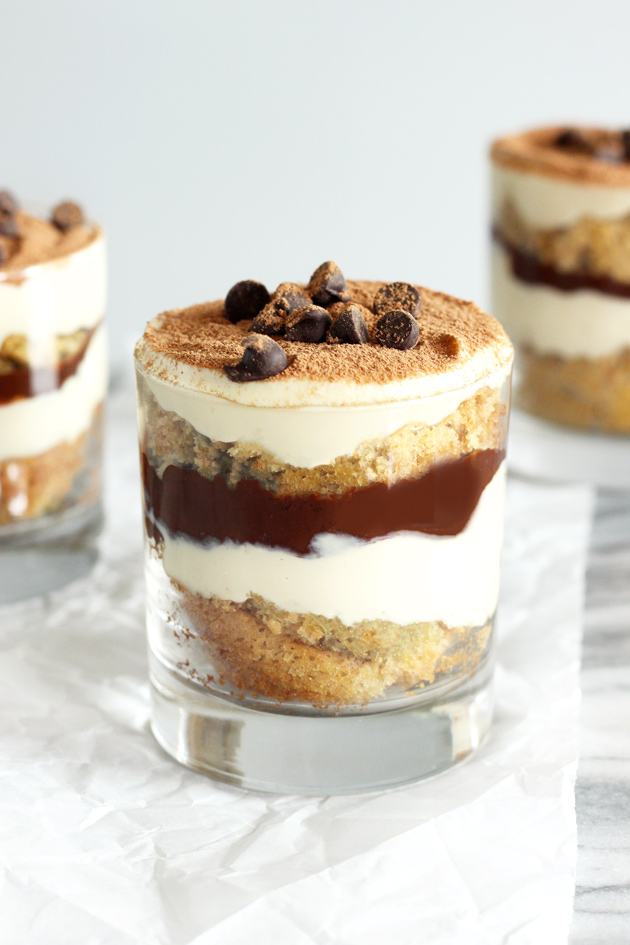 Now the question I know you're asking is what is the filling made of!? No, not cashews. Tofu. Ok wait before you say eh, or yuck or bleh, hear me out. I make it in a way that it doesn't taste like tofu. It actually tastes like the mascarpone cheese used in traditional tiramisu. You just have to know how to prepare it to make it taste bomb digity. This is where I spruced things up in the middle because I don't typically like the way tofu tastes plain either. With the right amount of sweetener, some vanilla extract and other deliciousness, you won't even know it's vegan, promise.
Use organic tofu every single time because soy is 99% genetically modified and we don't want that shit up in our biz. Ya feel me.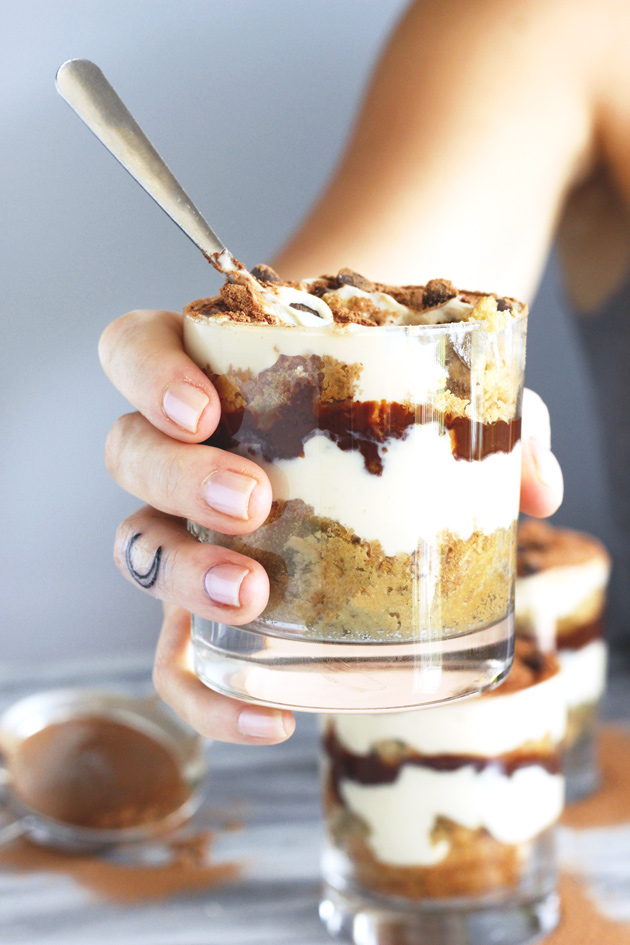 These perfect, individualized Mind Blowing Vegan Tiramisu desserts will wow your socks off, your friends socks off, and their friends socks off. Maybe even bras will be wowed off too (you can thank me later). You can indulge in this classic, traditional fave free from eggs, dairy, and refined sugar. Enjoy yo'self. Happy Friday!
Recipe adapted from the cookbook You Won't Believe It's Vegan!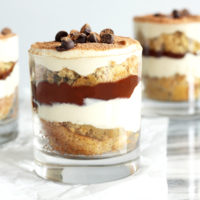 Mind Blowing Vegan Tiramisu
You won't believe it's vegan. Creamy, dreamy, and delicious. You can indulge in this classic fave free from eggs, dairy, and refined sugar.
Ingredients:
Vanilla Cake
1 1/2 cups whole wheat pastry flour or any flour you'd like
1 tsp baking powder
1 tsp baking soda
1 tsp pink himalayan rock salt (or sea salt)
1/3 cup coconut oil, melted
3/4 cup maple syrup
2/3 cup water
1/8 cup vanilla extract
1/8 cup apple cider vinegar
1/2 cup espresso or coffee, room temperature
Chocolate Sauce
4 tbsp cacao or cocoa powder
3 tbsp maple syrup
2 tbsp coconut oil, melted
Cream Filling
3/4 cup organic Florida Crystals
1 tsp agar flakes
1 tbsp water
1 (14 ounce) block of organic firm tofu
1/4 cup coconut oil
1 cup maple syrup or agave nectar
2 tsp vanilla extract
2 tbsp of espresso or regular coffee
pinch of salt
Directions:
Vanilla Cake
Preheat oven to 350F. Line a standard baking sheet with parchment paper and spray it with coconut oil spray or non stick cooking spray.
In a large bowl sift together all dry ingredients: flour, baking powder, baking soda, and salt.
In another bowl, whisk together the wet ingredients: coconut oil, maple syrup, water, vanilla, and vinegar.
Combine wet with the dry and mix well.
Pour the batter on the baking sheet and bang it on the counter a few times.
Bake for 20 minutes or until toothpick inserted comes out clean. But you should be good at  20 minutes. It will be nice and golden.
Once done, remove from oven, leave it in the pan and pour the espresso or coffee over the entire cake. Let the cake cool in the pan while you prepare the filling and chocolate sauce. By the time you're done with that the espresso or coffee will be well absorbed by the cake.
Chocolate Sauce
Whisk all ingredients together until well combined. Double the batch if necessary.
Cream Filling
In a small saucepan over medium heat, put the florida crystals, agar flakes, and water and stir till dissolved and syrupy. About 5-6 minutes.
Place tofu, coconut oil, maple syrup or agave nectar, espresso or coffee, vanilla extract, and salt into a processor. Process until creamy and well incorporated.
Once your syrup mixture is ready pour that into the processor and run until smooth and creamy.
Taste and adjust sweetness to your liking. Place in the fridge to set for 20 minutes minimum. (The longer in the fridge the firmer it will get, but it won't solidify like coconut oil so it will stay creamy.)
Tiramisu Assemble
You can use a cake pan or cups like I did. You want to start with placing prices of the cake first. You can pour a little more espresso or coffee in there if you'd like.
Top that with the cream filling and drizzle the chocolate sauce on top of that. Repeat process until you reach the top of the glass.
Top Tiramisu with cocoa or cacao powder and dairy free chocolate chips (optional).
Serve it up and Enjoy!
You can use decaf espresso or coffee
If you're preparing this in a square cake pan this will make 12 squares. If preparing this in cups it will serve 6.
Any chocolate sauce will work.
Keeps well in the fridge for 4-5 days covered.
Cream filling can stay refrigerated overnight or longer.