Vegan Coquito
jump to recipe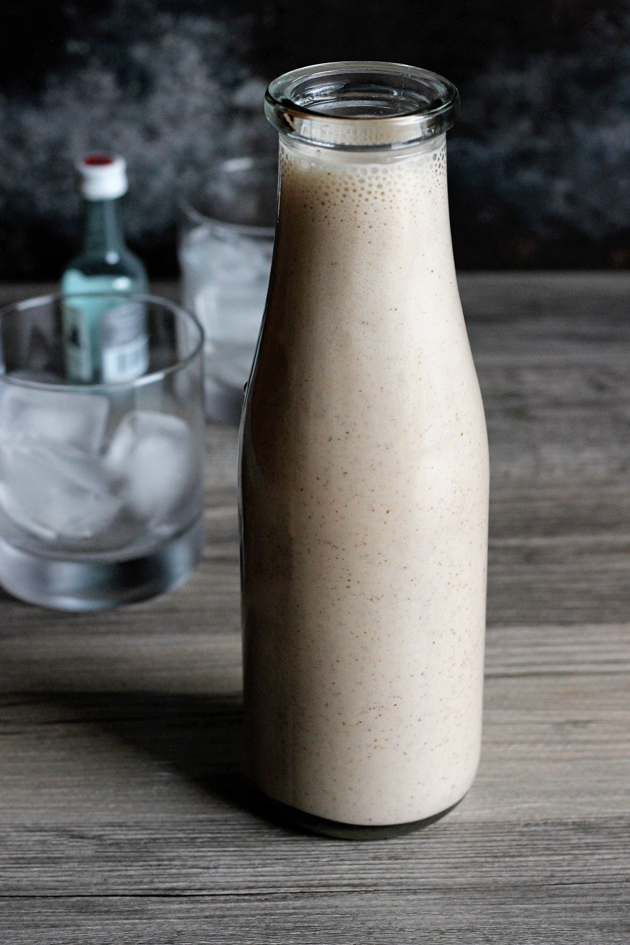 It is that time of year my friends, it is that time of year. You must be wondering, what is Coquito? Coquito is a Puerto Rican egg nog-like alcoholic beverage that is made specially for the holidays. And how do I know about this drink? Well, I'm half Puerto Rican and have been making this for most of my adult life. It's sweet, thick, creamy, and was probably one of my fave beverages growing up…in my twenties of course. 😉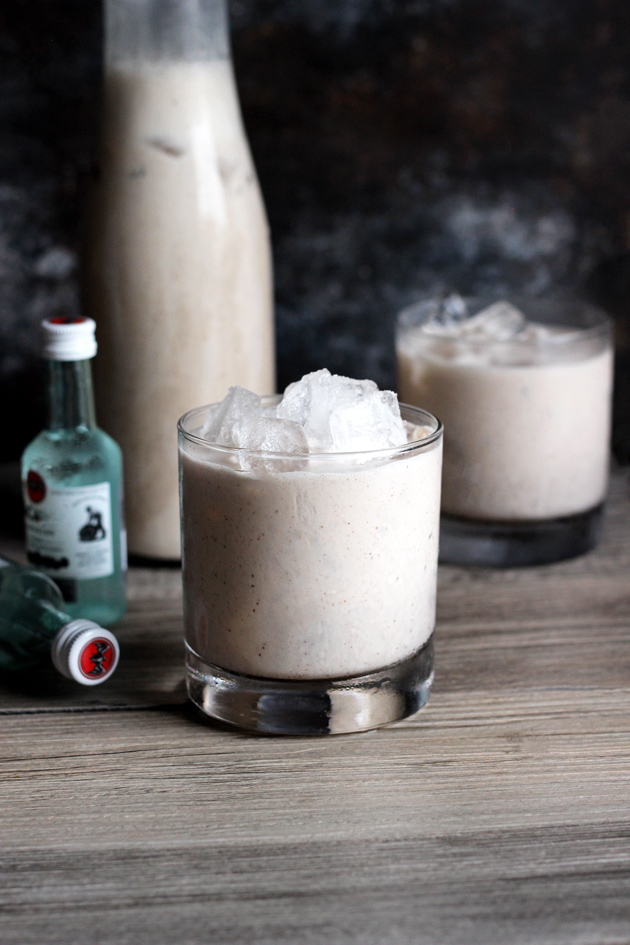 Traditional coquito is made up of sweetened condensed milk, evaporated milk, egg yolks, coconut (like coco lopez), with spices like vanilla, nutmeg, cinnamon, and cloves. This galant of ingredients makes one hell of a drink and depending on who makes it and how heavy handed they are with the rum, could put you on your ass if you drink too much. But it's sooo worth it.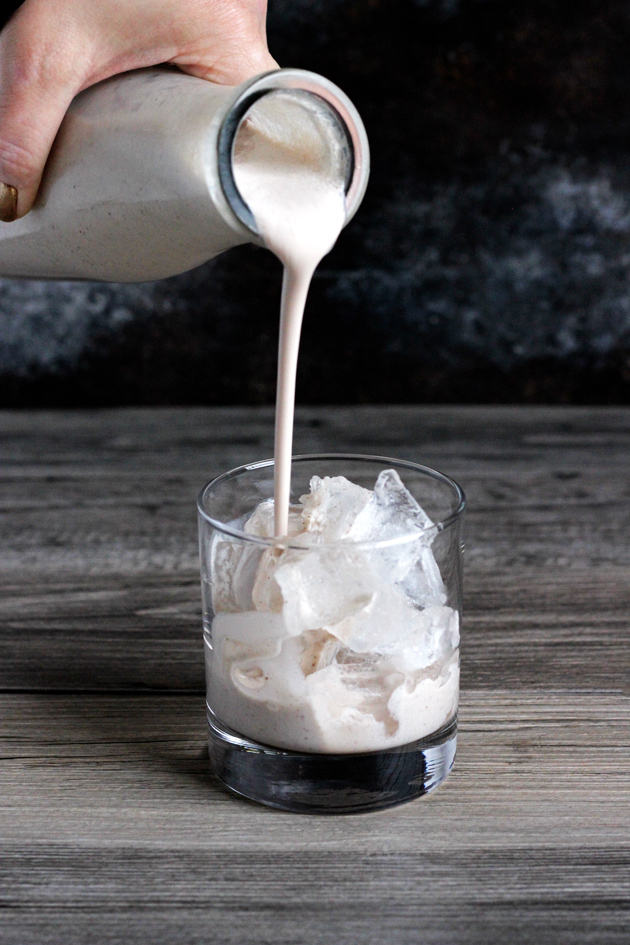 Before I became plant based I made my coquito every year and use to sell them by the bottle, 20 bucks a pop. One person at a time would put in an order of at least 10 bottles. It's a great Christmas gift and looks super fancy in a nice wine bottle or a clear rum bottle. Tie a bow around it and it's good to go. Every year my kitchen would be loaded with cans of condensed milk, evaporated milk, rum, and coco lopez. I'm very heavy handed with the alcohol so I would not only add regular rum but I would also add 151, which is one of the strongest rums out there. One shot of that and night night, lol 😴.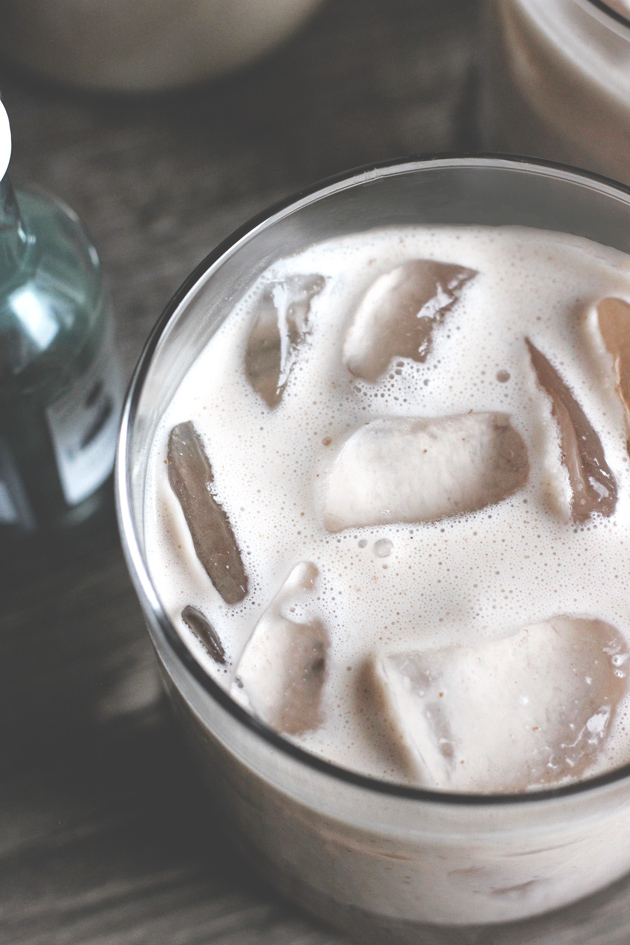 Super Rich 😍
Sweet and Creamy 👌🏻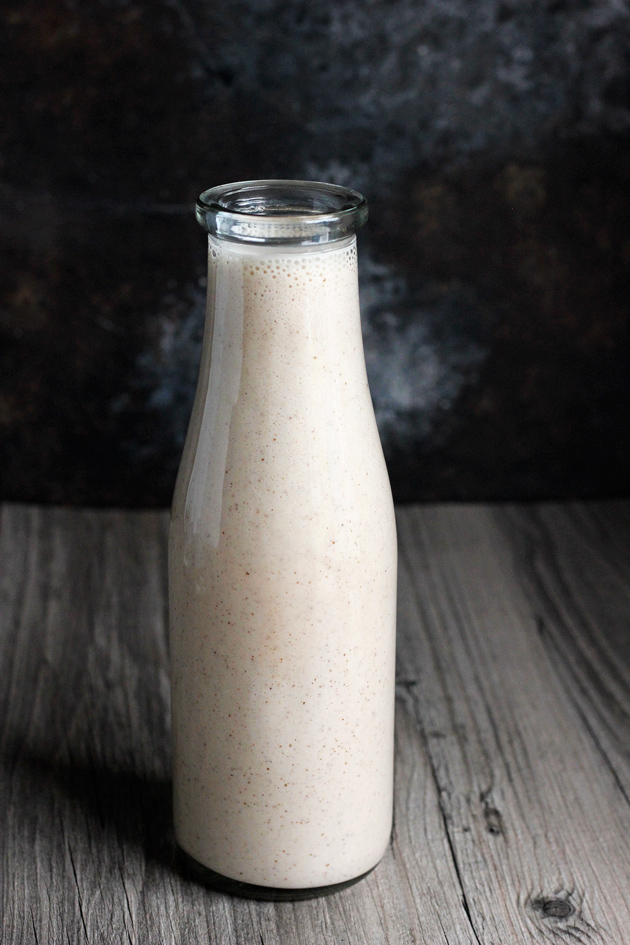 There are slightly different ways to make this…slightly. There are things that people do a little differently when making this drink. How you make is how you were taught growing up. Some people used eggs, some people didn't. Some people used eggs but didn't cook them and just added them in raw. Others would heat it up to cook the eggs while others did not. Every family has their own traditions, but overall the taste is what keeps people coming back for more. Bottles of coquito around my hood are popular and if you happen to get your hands on one you're considered lucky and you'll want one every single year, guaranteed. This drink is that good and like gold because not everyone can just whip up a bottle. You gotta have the skills. Skills in which you'll acquire after reading this post.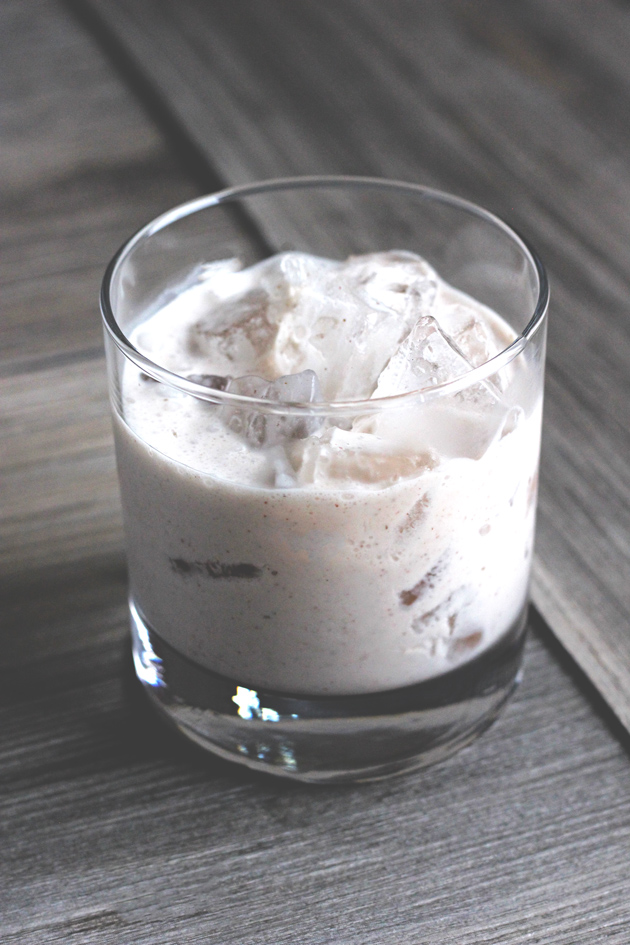 If you tell a Puerto Rican that you've made vegan coquito, they just may roll their eyes at you. But it ain't no fun if my vegans can't have none, right?! 😂 I don't drink condensed milk, or evaporated milk and I need this drink in my life almost every year. It's such a cozy drink. Had a long day at work, or have been running around crazy doing last minute shopping (guilty)? Then a nice glass of this to top off your day will distress you. Of course alcohol has something to do with it too. Now you guys know I'm not a drinker, I did all that in my twenties. But on occasion I do have a glass of wine, a beer, and now a nice glass of vegan coquito. I know what "the real thing" tastes like, I know how to make "the real thing", so after mastering the vegan version, I'm pretty excited and love the outcome and I know you will too. Especially if you're a Puerto Rican vegan. haha. All is not lost! But this is a drink for everyone, vegans or non vegans alike.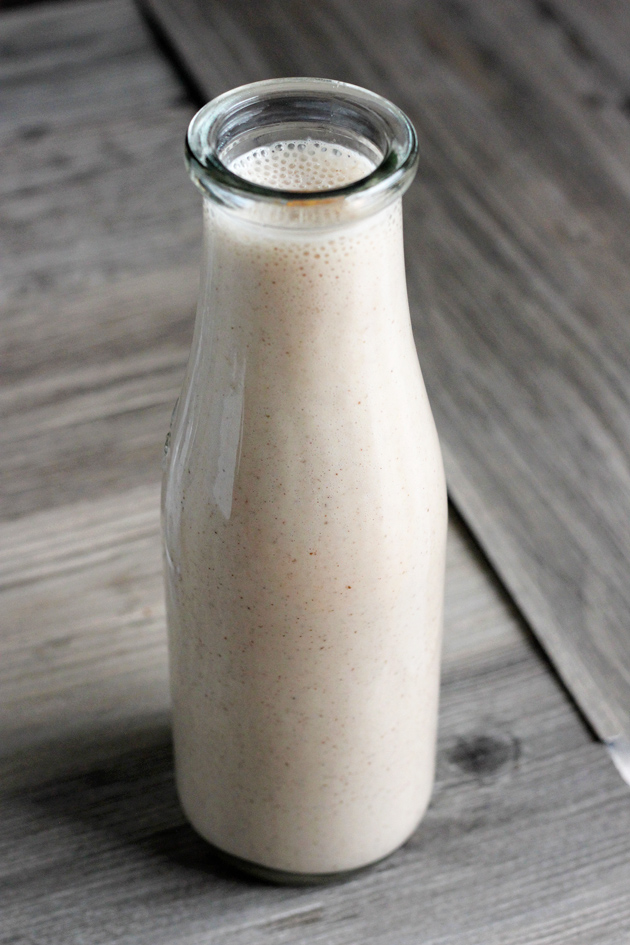 The trick here is making sweetened condensed coconut milk. And yes there is a way and it's super easy. This is a standard size batch, good for one family. And I say family because you can leave some out for the kids before you add the alcohol. You can always double or triple the recipe to make more. Once you get the hang of it, it's super easy and you'll be making it all the time.
Get two 15oz cans of full fat coconut milk. They do not have to be refrigerated for this. In a medium to large sauce pan bring the coconut milk and 1 and a 1/2 cups of maple syrup to a boil. Some people use regular sugar but maple syrup doesn't affect the flavor or texture at all. This is where it becomes sweetened. Once you have it at a boil reduce it down to a simmer and stir consistently. You'll need to do this for 25 to 30 minutes. While it's simmering add in all the spices,vanilla, nutmeg, cinnamon, and cloves (measurements in recipe below), and just let it simmer. You'll notice it will reduce a little and also thicken.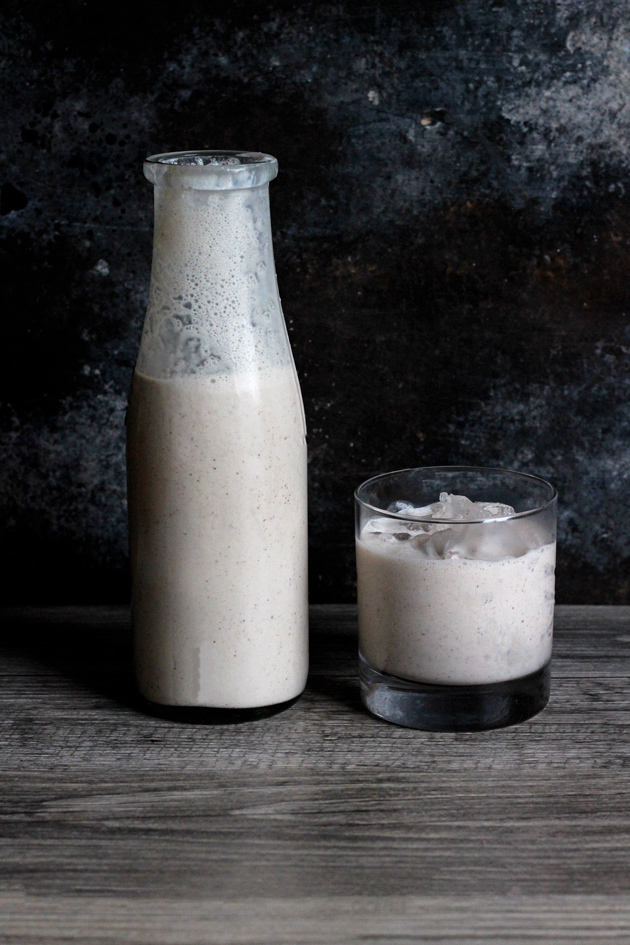 After 25 to 30 minutes, remove it from heat, pour into a jar and store it in the fridge so it cools. It will thicken up more and become super creamy once cold. When it's completely cooled remove that from the fridge and take an additional can of coconut milk (stored at room temp), 2-3 tsp of coconut extract, 2 tsp of vanilla extract, chia egg (1 tbsp chia seeds, 3 tbsp water), and add it all to a blender with your prepared condensed coconut milk. You can adjust the spices to your liking. I always add more of each but I go light with the cloves because they have a really strong essence and I wan't the flavors to be even. Although adding a lot more cinnamon won't do any harm. Now here's where you add the alcohol! Yaaay for  adults and our drinking, lol. I add about 1 cup of rum but feel free to add more or less. Be sure to taste it if you're adding more, you don't want it to be too strong where it's uncomfortable to drink and starts putting hair on your chest. Straight white rum will do the trick or you can be brave and add one shot of 151 on top of that 1 cup of white rum. It will keep ya warm in the winter, that's for sure.
The coconut flavor tends to mask the alcohol a lot at first, but once it settles in the fridge, the alcohol will become more prominent, so go easy my friends. Now that you have it all together place it in jars or one big jar and store it in the fridge to chill more. Completely cold and served over ice is the best way to enjoy this decedent beverage.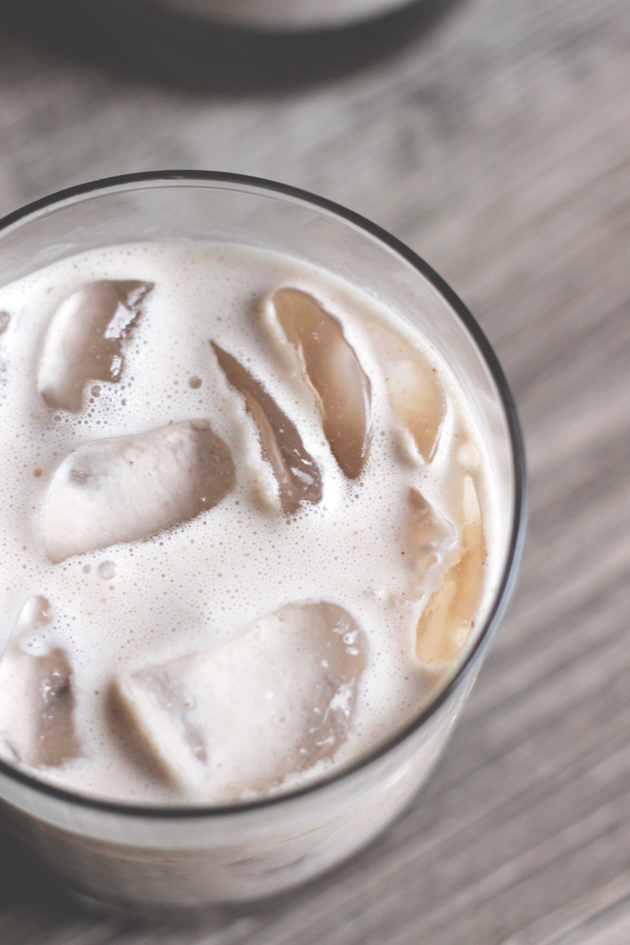 Ok so now you know the secret behind vegan coquito. Yes I know I know it's brilliant. After all, the whole essence of this drink is coconut and rum. It's the texture you want to get just right, not foamy but thick, sweet, and creamy, which is totally accomplished. So Feliz Navidad fellow vegans and plant based foodies…and welcome Coquito. 💃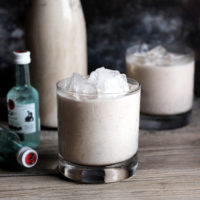 Vegan Coquito
A traditional Puerto Rican egg nog-like alcoholic beverage that's dairy free, creamy, sweet, and delicious just like the real thing!
Ingredients:
3 15 oz cans of full fat coconut milk, room temperature, divided
1 1/2 cup maple syrup
2 tsp vanilla extract
2 tsp nutmeg
2 tsp cinnamon
1 tsp cloves
1 cup white rum
2-3 tsp coconut extract
1 chia egg (1 tbsp chia seeds, 3 tbsp water mixed together)
handful of coconut flakes (optional)
cinnamon sticks (optional)
Directions:
Making Condensed Coconut Milk
In a medium to large sauce pan bring 2 cans coconut milk and maple syrup to a boil. Once boiling, reduce heat and simmer for 25 to 30 minutes, stirring constantly.
Add in all the spices, vanilla extract, cinnamon, nutmeg, and cloves. Keep stirring, you will notice it reduce and will start to thicken. Keep in mind it will not be super duper thick, just thicker.
After 30 minutes, remove from heat, place in a jar, and store it in the fridge to let it completely cool.
Putting it all together - The Coquito
When your condensed milk is cool place in a blender and add an additional can of coconut milk, the chia egg (1 tbsp chia seeds, 3 tbsp water), followed by coconut extract, another tsp of vanilla extract, and the rum. Blend until the chia seeds are all ground up and it's creamy.
Taste it as you go and add more spices as needed. By this point usually I add a pinch of everything, nutmeg, cinnamon and Cloves. I more so add cinnamon the most. Cloves can dominate the flavor if too much is added so go easy with that. You can add shredded coconut or coconut flakes too.
Place your coquito in an air tight container like a glass jar and store it in the fridge.
Cinnamon sticks are good to add more flavor and to stir while drinking.
Shake well before serving.
It is best served cold, in a rocks glass over ice. Enjoy!
Chill time is not included in the prep time. Chill times vary. Be sure the condensed milk is cold when moving to the next step, this insures it's consistency in thickness.
You can sub the additional can of coconut milk with vanilla almond milk.