Vegan Vanilla Coconut Tapioca Pudding [Sugar-Free]
jump to recipe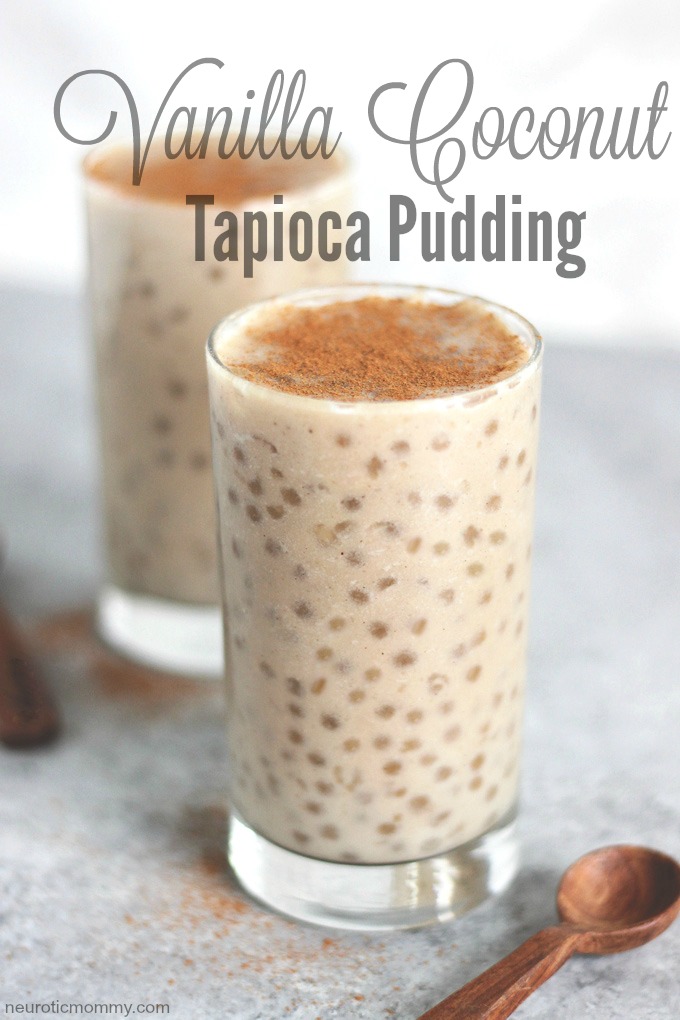 Oh well hello there you delicious Vegan Coconut Tapioca Pudding that's SUGAR FREE! I Love tapioca, it was a favorite of mine growing up. I liked eating those little squishy bubbles. I always wondered what tapioca was and now in my age of 21 (lol just kidding), I know what those bubbly treats were in that pudding I loved so much.
Tapioca is a starch extracted from the cassava root and it's all carbs. It has no fiber or protein. A cassava root is a sweet, nut flavored tuber native to South America. It resembles the shape of a potato. It's naturally gluten free which is great for people who suffer from celiac's disease. Tapioca is sold inexpensively as flour, flakes, or pearls (like I used for this pudding). Tapioca is widely used in food. It can be used in bread recipes, desserts, as a thickener, or as a binding agent in dough to improve texture and moisture content. This prevents sogginess.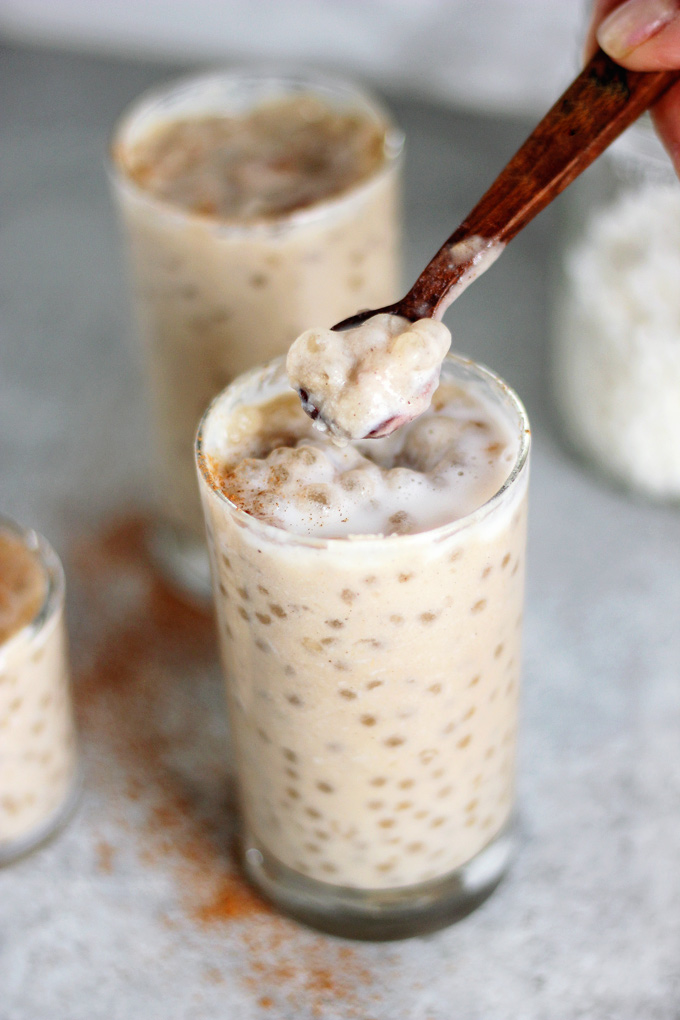 There are health benefits to tapioca. It has a low glycemic index which means:
"GI is a classification of food based on the blood glucose response to a food relative to a standard glucose solution. Low glycemic foods control the release of glucose into the bloodstream at a steady and sustained rate, keeping the body's metabolic processes and energy levels balanced.
People with low glycemic diets or [who] eat low glycemic foods are said to have lower risk of getting coronary heart disease and type 2 diabetes.
These food items that have low GI would benefit those who are already suffering from diabetes, since these would help in the proper control and management of blood sugar." Marcola.com 
So why not get your tapioca on! I've used tapioca flour in some of my recipes but I haven't dabbled my hand in the pudding because I guessed it was super complicated. But guess what…it's not! Hooray!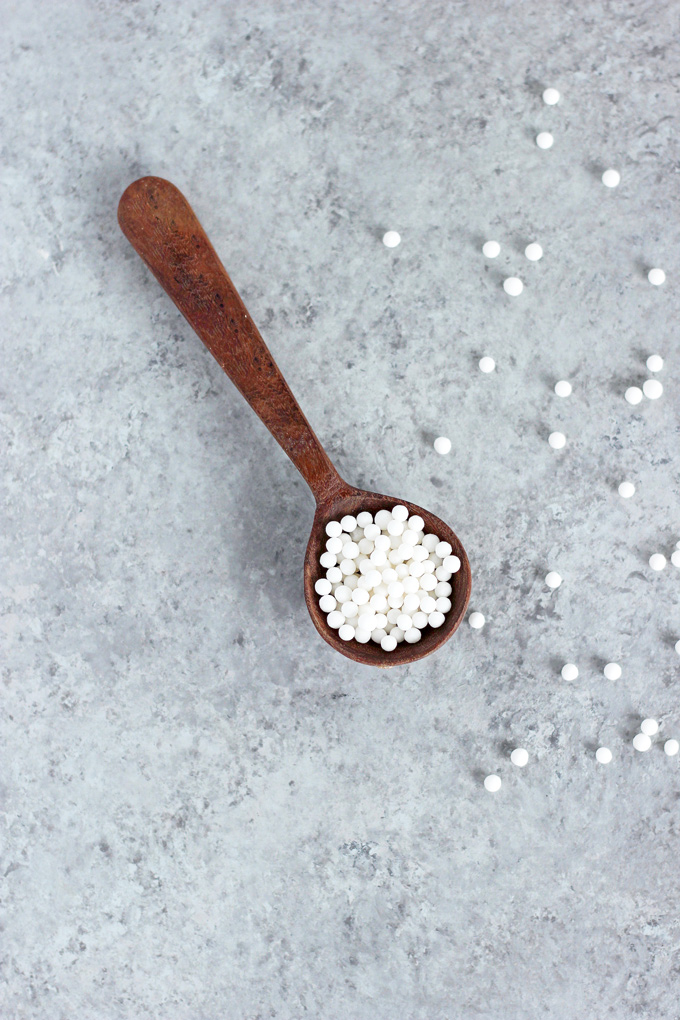 This pudding is thick, creamy, and just sweet enough using maple syrup. Prior to making the pudding the heavy labor is soaking the tapioca pearls in almond or coconut milk for an hour, (I know, so daunting). Once they've been soaked it's time to start making your soon to be new favorite snack.
Using just coconut milk (full fat from a can), a pinch of salt, vanilla, cinnamon and liquid sweetener, you'll be off to healthy snacking in no time. You can eat this warm, however I love it cold so I do wait it out as it chills. Although, to be honest I did lick the spatula and pot basically after I poured the pudding into it's serving cups. No one was looking, don't worry. (hehehe)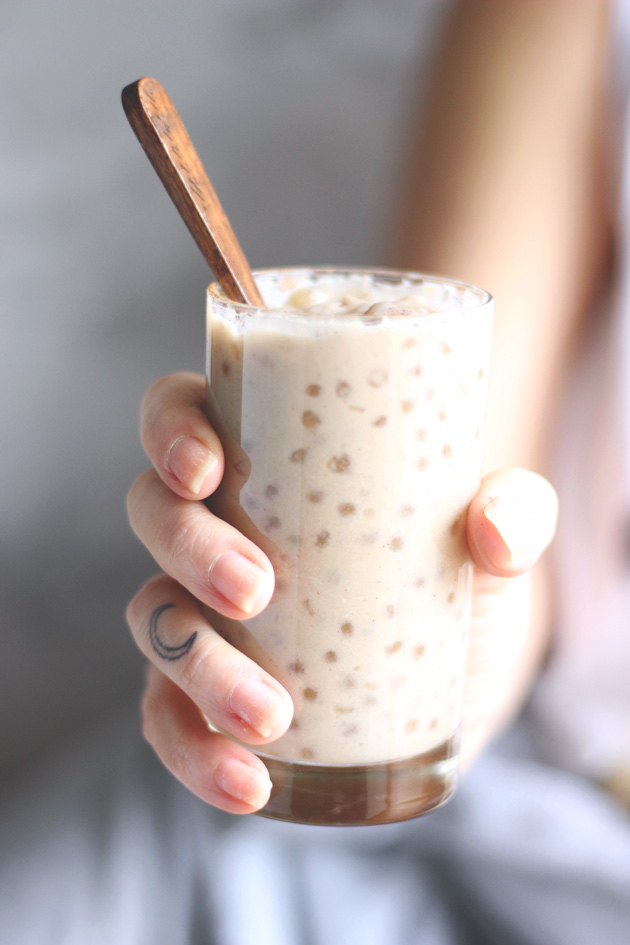 In just under half hour I had a pudding back in my life I thought had been gone forever. It was a huge hit with my son and hubs so I had to make more. I decided to doubled batch it the second time around so we had lots and lots of pudding. Once I like something, that's it, I can't stop and won't stop. One serving is approximately 88-94 calories (if you count), which is seriously not bad for a snack this decadent. Super deceitful I tell ya!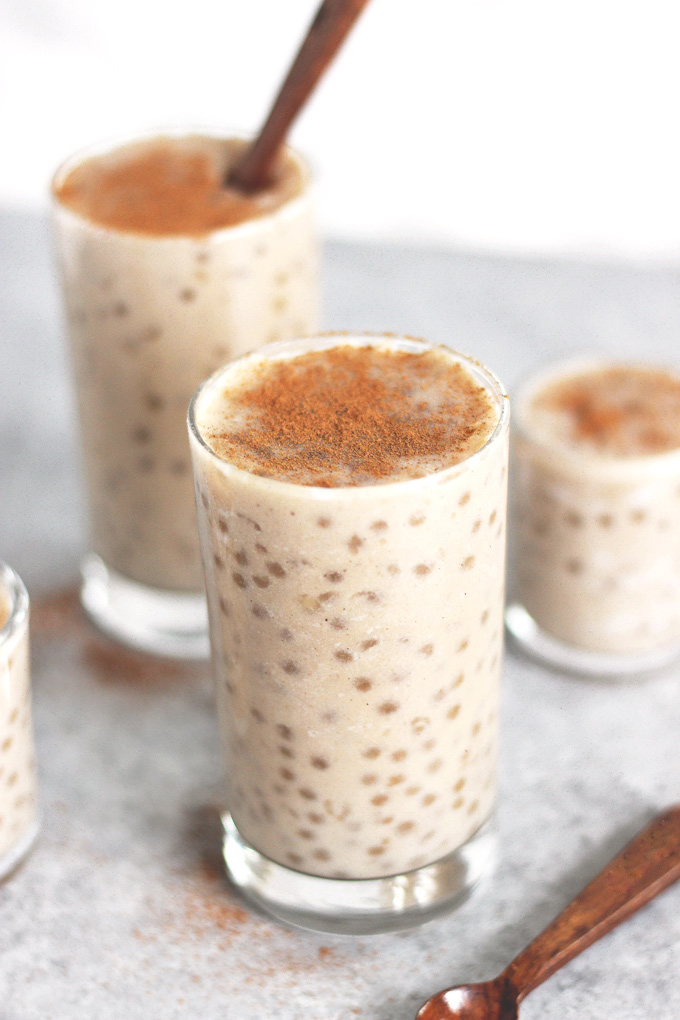 This is just a basic version using vanilla and coconut, but I plan to spruce it up the more I make it with some fruits and nut butters. I love variety so go ahead and play around with this and make it your own. I tried it with some almond butter and was like whoa, for sure next time I'll be adding that in. Here's to healthy snacking in 2017! Now get outta here, I know you got some pudding to make puddin'. 😊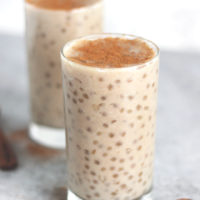 Vegan Vanilla Coconut Tapioca Pudding [Sugar Free]
Your new healthy, go-to easy snack that's low calorie, creamy, and delicious.
Ingredients:
1 cup of any dairy free milk for soaking
2 cans of organic full fat coconut milk
2/3 cup tapioca pearls (I used large pearls)
1/2 cup maple syrup (or any liquid sweetener of choice)
1/2 tsp cinnamon (or more if desired)
1 tsp vanilla extract or powder
pinch of salt
Directions:
Soak tapioca pearls in 1 cup of dairy free milk for one hour.
Drain tapioca and place all ingredients into a medium to large sauce pan.
Over medium to high heat, bring mixture to a boil. Lower to a simmer and let cook for 25 minutes, until pearls are translucent, stirring frequently. If they are not translucent by 25 minutes, you can leave them in an extra 10.
The tapioca will start to thicken up especially once it's cooling.
Transfer to serving bowls, jars, or ramekins and place in the fridge and let set for 20 minutes, 1 hour, or even over night.
Before serving top with your favorite fruit or cinnamon and Enjoy!
As tapioca is naturally gluten-free, Bob's Red Mill tapioca is processed in a facility that also processes wheat, as stated on their package. Therefore, this recipe may not be suitable for people with celiac or those sensitive to potential exposure at those levels. Personally, I do fine with Bob's Red Mill tapioca pearls — no reactions so far. But I wouldn't want anyone sensitive to risk it in any way. Let's Do Organics sells certified gluten-free tapioca, which you can buy online or in stores. Noted from UnconventionalBaker.com