Instant Chocolate Banana Chia Seed Pudding
jump to recipe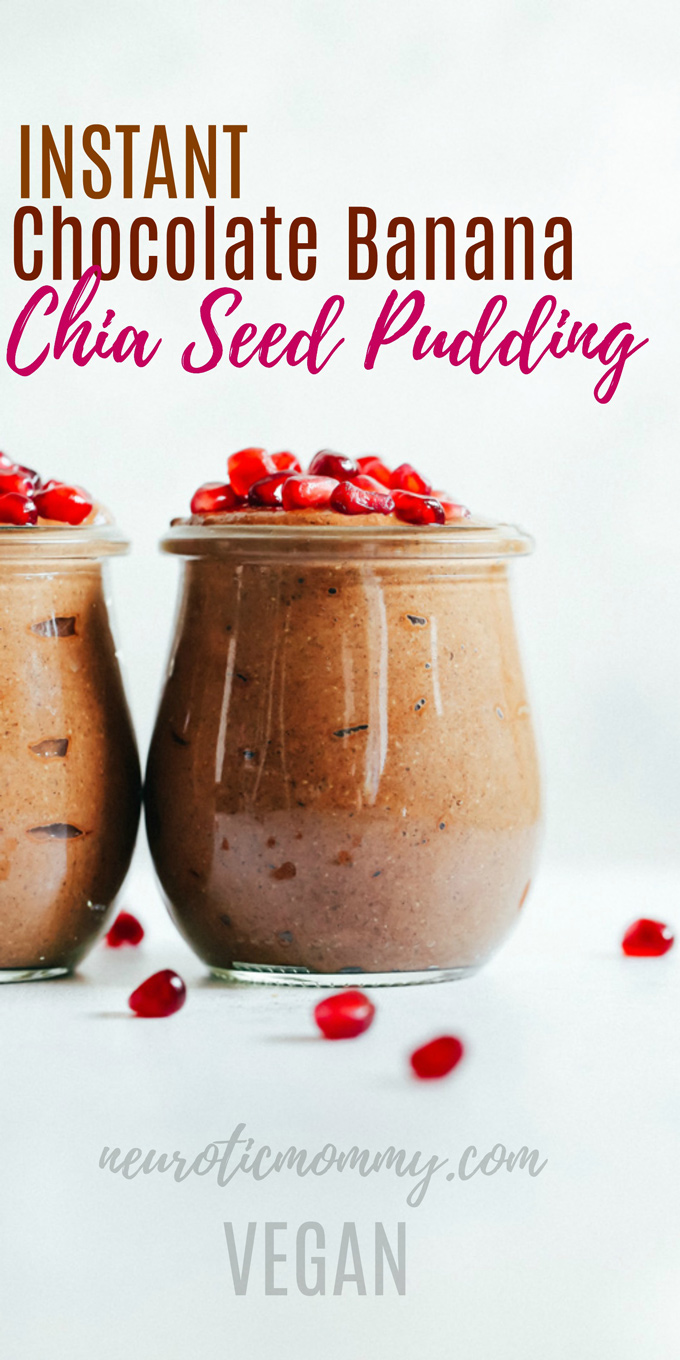 OMG you guys! Instant Chocolate Banana Chia Seed Pudding is real! You no longer have to wait hours or overnight to delve right into this chocolate banana deliciousness. It can be on your spoon and in your pie hole in minutes…minutes people! Although I do love the good ole fashion way of making this essential healthy snack, I also love that you have the option to throw it together on the dime when you're craving it but didn't prepare it the night before. It's like a thick chocolate pudding that you will not be able to resist! Also note you can make this ANY FLAVOR!
I've been making chia puddings since 2012 when I was first introduced to them from the OG foodies on Instagram. Since then they have been an everyday thing here in my house. Each one of us has a different combo/flavor we favor (didn't even mean to rhyme there, #skillz, lol).
*This post contains affiliate links, which means that I make a small commission off all items you purchase at no additional cost to you. I appreciate your support in this way as it helps keep NM up and running.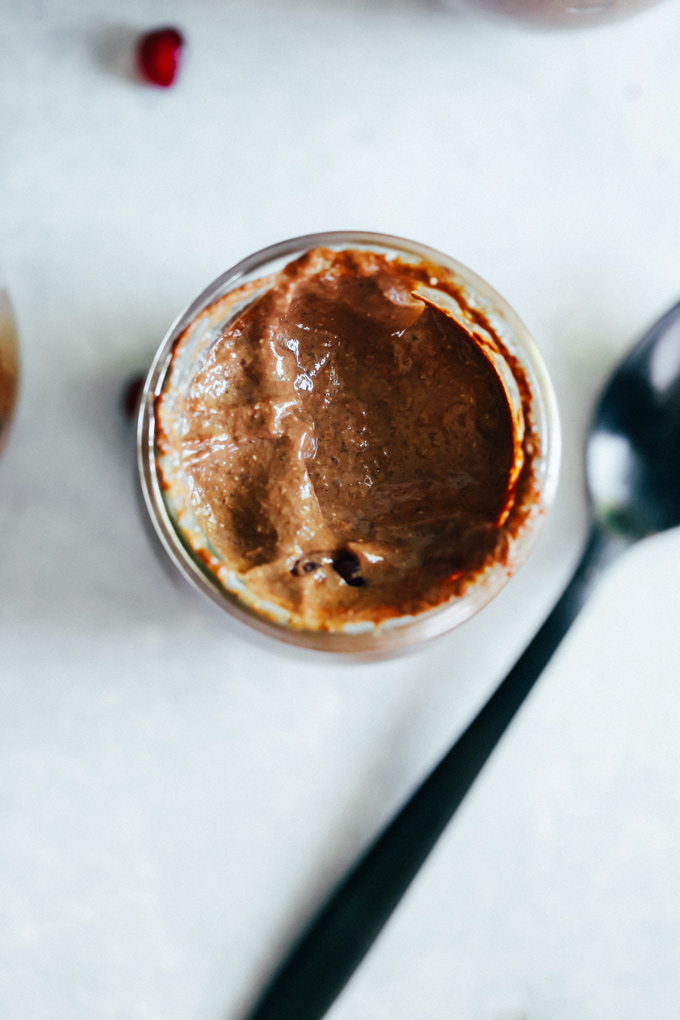 Clearly I love anything chocolate. Chocolate banana, chocolate peanut butter, chocolate chocolate, you get it. And there are so many different ways to can make them to your acquired taste, pie combos, cake combos, seasonal combos and so much more! You can definitely get creative and make what you like. For instance, come fall it's all things pumpkin and apple for me and you can totes make chia seed pudding in those flavors.
In my book, Living Crazy Healthy, I have awesome chia seed pudding recipes too that you will just swoon over. One is a banana vanilla flavor and then I hooked it up with a PB&J one too. Off the freakin' chains people!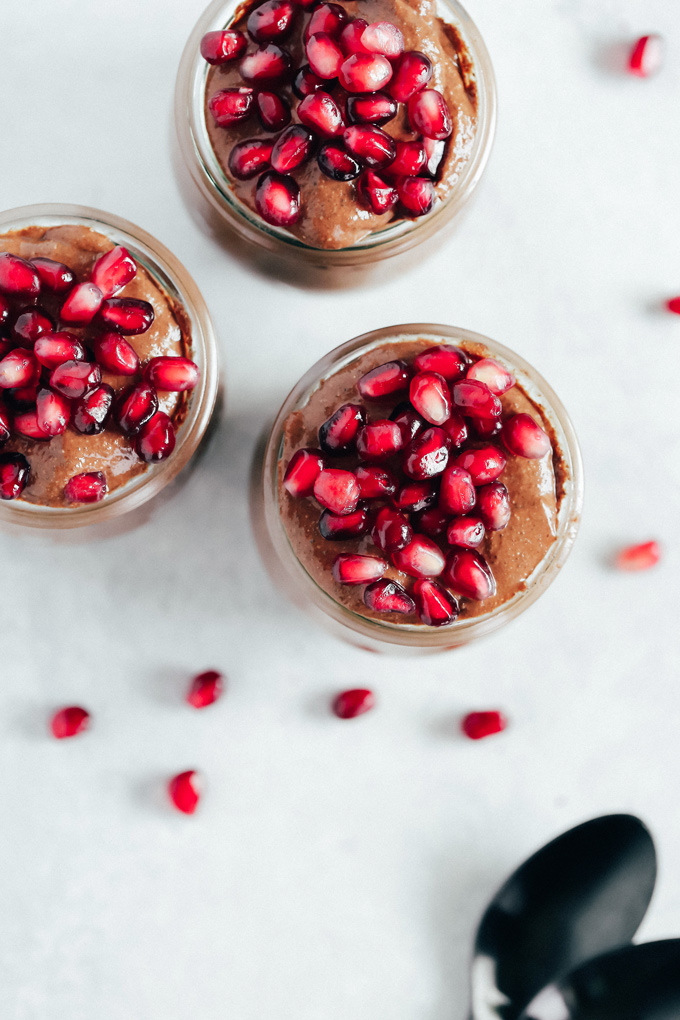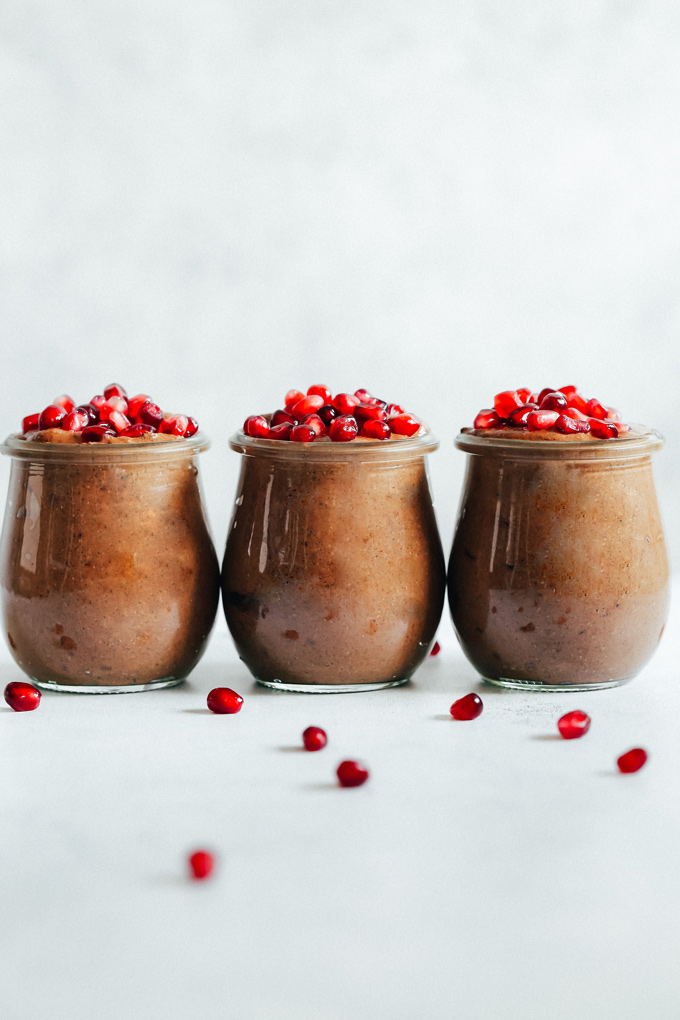 This particular recipe is good for at least 4 servings.  You can keep them in the fridge and they will last up to 5-6 days unopened.
Chia seeds can have a earthly taste to them so I like to sweetened mine up with dates or maple syrup. You can use coconut sugar, coconut nectar, or whatever you preference when it comes to the sweetness department.
There are white chia seeds and there are black chia seeds, you can use either or, they will both do the same thing and they both hold the same nutritional value.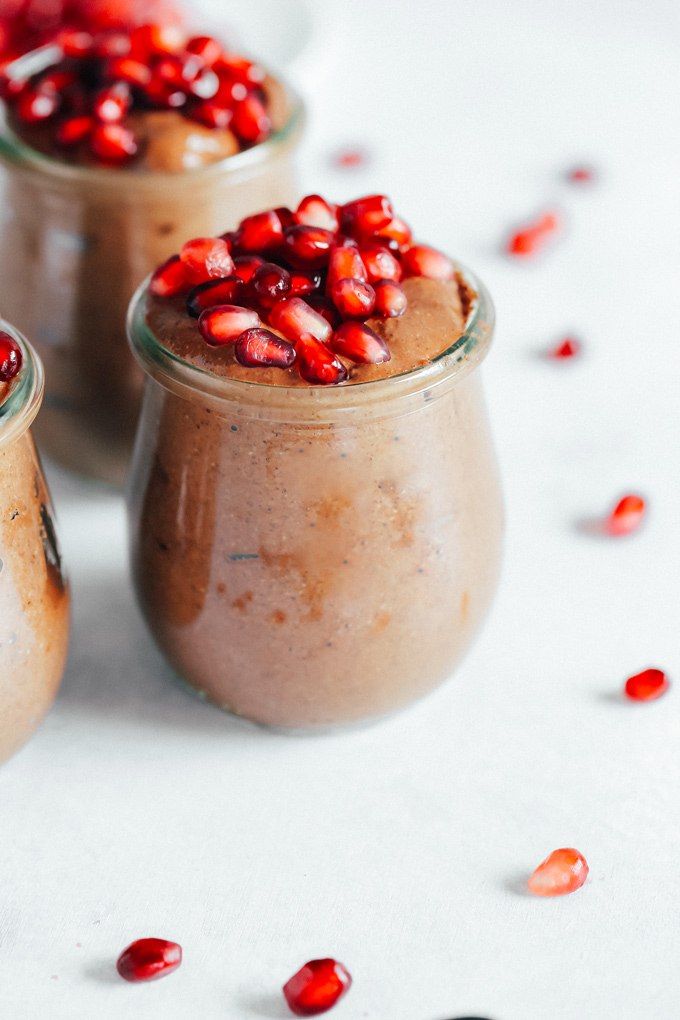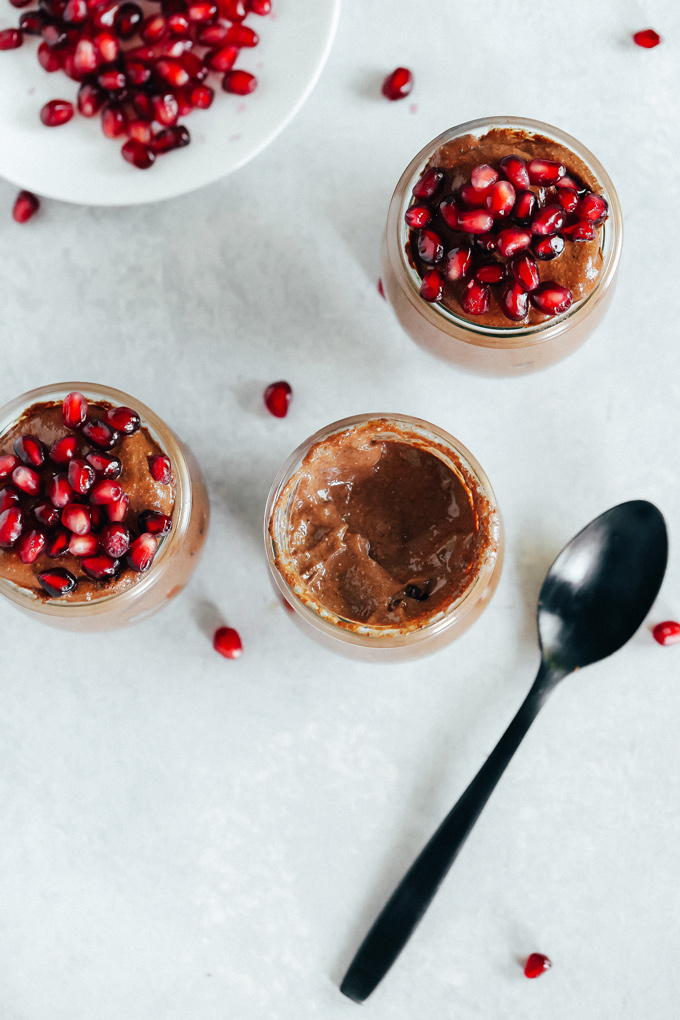 When you eat things like chia seeds you have to make it a point to drink tons of water. Chia Seeds rapidly absorb a large amount of liquid – between 9-12 times their volume. This gives them their gel like form and they remind me of tapioca in texture. Speaking of which, have you tried my Vegan Vanilla Coconut Tapioca Pudding? Ah-mazing!
Anyway, in plain english, what it does is sticks to the walls of your IG tract and pulls out the residue (cleans you out) while it's passing through. You also naturally have liquid inside of you so you can feel a little bloated after eating something like chia seed pudding if you aren't drinking enough water to flush it out. It's a superfood and it's good for elimination.
Same thing with something like psyllium husk. I add this to my overnight oats or chia pudding sometimes for extra fiber but you must drink enough water.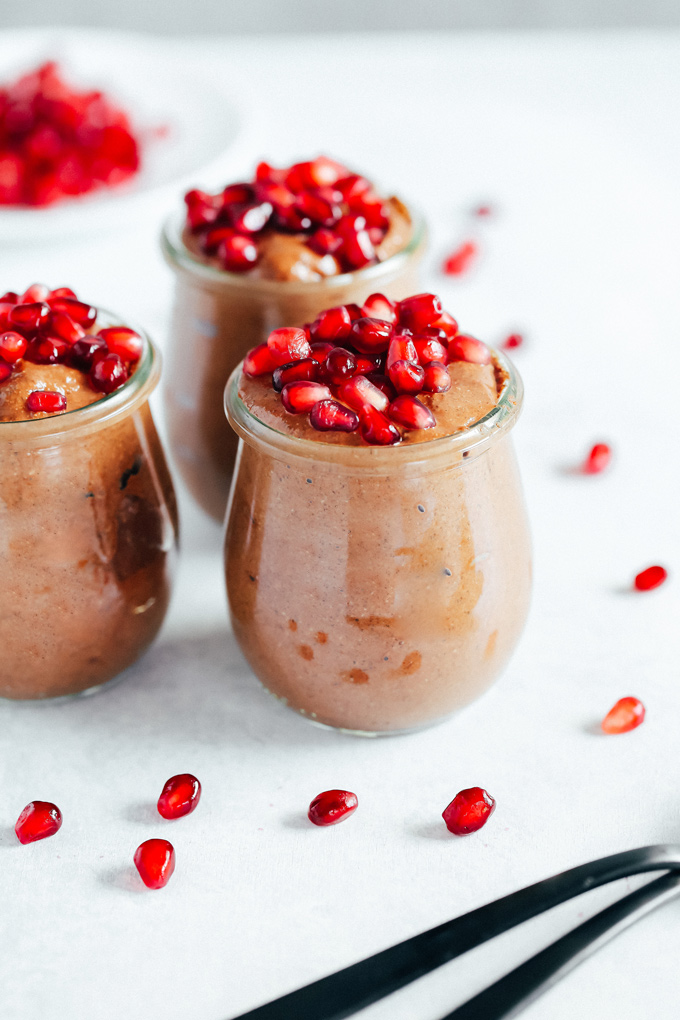 Chia seeds are rich in polyunsaturated fats, especially omega-3 fatty acids. Their lipid profile is composed of 60 percent omega-3s, making them one of the richest plant-based sources of these fatty acids — specifically, of alpha-linolenic acid, or ALA. The omega-3s in chia seeds can help reduce inflammation, enhance cognitive performance and reduce high cholesterol. They're also a great source of plant-based protein!
Watch this little video I put together so you can see how in minutes this ultra chocolate thickness comes together!
So don't let these little gems fool you, they are locked and loaded with nutrients.
How do you enjoy chia seeds? Are pudding a must have in your house? I love to know!!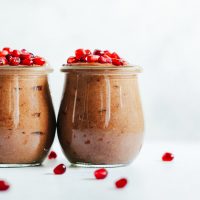 Instant Chocolate Banana Chia Seed Pudding
Instant Chocolate Banana Chia Seed Pudding - Now you don't have to wait overnight to enjoy one of the best, healthiest, tastiest snacks out there...Chia Seed Pudding! Enjoy this chocolate banana deliciousness instantly!!
Ingredients:
2 1/2 cups banana milk or almond milk
1/2 cup maple syrup or coconut sugar
2 dates
1 cup chia seeds white or black
1/2 cup cacao powder (more health benefits) or cocoa powder
1-2 bananas
1 tsp vanilla extract
pomegranates to top (optional)
Directions:
Pour all ingredients into your blender and run until smooth. You will need to use your toggle a bit to help move things along.
Stop and scrape down the sides as needed.
Pour into prepared jars and top with pomegranates or any fresh fruit of choice. You can also add a bit of coconut whip cream because that's always delicious.
Serve immediately or place the fridge for 10 minutes to chill. Will hold well in the fridge in mason jars for up to 6 days. Enjoy!
Recipe adapted from thenaturalnurturer.com
This post contains affiliate links, which means that I make a small commission off all items you purchase at no additional cost to you. I appreciate your support in this way as it helps keep NM up and running. 
We are a participant in the Amazon Services LLC Associates Program, an affiliate advertising program designed to provide a means for us to earn fees by linking to Amazon.com and affiliated sites.
~Pin This Recipe~