Black Bean Soft Shell Vegan Tacos
jump to recipe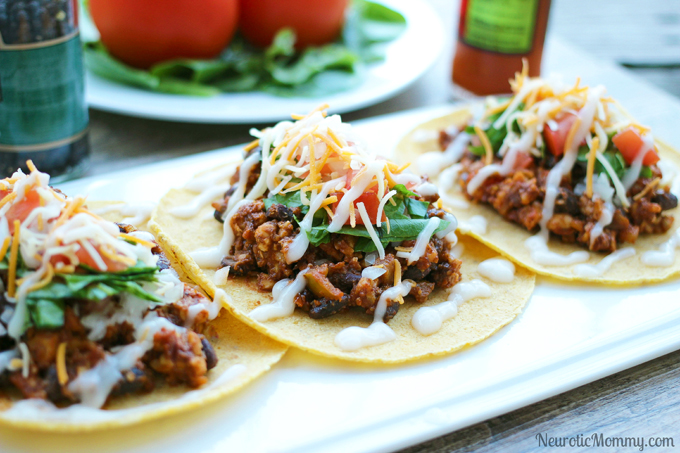 It's Cinco de Mayo People, Whoop Whoop! I literally salivate over taco commercials and be all like "I need that in my life".  Ha! But seriously, who doesn't love a good taco every once in a while. I thought to myself "Bye Bye Tacos Forever" when I became a plant-based mommy. The more I learned though, the more I realized no food was gone forever except the crap food. (Adios)
Before I started to cook healthy I was very unaware of what foods were out there. I had no idea about the endless possibilities that are in front of our faces everyday to eat better quality foods. It just never dawned on me that there were better options. I guess I can thank Nugs for that. He was the eye opener for me.
Anywho, so I frequent Trader Joe's a lot. I mean a lot. (LOL) I've made many friends there. I always pick up their 3 grain tempeh and decided to make taco "meat" out of it. You have to prep tempeh right or else it will have a bitter aftertaste to it. In the beginning of my new life path I was nervous trying new things in fear it wouldn't agree with me. I then thought how ridiculous because nothing could be more worse than what I came from eating. Right?! On the package of organic Tempeh it lets you know that the dark spots don't mean spoilage. It's just a natural occurrence in this fermented food so if you're buying it for the first time don't be alarmed. You can bake it, use it in a stir fry, throw it on salads and even use it in sandwiches.
Since making this way back when, it has become a weekly must have here with my family. My hubs even knows how to whip this up. This usually takes place on Tuesdays. Coincidence (because Taco Tuesday but today we'll make an exception)? I think not! LOL Lets get on with the Tacos, shall we?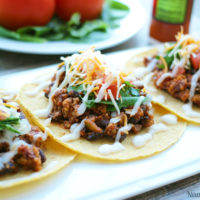 Black Bean Soft Shell Vegan Tacos
Ingredients:
1 package of organic Tempeh, chopped into small pieces
3-4 tbsp extra virgin olive oil
1 package vegan friendly taco seasoning or vegetarian chili seasoning
1/3-1/2 c mild or spicy salsa
1 can organic black beans
1 yellow onion, diced
1 tomato, diced
2 c lettuce of choice
salt/pepper to taste
garlic powder to taste
vegan shredded mozzarella
vegan sour cream
hot sauce (optional)
organic soft corn tortillas
Directions:
In a large fry pan heat up extra virgin olive oil and chopped tempeh.
Add in the seasonings and mix well.
Throw in half of the chopped onions and leave the rest for toppings.
Mix in salsa and half the can of black beans.
Be sure this is all being cooked on low to medium heat. You don't want to leave it on too long but just long enough so all the flavors come together.
Warm up tortillas on a fry pan, about 1 minute for each side.
Now load up your tacos starting with the taco marinated tempeh, diced tomatoes, onions, lettuce, cheese and drizzle with sour cream.
Roll it up or not, don't be shy and stuff your face hole. Enjoy!