Street Style Vegan Gyros
jump to recipe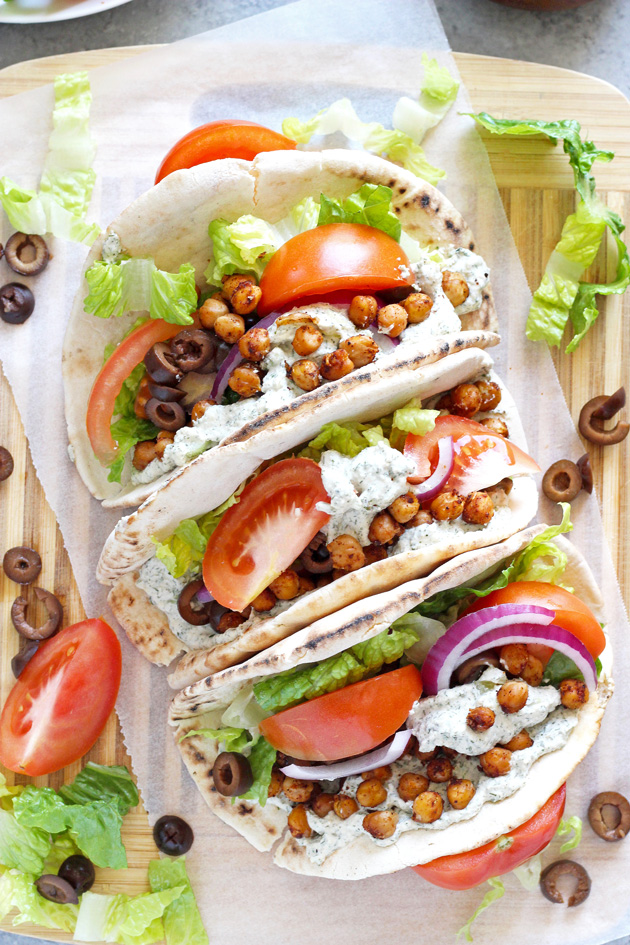 Can you even believe it's February!? I know, me either, time sure does fly when you're baking pie! Hahaha well in this case when you're making Street Style Vegan Gyros. Like totally…the bomb dot com to the com on all coms.
I was torn in calling this either Feast Gyros or Carnival Gyros. Where I'm from, growing up, when there is a fair we just call it a feast. So you'll hear "Are you going to the Feast tonight" because we just grew up saying it like that. I've had friends from out of town always try to correct me and tell me it's a "festival" and I'm all like pffft ha, it's a feast. So anywho, came in landing hard was the name Street Style because well, what better way to put it. These are totally street style worthy with a lot less of that summer hot salty sweat that usually comes with the vender. (I know, I'm full of hysterical jokes today, they're just rollin' off my plant-based tongue!)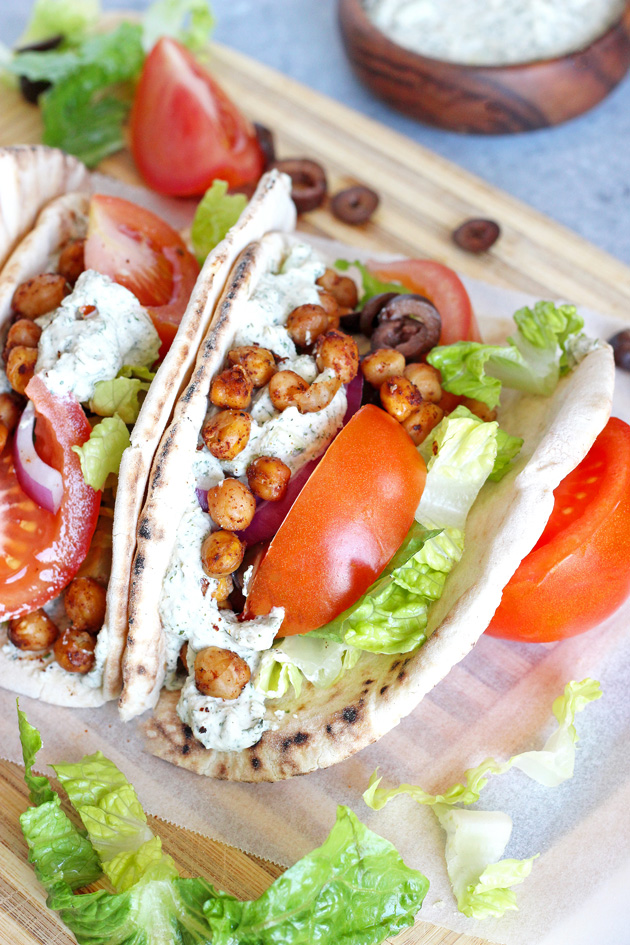 But can you believe, I mean oddly enough, when at a feast there are no vegan gyros!? Seriously, right, I mean come on, think of us plant eaters you feast people! Ok rant over, on a serious note, these Street Style Vegan Gyros are fantabulous, fantabulicious, and mouth watering amazeballs (yes I said it). They deserve to be at "the feast".
Enter the good ole chickpea. Really, what can't a chickpea accomplish. They're snack worthy, meal worthy, and totes good for your health worthy. And this is so easy to throw together! Here's what you'll need for this wholesome meal: pitas, romaine lettuce, beefy red tomatoes, red onions, black olives, and vegan tzatziki sauce, which you can make yourself using my Super Easy Vegan Tzatziki Sauce. Don't worry, I got you covered.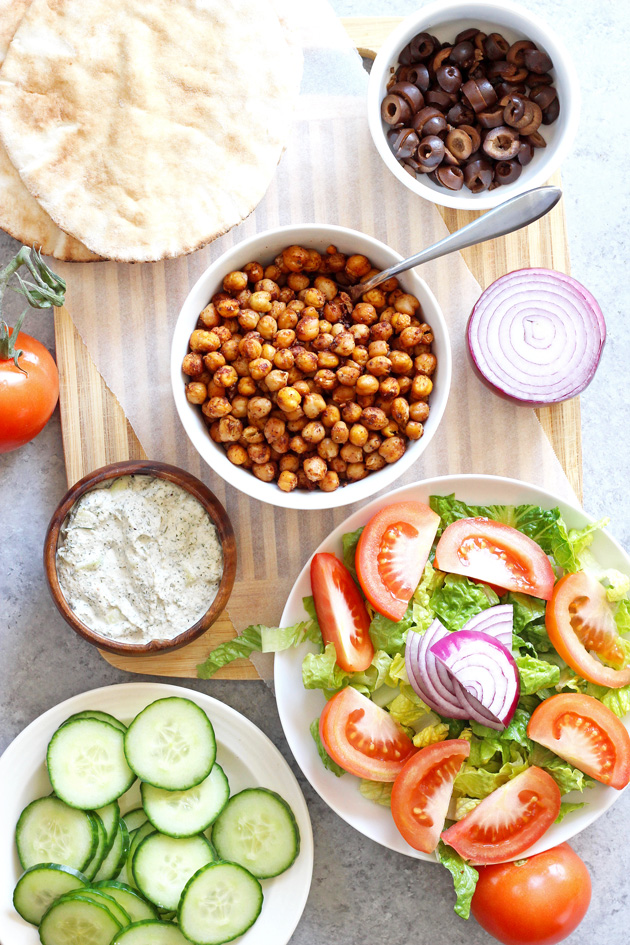 Super Colorful! 😍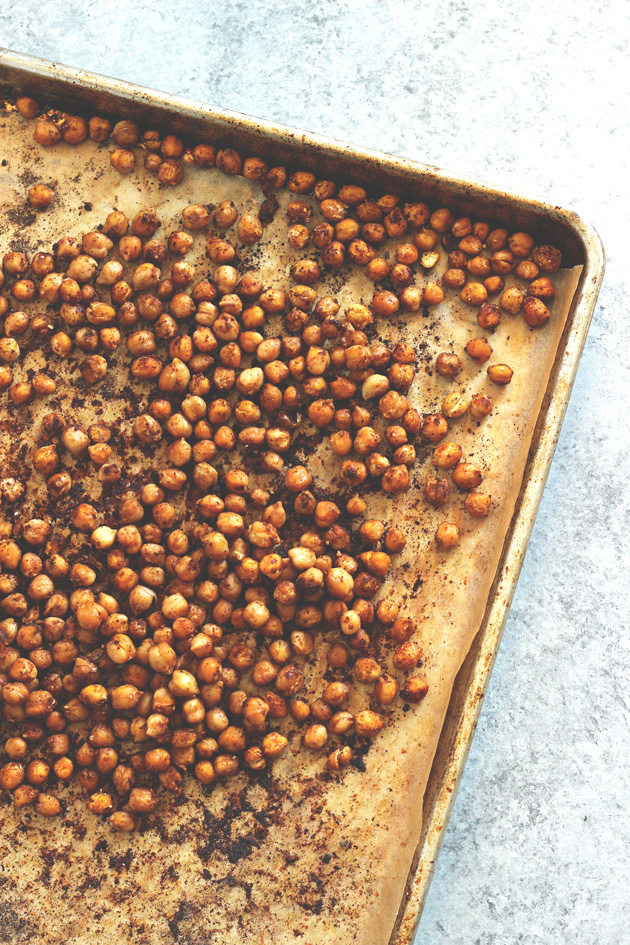 The roasted chickpeas in this are killer tasty. Want to know my secret ingredient? Taco seasoning! I know I know, you're all like taco seasoning? But let me tell you, they add the kick these gyros need and it makes these snap, crackle, and pop with crazy flavor. Like whoa.
First you'll want to go ahead and preheat your oven to 35oF. Line a baking sheet with parchment paper. Drain and rinse chickpeas well (I always use 2 cans). Roll them out on the lined baking sheet and pat them dry with a paper towel. They don't have to be super dry but dry enough. Ok so next, take a teensy tiny bit of extra virgin olive oil and drizzle it very delicately over the chicks (short for chickpea). Then take out the big gun seasonings like garlic powder, onion powder, salt/pepper, taco seasoning (exact measurements will be in the recipe below). Take a spoon, spatula, or fork and roll the chicks around in the seasoning and spices, making sure they are all nicely coated. Pop them in the oven for 20 minutes. When the 20 is up, you can take them out…or you can roll them around some more and pop em' back in for another 10 minutes. They will be golden in the sense that they'll be ready to go.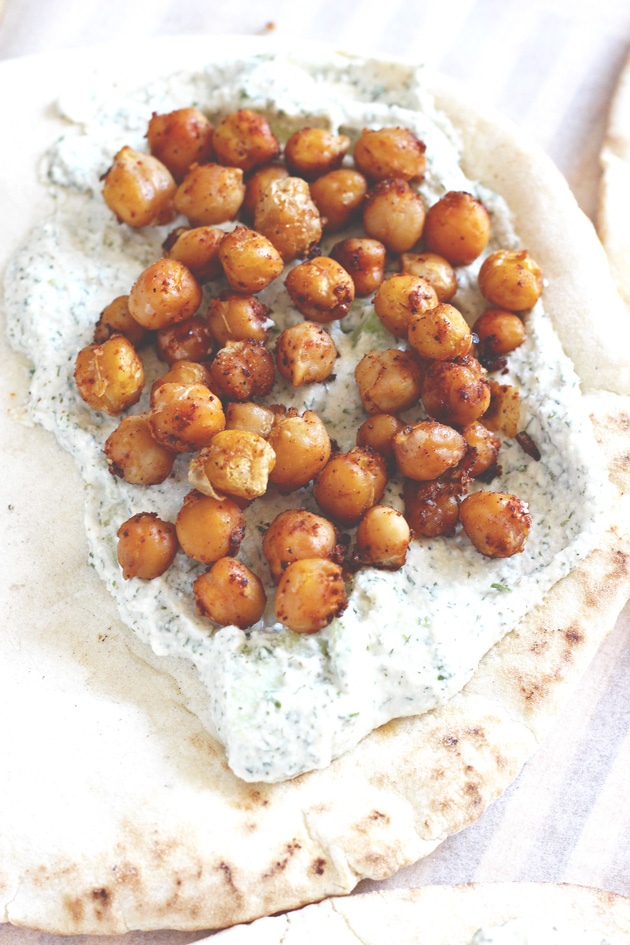 Errr-ma-gawd! 👌🏻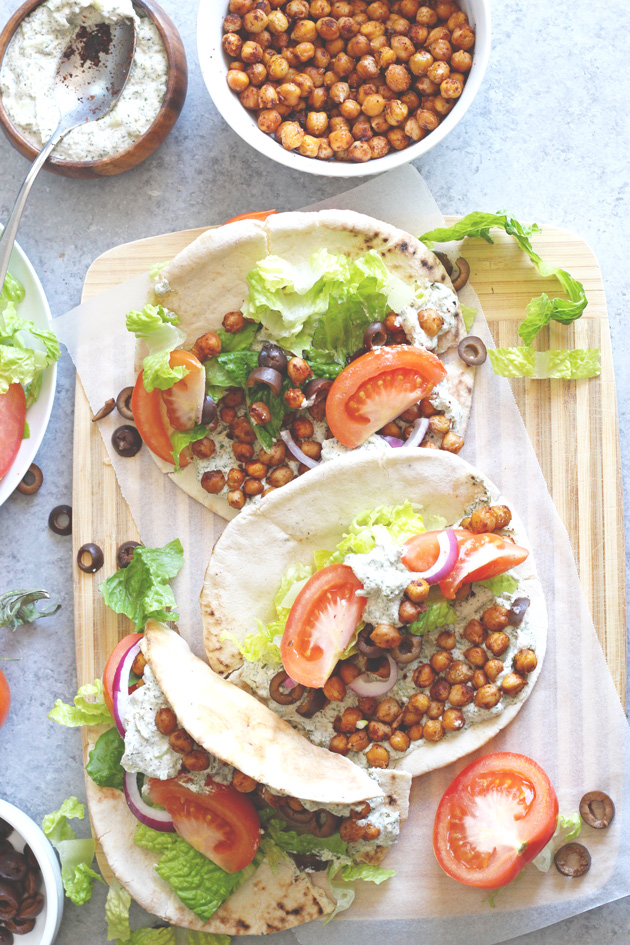 Now all you have to do is throw it together, it's that easy. First generously add a nice couple tablespoons of Super Easy Vegan Tzatziki, top that with roasted chickpeas, throw on tomatoes, onions, lettuce, the works, and don't be afraid to get messy. Yes gyros are messy but that's what gives them the title of being finger licking good. 😉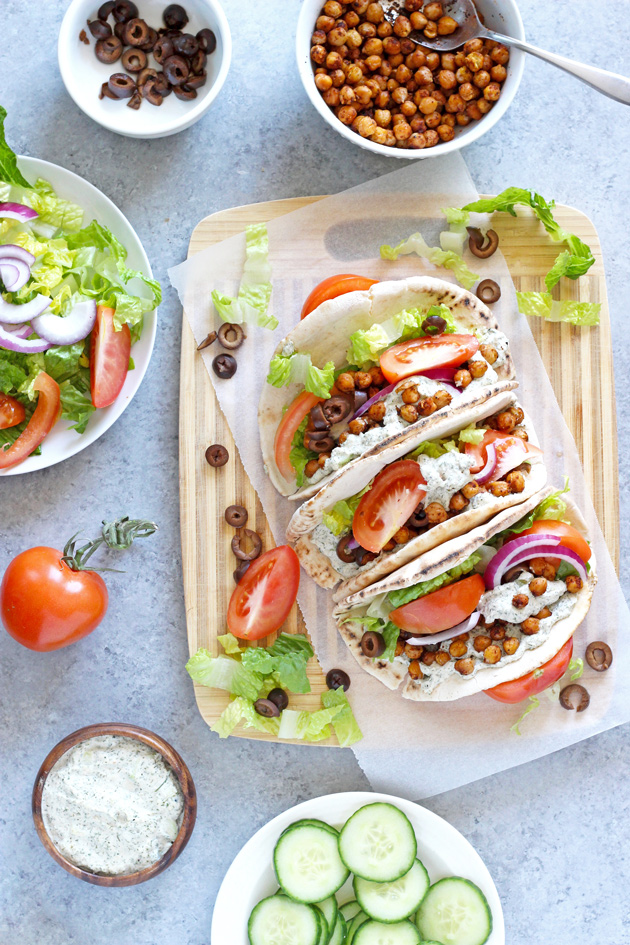 I know what I'm having come Super Bowl Sunday…let the games begin!
Need more recipes to make for the big game? You'll LOVE these:
Fully Loaded Healthier Nachos
Spaghetti Squash Street Tacos
Carrots in a Blanket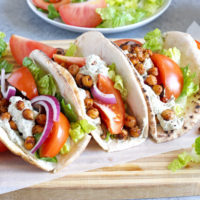 Street Style Vegan Gyros
Ingredients:
Directions: