Vegan Sundried Tomato Basil Pasta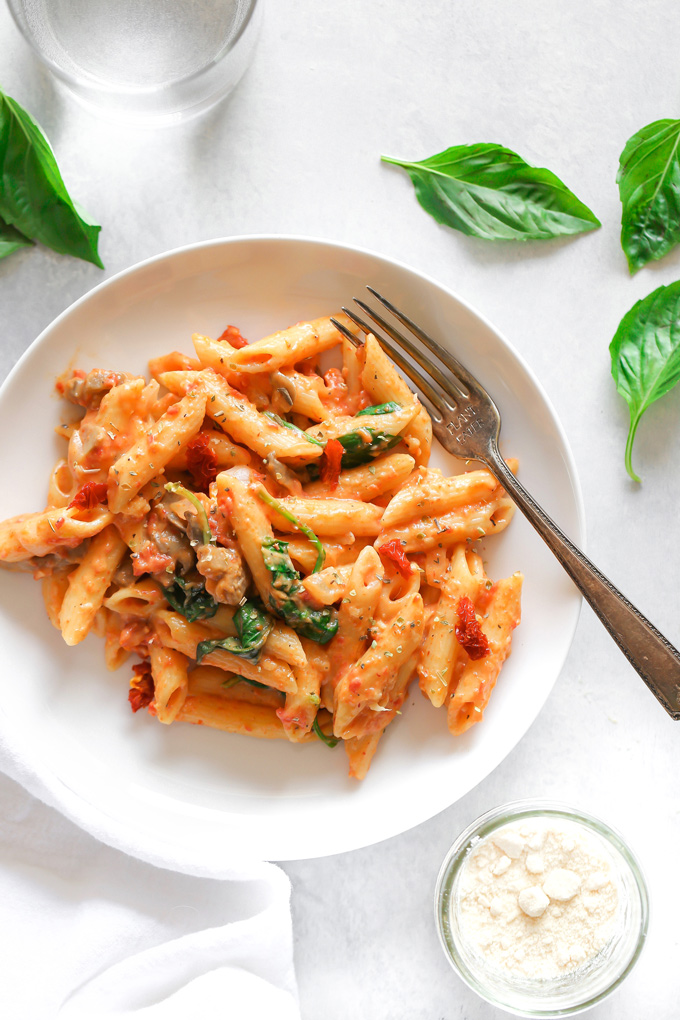 This Vegan Sundried Tomato Basil Pasta is made with all sorts of deliciousness. It's creamy, super flavorful and loaded with nutrients that will knock your sandals off. Perfect for weeknights as it doesn't take up too much time and even more yummier as leftovers (I love pasta the next day). With mushrooms and spinach, and I like to add just a sprinkle of vegan parmesan, this is a dinner you can certainly write home about. And the kicker…well, it really doesn't taste like it's vegan. No one would seriously ever know if you didn't tell them.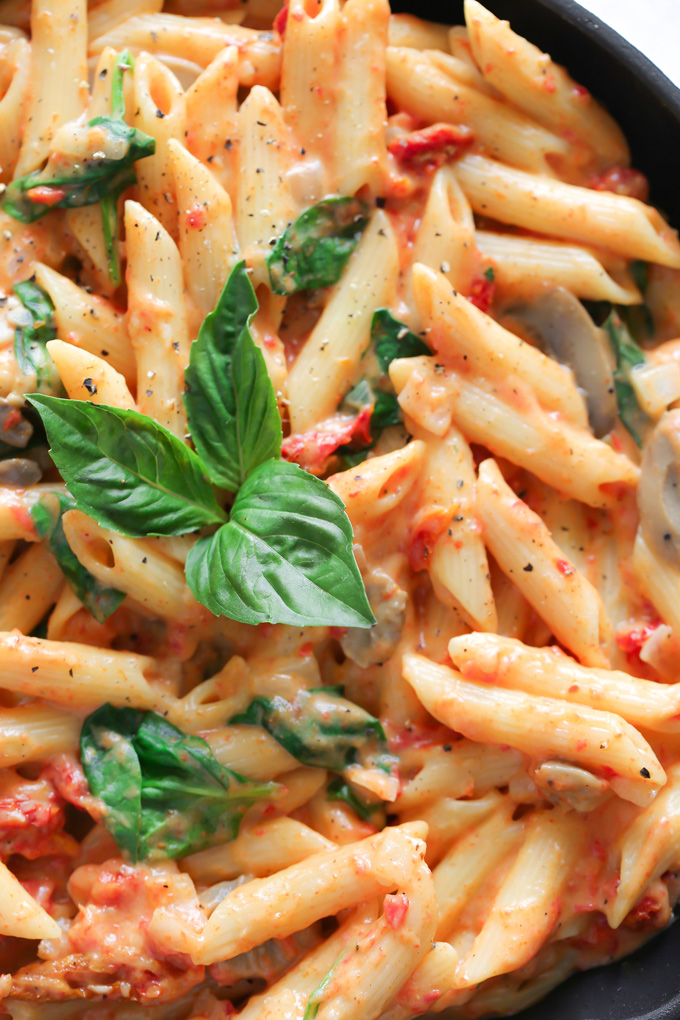 When we think about pasta dishes we like them loaded in creamy cheesy gooeyness and we want it topped with even more cheese. Without sacrificing taste, flavor, or texture this vegan pasta dish sets the bar really high because it has all that cheesy gooeyness minus the actual cheese. I know right, hard to wrap your head around but just look at it! Amazing I tell you.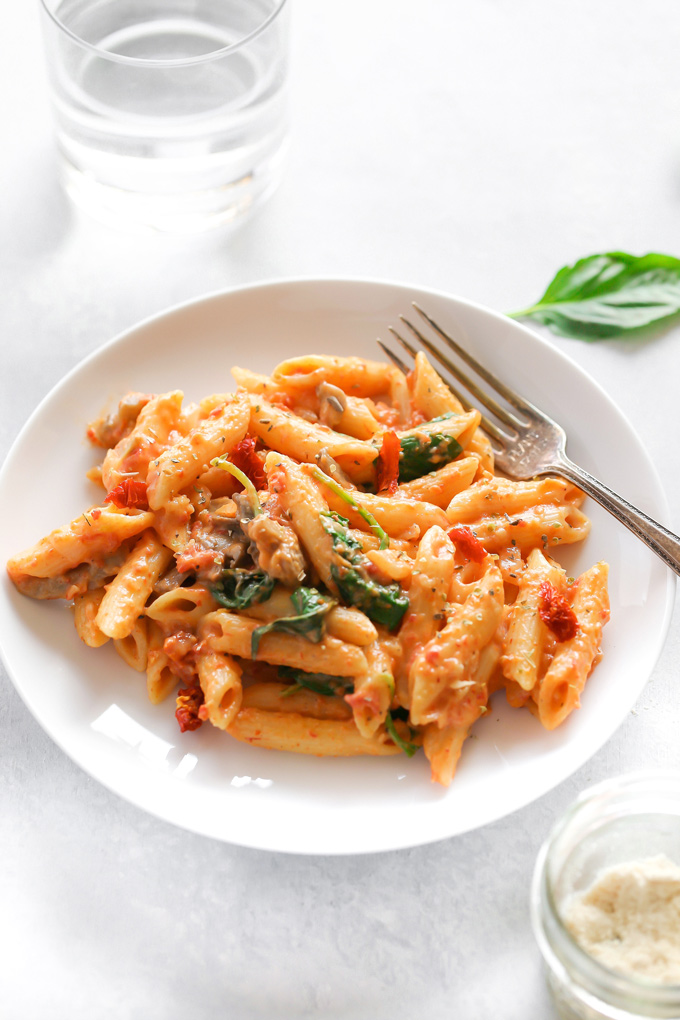 You know when you're dieting you have to almost always give up pasta and it sucks? Well not this one. You can get brown rice penne or any gluten free pasta, I even love the chickpea pasta for added plant protein. We now have so many options that we can still enjoy the foods we love, the way we love them, but just with better ingredients. It's a true win all around.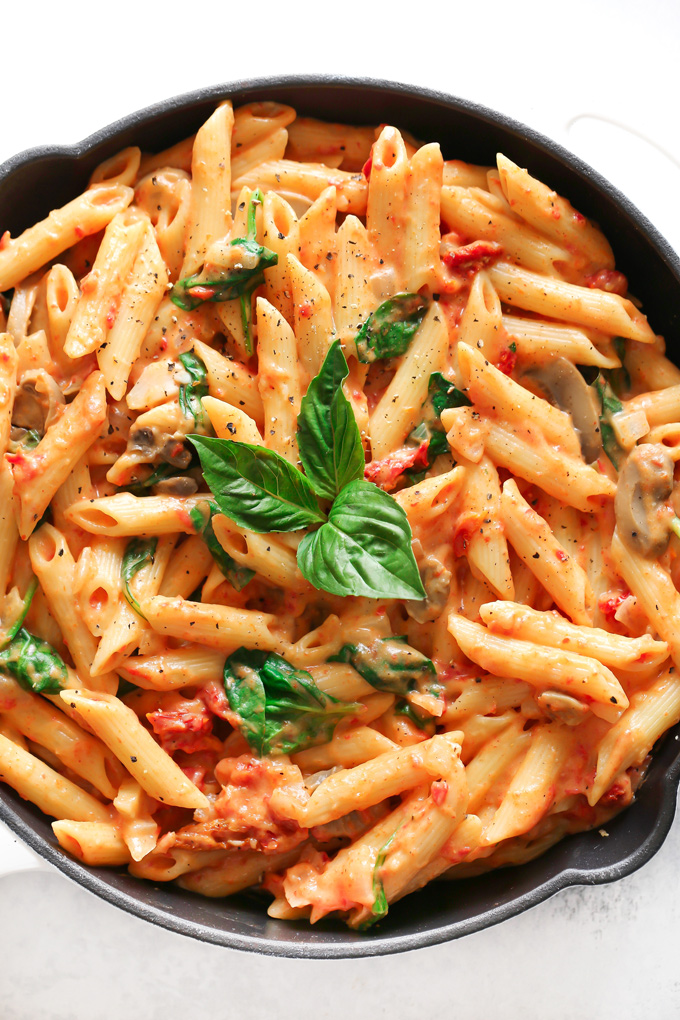 Good to Pack for School Lunch!
Plus, meals like this are super family friendly. I make a pretty big batch of this because like I said I love eating leftovers. Pasta the next day is so good to me.
I also pack it up for my son for lunch with a side salad and some fruit. I always like to put a treat in his lunch box too so I'll do marshmallows or chocolate of some sort or if I made muffins or cookies that are school safe I'll throw them in his lunchbox too. He looks forward to it because he knows I always throw a surprise in there. These are really good ideas, tips and tricks to have on hand because I know when I first learned to pack lunches and keep them fresh and fun, the more ideas the better and are welcomed.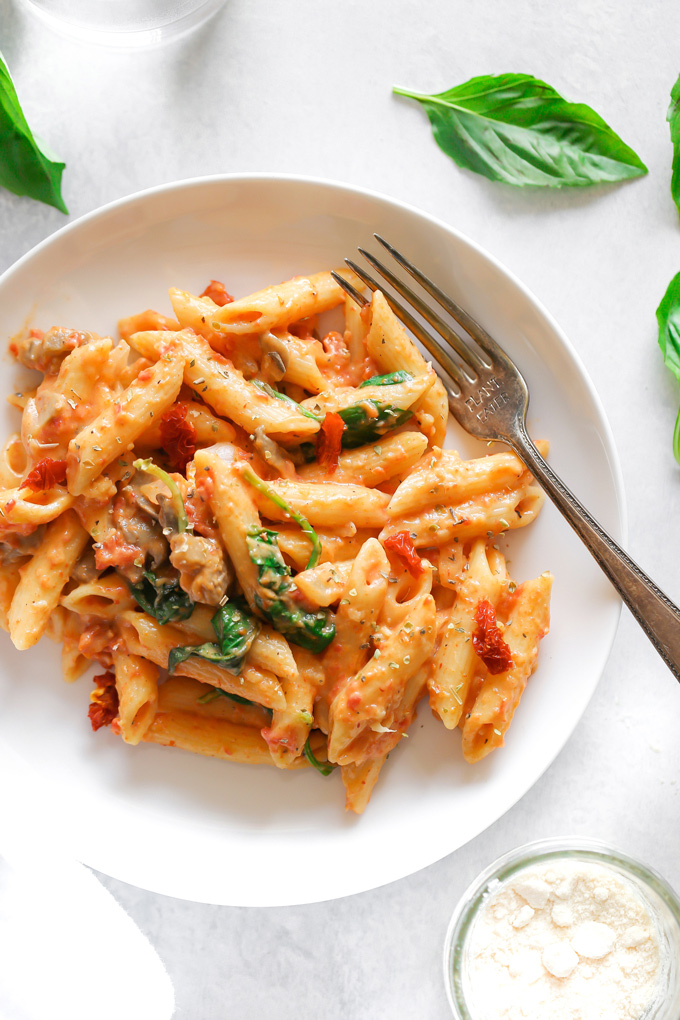 Just a few ingredients make up this luxuriously creamy sun-dried tomato basil cream sauce. It's perfect for dipping or swirled with your favorite pasta and veggies!
Can't wait to hear what you guys think!
Vegan Sundried Tomato Basil Pasta
Just a few ingredients make up this luxuriously creamy sun-dried tomato basil cream sauce. It's perfect for dipping or swirled with your favorite pasta and veggies!
Ingredients
250G or 1/2 a bag of penne pasta
4 tbsp avocado oil, divided
5 garlic cloves, minced
1 1/2 tbsp corn starch
2 cups almond milk, unsweetened
2 tbsp vegan butter
1 cup sun dried tomatoes , divided (I use Trader Joe's brand)
4 tbsp nutritional yeast
1 onion, diced
1 tsp oregano
1/2 cup fresh basil
1 cup fresh spinach
1 cup mushrooms, sliced
salt/pepper to taste
1/2 cup water, (more as needed)
Toppings
1/4 cup vegan parmesan, more or less depending on how much you like
extra spinach, if desired
1/4 cup chopped fresh basil , to sprinkle on top if desired
Instructions
Cook pasta according to package instructions.

Add 2 tbsp avocado oil to a large skillet or fry pan over low-medium heat. Add in minced garlic and diced onion and cook until onions are translucent.

Whisk the cornstarch with one cup of almond milk until it dissolves and add it into the skillet. Add butter and season with salt and pepper. Mix. Once this has thickened up a bit add the remaining almond milk.

In a blender or food processor add in the above mixture along with 1/2 cup of sun-dried tomatoes, nutritional yeast, and water. Blend until smooth and creamy. Add more water as needed by the tablespoon. You want it on the thicker side not too runny.

Add another 1 to 2 tbsp avocado oil in the same frying pan. Add in the other 1/2 cup of the sun-dried tomatoes, and sliced mushrooms and cook for 5 minutes.

Pour the sauce from the blender back into the pan with the whole sun-dried tomatoes and mushrooms on low heat. Once the sauce is heated a bit add in the penne, spinach, and basil, more salt and pepper if desired and give it a good mix. Once the spinach is a bit wilted it's good to go.

Serve right away and sprinkle the top with vegan parmesan and extra chopped fresh basil and great with a side salad. Enjoy!
Notes
Can use any pasta, regular, gluten free, linguini, spaghetti, etc. 
Store any leftovers in the fridge in air tight containers. 
Tastes great cold and can be packed up for lunch. 
Great lunchbox idea for kids served with a side salad. 
~Pin This Recipe~