Mixed Berry Crumb Bake
jump to recipe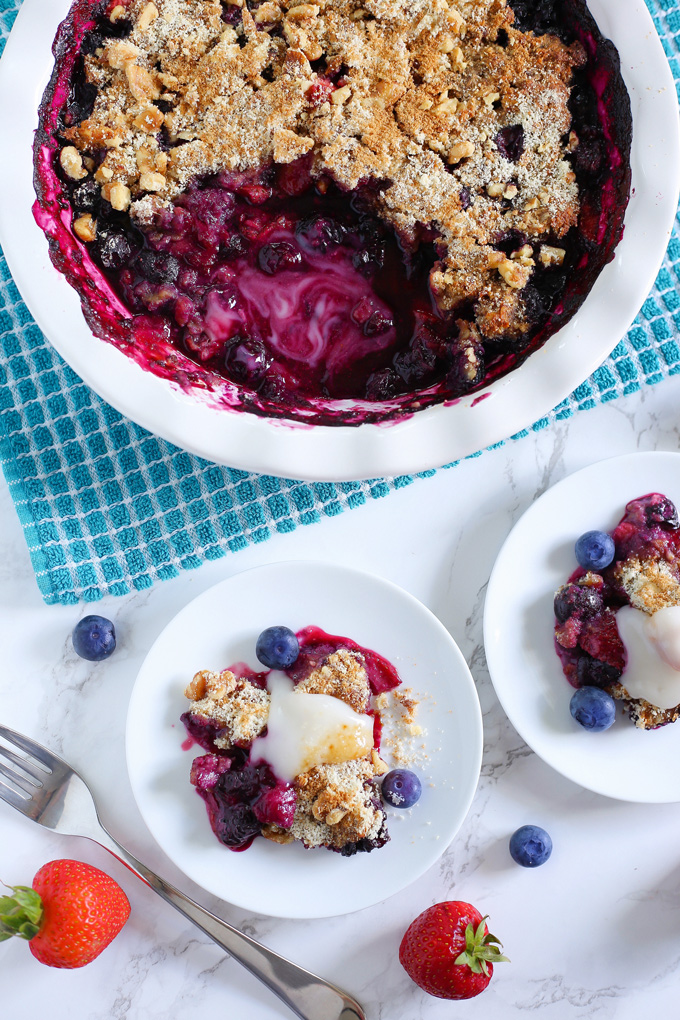 Happy freakin' 4th of July weekend my favorite people! I love that we're in summer – the beach, the pool, BBQ's, and gorgeous summer dishes like this Mixed Berry Crumb Bake for the win. I didn't really intend for this to look super patriotic but hey, if the shoe fits right. Or in this case if the berry fits…
So I literally made this today on my IG stories so everyone was able to follow along and see how easy it was to make this yumminess and also how healthy it is. It's naturally sweet with no refined sugars and it's not only vegan but gluten-free as well! (Holla at my gluten-free peeps).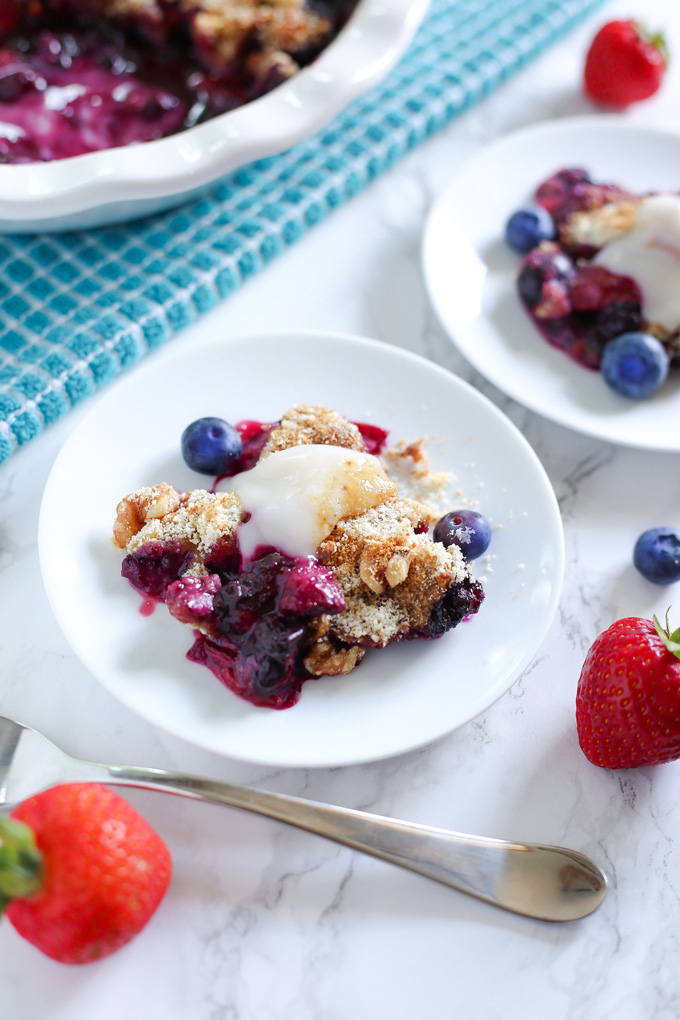 Usually when you hear crumb in any sort of baked goods that typically means it's made with just brown sugar and butter. In this case the "crumb" portion is made up of walnuts (anti-inflammatory), dates (essential minerals), and almond meal (magnesium). So although super tasty and utterly delicious, you're really eating healthy fats and loading up on nutrients that are only benefiting your sweet bod this holiday weekend.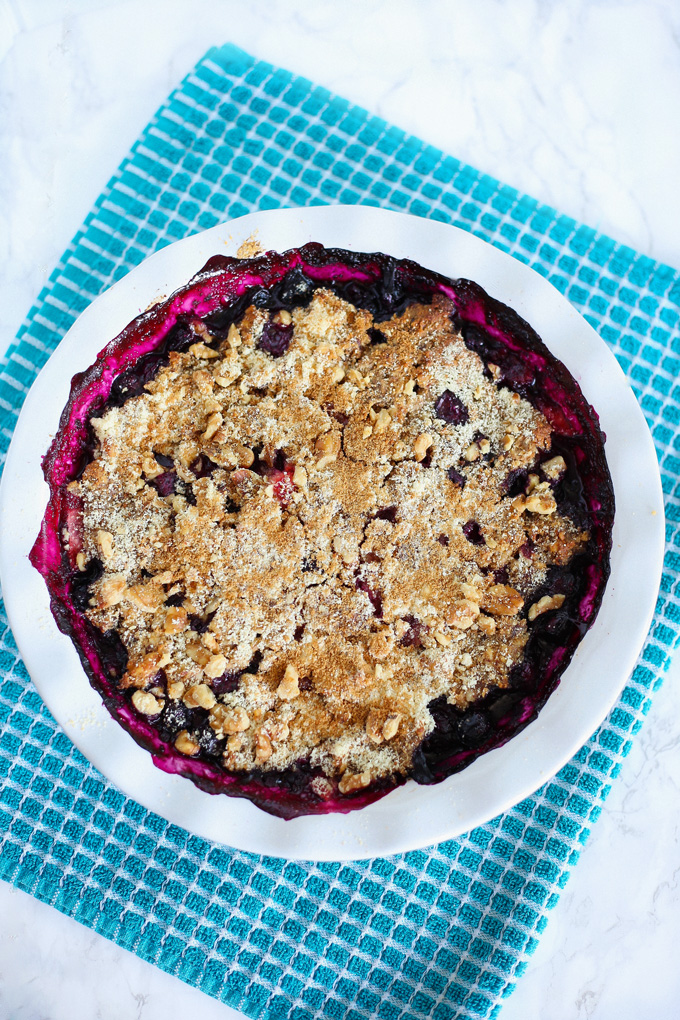 The inside of this Mixed Berry Crumb Bake is super duper baking 101 easy. I used only blueberries and strawberries. I didn't have to emulsify them or cut them in any odd annoyingly way (think hulled strawberries for instance). I simply threw the blueberries in whole and the only thing I did with the strawberries was cut the stem off and slice them. Pretty typical when you eat strawberries I'd say. In that I mixed is a tablespoon of maple syrup and some tapioca flour. You can sub that for corn starch or arrowroot, either one work.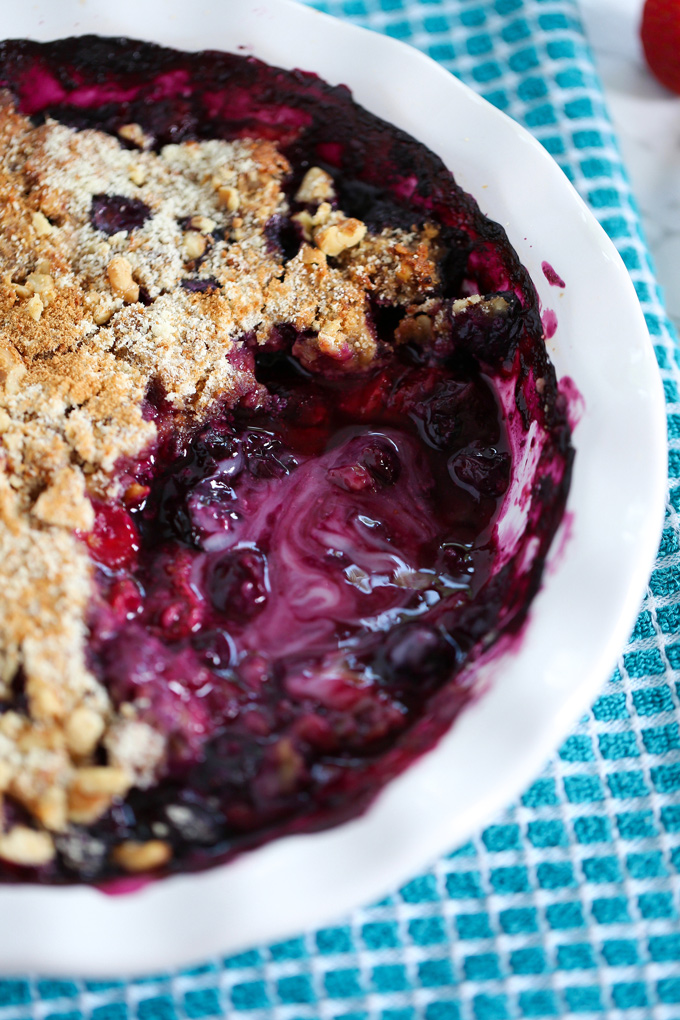 While it's baking the berries burst into ridiculous flavor and it has a thickness to it because of the tapioca flour, but it's not gummy. Think homemade pie filling. It's so similar to the texture from say cherries or something in a can except this is au natural. The goodness and simplicity right!?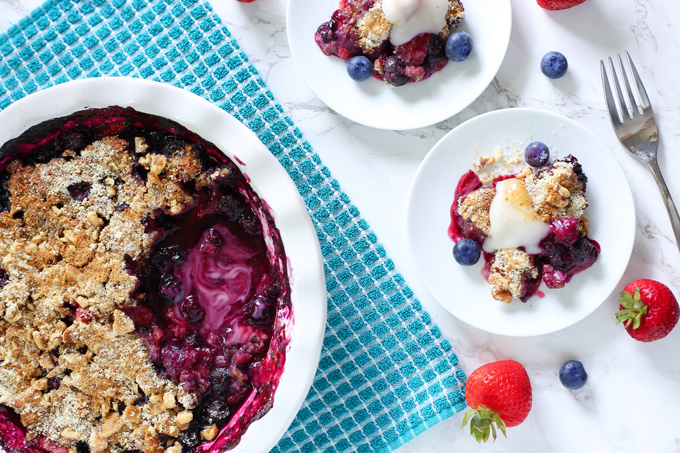 I made this for breakfast. Me, Little Baby C, and the rest of my boys wanted something sweet for breakfast. This was spot on. However you can make this into a quick dessert and top it with your fave dairy-free vanilla ice cream..Holy YUM! I topped this one with coconut yogurt. Oddly enough I wasn't in the mood for chocolate or else I probably would have added some chocolate chips to this.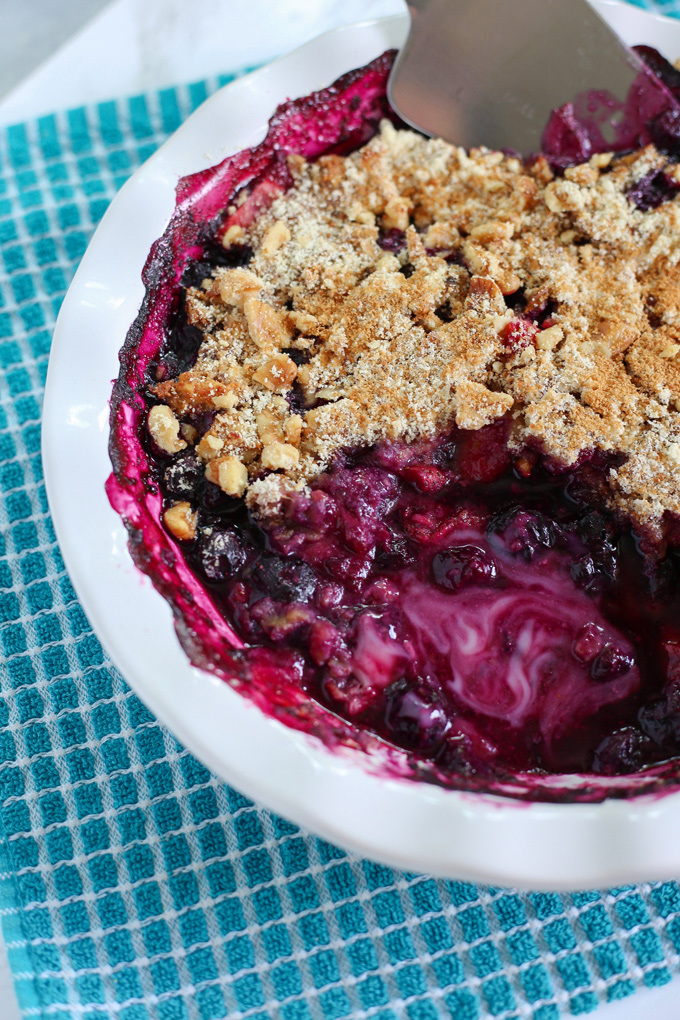 I just want you to know that I did not alter the color of the filling while editing the photos. That is legit the color it comes out. It's gorgeous and just how mother nature intended. When you make this, you have to tag me on Instagram @neuroticmommy, and use the hashtag #neuroticmommy to tell me what you think of the color. I'm telling you it's deep purples, pinks and reds are absolutely amazing. Even though I made it I still have this little tiny sense of guilt because I'm like wait is this really healthy?! LOL and Yup it totally is.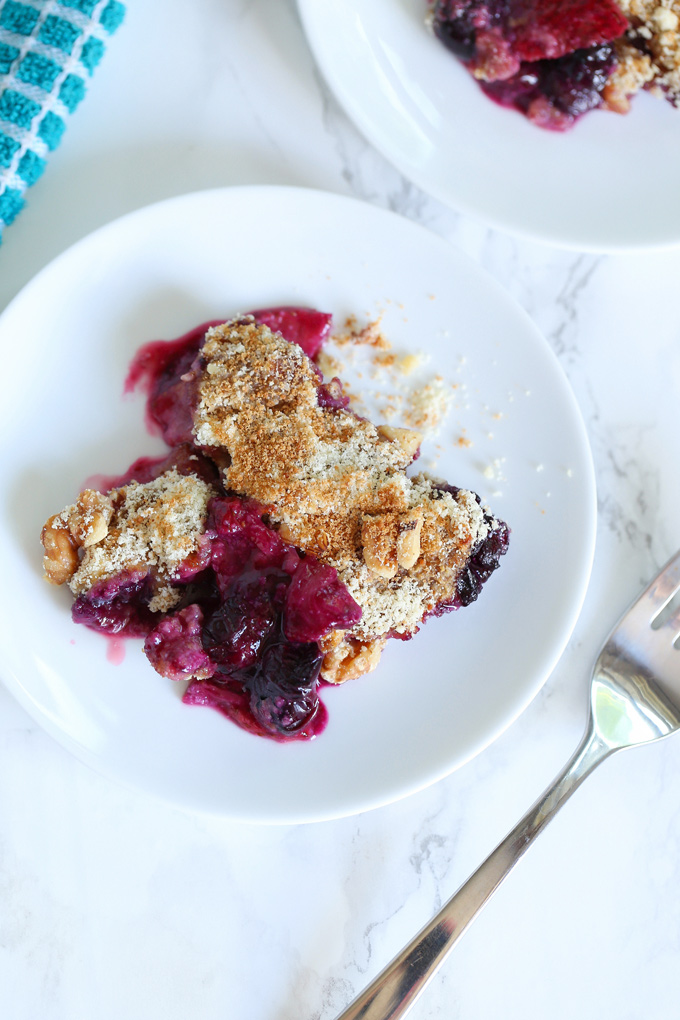 On a different note real quick, I've been working on the photography for my cookbook to be released fall of 2018. So forgive me if you noticed I haven't blogged as much in the past week or so. I've just been so busy with that and if you do photography you know how time consuming it can be. But next week I have a new updated pregnancy post for you on weeks 16-17-18, a recipe, and what prenatal vitamins I've been taking along with the rest of the supplements I'm on during this pregnancy.
Have a happy and safe weekend my friends. Remember to drive responsibly and eat organic non gmo. Happy 4th!
Recipe adapted from paleorunningmomma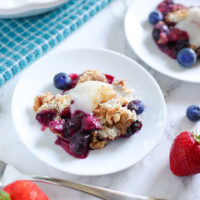 Mixed Berry Crumb Bake
This berry rich breakfast can be made as a healthy quick dessert too! Highly nutritious, naturally sweet, vegan and gluten free!
Ingredients:
Crumb Topping
1 cup walnuts
1 cup pitted medjool dates (soaked)*
1/3 cup almond meal
1 tsp vanilla extract
pinch of salt
Mixed Berry Filling
2 cups fresh blueberries
12 large strawberries, stems off and sliced
1 tbsp tapioca flour*
1 tbsp maple syrup
Directions:
Crumb Topping
Place all crumb ingredients in a processor and run until a crumb like mixture is formed. There will still be some pieces of walnuts but that's ok because it gives the top some crunch. You don't want it too blended.
Set aside while you prepare the filling.
Mixed Berry Filling
Add all filling ingredients to your baking dish. I used a 9" round baking dish but you can use square and go down o 8" too.
Make sure the berries are evenly coated with the tapioca flour and maple syrup. If you feel like you need to add a bit more go ahead.
Putting it together
Preheat oven to 350F.
Take the crumb topping and evenly distribute it on top of the mixed berry filling. Spread it out as best you can, remember it doesn't have to be perfect. Crumb bakes are never not messy.
Bake for 30 minutes. Once done let cool for 5 minutes before serving. When you take it out of the oven the berries will be boiling so you want that to settle before you dig in so you don't burn your mouth.
Top with shredded coconut, chocolate chips, or a non dairy yogurt. Alternatively you can dessert this up and top it with non dairy vanilla ice cream, chocolate sauce and extra walnuts to top. Enjoy!
To soak dates boil up some water, enough to cover the 1 cup of dates, and let them sit in boiling water for about 3-5 minutes. This will soften them up so you don't have chunks of dates in your crumb topping.
Sub tapioca flour with corn starch or arrowroot flour.