Santa Chia Pudding Jello Parfaits (Sugar Free)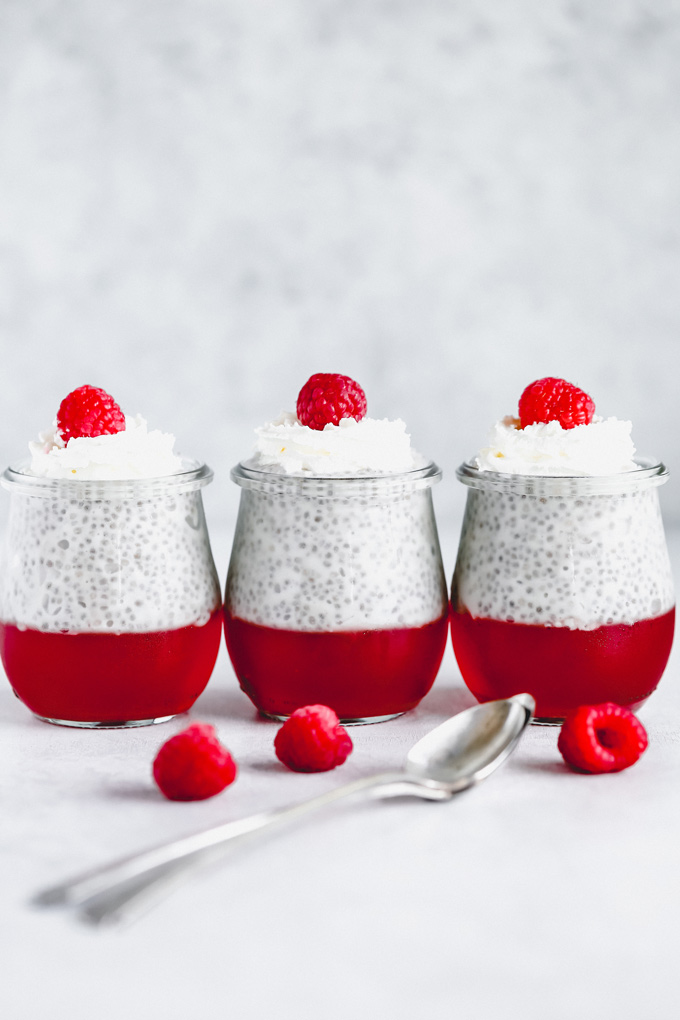 These Santa Chia Pudding Jello Parfaits are sugar free, creamy, vanilla-y, and the perfect little treat to have Christmas morning. Or any morning really for that matter. They can be enjoyed anytime of day, breakfast, lunch, dinner, snack what have you.
Chia puddings are the most popular thing to hit the inter webs since 2013. This along with overnight oats has taken the health world by storm with it's many different, countless varieties to meet anyone and everyone's dietary needs and/or likes.
This is the most beloved food on Instagram, it photographs so nicely and is probs one of the most simplest things to make. With so many flavors and options to choose from, for this I stuck with and decided on good ole vanilla. I do love me an instant chocolate chia pudding too but this just fits with the theme. Holiday Spirit anyone?! LOL.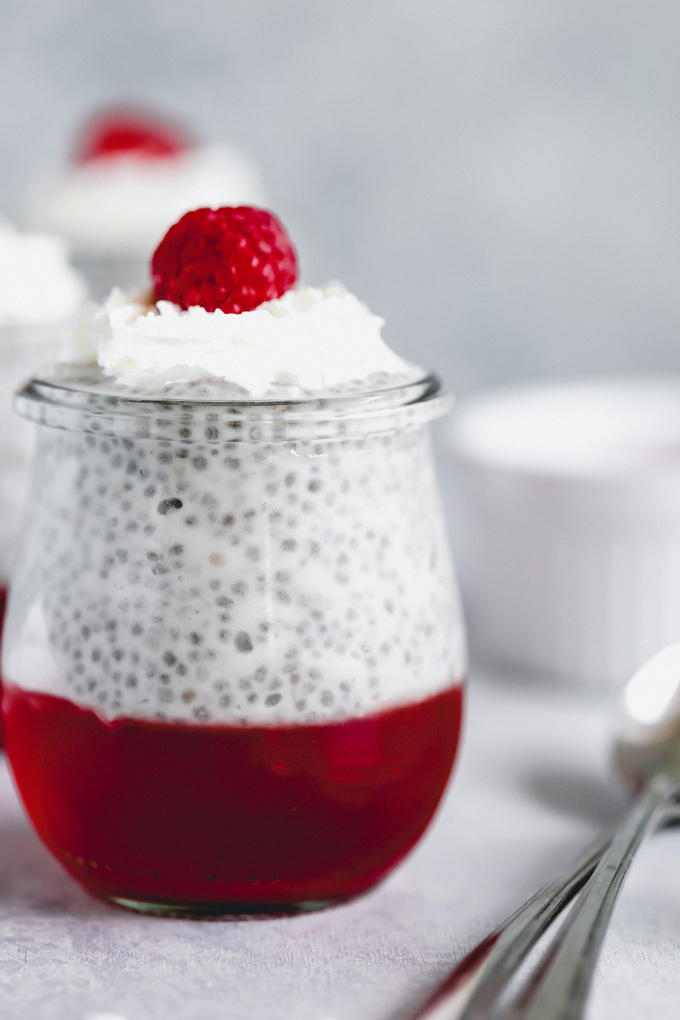 I use this jello to make these Santa Chia Pudding Jello Parfaits sugar free, vegan, and keto friendly. It's one of our faves here in my home. We love making these parfaits because not only are they super cute, they're totally fun for the kids! Not to mention the mix of strawberry and the vanilla chia pudding combined are all sorts of bomb delicious.
To keep it sugar free I use Lakanto's monk fruit powdered sweetener. It doesn't give the chia pudding a grainy texture and you don't need much of it. If you prefer to use coconut sugar or even maple syrup that's totally ok as well. (Here is a vegan keto friendly maple syrup.)
How I do it is this: I make the chia pudding in a large bowl first and place it in the fridge covered. I then make the strawberry jello and fill up my  little weck jars almost halfway up. You can go as high or as low as you'd like, even add in another layer. But for now I will just talk to you about how I did these jars you see here. Depending on how much you make of chia pudding and jello, you can go up to 4, 5 or even 6 servings with this size jar.
Once I've filled up my little jars I place them in the fridge to set. Both the chia pudding and jello will have to set and separately is best at first so you have nice neat layers. Therefore the chia pudding won't plummet to the bottom of the jar with the warm liquidy jello.
When the jello has completely set you can then proceed to top it with chia pudding, coconut whip cream and any berries you may fancy to top. I even sprinkled in some coconut flakes. HOLY YUM!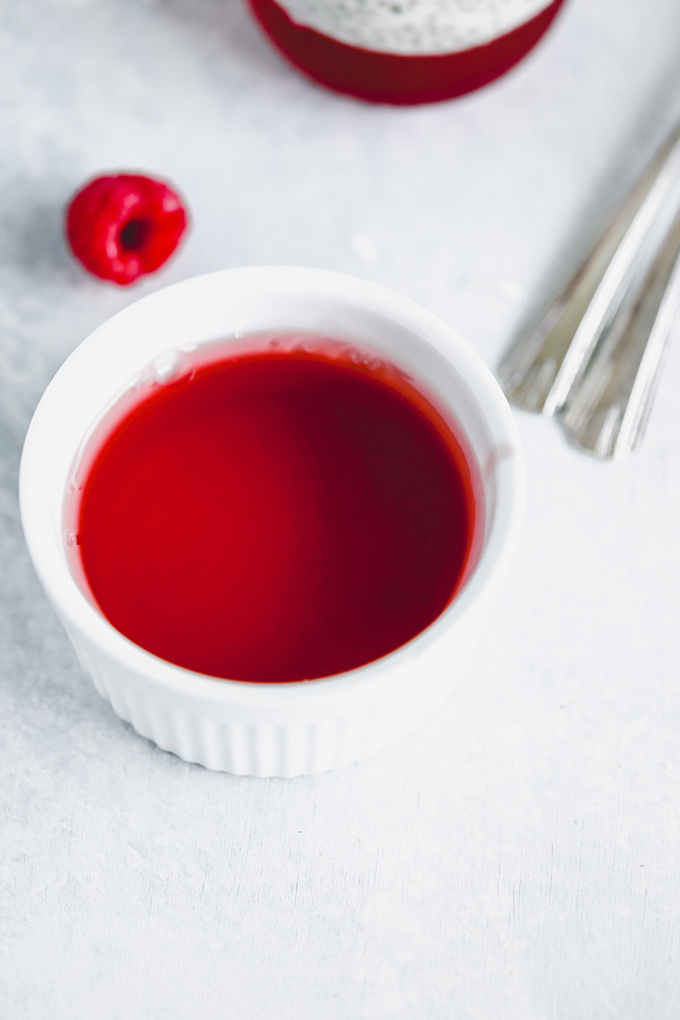 This post contains affiliate links in which I may make a small commission and am super grateful for. Opinions are in no way influenced by compensation. You can read our full disclosure policy for more information.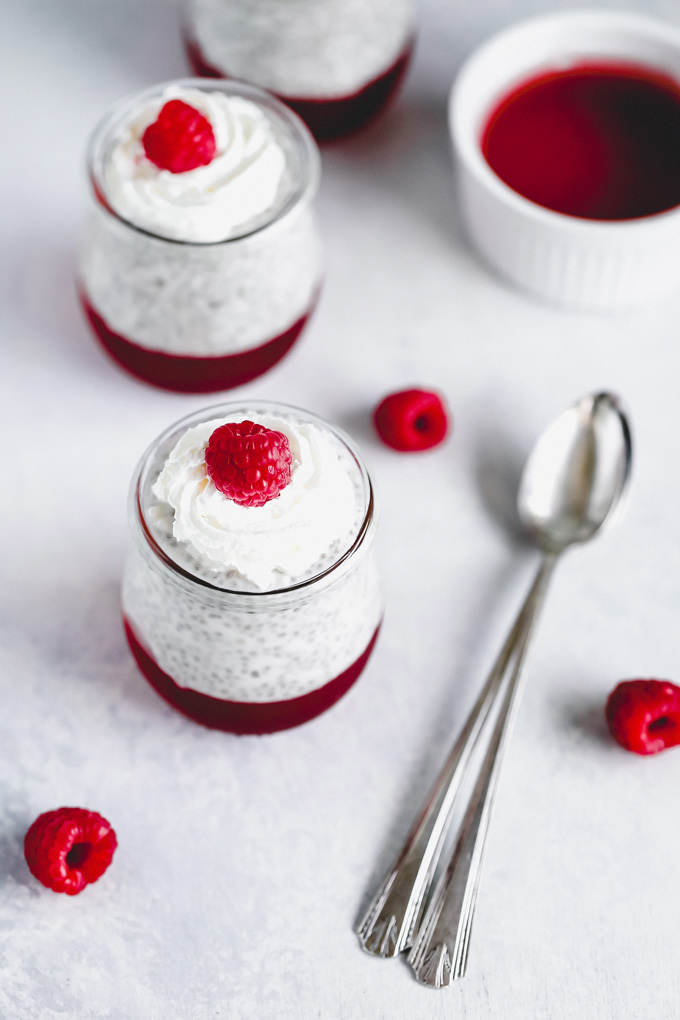 Chia pudding takes up to 4 hours to set. I usually do this the night before and then assemble the parfaits the next morning.
Don't forget that when you eat chia pudding you need to make sure your drinking tons of water too. You can read up on all chia seed benefits here. They rapidly absorb a large amount of liquid – between 9-12 times their volume. This gives them their gel like form.
Most people know chia seeds are good for omega-3's but they've come with some protein in them too. I know I know, versatile little seeds they be.
You guys are going to love these, I just know it. I know you're already probably familiar with chia pudding anyway but to showcase it in this way is fun, festive and still so delicious. Can't wait to hear what you guys think about these Santa Chia Pudding Jello Parfaits! So fun – Enjoy!
You can find more Chia Pudding Recipes Below:
Instant Chocolate Banana Chia Seed Pudding
Santa Chia Pudding Jello Parfaits (Sugar Free)
These Santa Chia Pudding Jello Parfaits are sugar free, creamy, vanilla-y, and the perfect little treat to have Christmas morning.
Ingredients
For the Vanilla Chia Pudding Layer
1 15oz can of organic coconut milk or cream
1/4 cup chia seeds
1/4 cup unsweetened shredded coconut , (optional)
1 tbsp monkfruit sweetener, (or your sweetener preference)
2 tsp vanilla extract
For the Jello Layer
1 box (20g) Strawberry Jell Dessert, (sugar free see notes)
Suggested Toppings
Coconut Whip Cream
handful of fresh berries, ie. raspberries, strawberries, etc.
sprinkle of shredded coconut
Instructions
Place all ingredients for the chia pudding in a large bowl and mix it until it's well combined.

Cover the bowl and place it in the fridge to set. It will be set in 4 hours.

Make the sugar free strawberry jello according to package instructions.

Pour warm liquid into jars evenly and place in the fridge to set.

Once both chia pudding and jello are firmly set you can assemble the parfaits.

Add chia pudding on top of the set jello, top with your fave coconut whip, berries and coconut. Serve and Enjoy!
~Pin This Recipe~