American Flag Chocolate Pudding Poke Cake
jump to recipe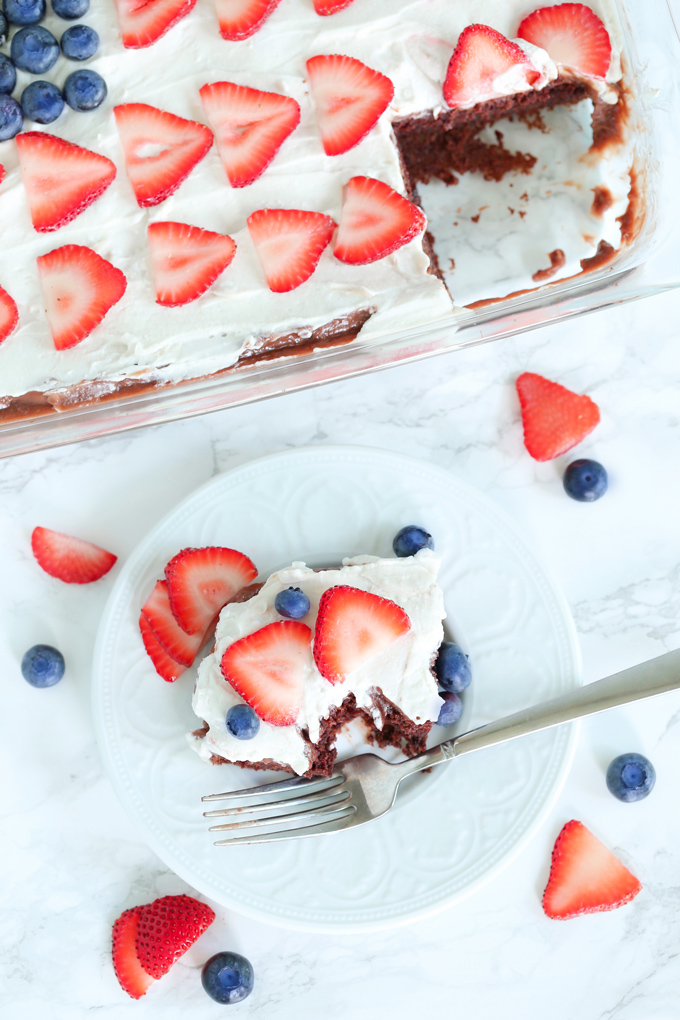 I know this post may be a couple days late but I was away for the 4th of July and had no way to edit or post this particular post. This American Flag Chocolate Pudding Cake was suppose to go live Monday, but I had technical difficulties and wasn't able to get on a computer. Anyway, it's here now and it's so much freakin' fun.
I know it's "American Flag" themed however you can throw the berries on top in any order. I just did this decor for fun and for those red white and blue summer vibes.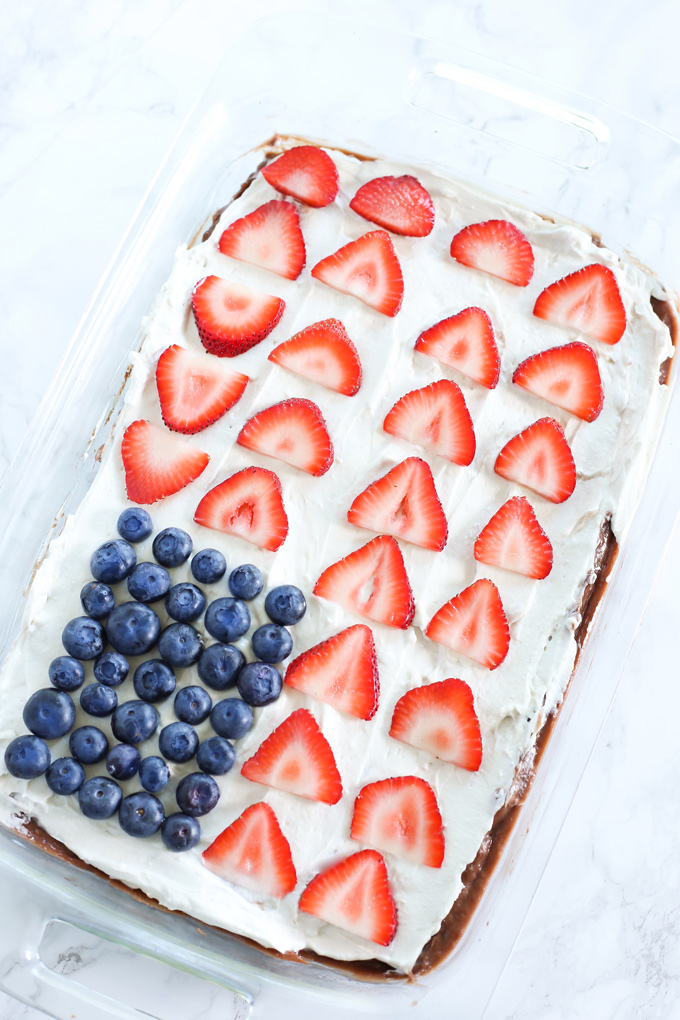 So what is a poke cake. A poke cake is exactly what it sounds like, a cake you poke holes in after baking it. Then what you do is, you pour a filling of choice in those holes. I used chocolate pudding, hence the cake's name but you can put pureed fruit, creams, nut butters, syrups, thick liquids or anything you can think of when it comes to these poke cakes. There are many different varieties on the web but I can assure you, it's super easy.
I love making poke cakes. It adds so much more decadence to cakes. I also love extra chocolate anything and this has pudding in it, so you will be in your glory if you're anything like me and are absolutely in love with chocolate errr-thang.
All you'll need is a vegan friendly chocolate cake mix (which usually most boxed cakes are), and some coconut whip cream on deck to top this with. Alternatively you can buy coconut cream already made so you can do less work. But I always make coconut whip so it's really no biggie. That's just another very easy option. So delicious has a good one.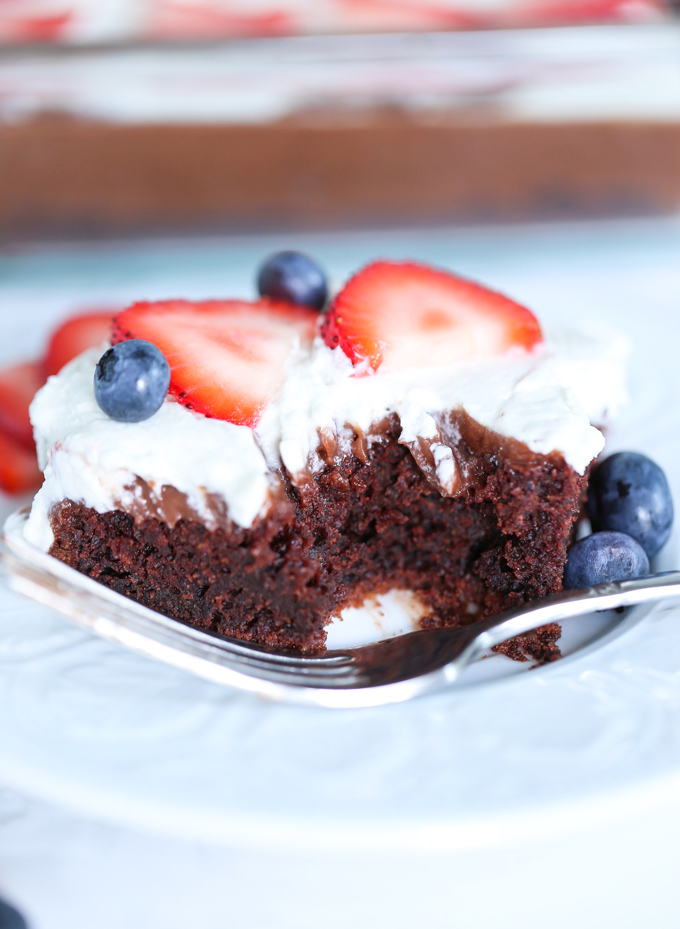 I made this cake for my sister's 4th of July BBQ party and it was a hit. Luckily a put a large piece on the side for myself so me and Little Baby C were able to enjoy some.
It's a fairy big cake, 9×13″ which feeds a lot of mouths. Everyone was super happy with it. And the thing is this isn't a too heavy cake even though it has chocolate pudding. It's still rather quite on the lighter side and not a heavy cake at all. I think the coconut whip adds an airy feel to it too making it super summery.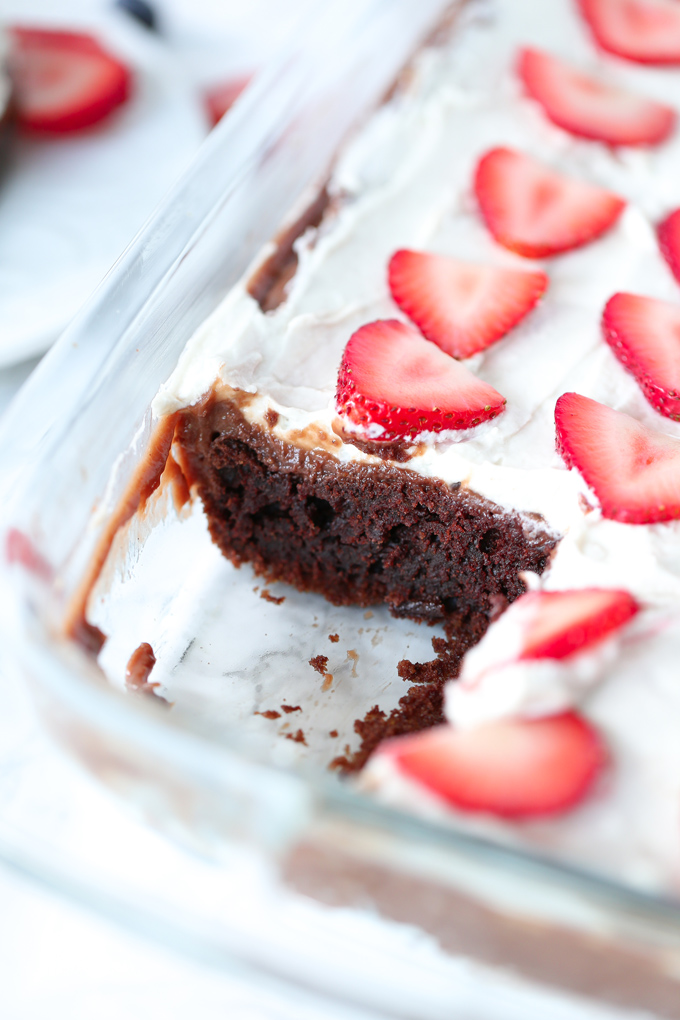 I think this is an easy fun way to spruce up your cake game. You don't have to be an exquisite baker or the cake boss to make this festive cake. Plus you can do your own design as mentioned above.
I put together this one minute video to show you how simple this American Flag Chocolate Pudding Poke Cake is to make.
If you make this cake hit me up on Instagram and hashtag #neuroticmommy so I can see your creation. It's so much fun to make and eat and your whole family will love it. Also this is a fun way to include the kids in the kitchen. Besides licking the utensils (because you can do that when all things are vegan), they can mix, pour, poke holes and decorate the top.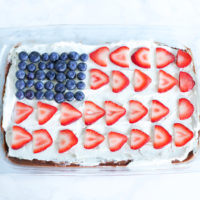 American Flag Chocolate Pudding Poke Cake
A festive fun way to decorate your cakes this summer. Made with all vegan ingredients and coconut whip cream.
Ingredients:
Directions:
Preheat oven to 350F and spray or grease a 9x13" baking dish.
Prepare cake mix according to package. The one I linked above is the one I used and you have to put all wet ingredients into a bowl and mix well. Then add in the cake mix and mix until well combined.
Pour cake batter into pan and bake according to package instructions, 25 minutes.
While the cake is cooking prepare your organic instant chocolate pudding mix. Do not put it in the fridge.
Once the cake is done remove it from the oven and let it cool 15 minutes off the stove. Once cooled take the back of a wooden spoon and poke holes in the cake.
Pour chocolate pudding over the entire top of the cake and place in the fridge for 10 minutes to set.
Take cake out of the fridge and top it with coconut whipped cream and fresh fruit. Serve and Enjoy!
Stays well in the fridge for 4 days.
Can sub store bought coconut whip cream.
This post contains affiliate links*
-Pin this recipe-