My Favorite Way To Eat Spaghetti Squash
jump to recipe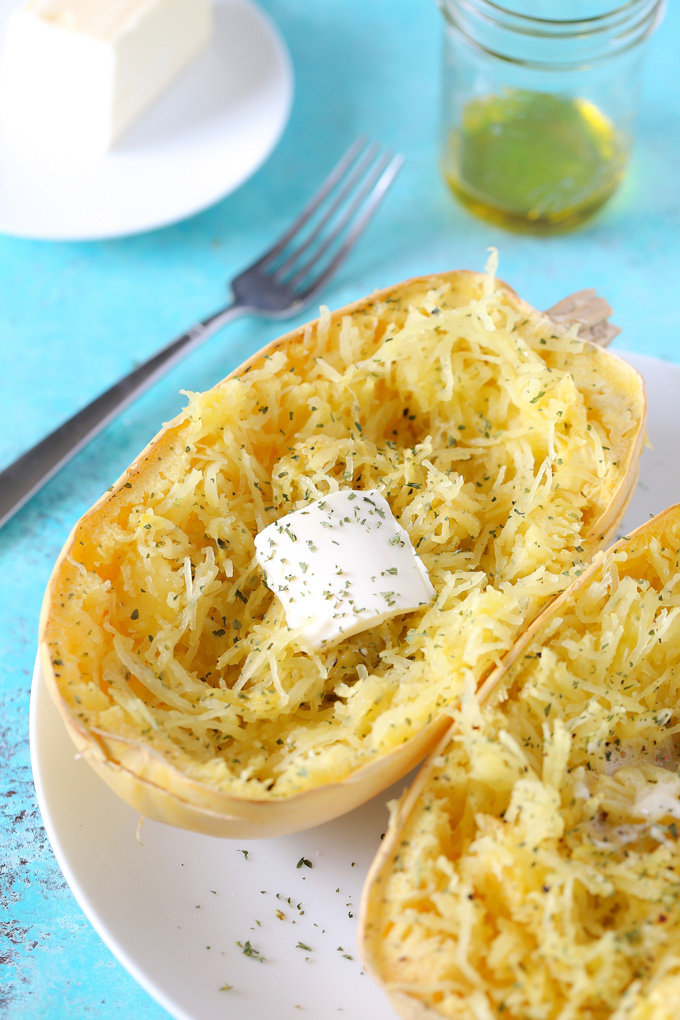 A couple of weeks ago while I was filming an Instagram story, I talked about and briefly showed my favorite way to eat spaghetti squash. A lot of the time across social media you see people filling and overflowing these beautiful boats with cheese, meats, and other things essentially making what was once healthy into something that's well not so healthy. Don't get me wrong, I love filling my spaghetti squashes up like the rest of them, granted with better ingredients and vegan at that but my true favorite way is very simple: garlic, vegan butter, extra virgin olive oil and some seasonings. That's it. It's light, it's flavorful, and you feel like you're eating pasta in garlic and butter sauce, no joke. And since I'm pregnant one of my cravings has been pasta in butter and oil with a ton of garlic. This has been my go to recipe.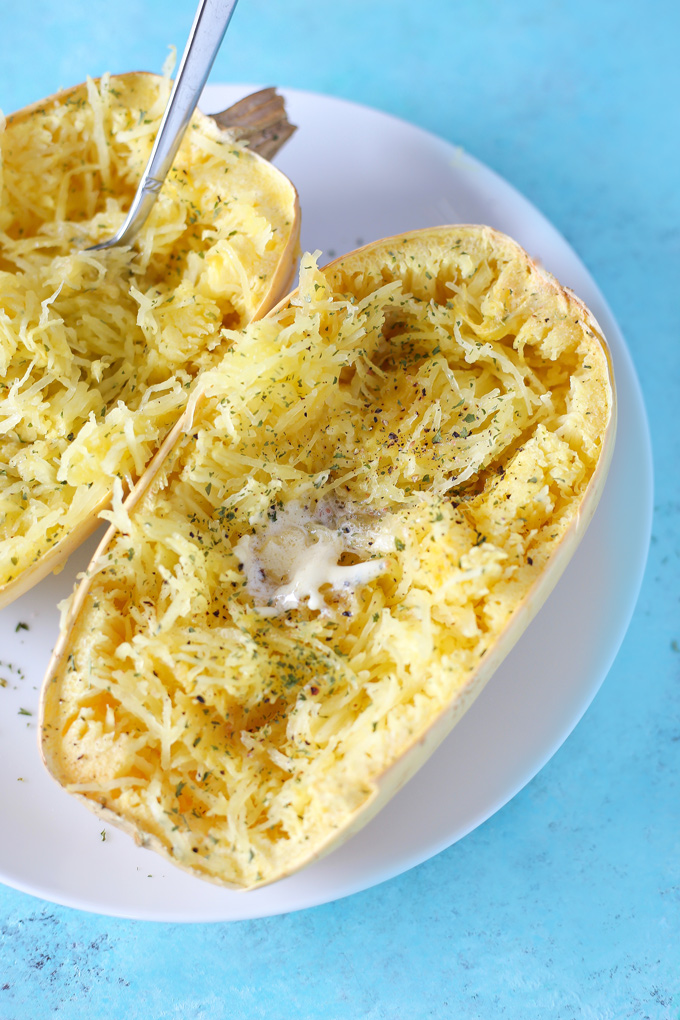 Cutting open a raw spaghetti squash can be dangerous. Some people I know don't cut it open before hand, they just pop the entire thing in the oven and when it's cooked, that's when they cut it open and remove the seeds and proceed with their meal. That's a smart way to do it if you're not comfortable cutting it raw. I have my husband do it because he's good at handling that kind of thing and I just know with my clumsy ass I'll probs hurt myself.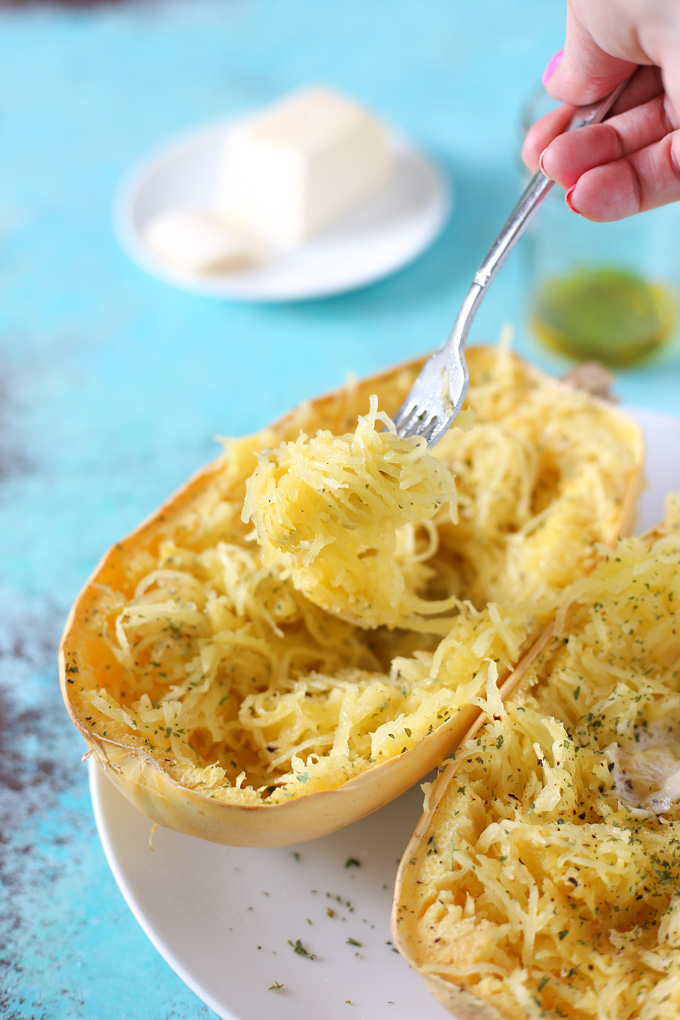 What I encourage you not to do is microwave it. Ugh, you don't know how it really twists my pickle when I see "health" gurus microwave vegetables. You might as well throw that vegetable away because you just removed anything and everything that was healthy in it, even if it's only 5 minutes. You ever wonder why people say "nuc it"? Nuc is short for nuclear meaning atomic, think radiation on extreme levels. It's another reason why they tell pregnant woman not to stand in front of a microwave because of all the radiation it exudes. Why would anyone, let alone pregnant woman want to be exposed to that? And why would any one want to destroy their healthy food with it is beyond me. So please take my advice, if you don't want to cut it while it's raw just poke holes on the outside with a fork, cook it whole, then cut it open when it's tender and remove the seeds. Nothing will happen if you cook it this way.
You can see my hubs in action in this easy video tutorial:
I eat an entire spaghetti squash by myself. I like to pair it with a side salad or another veggie like broccoli. When comparing regular spaghetti or any other type of pasta to spaghetti squash the difference is uncanny.  A lot of pastas are refined and unhealthy providing your body with little to really no nutrients. Spaghetti squash on the other hand comes loaded with essentials vitamins and minerals, and if you're gluten-free it's a great alternative.
Think B vitamins riboflavin, niacin, and thiamin, which promote optimal cellular function and folate. (healthy baby)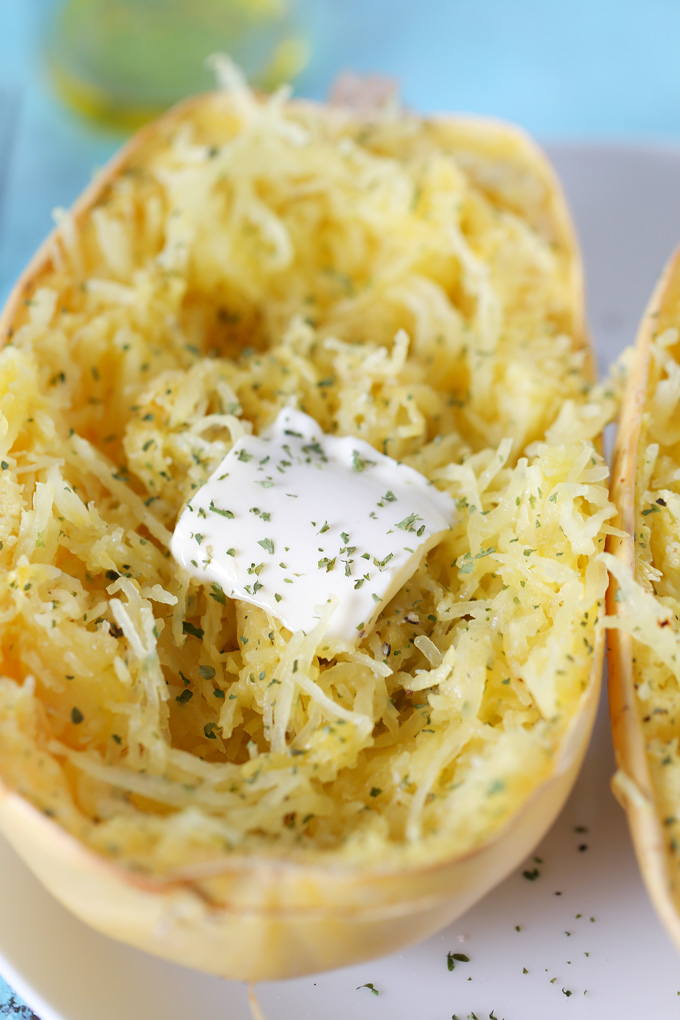 Feel free so prepare this anyway you'd like, sometimes I even do a little marinara sauce if I'm in the mood and I top it with a little vegan mozzarella. You cannot go wrong with adding more vegetables, I feel the more the merrier. I like to cook it on 350°F for 45-50 minutes. You want the inside nice and tender not hard.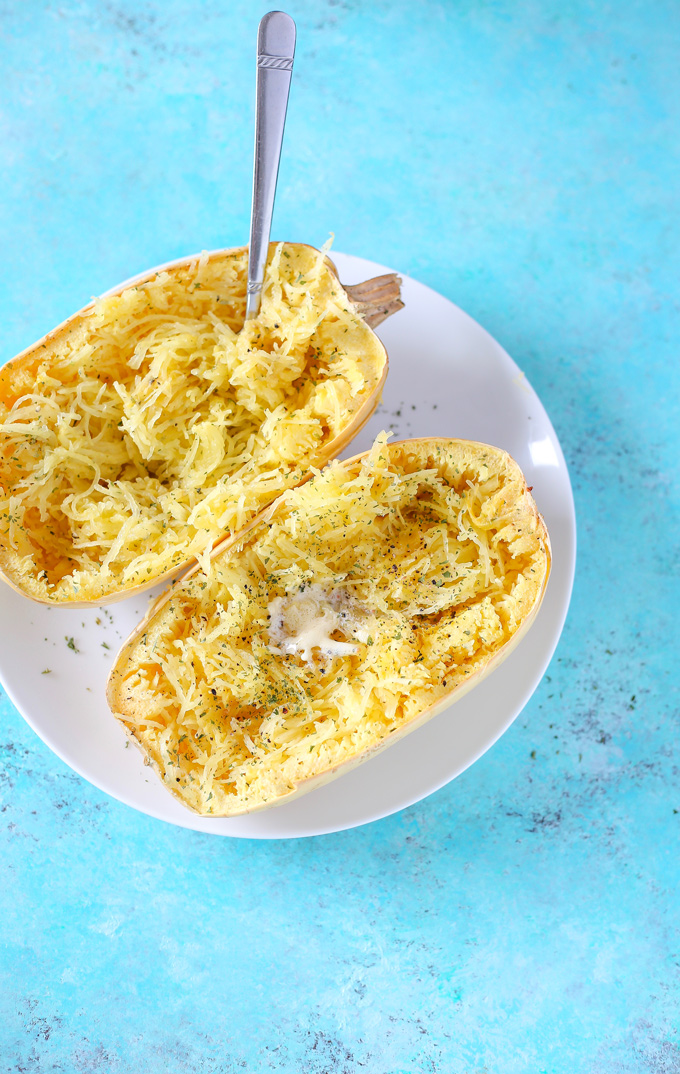 Don't be afraid to go heavy on the seasonings too. I love it extra garlicky and extra buttery. The butter I use is from Earths Balance and it basically tastes just like butter. It's my favorite.
And if by some weird and odd chance you have leftovers, just pack them up in an air tight container and put them in the fridge. You can either reheat them or just eat them cold, either way they're still bomb delicious.
*This post contains amazon affiliate links*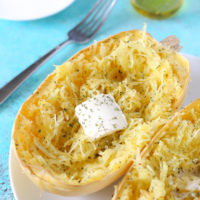 My Favorite Way To Eat Spaghetti Squash
Using garlic, olive oil and vegan butter, it's one of the easiest most delicious ways to enjoy this vegetable.
Ingredients:
1 spaghetti squash
1 tbsp extra virgin olive oil
1 1/2 tbsp onion powder
1 1/2 tbsp garlic powder
1 1/2 tbsp parsley
salt/pepper to taste
2 tbsp vegan butter
Directions:
Preheat oven to 350° and line baking sheet with parchment paper.
Cut squash length wise and remove the seeds. (See notes for alternative ways to open)
Using a fork, poke holes on the outside rind or skin.
Pour oil over both sides of squash and rub it in with your hands.
Season with all the above ingredients (add more or less to your liking).
Bake for 45-50 minutes. Once done remove from oven and when easy enough to touch, shred the insides with a fork.
Add butter on top of cooked spaghetti squash and sprinkle with a little more parsley if desired, serve and enjoy!
If you're not comfortable cutting the spaghetti squash open while raw, you can cook it fully on 350° for 45-50 minutes then once it's cooked you can cut it open, remove the seeds and season as desired.
Please not the spaghetti squash will be hot so wait until you can touch it to start cutting it open.
~Pin this recipe~