Vegan Poblano Black Bean Queso Dip
jump to recipe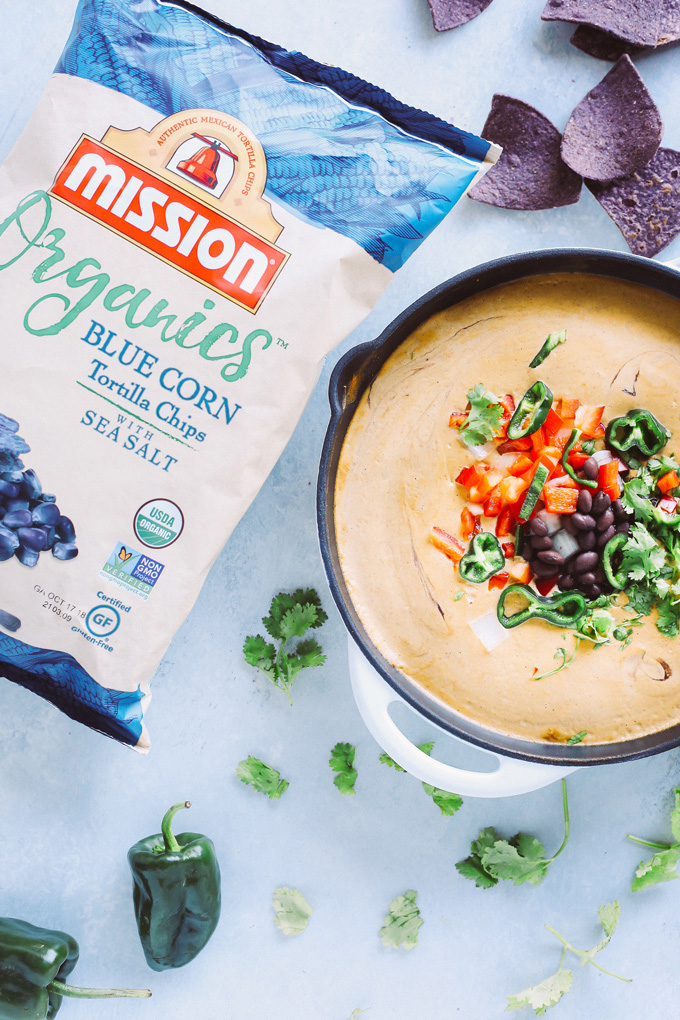 This is a sponsored post written by me on behalf of Mission Organics®. All opinions are entirely my own.
Can you even deal with all this spicy deliciousness?! This Vegan Poblano Black Bean Queso Dip paired with Mission Organics Blue Corn Tortilla Chips is anything but basic, that's for sure. Loaded with all sorts of fresh goodness turned into a creamy, melty, luscious cheese dip perfect for the approaching fall season.
There's nothing like going to the farmer's market on a cool, crisp fall morning. Not too hot, not too cold, perfect for a sweater or jean jacket, and not dripping sweat, lugging yourself through the heat while picking out your produce. It's so soothing and relaxing with the smell of the organic fresh herbs, fresh vegetables and all the yummy fruits that are in season. There's always coffee brewing somewhere and baked goods hanging in the air. It gives me all. the. feels.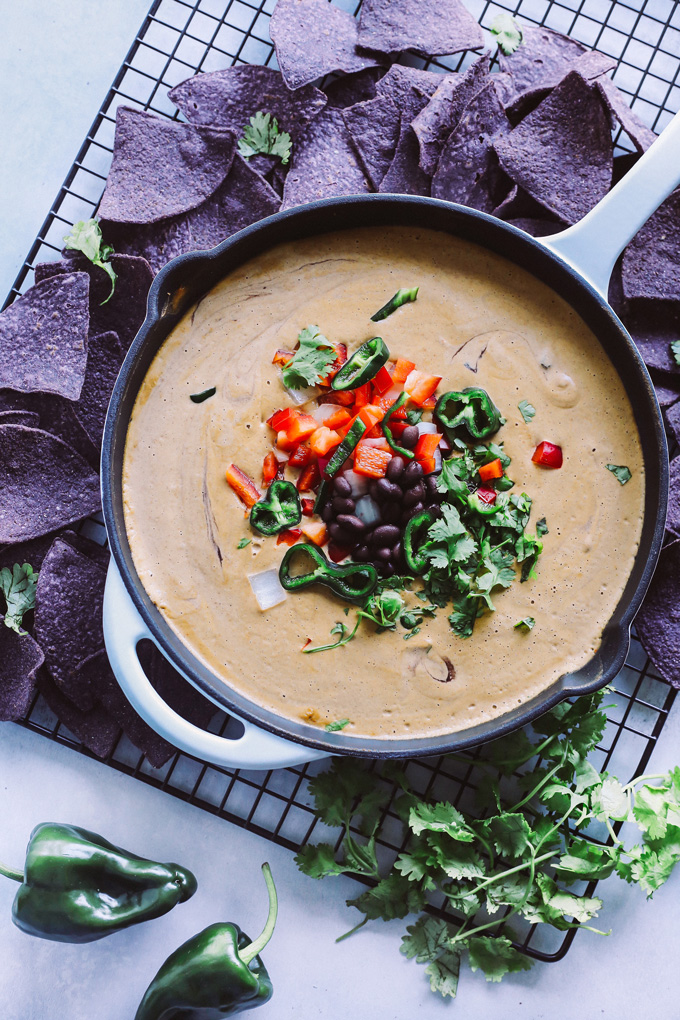 On those mornings it's like we get a little piece of the farm in the city. I chat it up with the organic farmers and vendors, sample some food, buy some food and it's just a really nice time with the family. My hubs grabs a hot coffee, then we leisurely browse the market and we take our time. It really means a lot when you know where your food comes from, how it's made, and cared for. I am a strong believer that the intention you put into food will make all the difference. Positive thoughts mean delicious healthful meals. Eating with love and intention.
While shopping for ingredients for the recipes I'm making for the week, I make it a point to really connect with my food. It comes through in my recipes and it will come through in yours as well when you put some good ole loving behind it. I picked up a few bags of Mission Organics Blue Corn Tortilla Chips to accompany this recipe because I knew their chips would be the perfect fit. Not only are they fresh and delicious, they're also USDA organic certified and non-GMO project verified! Which is right up my alley.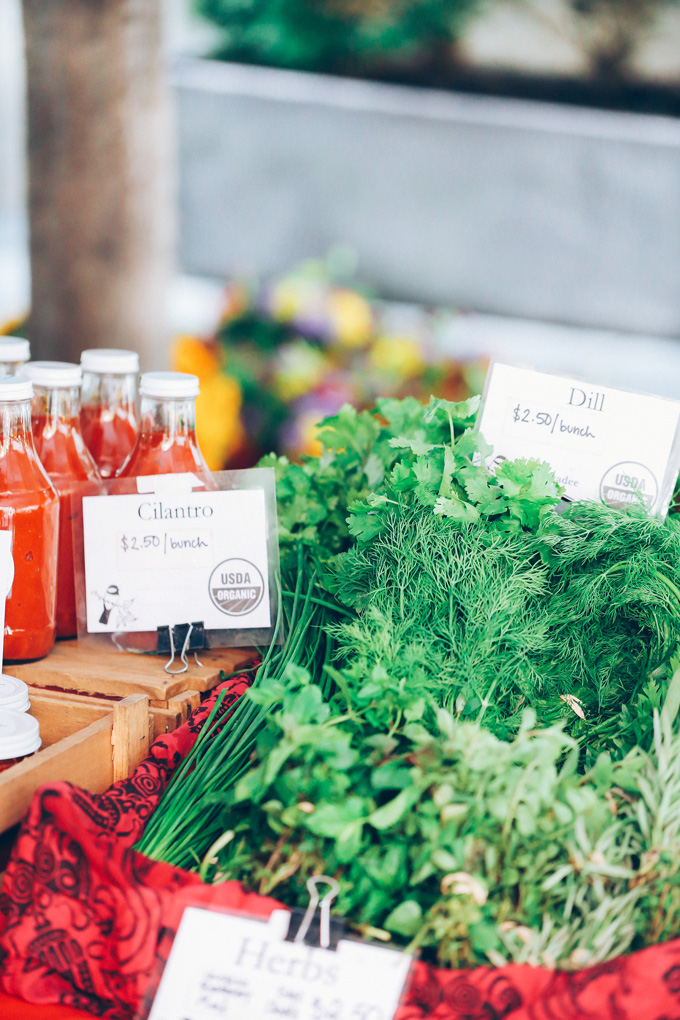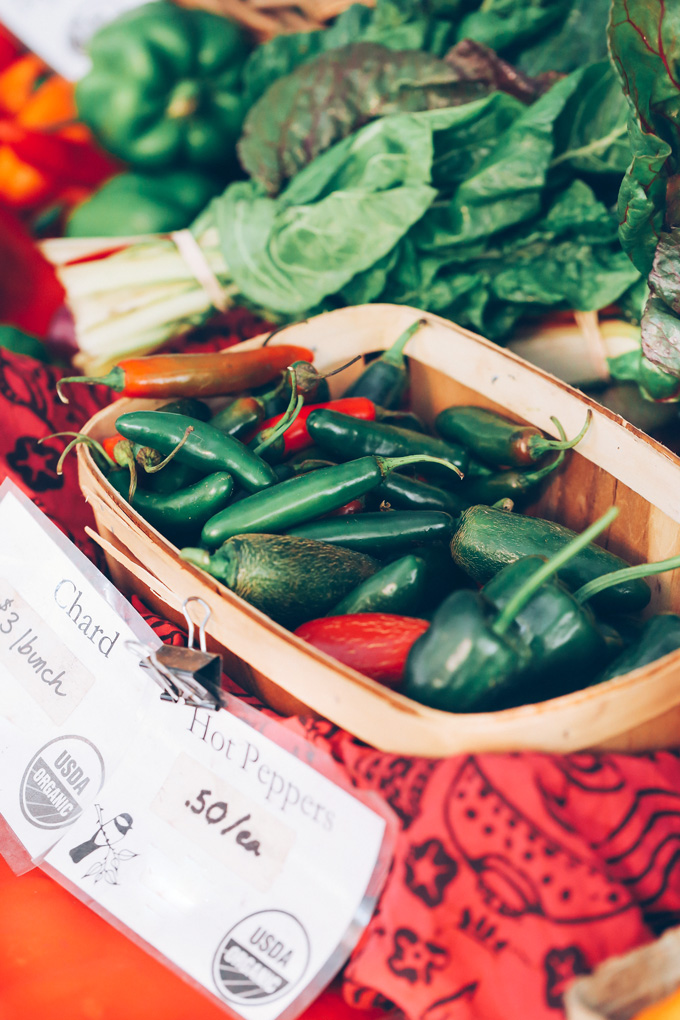 Preparing recipes with the freshest ingredients is what it's all about, right? So, when I pair them with something, it has to be of equal quality, which Mission Organics Blue Corn Tortilla Chips totally deliver on. Made with fresh, organic ingredients, no artificial preservatives, colors, or any flavors added, it is a must have with this vegan queso dip, 100%.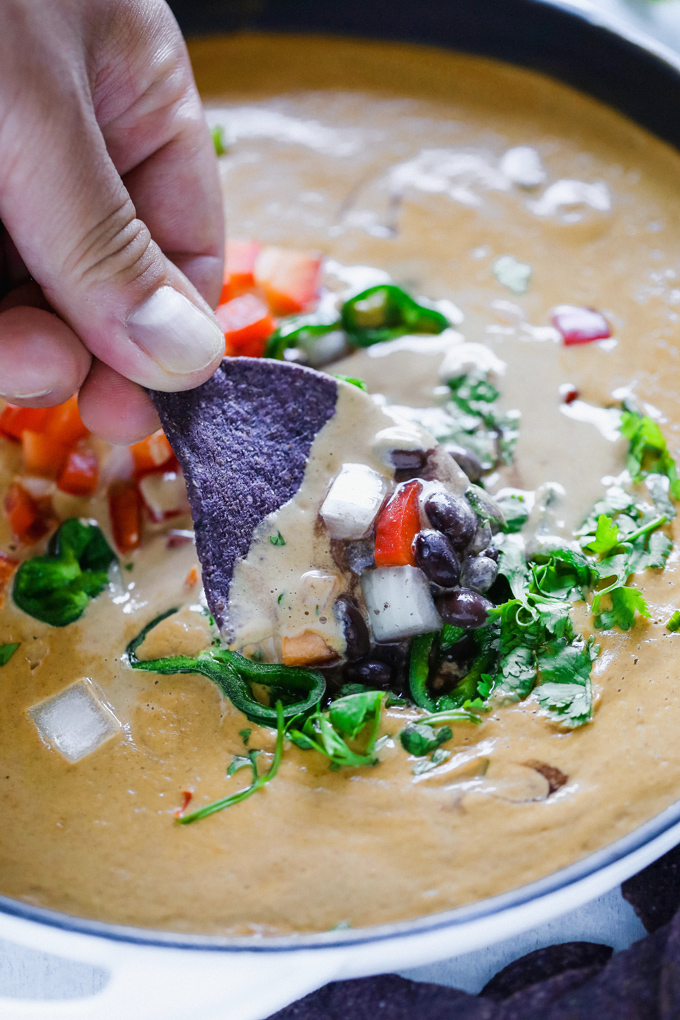 They're quite the durable chip. They don't get soggy or mushy on the first dunk (phew). You need a good quality chip (in my opinion), to withstand the mighty vegan queso. Made with a bold corn flavor and sea salt from a company whose heritage is aligned right up with mine! Authentic with just 4 simple, wholesome ingredients, the chips are crafted with the same care and quality that I put into this Vegan Poblano Black Bean Queso Dip. Talk about a win-win! (#awesomesauce or in this case queso!)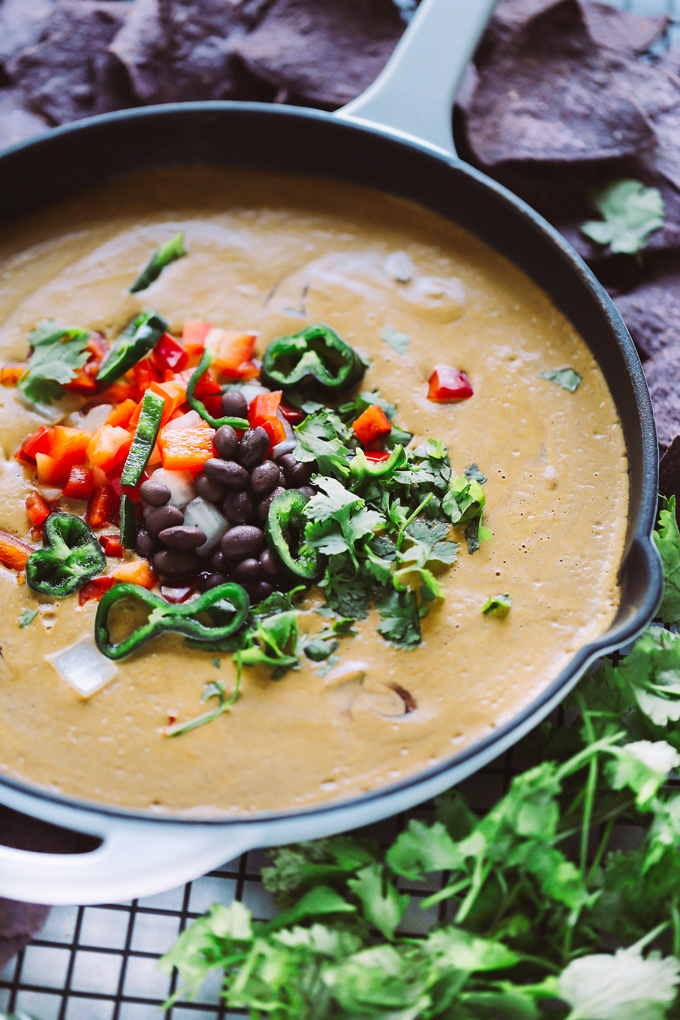 Made for all your dunking pleasures, you can find Mission Organics Blue Corn Tortilla Chips in the chip aisle (available nationally). Whoop Whoop. Finally, a chip that's not the enemy and one that is on board with being genuine with its ingredients. You can visit the Mission Organics page for a store locator and other recipe ideas.
When you're making your recipes or making this queso, really feel all your ingredients. Feel the chips, smell them, show gratitude towards what you're putting into your body. Trust me when I tell you your recipe will be even more tasty. The chips crunching in your mouth with vegan queso running down your chin is the goal here. Haha. No, but seriously I wish I could say it wasn't, but it is and you'll love that you used only the freshest ingredients to feed yourself and your family.
I have to say I'm impressed with these chips. I appreciate transparency and good quality. That's why when I find a company that practices both, it's got my vote. Now let's go, you've got a queso to dip into!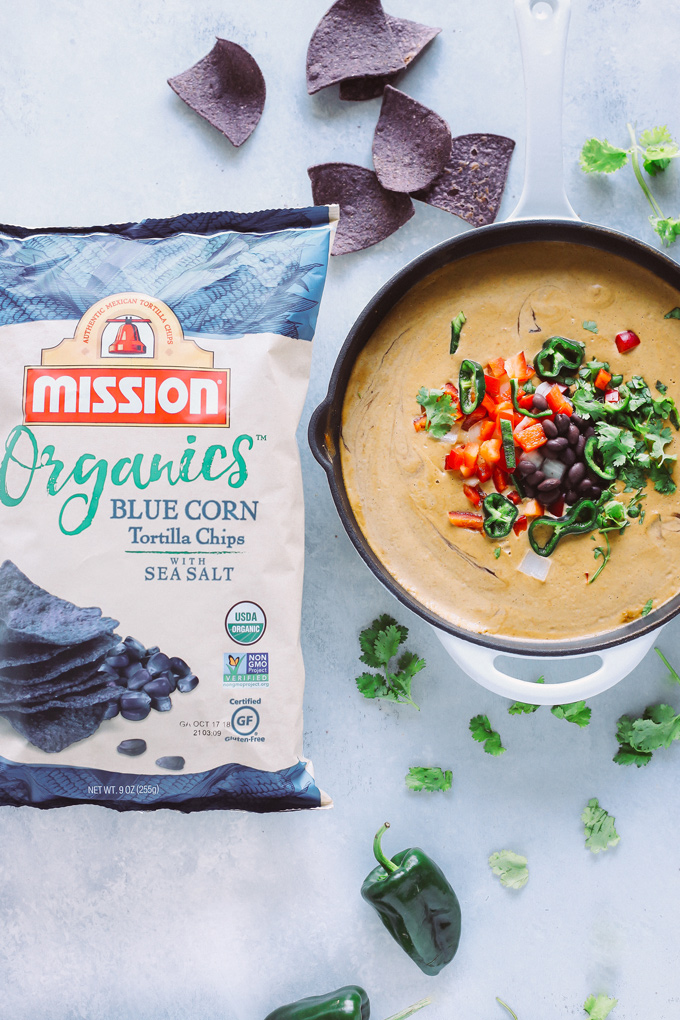 Thank you Mission Foods for sponsoring this post. Check out Mission Organics high quality, organic, and delicious products!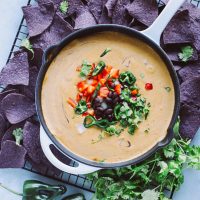 Vegan Poblano Black Bean Queso Dip
Vegan Poblano Black Bean Queso Dip is anything but basic. Loaded with all sorts of fresh goodness turned into a creamy, melty, luscious cheese dip perfect for all your dunking needs.
Ingredients:
1 - 15oz can black beans
0.5 cups water
1 cup cashews
1 yellow onion
1 poblano pepper (omit if you don't want it spicy)
1/2 red bell pepper
3 garlic cloves
1/2 cup mild salsa
1/3 cup fresh cilantro
1/4 cup nutritional yeast
1 tbsp onion powder
1 tbsp garlic powder
1 tbsp hemp seeds
1 tbsp flax seeds
1/4 cup coconut milk (full fat from a can)
salt/pepper to taste
Directions:
Add all ingredients to a high speed blender except chips and black beans.
Run until smooth and creamy then transfer to a large pot or skillet.
Add in the black beans and cook until heated through on medium heat for about 5 minutes. Don't let it get to a boil.
Garnish with extra poblano peppers, beans, red peppers, onions and cilantro.
Dig in with chips and Enjoy!
can sub coconut milk with almond milk but it may not be as thick.
~Pin This Recipe~