Vegan BBQ Jackfruit Sliders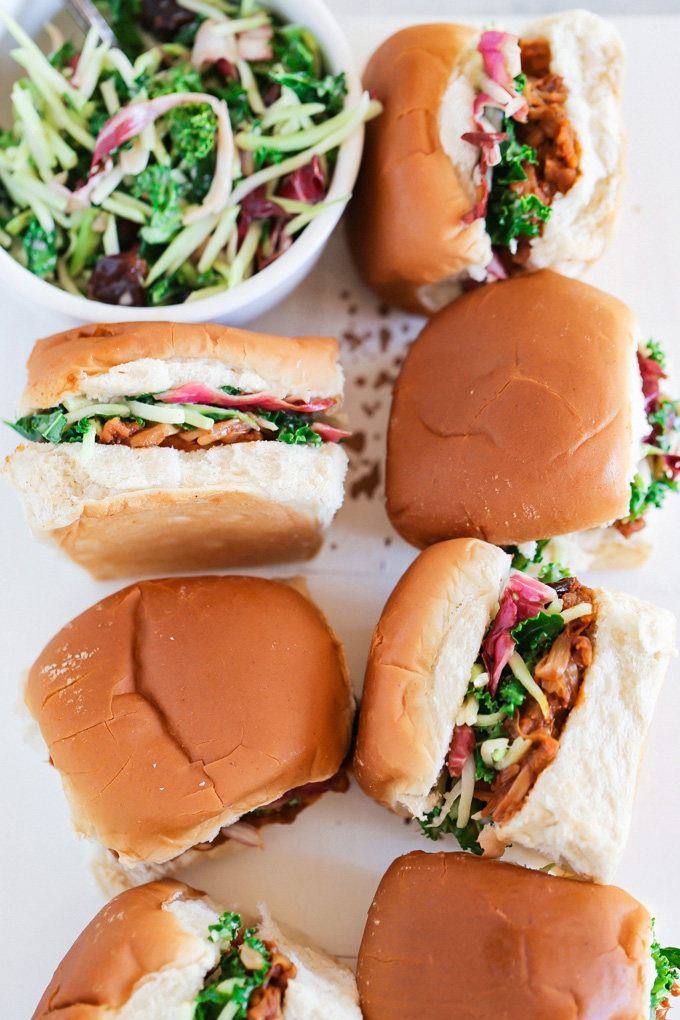 What did you guys think of the Super Bowl the other night? I agree with the masses when they say it was a snooze-fest. Like what happened?! It was the lowest scoring Super Bowl in history, and the first time a touchdown wasn't scored in the first 3 quarters. And as I do love me some Adam Levine, I was really hoping Christina Aguilera would make a cameo during Moves Like Jagger.
I was however happy with my food lineup for the big game. I had these super easy Vegan BBQ Jackfruit Sliders that I made in my Instagram Stories, and I paired them with some ridiculously good, super spicy Cauliflower Buffalo Bites (recipe coming soon). Then I was going to make a potato salad but the sliders and bites were enough. Plus we had some Chocolate Chip Cookies and popcorn to snack on. Uuum Yum!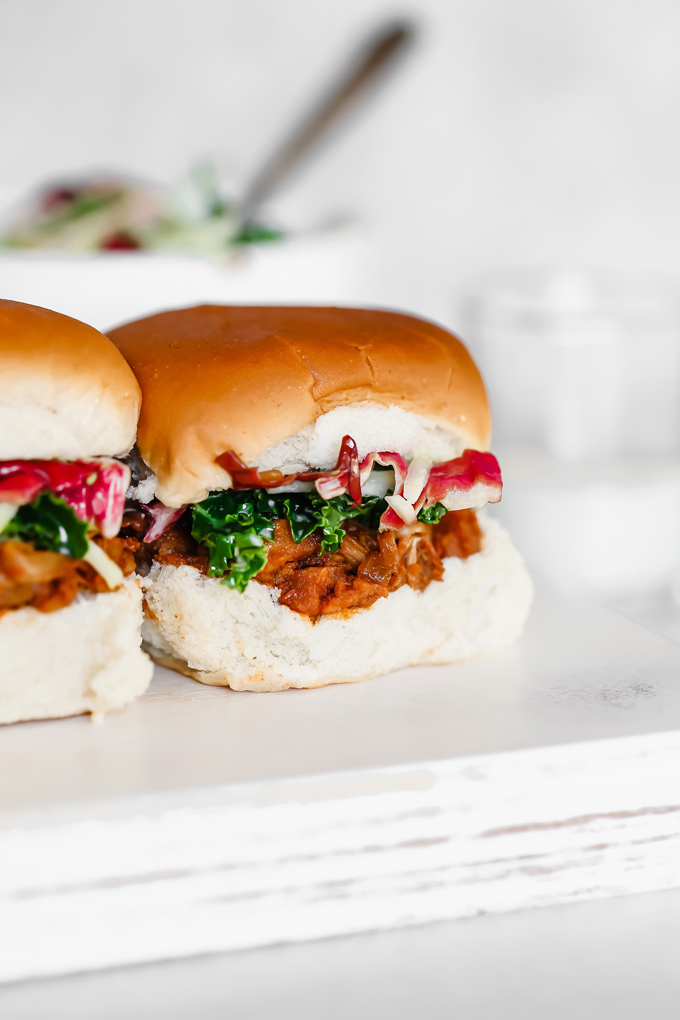 So. Much. Yum.
I cannot express to you enough how easy these are to make. One batch will fill up 12 small dinner rolls or hawaiian rolls (I had hawaiian), which is more than enough for a small family of 4. I bought a ready made coleslaw from Trader Joe's but the dressing it comes with is not vegan so I tossed it to the side and used vegan mayo, ACV (apple cider vinegar), and maple syrup to give it it's coleslaw feels.
These jackfruit sliders are always a hit. Jackfruit, when pulled apart, it does have the look and feel of pulled pork. This is a great meal to try out when transiting over to vegan and looking for more meat subs. I'm telling you, you will be so pleasantly surprised with pulled jackfruit and jackfruit just in general.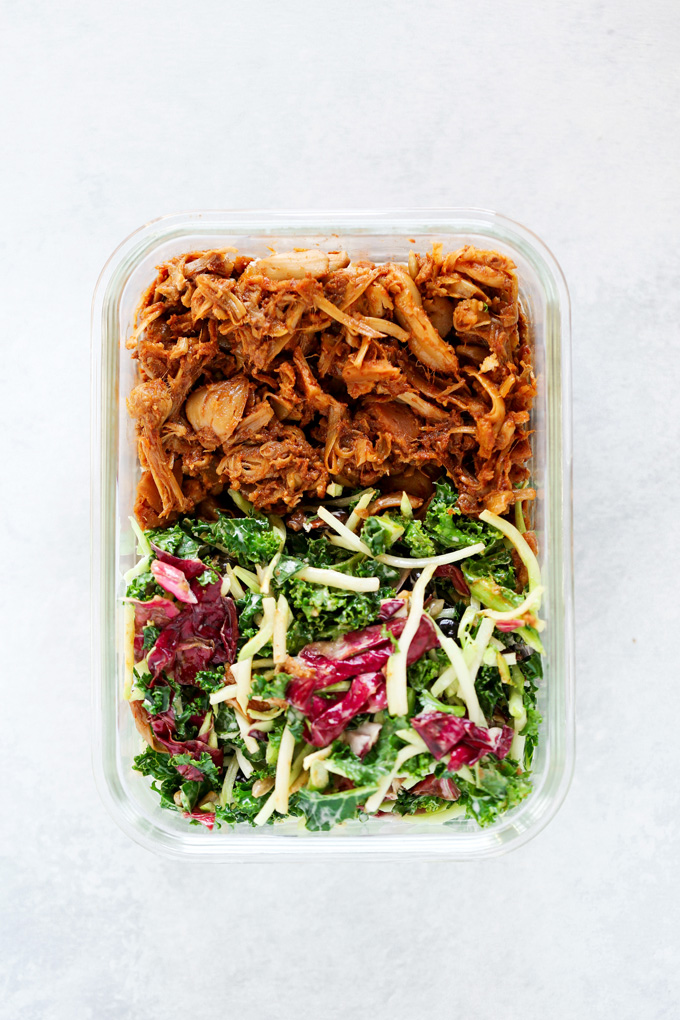 You can buy cans of jackfruit almost anywhere now. I purchase this one from Trader Joe's or I use this one here. I like to drain and rinse the jackfruit then massage the pieces apart. It's so much easier than cutting the pieces. When you massage it apart it pulls apart so easily, then when it's heated you can mash more of it down with a fork and it will shred even more. So. Much. Yum.
The Prep
For any leftover jackfruit I meal prep with leftover slaw or salad. It tastes great cold and therefor nothing will go to waste. When I make these, since I always make a big batch, I send my son to school with his sandwiches, my hubs has his leftovers and we all share what we have with Oliver, he gobbles it right up. You can even add a low carb wrap to the mix if you're looking to stay away from bread, which is what I do during the week. Good carbs in, bad carbs out. Until the weekend of course. This will stay well in the fridge for up to 4 days, you can do 5 but 4 is my max.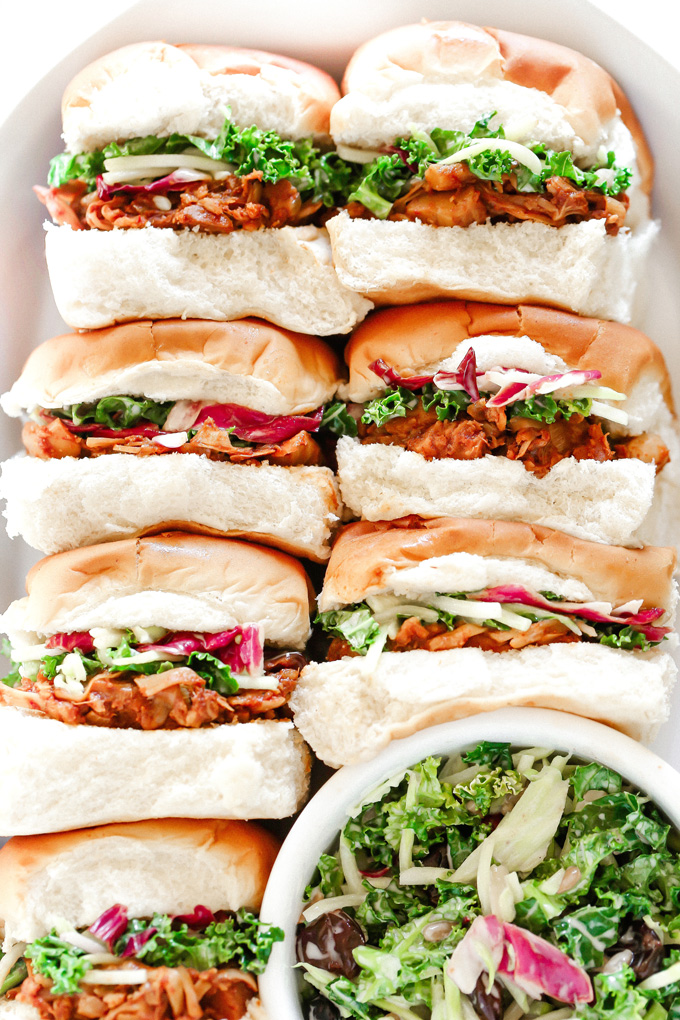 These are so good. The jackfruit is super tender and it all sort of just melts in your mouth. Paired with a cool coleslaw and option to meal prep, how can you not make this during the week. I promise you, your whole fam will be down with these sliders. And I mean you can also pair them with fries because who the flip will judge you for that, I mean really, it's fries…LOL. Enjoy!
Vegan BBQ Jackfruit Sliders
These are so good. The jackfruit is super tender and it all sort of melts in your mouth. Paired with a cool coleslaw and option to meal prep.
Ingredients
1 20oz canned jackfruit packed in water, drained and rinsed
1 small onion, diced
2 tbsp avocado oil
1 garlic clove , minced
1 tbsp chili powder
1 tbsp coconut sugar or brown sugar
1 tbsp paprika
1 tsp cumin
1 tsp liquid smoke, (optional)
1 cup BBQ sauce
salt/pepper to taste
12 small dinner rolls or hawaiian rolls
Mixed Veggie Slaw
1 11oz bag of broccoli, brussels, and kale slaw, (or any slaw you prefer)
1/2 cup vegan mayo, (or less)
1 tbsp apple cider vinegar
3 tbsp maple syrup, (add extra if you like it a bit sweeter)
salt/pepper to taste
Extras
pickles
hot sauce for desired heat
Instructions
Drain and rinse the canned jackfruit. Massage the jackfruit to break the pieces apart.

In a medium saucepan heat up the avocado oil and onion and cook until the onion is translucent about 5-6 minutes.

Add in the jackfruit and and the rest of the ingredients except bbq sauce (save that for the end). Stir frequently so it doesn't stick and if you noticing drying out you can add a bit of water. Let it cook for 15 minutes.

Once the 15 minutes is up add in the cup of bbq sauce, lower the heat and it simmer for another 10-15 minutes or until sauce is heated through.

Now that the jackfruit is cooked through you can mash it up even more with a fork as it will be super tender and will shred more easily.

For the slaw mix all ingredients together until well combined.

Scoop bbq jackfruit onto a small roll and top with slaw. Serve and enjoy!You can also skip the bread and eat the bbq jackfruit with the slaw alone, totally meal prep worthy.
~Pin This Recipe~