Vegan Cheesy Broccoli "Sausage" Rice Bake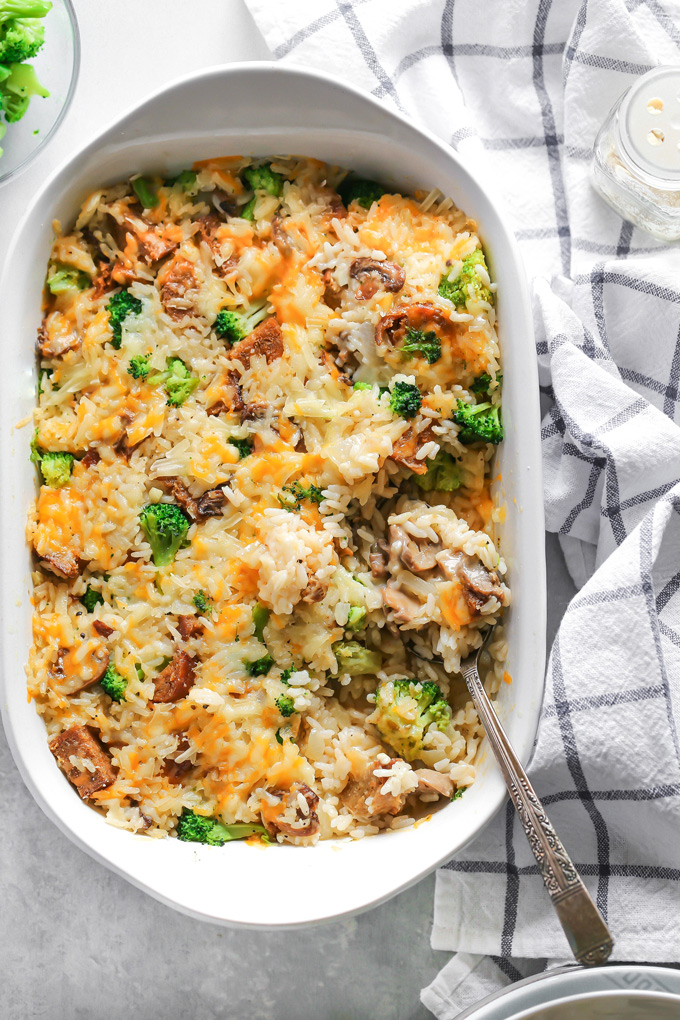 All The Comfort Food Feels
You guys, casseroles, bakes, they're kinda my jam lately. I find them to be incredibly easy because you just basically dump it all in a baking dish and let the oven have at it. That's exactly what I did with this all vegan epically cheesy broccoli "sausage" rice bake.
I know you are going to love this as much as I do because well, All The Things. We have vegan cheese which, depending on the brand you use, gets totally melty. Let's talk vegan sausage. You can use whatever brand you like, I love the Beyond Meat Italian Hot because it's not really that spicy but has all the flavor. Follow all that deliciousness up with broccoli, mushrooms and rice and it truly gives me all the feels.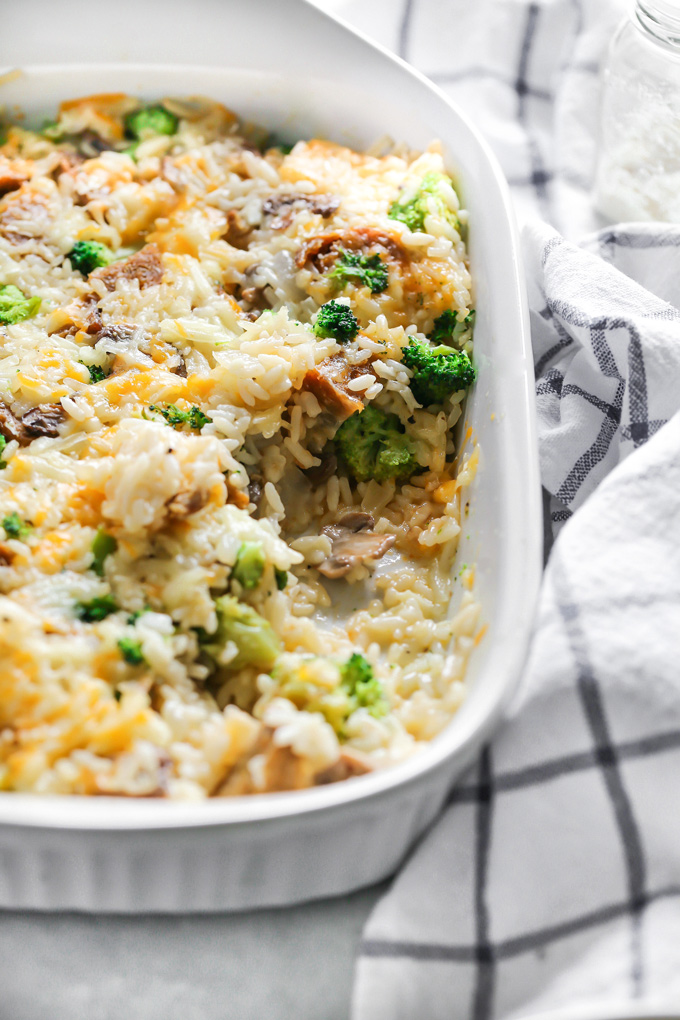 I like to use minute rice or fresh rice. Fresh takes longer like 30 minutes or so, that will make a difference on how long this bake takes you. 10 minute rice is quicker and a little more convenient sometimes.
Roasting the Broccoli & Baking the Sausage
I like to bake the sausage for 20 minutes. Then on a separate baking dish I roast up the broccoli and have them both in the oven cooking at the same time just on different racks. While that's all cooking I sauté some onions, garlic and mushrooms on a fry pan or skillet so that's ready to go when all else is done. Then you have to get you some spices like onion powder, garlic powder, salt, pepper, and you'll be on your way to yummy town.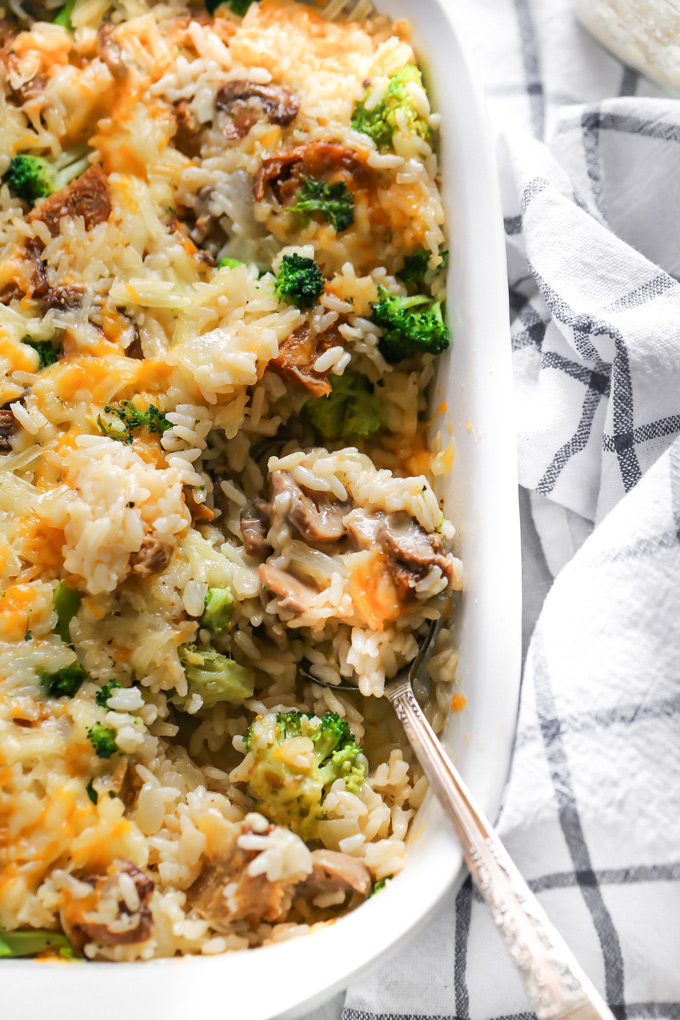 I take a baking dish (about 12×8″) and add in the rice, I cut up the vegan sausage and put that in there along with the roasted broccoli, sautéed onions, garlic, and mushrooms, sprinkle my fave vegan cheese on top and put it in the oven to bake for 10-15 minutes.
When it's done I take it out and give it a good little mix, you have the option to sprinkle on some vegan parmesan cheese if it tickles your fancy, which it does mine from time to time, lol. I mean, no pressure though. *adds pressure*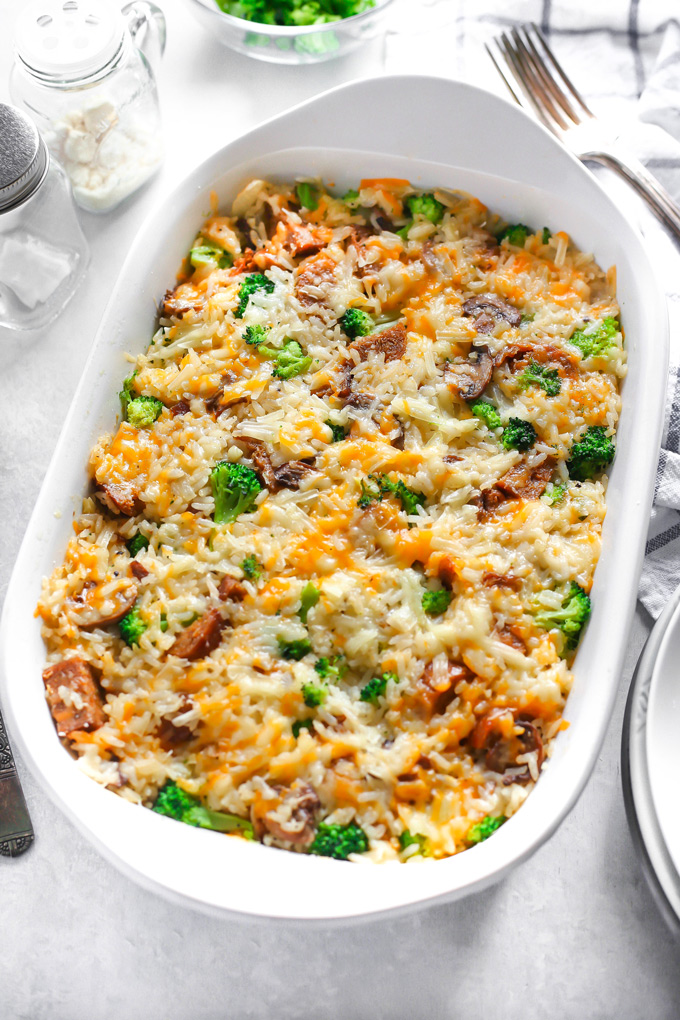 Oh and another thing, my husband loves to put hot sauce on this. He likes to put hot sauce on everything but he loves it on this. So if that's another thing you like, go for it. This to me is like the perfect weeknight meal and you can pack the leftovers in your kids lunchboxes for the next day. It's all sorts of awesome with a ton of flavor.
Get'cha bake on, get'cha bake on, get'cha get'cha get'cha get'cha get'cha bake on (<~~~think Missy Elliot, lol).
Vegan Cheesy Broccoli "Sausage" Bake
This broccoli "sausage" and cheese bake is loaded with broccoli, rice, sausage, mushrooms and all finished off with a super melty cheesy topping.
Ingredients
For the Roasted Broccoli
2 cups broccoli, (fresh or frozen)
1 tbsp avocado oil
salt/pepper to taste
All The Rest
4 vegan sausage links, sliced and quartered
1 cup white rice
1/3 cup unsweetened almond milk
4 tbsp vegan butter
1 yellow onion, diced
4 garlic cloves, minced
1 cup mushrooms
1 tsp onion powder
1 tsp garlic powder
salt/pepper to taste
1 cup vegan cheese shreds, to top
1 tbsp avocado oil
Extras
vegan parmesan cheese, to top, optional
hot sauce, optional
Instructions
How to Roast the Broccoli
Preheat oven 350F and line baking sheet with parchment paper. Place broccoli on baking dish and drizzle 1 tbsp of avocado oil on top and sprinkle with salt and pepper. Bake for 20 minutes until tender.
How to Prepare the Sausage
Keep the oven at 350F and line a baking sheet with parchment paper. Line up the sausage links and let them bake for 20 minutes. You can have them in the oven with the broccoli at the same time on a different rack.
Putting It All Together
Cook Rice according to package instructions.

While the broccoli, sausage and rice are cooking you can sautéed the onion, garlic, and mushrooms. In a large fry pan or skillet add avocado oil, garlic and onions. Cook until translucent about 5 minutes.

Add in the mushrooms and season with salt and pepper to your liking. When that's done remove from the pan and put in a dish until ready to add to the bake.

In the same fry pan put vegan butter and almond milk and whisk until butter is melted.

When the sausage is done slice it and quart it. It should be chunks but you can make them any size you want. When the broccoli, sausage and rice are done, pour the rice, broccoli, and sausage into your baking dish. Pour almond milk and butter mixture on top and mix well.

Mix in the sautéed onions, garlic and mushrooms. Sprinkle the top with your favorite vegan cheese shreds and place back in the oven for another 15 minutes, until the cheese melts.

Serve right away and enjoy!
Notes
Store in an air tight container and keep it in the fridge.
Pack up any leftovers for kids lunch the next day.
Adjust seasoning to your liking.
~Pin This Recipe~