Pappardelle With Zucchini and Arugula Walnut Pesto
It's Sunday over in my hood and Sunday's call for pasta dishes that are truly sensational. Like this one.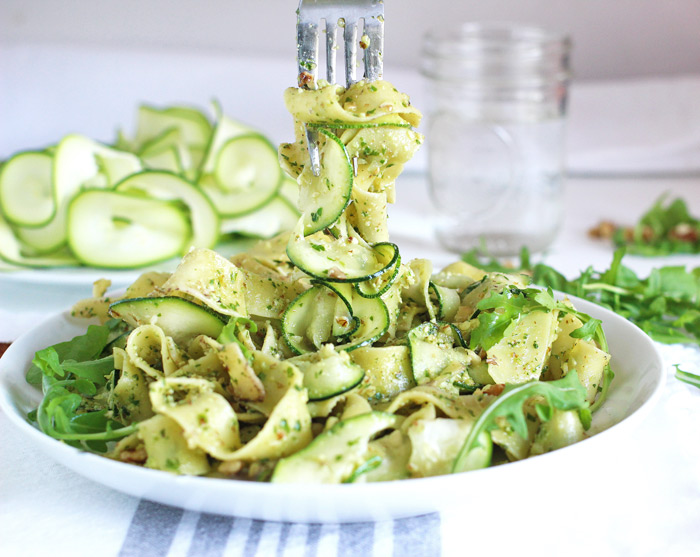 I try incorporating veggies as much and as best I can to make sure my family and I are getting proper nutrition. Sometimes I have to sneak some greens in here and there but for the most part my two guys eat their veggies so I can't really complain. However I know a lot of people (mostly adults) who won't touch anything green to save their life. I'm all like "You're 40, eat your spinach!". When I make cakes or brownies and I tell people one item or another has beans or a vegetable in it they're usually surprised. Because who knew (right!) things that are good for you could taste so super amazing.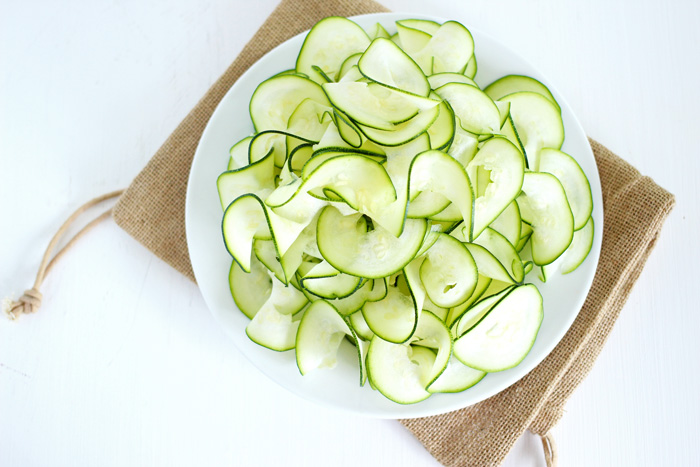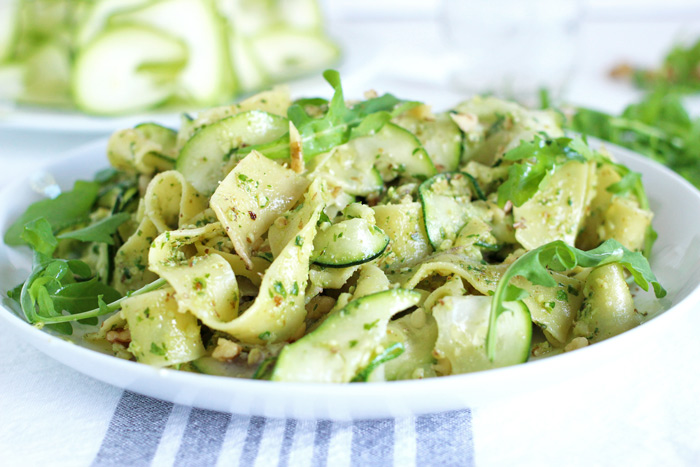 When I get to use my spiralizer I am one happy camper. It's one of my favorite kitchen gadgets. You can make curly fries, potato fries and this…zucchini pasta also known as zoodles. Yummers! It's so much fun to make and eat. You can eat it plain but adding it into your pasta dish is awesome too. You can even scratch the pasta itself all together and leave the zoodles as the main attraction. But for this recipe pasta was made and it is/was delightful. The thickness of the pappardelle paired with the light and airy texture of spiraled zucchini really makes this one hell of a meal. You have jam-packed nutrients in every bite. So when I came across this recipe in Food and Wine Artisan Issue I knew I had to give it a go. And I didn't regret it.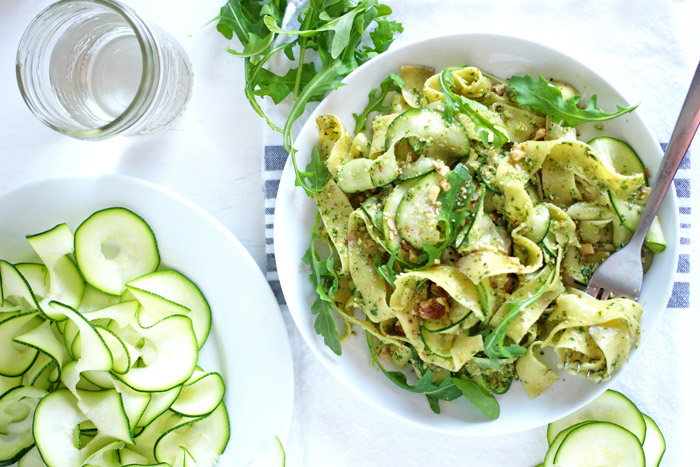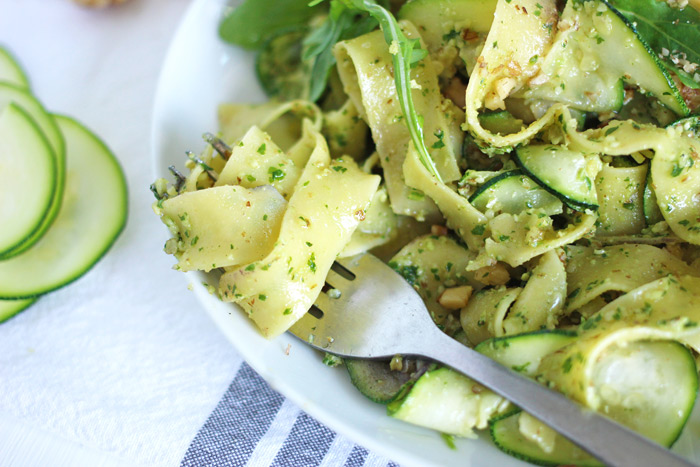 You know what you're eating is good for you when it's popping with vibrant color. Nothing satisfies me more than chocolate than to see plates full of color. I see antioxidants and my radar gets kicked into high gear. Yesterday I went over why greens are so good for you and how each color food does something different for your body in my last post Healthified Super Veggie Hoagie. I'm not talking like skittles either.
Just to add on to the importance of greens, they maintain a healthy balance of good gut flora in your intestines. They promote growth of good bacteria in the gut. The gut is also known as the second brain so you have to be good to it.  A lot of how we feel is influenced by our gut. You know the term brain food, well it means eating foods good for the brain obviously but also your stomach. Without healthy gut flora it will have a huge impact on your health at some point. They say all disease starts in the gut. So lets keep that healthy and eat nourishing foods that aid in proper digestion.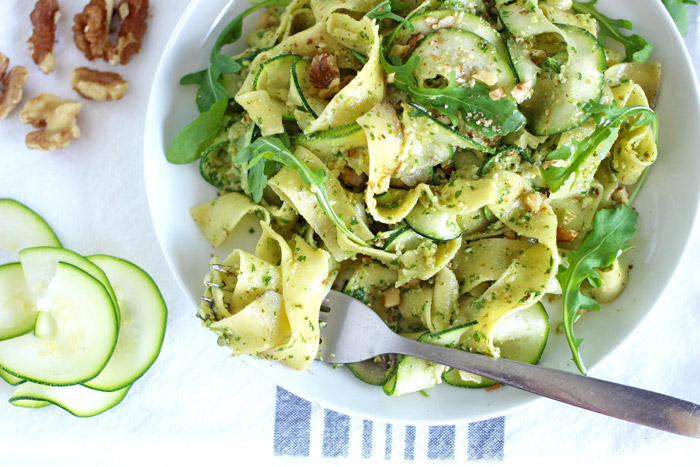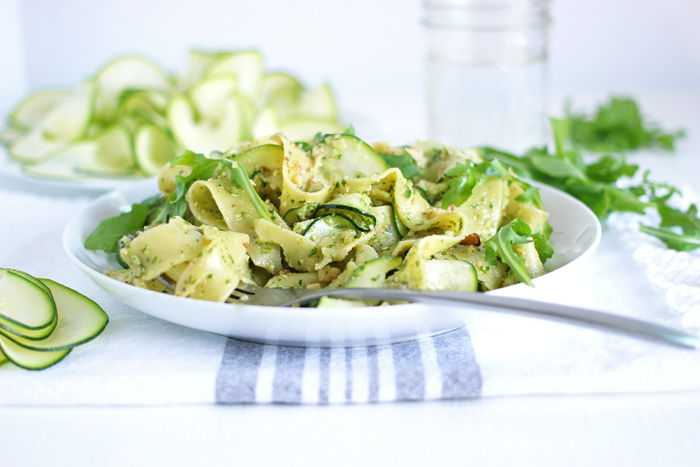 This healthy Pappardelle with Zucchini and Arugula Walnut Pesto is a fresh summer dish. I love that the pesto is non traditional and made with toasted walnuts and arugula instead of basil. Different is good! Embrace the change. Get your pots and pans ready my friends and let's get ta cookin'.
Here is the recipe to make your own Vegan Parmesan Cheese
Pappardelle with Zucchini in Arugula Walnut Pesto
Recipe Type: Pasta
Cuisine: Italian
Author:
Prep time:
Cook time:
Total time:
Serves: 6
A fresh and healthy summer pasta dish made with zucchini, walnuts and arugula!
Ingredients
3/4 cup walnuts, divided
4 cups fresh arugula, divided
3/4 cup extra virgin olive oil plus more for drizzling
4 garlic cloves, minced
salt/pepper to taste
1/2 cup vegan parmesan cheese (can omit)
10 oz. pappardelle pasta
1 large or 2 medium size zucchini spiralized or cut very thin lengthwise
Instructions
Preheat oven to 350F, line baking sheet with parchment paper and toast walnuts for 5-6 minutes. You want them golden not burnt.
In a food processor pulse 2 cups of arugula and 1/2 cup of toasted walnuts until finely chopped.
Pour in oil, garlic and cheese and run until well combined. If you want to add more oil to make it less pasty you can. Season with salt and pepper. Set aside until pasta is done.
Prepare pasta according to package instructions. Once cooked, drain pasta and place into a large bowl along with the zucchini. Add the pesto and toss evenly to coat.
Fold in remaining 2 cups arugula and garnish with leftover walnuts.
Drizzle with extra EVOO and "cheese" shavings.
Serve and Enjoy!
Let's Stay Connected! Find me on Instagram, Facebook, Pinterest and Twitter!
Hashtag #neuroticmommy on Instagram so I can see your creations and for a possible feature on one of my pages!
Leave me a comment below letting me know your favorite pasta dishes and what you'd like to see me make healthified next! =)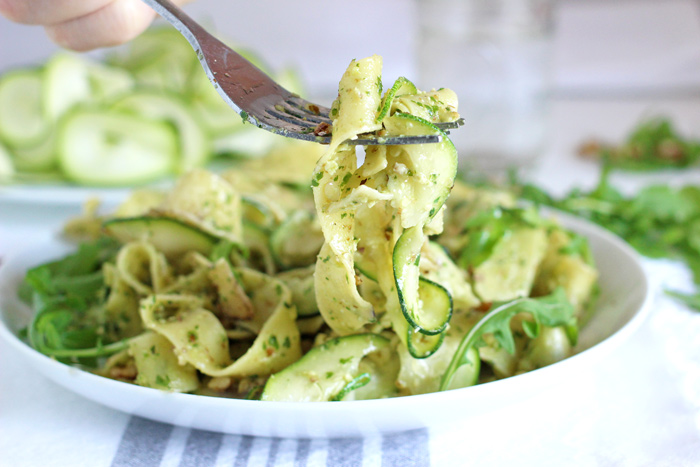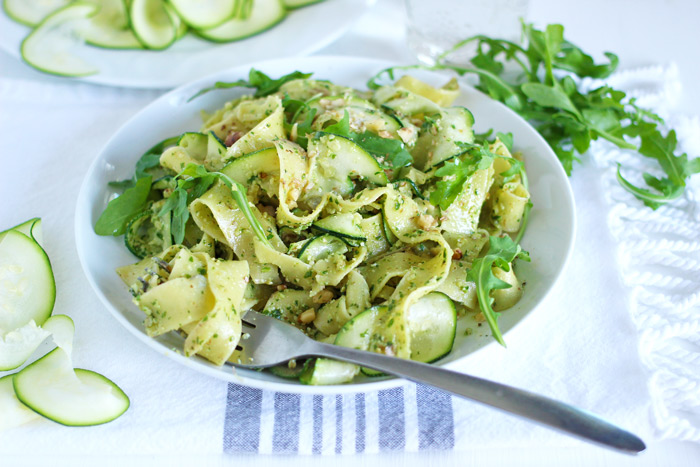 XoXo Jenn