Vegan Keto Chocolate Peanut Butter Lava Cake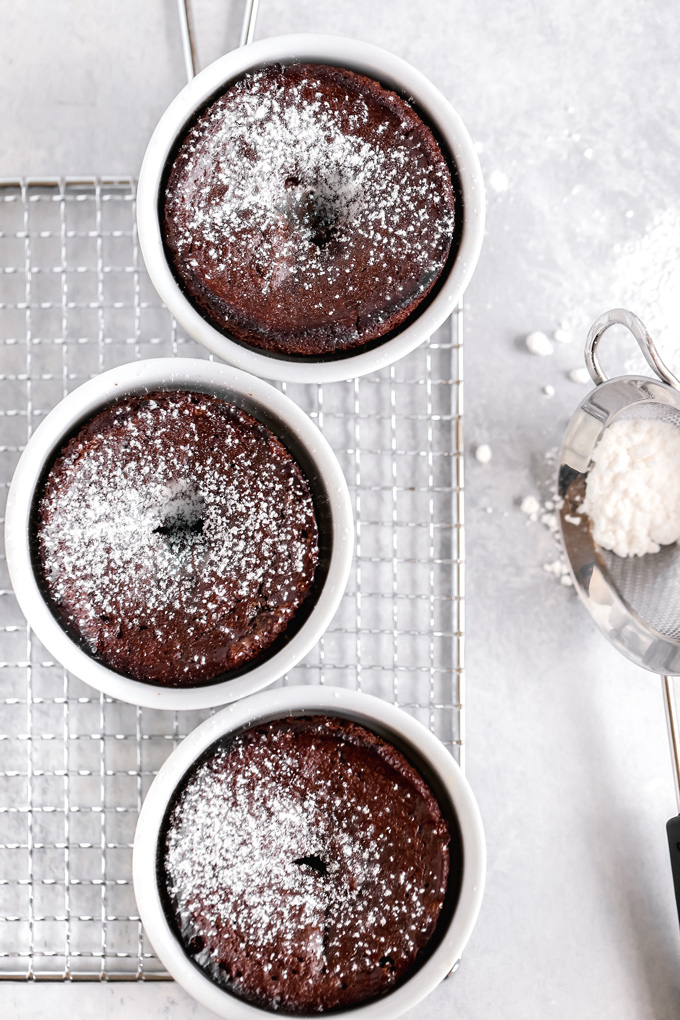 What is hot and chocolatey with an ooey, gooey peanut buttery center? Oh yea, this Vegan Keto Chocolate Peanut Butter Lava Cake. Or cakes I should say because I make quite a few of these babes at a time and keep em' in the fridge for later indulgences.
Being on Vegan Keto is no easy task, this is true. However, since doing it for two months I find that I have so many options. And I'm totally fine with anything that allows me to have this and also stay within my calories and macros and not have one ounce of guilt in me for it. I can 100% deal with that – twist my arm would ya! haha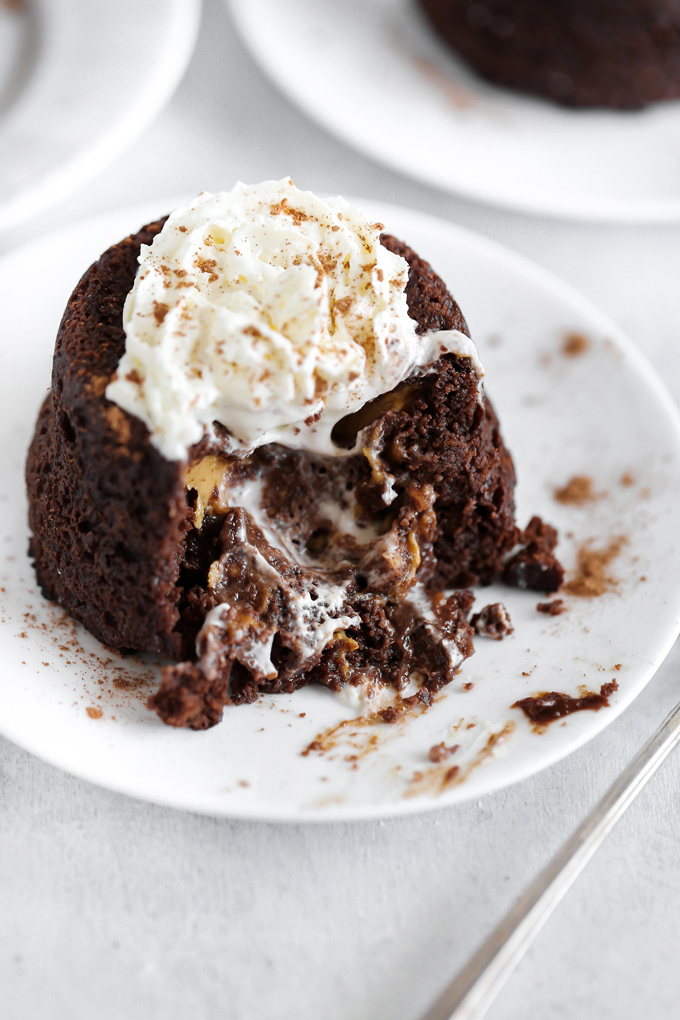 Just by looking at this Chocolate Peanut Butter Lava Cake it's hard to believe that it could actually be a healthy snack right? I agree too, by the looks of it, it screams sinful. But I assure you, this will blow you away because it even has a superfood rolling in it. Say whaaat!
Some people use cocoa powder and that's a good option too, but I like to use cacao powder whenever I can because it has none of the bad stuff and all of the good stuff. It's more bitter yes, but in this recipe you won't even be able to tell. It's still super chocolatey and rich, and blows my mind.
Another thing I add to this is baking chocolate but I use this one here because again, it's keto friendly and doesn't up the net carb count, and keeps it sugar free.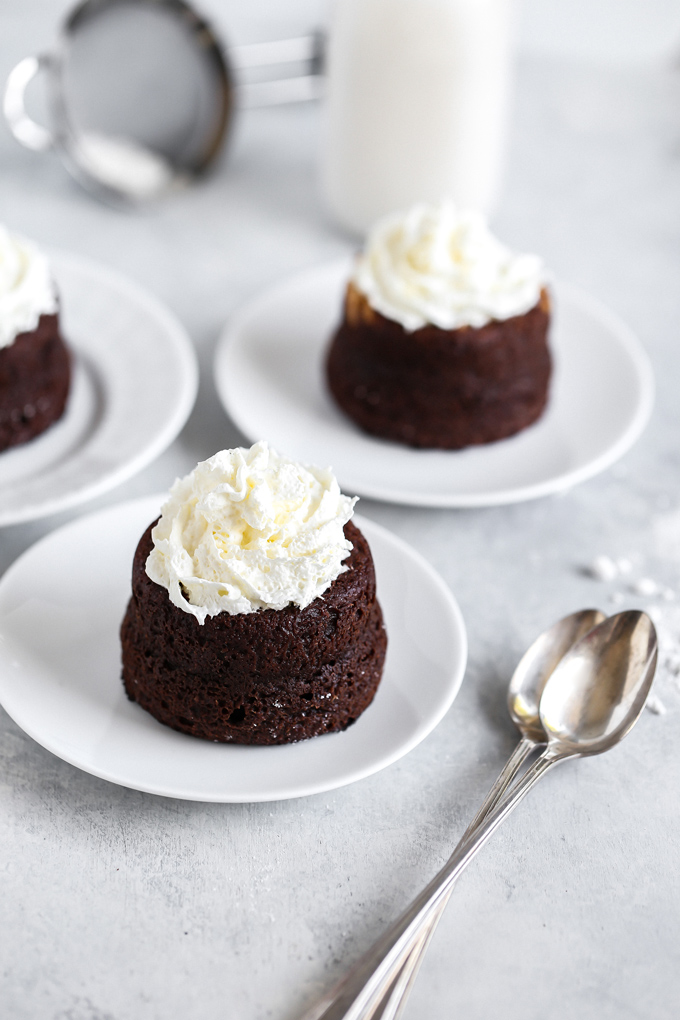 What makes these cakes sugar free is the fact that I use a monk fruit sweetener. This does not spike insulin levels like refined sugar does and is very low on the glycemic index. This does not give me tummy issues but I know some people are sensitive to alternate sweeteners so go with one that is the right fit for you. You guys know I don't believe in a one size fits all type of anything so always make adjustments for your own personal needs.
But back to the monk fruit, I like it because it's one to one ratio to regular sugar and turns out mostly all of my baked goods like if I used regular sugar. Honestly you would never know the difference, there is no funky aftertaste. At least not to me.
Just an FYI, if you order anything from Lakanto.com you can use code neuroticmommy for 20% off. Or click the affiliate links I have in this post. I truly appreciate your support in this way as it helps me keep NM running.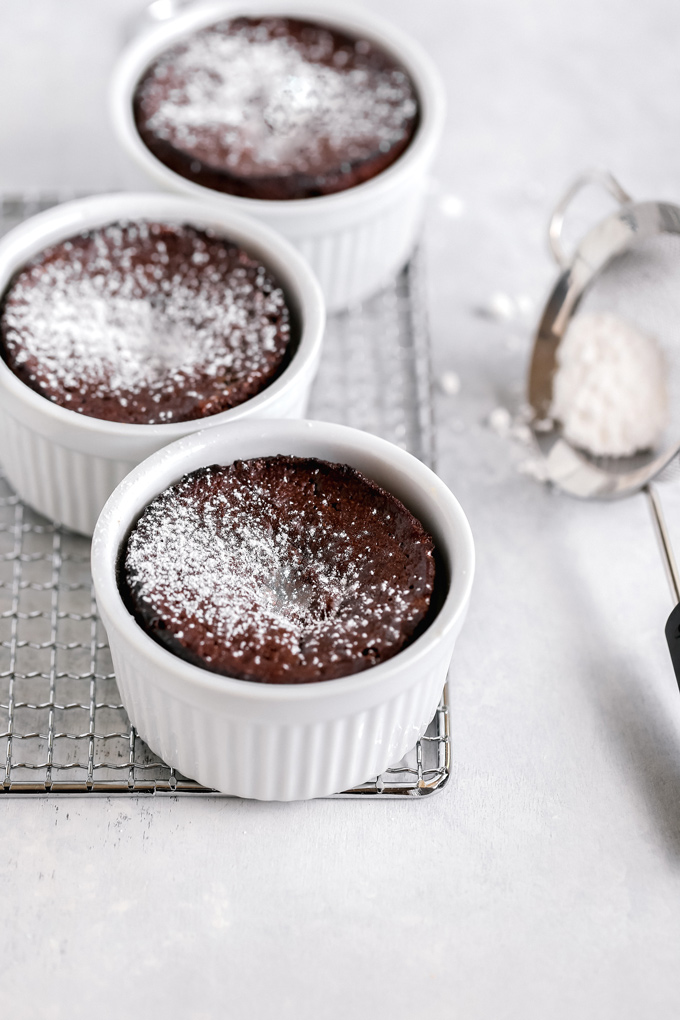 You'll also want to use an all natural salted peanut butter. When you're doing keto whether it's vegan or not you have to get in enough salt. Not too much but just enough along with electrolytes so you're not going all dehydrated on me. I use a pink himalayan sea salt from Trader Joe's but you can find that anywhere. The peanut butter I use is also from Trader Joe's and in the ingredients list it's only peanuts and salt. How easy is that. Seriously tough, how all our food should be right?!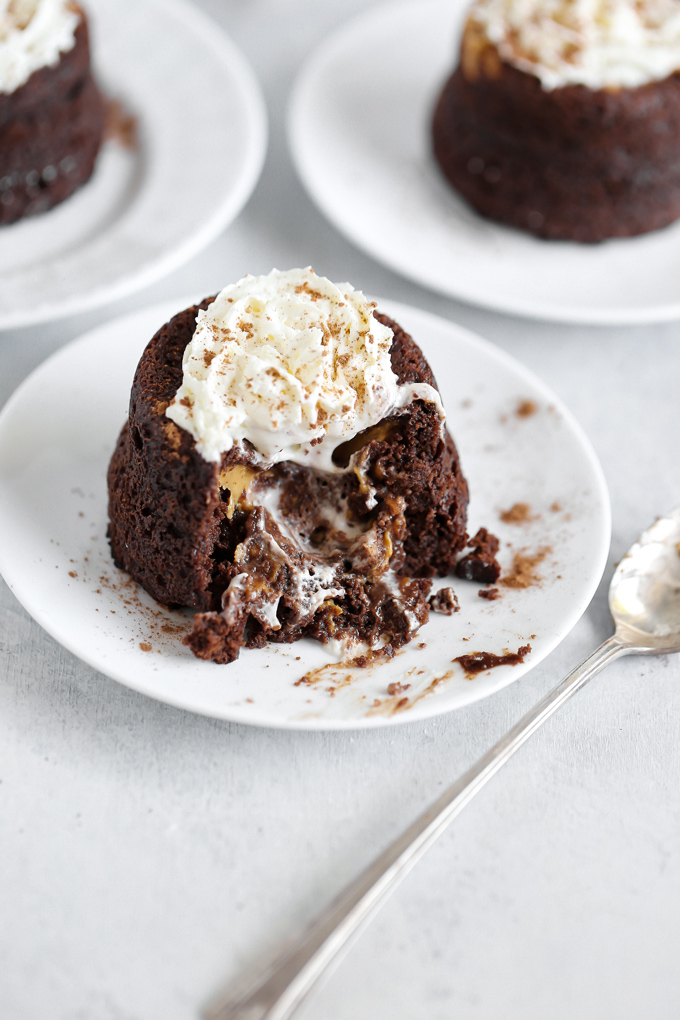 All you need is one bowl and 4 ramekins and you're good to go. Wait time on these babies, 12 minutes, can you even deal?! In 12 minutes your tastebuds lives can change forever and you don't owe me a thing except your undying love and gratitude, lol.
OMG and BONUS you guys – Yes they are amazingly delicious while warm BUT put them in the fridge for like an hour and hello Drake's Funny Bones! Who remembers those from growing up? THE BEST, I kid you not. You know when you're eating something and you're just like "OMG, mmm, I can't. Believe. This. Tastes. Just. Like. A. FUNNY. BONE!" haha well that happened to me. Funny Bones are chocolate covered but this doesn't even need that because it hits the mark right on the head and I wouldn't BS you on something this serious.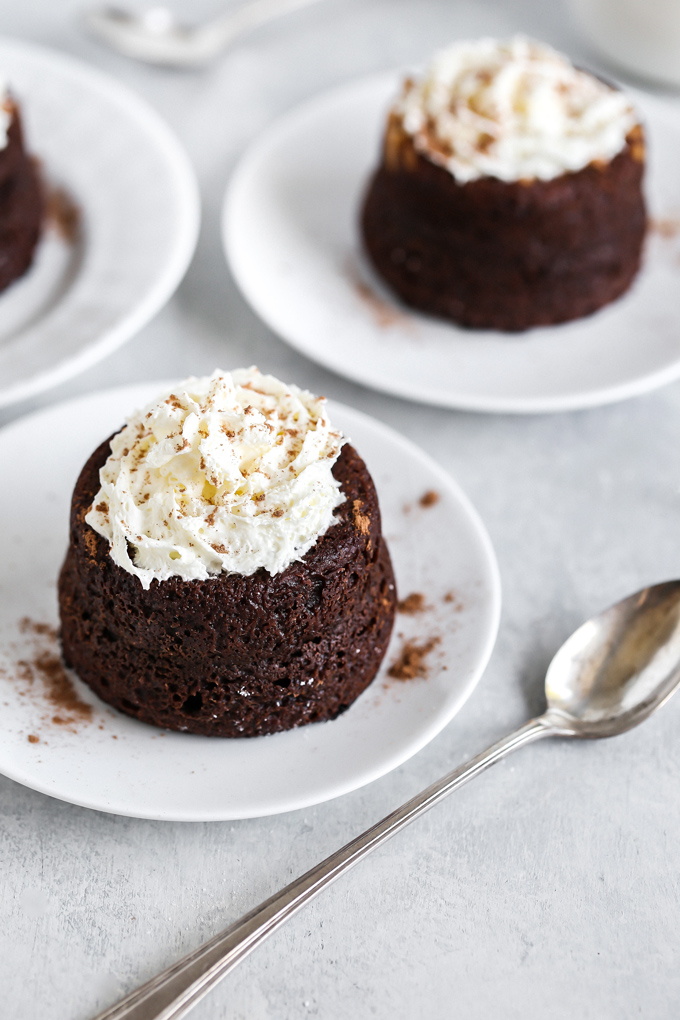 Moral of the story? I think it's pretty clear, if you're happily losing weight on keto or any other way and need a chocolatey peanut buttery treat in your life that won't ruin your progress, you can stop here because you found what you were looking for. I got you boo. Enjoy!
Vegan Keto Chocolate Peanut Butter Lava Cake
With an ooey, gooey peanut buttery center, this low carb chocolate decadence is the perfect keto treat.
Ingredients
4 tbsp vegan butter, melted (34g)
2 ounce sugar free baking chocolate
2 tbsp unsweetened coconut cream or full fat coconut milk from a can
2 flax eggs or 2 egg replacements of choice
4 tbsp Lakanto Monkfruit Sweetener, Golden
2 tbsp cacao or cocoa powder
4 tsp coconut flour
1 tsp baking powder
1/2 tbsp all natural salted peanut butter per lava cake
1-2 tbsp coconut whipped cream , to top (optional)
sprinkle of powdered monk fruit, optional
sprinkle of cacao powder , optional
Instructions
Preheat oven to 400F and spray 4 standard size ramekins with coconut oil spray.

Melt the baking chocolate and butter. I use the doulbe boiler method but you can use the microwave if you have one.

Once the butter and baking chocolate are melted whisk in coconut cream, and flax eggs or any egg sub you're using.

Mix into the wet ingredients the monk fruit sweetener, cacao powder, coconut flour, and baking powder until well combined.

Using a little less than 1/4 cup per cup, pour batter into prepared ramekins. Scoop in 1/2 tbsp of peanut butter into the center of each cake. Evenly pour the remaining batter on top of each cake. Place on baking tray and bake for 12 minutes.

When finished centers will be slightly jiggly but that's good. Let them rest on top of the stove or on your counter for 5 minutes. Once cool enough to touch you can transfer to a plate or you can keep them in the ramekins, top with desired toppings, serve and enjoy right away.

For any leftovers keep in an air tight container in the fridge. Enjoy!
Notes
You can use apps like Cronometer to get nutritional info, that app counts net carbs or you can do MyfitnessPal. 
~Pin This Recipe~