Homemade Vegan Twix Bars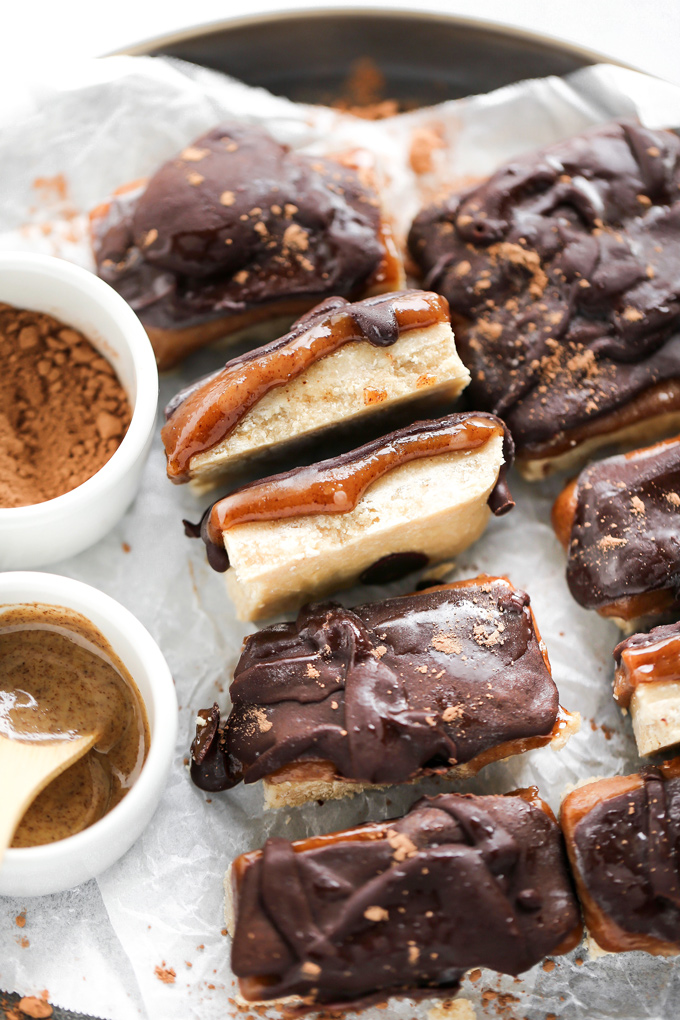 Valentine's Day is two days away but I never needed that day or any day for that matter to enjoy me some chocolate. However, whether you're celebrating with a loved one, a bestie, or by yourself, these my dear friends are the Homemade Vegan Twix Bars you need in your life.
They are refined sugar free, so super easy to make with ingredients that will make you say whaaaaa. The super gooey, melty center has almost the same exact texture of caramel minus all the artificial iiish. Oh and that crack you hear when you bite into that chocolate on top will have you swooning.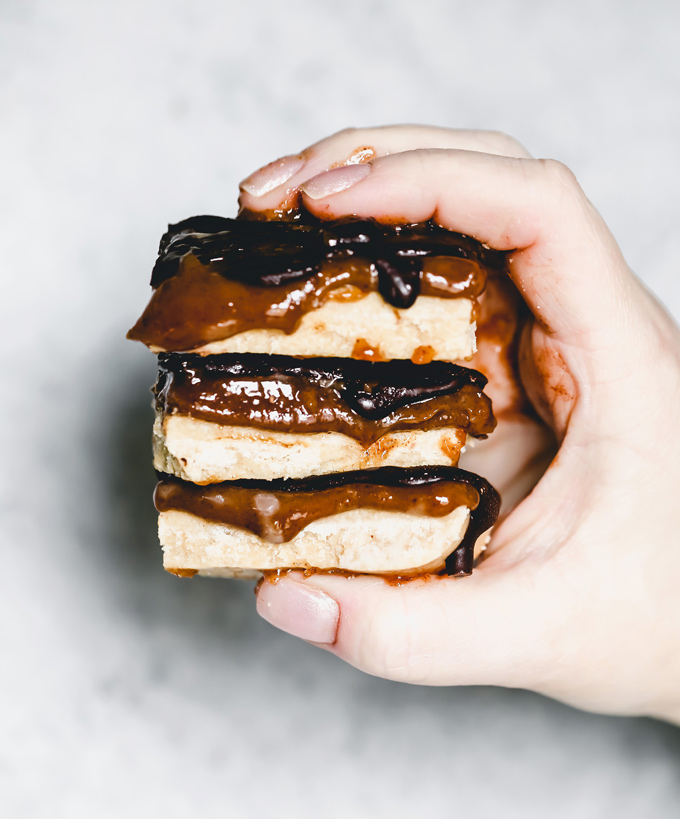 Homemade versions are delicious!
They don't look like traditional Twix bars and that's ok. Homemade versions aren't meant to look exactly like the real thing, but they're still totally delicious. I usually have my son help me make the caramel and chocolate top and we have so much fun. He loves to eat whatever's remaining on the bowls and spoons. We both do but I let him have at it.
And yes the chocolate is homemade too! It's not a ganache melted down from chocolate chips or anything (totally ok though) but this is your own homemade chocolate that is absolutely delicious. (I believe homemade chocolate covered strawberries are in your future?!)
Back in 2013, when I first started blogging, this homemade chocolate was one of the first things I ever made when going vegan. It's an even mix of cacao powder, maple syrup, and coconut oil. Sprinkle in a dash of pink himalayan sea salt, a little vanilla extract and errr. ma. gawd. All sorts of amaze.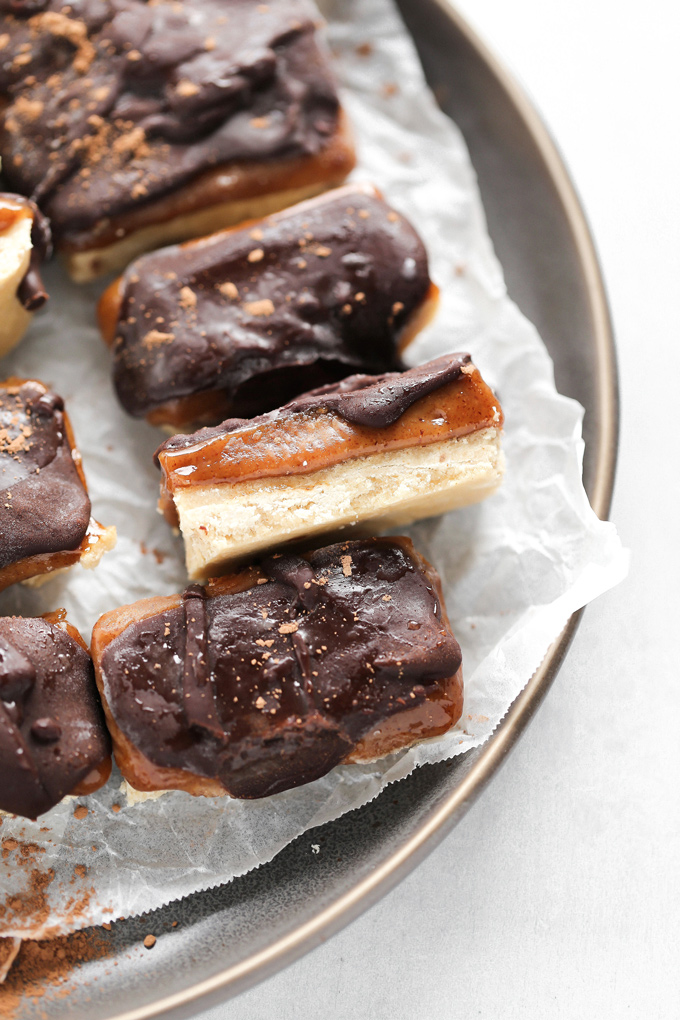 The middle layer recipe is actually part of a recipe in my cookbook but caramel is universal and can be used wherever caramel is needed (like for dipping green apples, my fave). So it's made up of 3 things: creamy almond butter, maple syrup, almond milk. Girl, riiiight! It looks exactly how it looks here in the photos! Yassss girl! When you heat up all three ingredients it gets super thick and has the consistency of caramel. Twix bars are known for their caramel centers too so these won't disappoint.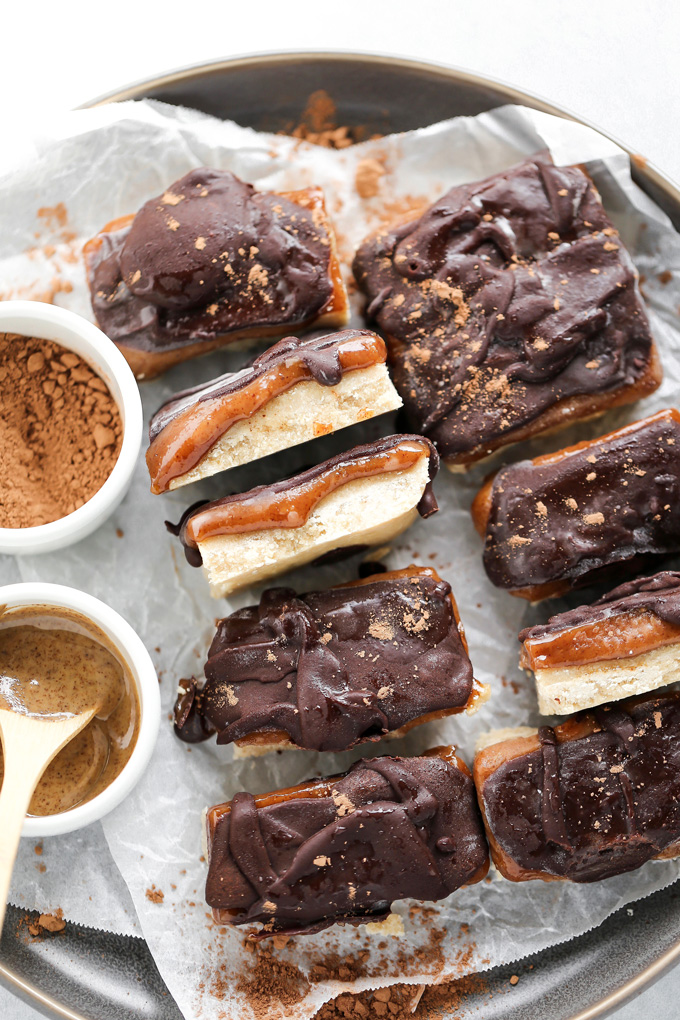 The classic shortbread bottom layer is made up of coconut flour, coconut oil, maple syrup, and vanilla extract giving you all the traditional Twix feels.
All The Deliciousness
I made two batches of these this week alone and the other day I ate about 3 slices and felt utterly sick to my stomach. One slice or bar is good enough. Two is ok but 3 would be overkill plus you don't want to get sick of them! I store them in the freezer and grab one when I'm craving something sweet, caramel-ly, and chocolatey. It's going to be your new fave no guilt, sweet treat.
If you love this recipe then you'll love these too! Peep out these clean sweet treats:
Vegan Chocolate Zucchini Cheesecake
Peanut Butter and Jelly Stuffed Dates
Vegan Vanilla Pudding with Raspberries
Vegan Cookie Dough Cheesecake Bites
Homemade Vegan Twix Bars
A traditional shortbread crust layered with gooey caramel filling and a sweet dark chocolate topping. A delicious vegan remake to a classic recipe.
Ingredients
Shortbread Crust
2 cups coconut flour
1 cup maple syrup
1 cup coconut oil, melted
2 tsp vanilla extract
Caramel Filling
1 cup creamy almond butter
6 tbsp maple syrup
1/2 cup almond milk
Chocolate Topping
6 tbsp coconut oil, melted
8 tbsp cacao powder or cocoa powder
3 tbsp maple syrup
Instructions
Shortbread Crust
In a large bowl mix all ingredients until well combined.

Line and 8x8" baking dish with plastic wrap or if you have a square 8x8" spring form pan you can use that without the plastic wrap. Press the shortbread dough on the bottom the pan and smooth it out evenly. Use your fingers to evenly distribute it. Place in the freezer to set while you make the caramel filing.
Caramel Filling
In a small to medium saucepan on medium heat add in all ingredients and stir to combine and heat until warmed through. Remove from heat and pour on top of shortbread crust spreading out evenly with a spatula.

Place back in the freezer to set for 3 hours or more. You can do overnight too. The caramel filling will not fully freeze and all the shortbread crust needs is a few minutes to thaw.
Chocolate Topping
In a bowl whisk all ingredients until smooth and creamy. Pour on top of caramel filling after it has set for the allotted time and place back in the freezer for 10 minutes or so for the chocolate to set.

Once set remove from freezer, cut into bars. Dip your knife in hot water for clean cuts and clean the knife in between cuts as well. Serve and enjoy!
Notes
Cook time reflects how long it should be kept in the freezer to set before adding the chocolate topping.
 ~Pin This Recipe~