Vegan Breakfast Cookies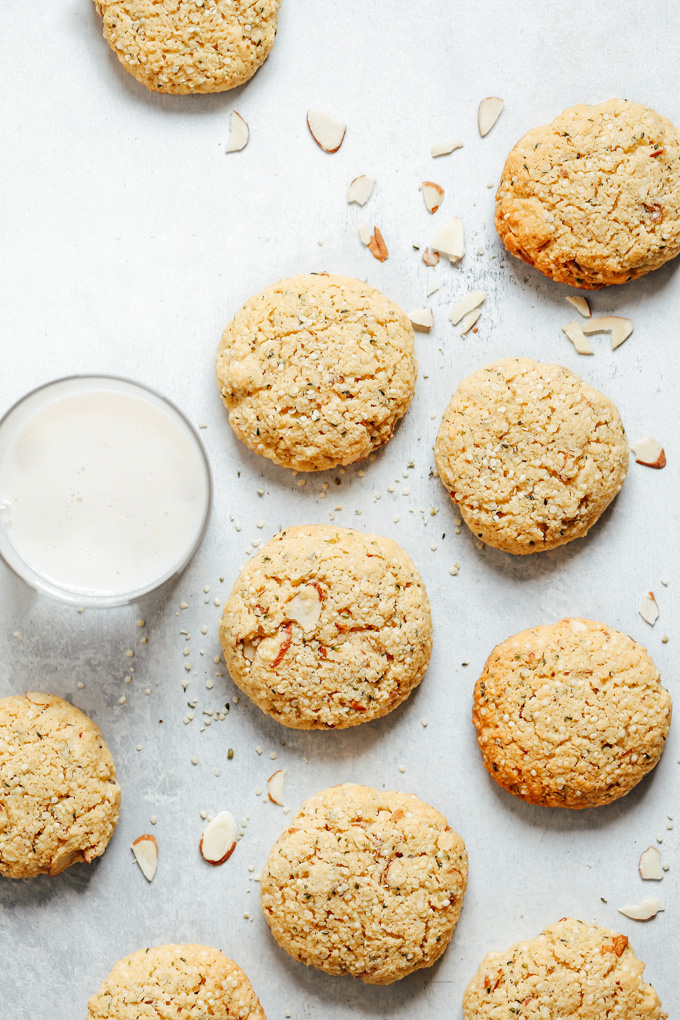 These Vegan Breakfast Cookies could also be known as Vegan Lactation Cookies. Super high in flaxseeds, hemp, and almonds, this is THE cookie to help boost and maintain milk supply. Not only that they're completely KETO! They're amazing to help you stay on track, high in healthy fats, great source of protein and only 1.2g Net Carbs. Can I get a Hallelujah?! *raises the roof*
They stay soft and chewy and they're everything you'd want and expect in a cookie like this.
This post contains affiliate links in which I may make a small commission and am super grateful for. Opinions are in no way influenced by compensation. You can read our full disclosure policy for more information.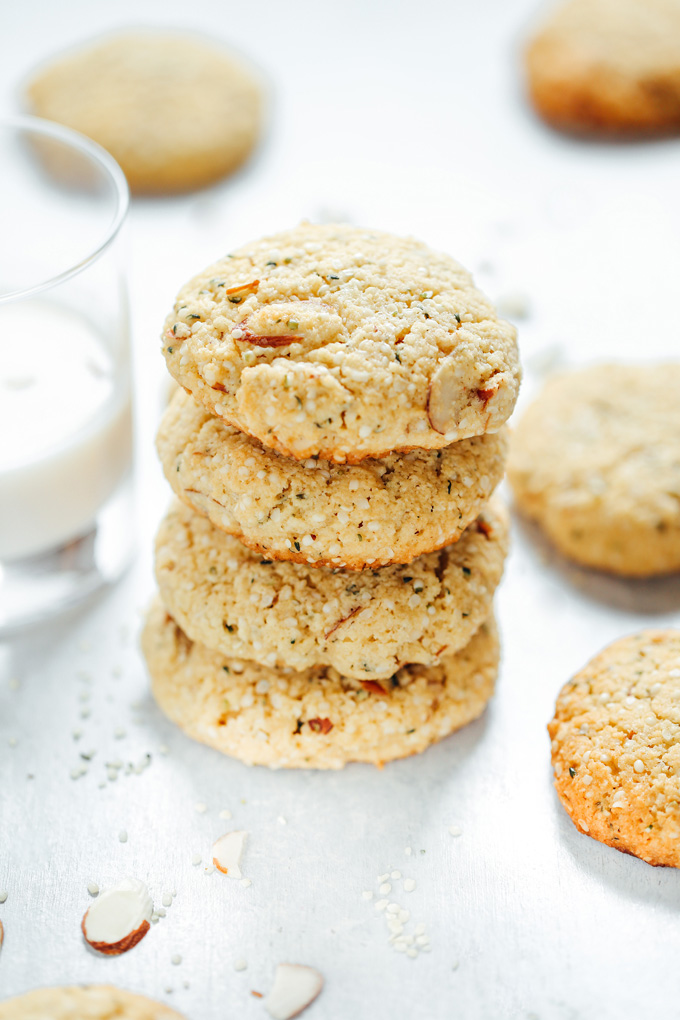 For My Breastfeeding Mamas
Flax seeds or ground flax have estrogenic properties that can help nursing moms make more milk. The oil in flaxseeds provide healthy fats that are a healthy component of breast milk to promote baby's brain development.
Hemp seeds are high in many vitamins and minerals, they are especially high in iron and zinc, which are important for infant growth and mama bear health.
Almonds are great for breastfeeding moms because they are a good non-dairy source of calcium. It's good for breastfeeding moms to have 1,000 mg of calcium daily.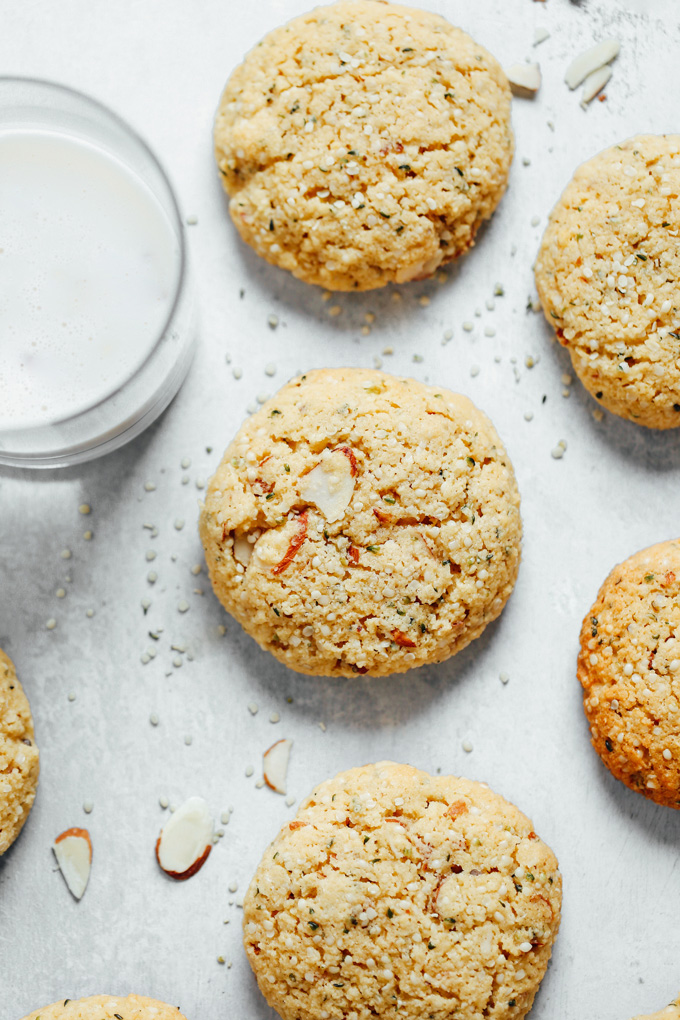 For My Keto Peeps
These Vegan Breakfast Cookies are great for everything mentioned above plus they're super low carb with no sugar.
Flaxseeds are super high in healthy fats, fiber, omega-3's, and antioxidants. Also great for cardiovascular health, and can help lower the bad cholesterol (LDL) in your body. They're a great food thickener which is why most plant eaters use them as an egg replacement and they add a nice nutty taste and aroma to baked goods.
Hemp and almonds bring in the high fats with tons of protein , fiber, vitamins, minerals, and antioxidants. Still, some variety of nuts are lower in carbs than others, almonds being among the lowest.
Almonds can be ground to a flour and is what I mostly use to keep things low carb. So on top of being a great cooking and baking sub to say, regular flour or breadcrumbs, almonds are high in protein, healthy fats, and fiber, rich in vitamin E, magnesium, copper, and antioxidants like proanthocyanidins (39Trusted Source). Some research shows that eating almonds may decrease your risk of conditions like type 2 diabetes, heart disease, and Alzheimer's.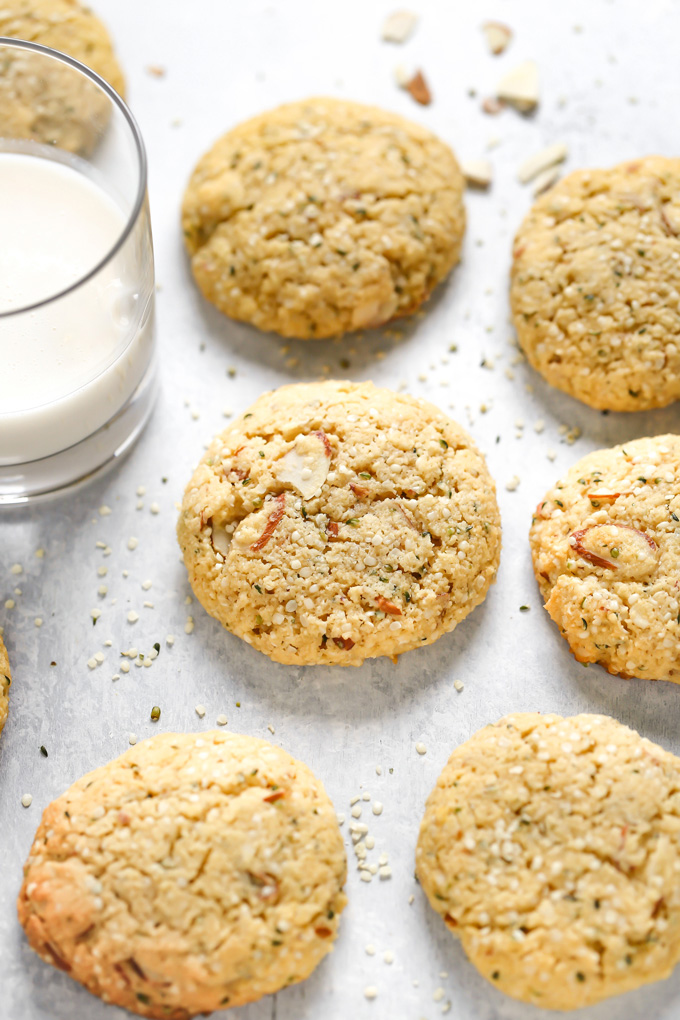 Hemp-Seeds Are a Superfood
But lets talk hemp seeds for a minute so you can truly grasp the magnificence of them. Hemp seeds are rich in Gamma-Linolenic acid (GLA) that help create prostaglandins, which are chemicals that help smooth muscles, control inflammation and body temperature. Foods that contain GLA help people with blood pressure, obesity, heart disease and more. Hemp seeds are especially satiating due to their high fiber content leaving you fuller longer.
A healthy heart requires less sugar, plant-based proteins, and good natural fats. Hemp seeds contain all these things. The regular consumption of hemp seeds, along with whole foods that are nutrient-dense and have good fats will make your heart and the rest of your body very happy!
One ounce of hemp seeds contains nine grams of protein, twelve grams of fat, and two grams of fiber. It also contains all twenty amino acids and all nine of the essential amino acids that our bodies can't produce. *mind blown*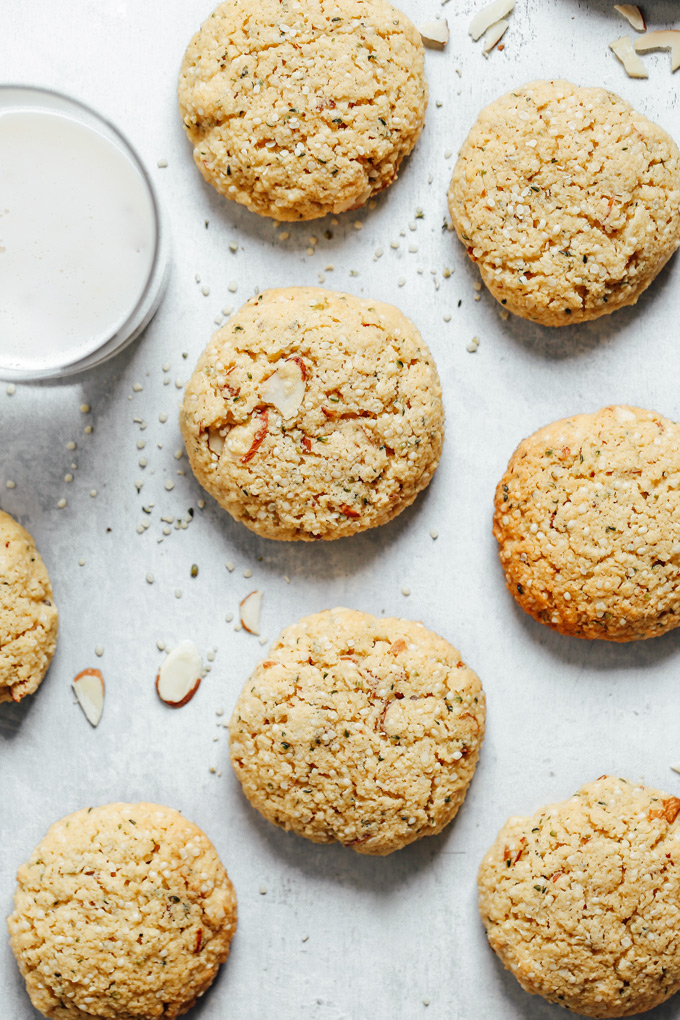 Did I happen to mention how ridiculously easy these are to throw together?! I haven't have I. Well I guess I'll tell you now – These are ridiculously easy to make. One bowl, easy, accessible ingredients equals all sorts of yum ready and waiting to happen.
I made these cookies for my Yoga Buddies in my 300HR yoga teacher training and they were a HUGE HIT. Everyone loved them and some even went back for seconds. Made my mama heart so happy!
I like to make 2 batches of these to have available for the week. I will have 1 or 2 for breakfast, depending on my meals for the day, other times I'll have them as a snack or fat bomb even to up my fat and even protein in a certain day I'm lacking by some grams. Warning though, they're so freaking delicious! They're not overly sweet which I love too. Just picture yourself in the morning with your coffee or tea and this cookie by it's side, natural beauty.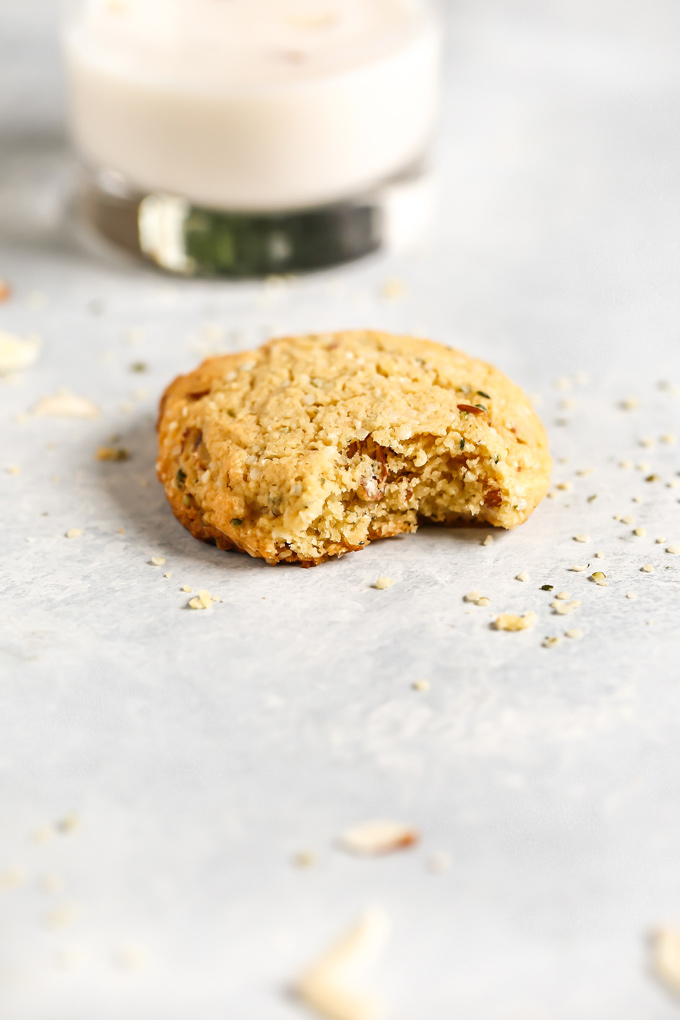 Needless to say these Vegan Breakfast Cookies are destined to be in your life and they will not disappoint you.
Vegan Breakfast Cookies
High in flaxseeds, hempseeds & almonds, 100% KETO & great for breastfeeding mamas! High in healthy fats, protein & only 1.2g Net Carbs.
Ingredients
1.5 cup almond flour
2 tbsp coconut flour
1/2 cup monkfruit sweetener, (can sub coconut sugar, regular sugar, or any sweetener of choice; see notes)
1 tsp bakng powder
pinch of turmeric , (for added nutrition but also coloring, optional)
1/2 cup hemp seeds
1/2 cup sliced almonds
Pinch of salt
2 flax eggs, (see notes)
1/2 cup vegan butter, (melted)
1 tsp vanilla extract
Instructions
Preheat oven to 350F and line baking dish with parchment paper.

Make the flax egg by putting 2 tbsp of flaxmeal and 6 tbsp of water in a small bowl, stir, and set in the fridge to gel up while you get the rest of the ingredients together.

Add all dry ingredients first in a large bowl and whisk well. Then add in all the wet ingredients: flax eggs, vanilla extract, and melted butter, and mix to combine. Keep folding and mixing so you get all the almond and coconut flour incorporated. The dough will be wet, you can add another tbsp of almond flour if it feels too wet but I wouldn't do anymore than that.

Take a tablespoon and a half size portions of dough and roll into large balls. Slightly and gently press the cookies down with the palm of your hand but not all the way down to flatten.

Bake in the oven for 15 minutes or until edges are golden. When the cookies are done they will seem undercooked but let them cool for a full 15 minutes on the baking dish then trasnfer to a cooling rack or serving tray. The longer they cool the firmer they will be but they will still be super soft and chewy. You can even put them right in the fridge when the 15 minutes are up to cool them quicker.

Serve up with your favorite plant milk and Enjoy!
Notes
Recipe adapted from JenniferBanz.com.
Store in an air tight container and keep in the fridge.
If you like a sweeter cookie you can go up to 2/3 cup of sweetener but if like me and you like less sweet, stick with the 1/2 cup. 
I use Lakanto Gold to keep them keto but you can use coconut sugar or regular sugar if you prefer.
I like to use this butter because it's made with the cleanest ingredients. 
~Pin This Recipe~