Homemade Hemp Milk 3 Ways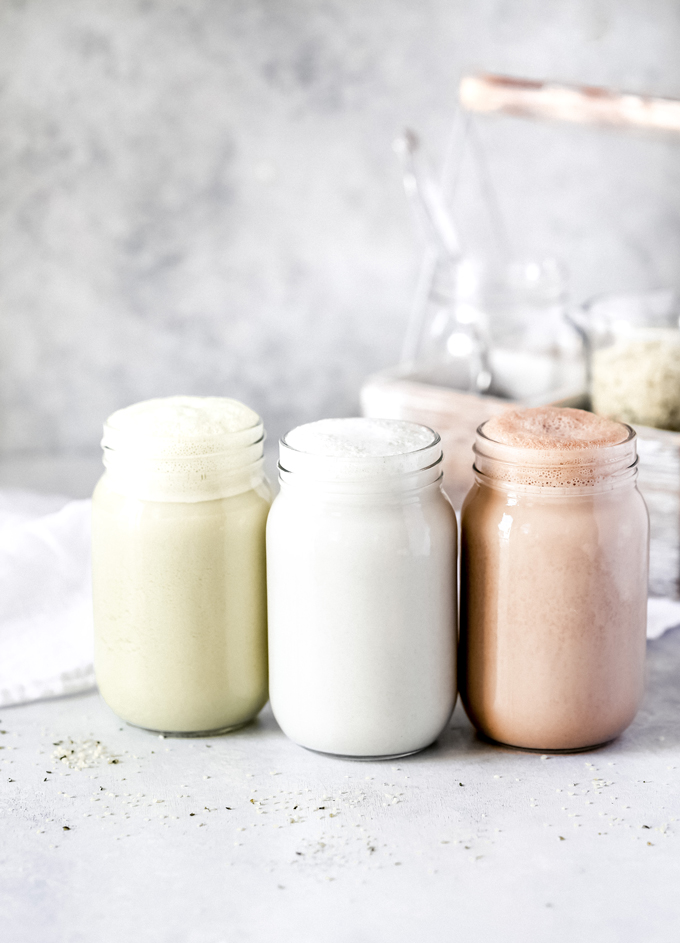 Homemade Hemp Milk 3 Ways! Make your own hemp milk with no straining required using 2 to 3 ingredients! A delicious dairy free alternative that can be used for anything from soups to smoothies, to cereal! I can't even begin to tell you how easy this is. It still blows my mind – like how!!!
So 3 ways: Plain but could also be Vanilla, Chocolate (of course right, like obviously we need chocolate, lol), and Matcha! This trio is what's up.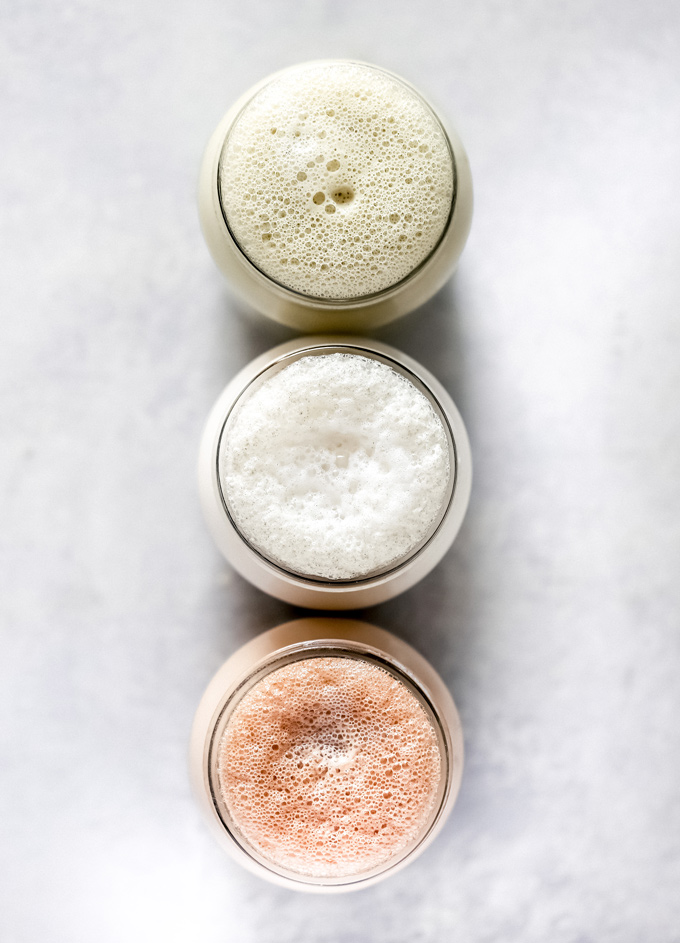 The Essentials
Here's what you'll need, are you ready for it because it's ridiculously easy and I can't begin even handle it. Hemp Seeds and Water, boom, there I said it. I know you're thinking "stop yourself Jenn!". To make it chocolate you can use Cacao or unsweetened Cocoa powder and to make it Matcha I think you can guess, yup, add Matcha. The Vanilla is even simpler.
If you want it with a little bit of sweetness you can use dates, maple syrup, or if you're doing Vegan Keto like yours truly, you can use maple flavored syrup, maybe add in a sprinkle of salt and bada bing bada boom, done. Oh yea and you need a blender. Can you even take the easiness? Do we need a moment to wrap our heads around this or can we move on? Ok lets go.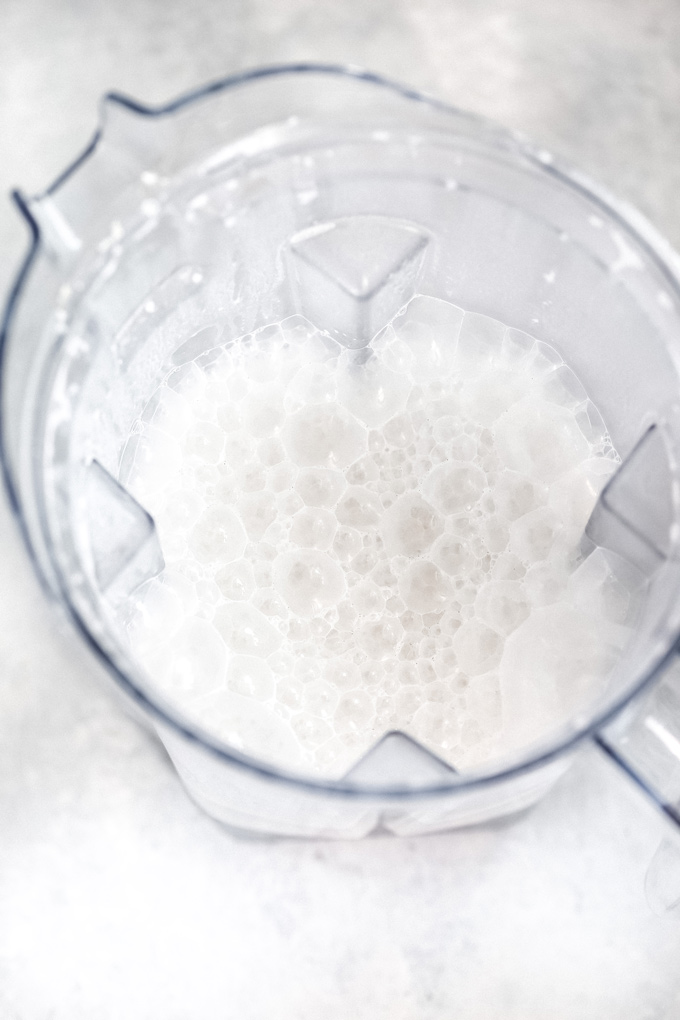 When you think about homemade milk it could be intimidating right, like we need a nut bag or cheese cloth, some sort of straining method aaaand then you lost me, lol. I want as easy as possible and this is it.
Plus we know all about the benefits of Hemp Seeds from this post and how not only are they all sorts of amaze but they're so good if your a lactating Mama. And even if you're not, still one thing you should be consuming on the daily.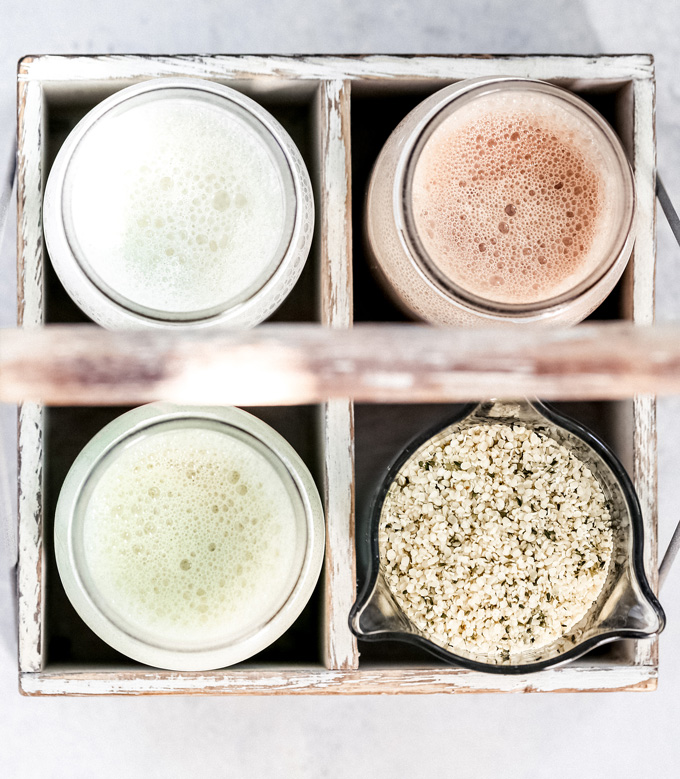 Consistency
This comes out super silky smooth. Hemp Milk is on the lighter side of milks so if you want to thicken it up or have it thicker add less water. I like the thinner texture for hemp milk because hemp does have a very distinct taste and I personally prefer it not too thick. I'm like Goldilocks, I want it juuuuust right. Which the measurements below to me are. However, you can play around with it and see what you like.
Ok and now I know I said no straining, you can if you want to, you can. Hear me out, after you blend it up good, you can still have a few bits of shell, very small, teeny tiny, pieces. Teeny tiny. And still ultra smooth but if this bothers you you can strain it or run it through a cheese cloth (God, I can't believe I said that, lol). How dare I, I know, after I just said no straining required. But I wanted to at least give you the option. I do not strain mine, I ain't got the time, lol.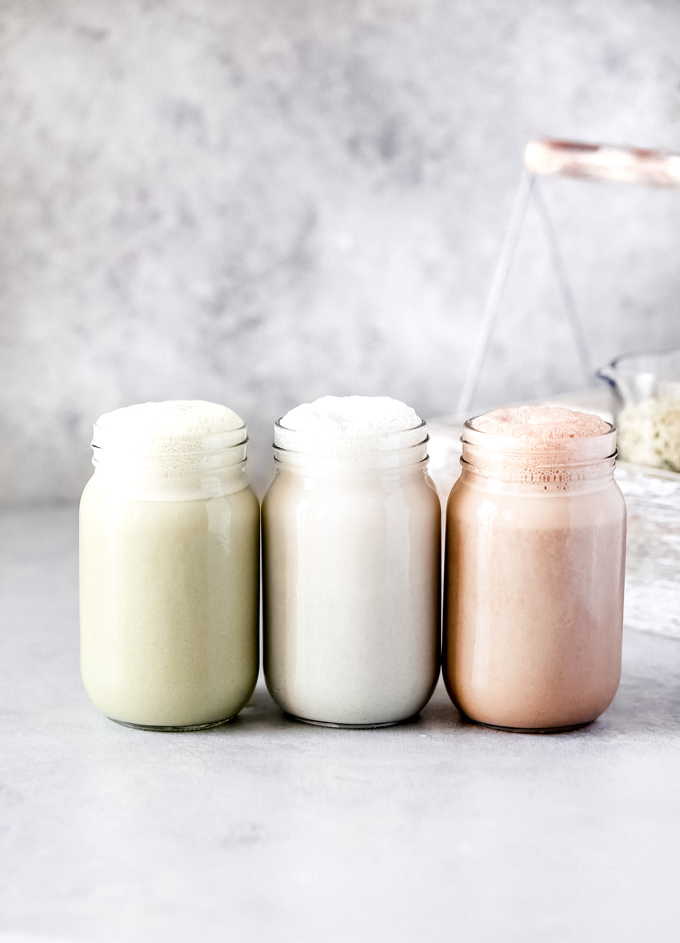 Storage
I store my hemp milk in mason jars with tight lids and keep it in the fridge. It lasts up to 5 days but it's usually gone before then. When it sits in the fridge it will settle so before using it be sure to give it a good shake.
I use this Homemade Hemp Milk in my Mixed Nut and Hempseed Cereal and I cannot stop myself from having multiple servings (Where is your self control Jenn!).
My fave you ask, chocolate duuuuh! And my kids fave too, they love it and again to reiterate, Super. Flippin'. Easy!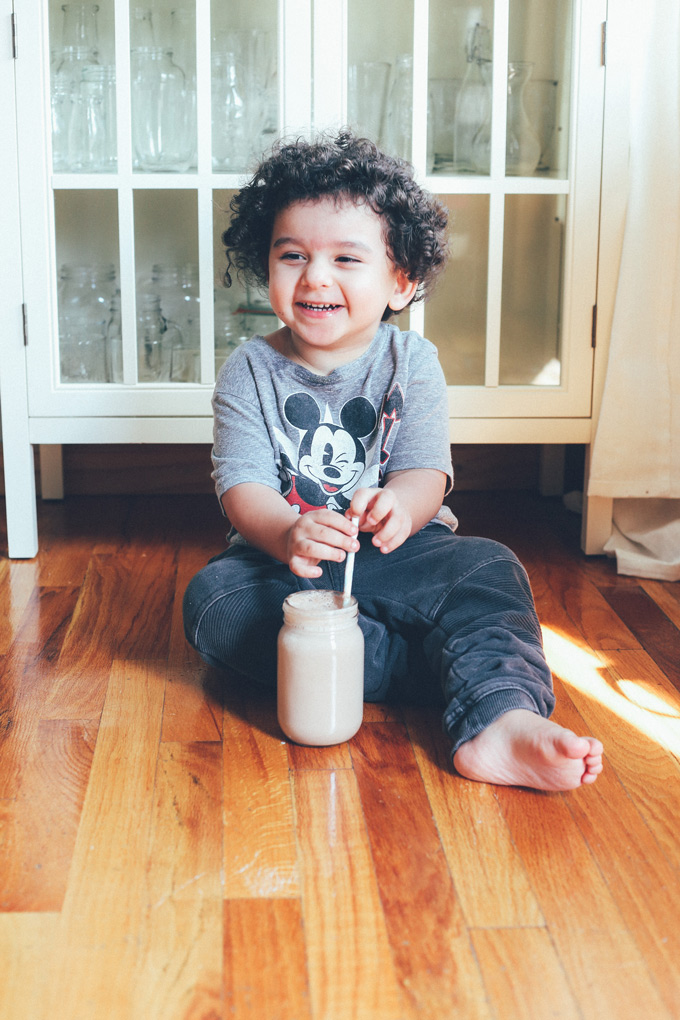 Chocolate is our fave!
Look at Baby O all happy with his homemade hemp chocolate milk! Way to go Oliver with that ultra cheesy smile that pulls at my heart strings 24/7.
Guys get your blenders ready and start making ya own hemp milk, thank me laterz. 🙂
Homemade Hemp Milk 3 Ways
Make your own hemp milk with no straining required using just 2 to 3 ingredients! A delicious dairy free alternative that can be used for anything from soups to smoothies, to cereal to anything!
Ingredients
3 cup water
1/2 cup hemp seeds
pinch of salt
1 tsp vanilla extract, (optional)
Chocolate
2 tbsp cacao or cocoa powder to make chocolate
Matcha
2 tbsp matcha to make it matcha
Sweetener Options
2 tbsp maple syrup
2 pitted medjool dates
2 tbsp vegan keto friendly maple flavored syrup, (see notes)
Instructions
For the plain or vanilla version add hemp seeds, water, salt, vanilla extract, and sweetener of choice into a blender and run until smooth. I like to run my twice, 1 minute each.

To make either the chocolate or matcha version, add two tablespoons of either cacao powder or matcha powder to instruction 1 and run until smooth.

You can add ice to make it super frothy and cold. (I recommend this if using right away)

Store in mason jars and keep in the fridge. Will last up to 5 days. Shake well before using.
Notes
This is the keto friendly maple flavored syrup I use here.
~Pin This Recipe~