Mixed Nut Hempseed Cereal (Vegan Keto)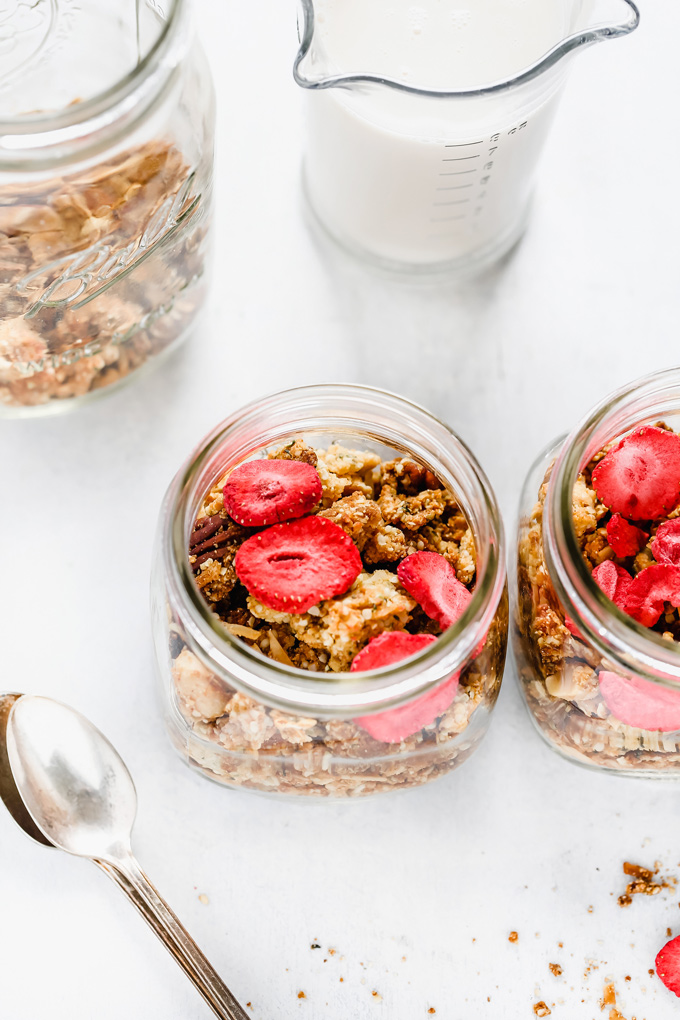 Mixed Nut and Hempseed Cereal – This vegan keto cereal will give you all the morning feels as it's even better than the sugary boxed stuff. I'm so excited for you to give this a go! You and your entire family will be head over heels for this one, promise.
You can look at this as a grain free granola too but cereal sounds better in my opinion. No matter how old I get, I still love a nice big bowl of cereal. And don't even get me started on the milk afterwards! That's my fave and this delivers in that department and then some.
Have you made my Vegan Breakfast Cookies yet?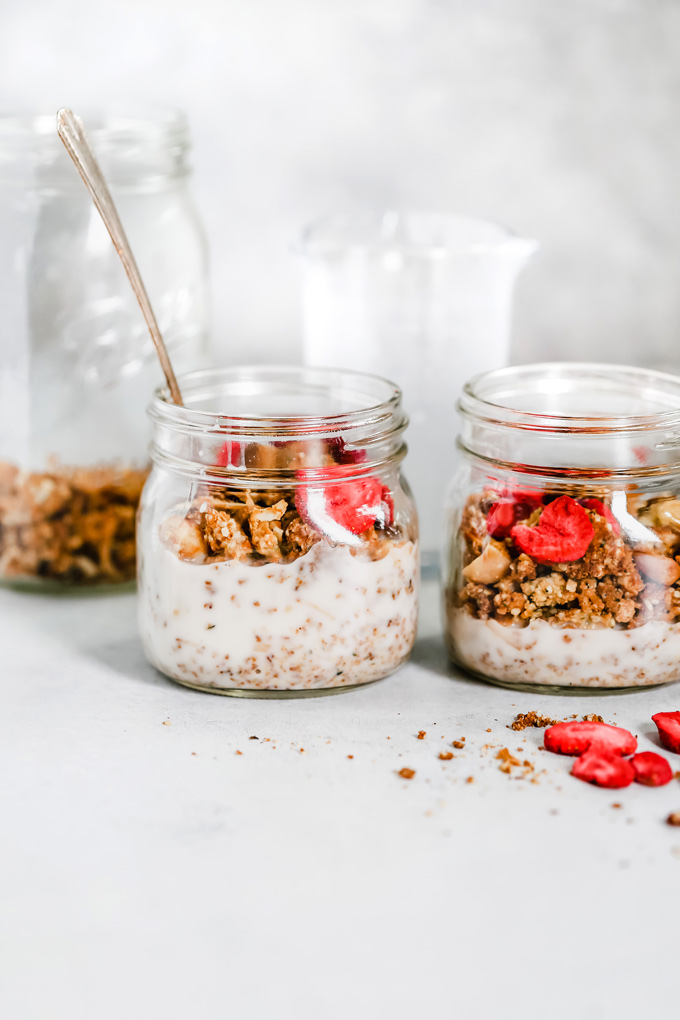 The Ingredients
The ingredients are easy, simple, and can be found at any grocery store. These star ingredients are: Hempseed's, Almond Meal, Flax Meal, Macadamia Nuts, Pecans, and Coconut. Um, YUM!
You can add whatever freeze dried fruit you'd like or leave it out. You can use any nuts you'd like too. Make it your own. Did someone say chocolate chips too? Have at it (just make sure they're vegan and keto friendly if that's your thing).
I got this recipe from Carolyn of alldayidreamaboutfood and I fell in love with it. I swapped out some ingredients for the vegan version and it still turned out amaze in every way.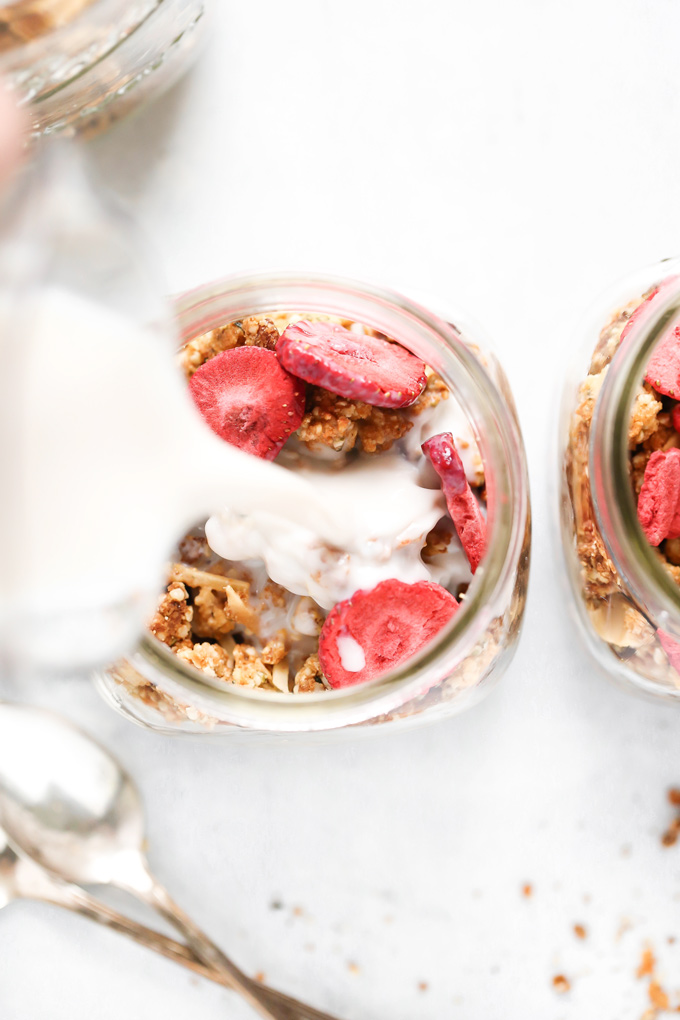 Plant Milk Options Are Endless
Use any plant milk you want. I go with unsweetened almond as it's super keto friendly but you can do oat, soy, hemp even, the choices are endless.
You can even eat it by itself! I love eating dry cereal too, I use to do that with Cheerios (I mean, who hasn't done that right?!) So good and so good for you! Yaaay! Can you tell how excited I am by my use of exclamation points!? LOL Ok, I'll simmer down with them.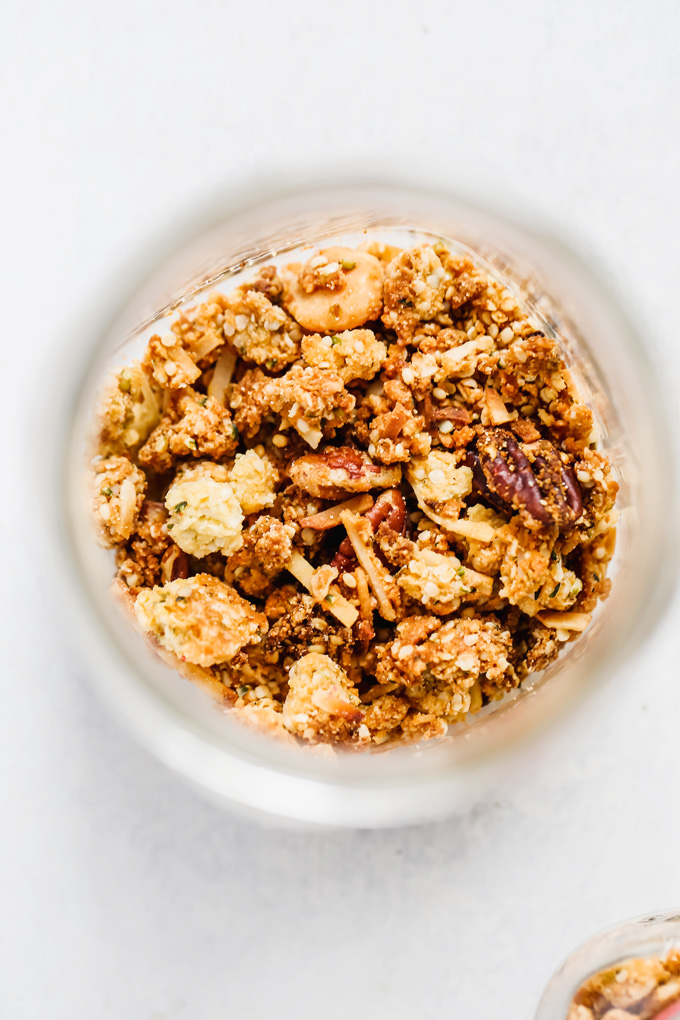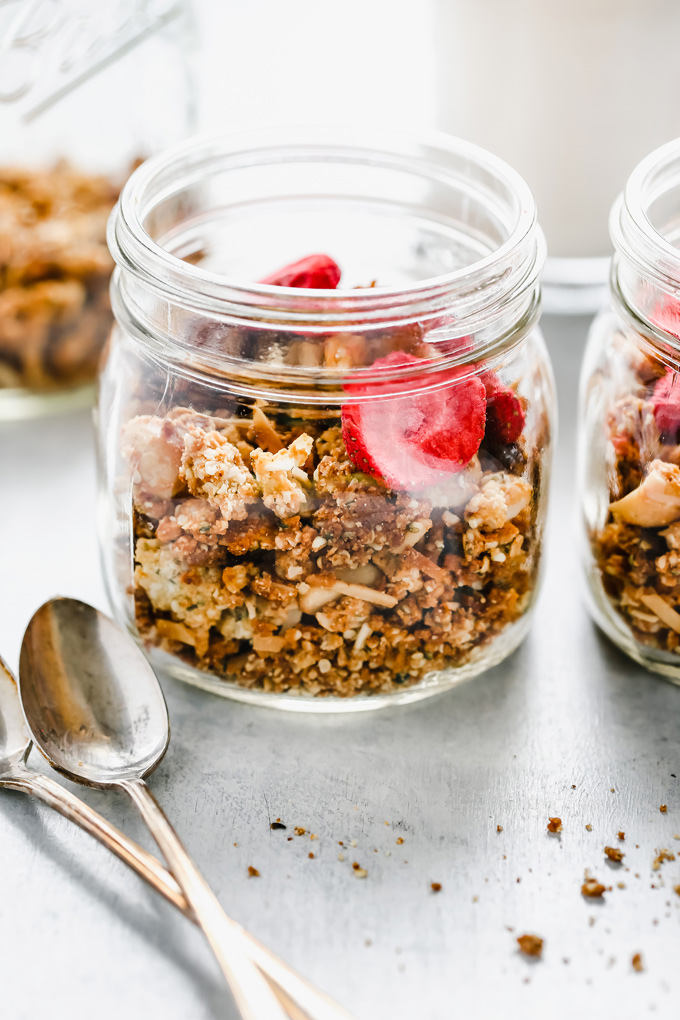 As a parent (and I think you all can agree with me on this), being able to give my kids good tasting cereal that I know is not ladened with some BS (bull sugar, lol) just makes me happy.
Now I'm not saying we're all perfect over here and NEVER have boxed cereal. I have a few boxes in the house right now (we love the Organic 365 Peanut Butter and Cocoa Puffs) but it's not an everyday thing. But hey, if it is your thing no judgements on my end. I'm just here to give you another option to add up in your pantry. We bes cool like that. 🙂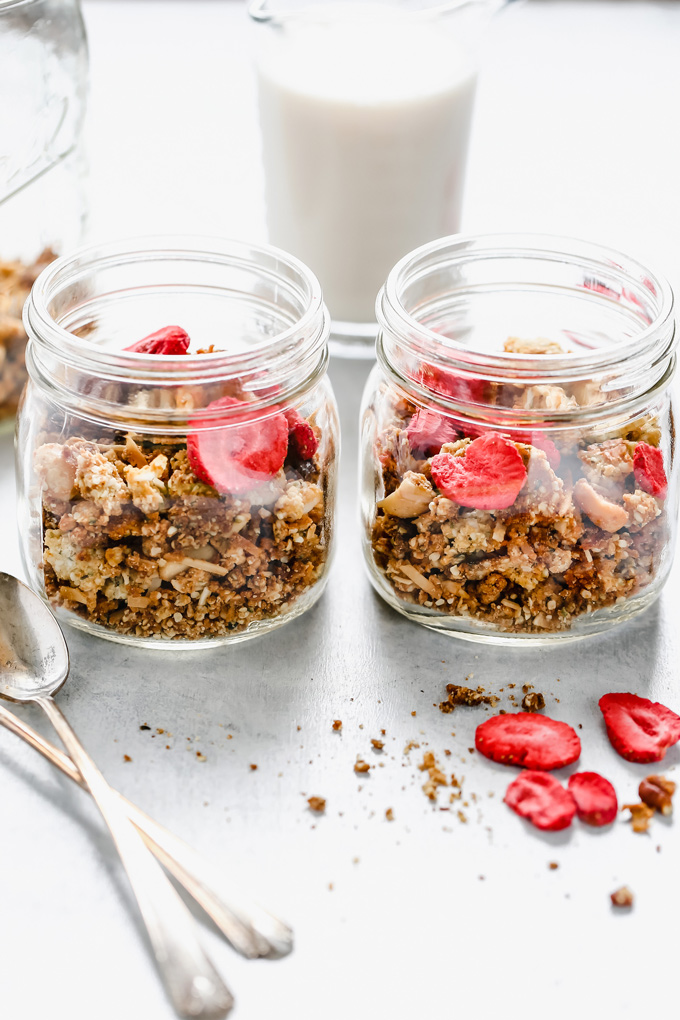 Storage
I keep the whole lot of this in a big mason jar or, and this is my favorite, I put a serving of this Mixed Nut and Hempseed Cereal into smaller jars like you see above, single serve, cover them, then serve with milk when ready to eat. I leave this out on the counter. It lasts up to 5-7 days. It's like grab and go, I love it. It also just makes it easier in the morning when it's all prepared and ready to go. I know it's not that hard to add cereal to a bowl either but I just like the idea of doing it this way and being super prepared in the mornings. One less step is easier in my book!
I'm so excited for your morning tomorrow or have it as a snack tonight, whatever you decide, enjoy!
Mixed Nut Hempseed Cereal (Vegan Keto)
This vegan keto cereal will give you all the morning feels as it's even better than the sugary boxed stuff. I'm so excited for you to give this a go!
Ingredients
1 flax egg, (1tbsp flaxmeal to 3 tbsp of water)
1 1/2 cup almond meal
1 cup hemp seeds
1/3 cup keto friendly sweetener, (See notes for the one I use. Alternatively you can use regualr sugar, coconut sugar, or sweetener of choice.)
1/2 cup macadamia nuts , (dry sea salt roasted is what I used)
1/2 cup chopped pecans or walnuts
1 cup shredded coconut
3 tbsp vegan butter , (melted)
2 tsp banana extract, (or any extract of choice like almond, coconut, etc.)
1 tsp vanilla extract
pinch of salt
Instructions
Preheat oven to 325F and line large baking sheet with parchment paper.

Make your flax egg and place in the fridge to firm up while you mix the rest of the ingredients.

In a large bowl whisk together all dry ingredients until well combined. Then add in the wet ingredients along with the flax egg and stir until it starts to clump together.

Evenly spread cereal out on prepared baking sheet and bake for 25 minutes. At the 10 minute mark mix the cereal around so it gets crunchy on all sides. Do this two times. At the end of the 25 minutes if you want it more crispier or crunchier leave it in an extra 10 minutes.

Remove from oven and leave on the pan for a few minutes to cool. Transfer to jar or jars for storage. Top with vegan keto friendly chocolate chips, berries or freeze dried fruit like strawberries. Enjoy with or without milk!
Notes
I used Lakanto Gold in this recipe. It's vegan and keto approved. 
~Pin This Recipe~