Healthified Super Veggie Hoagie
We all need a good ole sammie in our lives, right?! In my bio it clearly states that I love not only chocolate and long walks on the beach but stacked sandwiches too…and I'm not even kidding.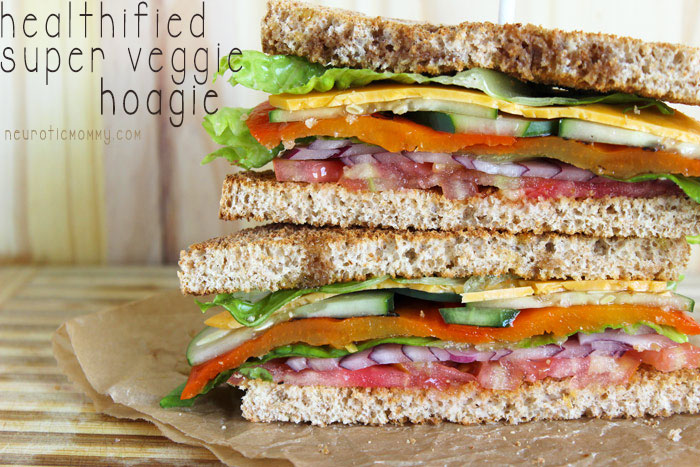 Now I know when we hear the word hoagie, giant sandwiches come to mind like Blimpie or Subway. I was craving like a deli sandwich. I love stacked sandwiches like a blonde loves getting her roots done (and that applies to me too). So since I was in desperate need for a sandwich loaded with goodness I threw together something fabulous, something delicious, something that would satisfy my hoagie craving madness. So low and behold the Healthified Super Veggie Hoagie. The clean version made on sprouted bread, a boat load of veggies and vegan cheese. Because well, that's how I roll and now you can roll with me. Whoop Whoop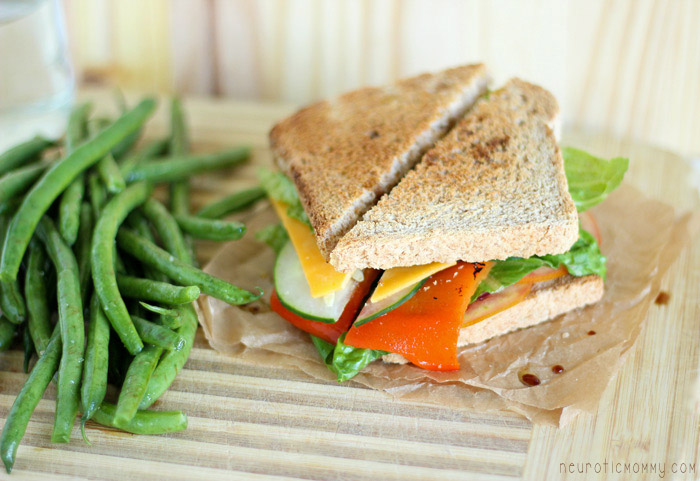 The reason why I'm calling it a hoagie is because it's my version of one just the healthy kind. I love buying sprouted bread. I find that it toasts like almost perfectly and when you want to make a grilled sandwich of sorts it holds together well. Not to mention it tastes amazeballs and most of these sprouted breads are only 80 calories (if you're a counter) and they are easy to digest. I know that feeling all too well of overeating to the point of feeling sick. So I try to stay away from that feeling although when it comes to cake…you know the rest (ahahaha).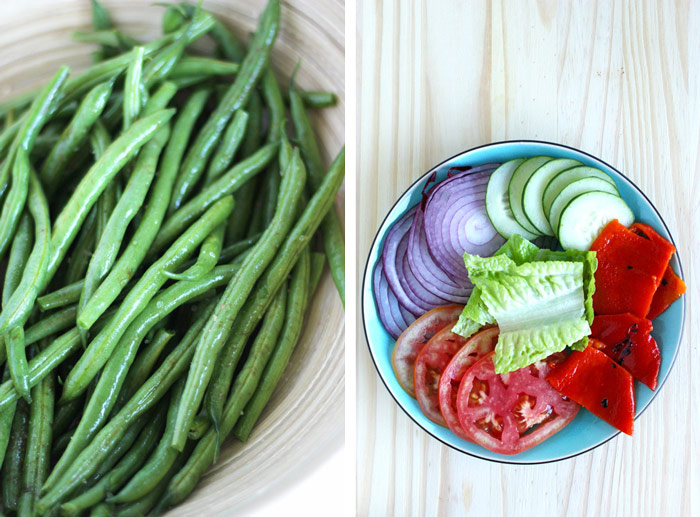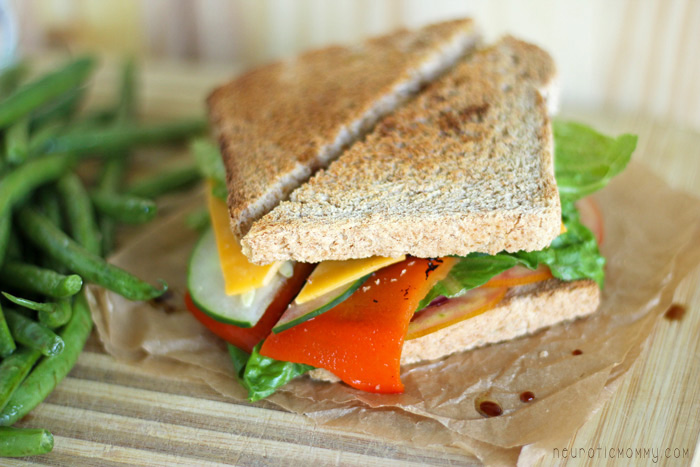 Back in my twenties (ahhh the good ole days) I ate the processed things like this with more processed junk like a bag of chips. Sometimes I still dabble in the chip world but for the most part I try not to. So for this I sided it with steamed green beans lightly tossed in garlic, extra virgin olive oil and salt. Can you say Hellooo deliciousness!!! They are crisp yet tender and full of garlicky flavor. A nice combo if I say so myself (which I just did). Do you see those colors? That is what our food should look like all damn day. Colorful, bright, vibrant and full of life and why? Because that's what gives us life. Each color does something different for our insides. So check this out:
Red Foods are good for: Fighting heart disease, prostate cancer and decrease the risk of stroke to name a few. Red foods are seriously packed with antioxidants like lycopene and anthocyanins that fight off free radicals.
Green Foods are good for:  Well first they are extremely important in maintaining a healthy diet. I love the phrase "If you're green on the inside you're clean on the inside". That's totes true. Again and not surprisingly greens are loaded with antioxidants, vitamin C, A, E and greens are also packed with protein! Yes, protein. Collard greens have more protein in them than a 4 ounce piece of chicken. Minus the hormones and antibiotics so that's a win win right there.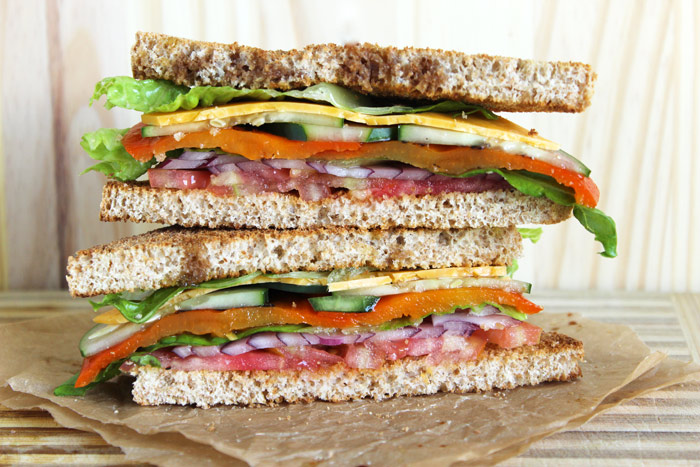 I can go on and on with more of the why you should eat your veggies but you know and I know they are good for you. AND you should eat them on the regular. They do not, in any way have to be boring! The only reason why food gets boring for people is because they eat the same repetitious meals over and over and over and over again. And over again. See, like that last sentence, how tedious! Bring color onto your plate. Stop with the bland and blah and join the real forces of healthy.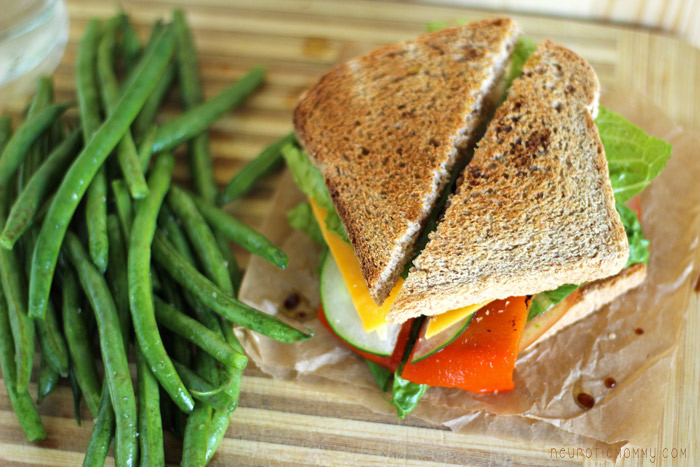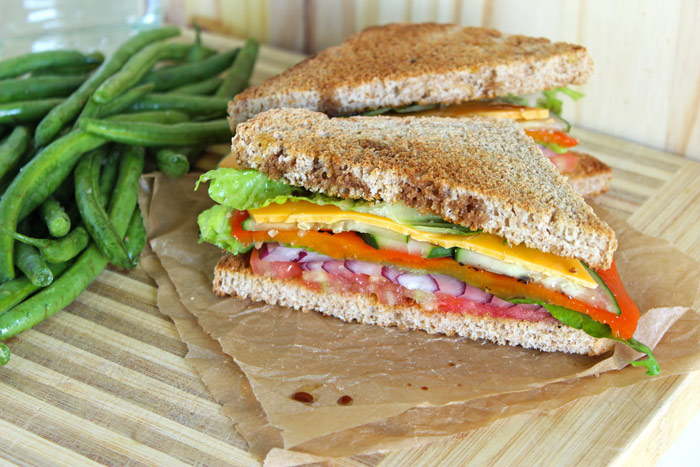 Ok so I just basically cyber pointed my finger at you telling you to go eat your veggies. If you know that by eating an abundance of veggies you are preventing things like disease and illness then why not eat them. When a doctor tells you to take an antibiotic for a bacterial infection you take it right? Well it's the same thing. I see more and more doctors getting on board with nutrition. Telling their patients they need to start eating real whole foods. And they aren't just telling them that because they are already plagued with an illness, they are taking preventative measures. We shouldn't wait for something to be wrong with us to want to eat better. Are we going to be perfect…oh hell no but we can make sure we are doing what's right for our bodies the majority of the time. I'm not a drill sergeant for being super strict. I believe in balance. So where there's (almond) milk, there's cookies. Ya feel me =).
Healthified Super Veggie Hoagie
Recipe Type: Sandwich
Author:
Prep time:
Cook time:
Total time:
Serves: 1
A classic hoagie made healthy by nixing the actual hoagie roll for sprouted bread and eliminating the processed foods by replacing them with veggies that can help you in more ways than one.
Ingredients
[b]For the Sandwich[/b]
2 slices of sprouted bread
1 slice of vegan cheese (or cheese of choice if not vegan or plant based)
2 roasted red peppers cut lengthwise
2-3 cucumber slices thinly cut lengthwise
1-2 slices of tomato
1-2 slices of red onion
romaine lettuce as desired
balsamic vinegar to drizzle
[b]Steamed Green Beans[/b]
8 ounces fresh green beans
2 garlic cloves minced or sliced thin
1 tbsp extra virgin olive oil
himalayan pink rock salt
Instructions
Toast bread to your liking.
Once bread is toasted assemble accordingly.
Tomato, red onions, lettuce, roasted red peppers, cucumber slices, "cheese" and more lettuce.
Drizzle with balsamic vinaigrette and top with remaining slice of bread. Cut in half (or not).
Steam green beans until just tender. I like mine with a little snap so I do about 8 minutes.
Remove from steamer and place in bowl. Toss in garlic and salt.
Drizzle with extra virgin olive oil and toss until all is coated.
Enjoy!
Notes
This recipe is for one sandwich. To make more than one sandwich just repeat the process. [br][br]You can add other yumminess like black olives and pickles!
Let's Stay Connected! Find me on Instagram, Facebook, Pinterest and Twitter!
Use the hashtag #neuroticmommy on Instagram so I can see your creations!