Lentil Pasta With Vegan Butter & Garlic Sauce
jump to recipe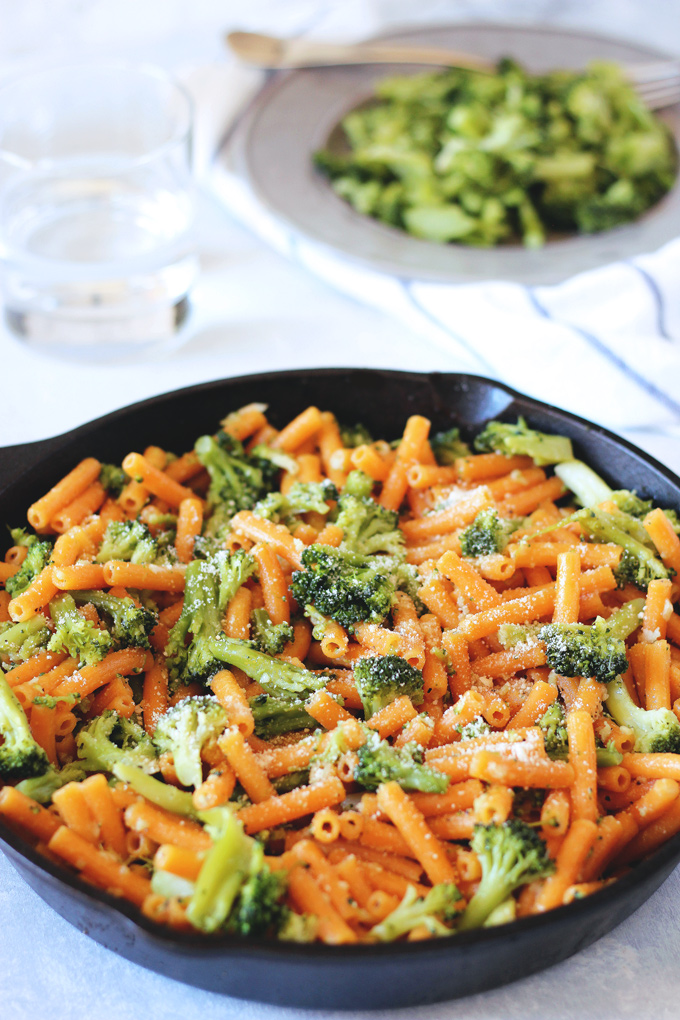 After telling you all about why you should be eating lentils, I figured it was a great idea to post a recipe that you can make easily . Even the most skeptic of veggies will love this. This Lentil Pasta With Vegan Butter & Garlic Sauce is at the top of my weeknight menu. It's protein packed, super healthy, and so mouth watering delicious. Add some broccoli to it and you're all set.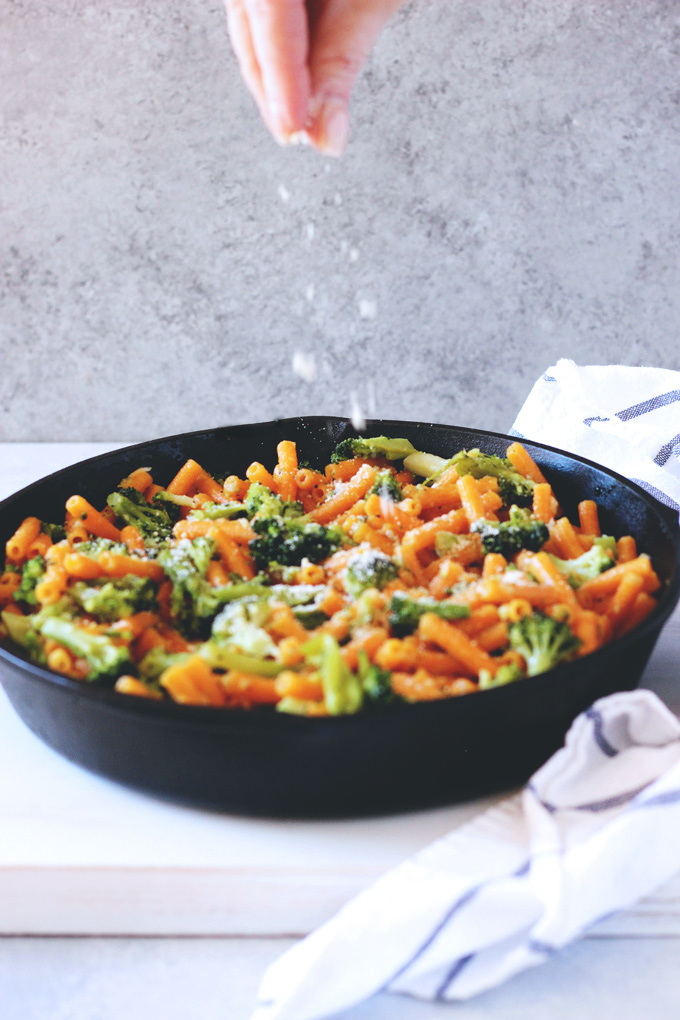 I buy this pasta at Trader Joe's. This is the first lentil pasta I've tried and I absolutely love it. I was a bit hesitant at first but I said ah I'll just make something simple out of it and it has now become a favorite. I wasn't feeling too keen on using a tomato sauce with this although I guess a vegan cream sauce would be delish. If you've tried this pasta that way let me know! I'd love to make it.
When eating a more plant rich diet it's really important to make sure you're getting all the key quality nutrients daily that help our bodies function. We need protein, we need iron, we need fiber. This dish is a well balanced vegan meal and lentils play the top role. In just 3/4's cup you get 13g of protein from the lentil pasta itself! It's important to make sure your eating styles are balanced so you get everything you need daily. So each meal you eat should be proportioned in a way where you have protein, healthy fats, healthy carbs, iron, fiber, etc.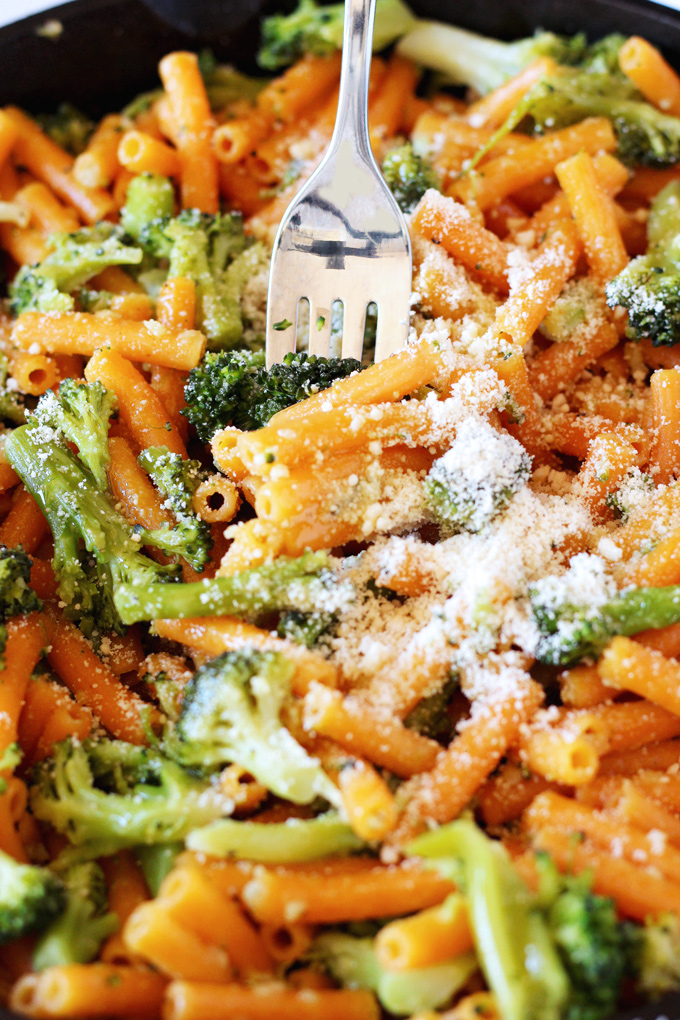 Now I just want to note that if you do eat meat that doesn't mean you're getting all the nutrients you need either. You need to make conscious decisions to eat a diet high in fruits and vegetables because a lot of the time you can't get from meat or fish what you would get from eating plants.
Lentils are one of the top leading sources of plant-based protein. See all the health benefits of eating lentils here.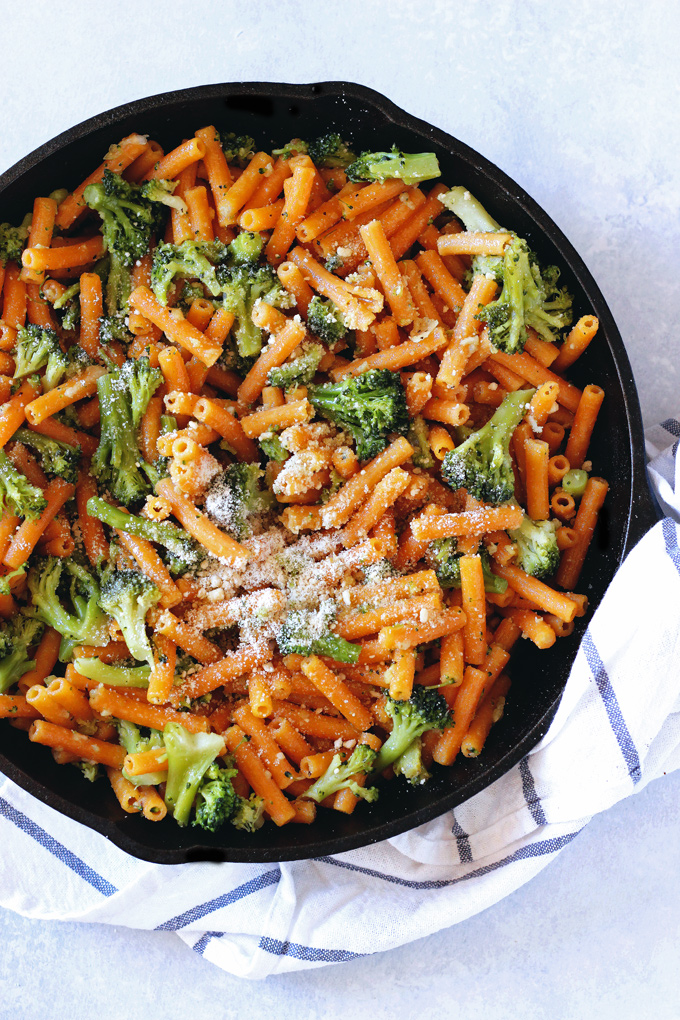 When I cook, even if it's only a 15 minute meal like this, I feel that because it's naturally healthy and good for you, it looks so pretty. And that's without even trying! I top this pasta off with some of my easy homemade vegan parmesan and it's such a hit! Trust you me your kids, hubs, lover, neighbor will be coming in for seconds that's for sure.
Another thing you can do is make this easy peasy dinner in the morning while the kids are at school, put it in the fridge and right before dinner pop it in the oven on 350F for 10 to 15 minutes or until it gets warm, then serve. It's a time saver and also goes well with bread but what doesn't?! Enjoy!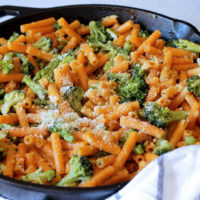 Lentil Pasta With Vegan Butter & Garlic Sauce
Protein packed lentil pasta with vegan butter &  garlic sauce and steamed broccoli, made in 15 minutes! A definite weeknight favorite.
Ingredients:
Directions:
Cook minced garlic, oil, butter, garlic powder, salt and pepper in a skillet or fry pan over medium heat for 5 minutes or just until the garlic browns a bit.
Prepare lentil pasta according to package instructions. The pasta I used called for a 6 minute cook time then I rinsed it with room temperature water.
While the pasta and sauce are being prepped make the steamed broccoli. Typically it takes 12 minutes for the broccoli to become tender. You can opt to boil the broccoli as well.
Once everything is done pour it into one bowl and mix until well incorporated. Season more with salt/pepper if desired and top with vegan parmesan cheese. Serve with bread and enjoy!