Vegan Broccoli Cheddar Soup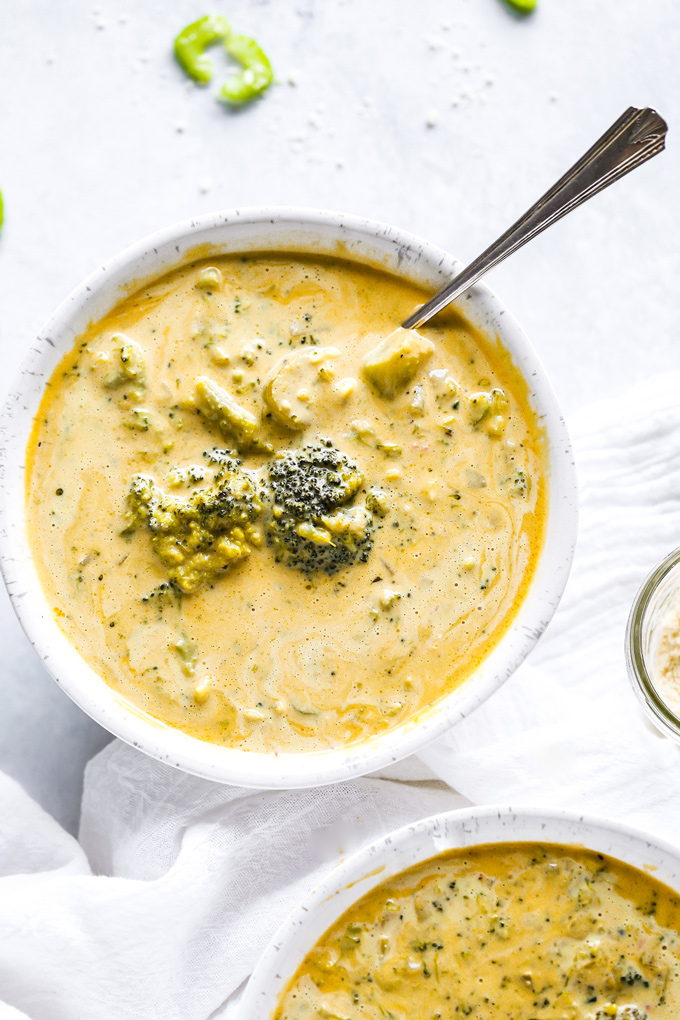 Oh hello lovelies. May I introduce to you Vegan Broccoli Cheddar Soup. Oh and BT-dubs – totes Keto friendly. Oops I…did it again to your heart! Think Britney Spears for that last part, lol.
How can Broccoli Cheddar Soup even be vegan right?! So many ways! And without cheese! Isn't it ironic, dont'cha think? Alanis Morissette I'm rolling with the early 2000 song innuendos. Ok I'll stop now. Maybe. 🙂
For realzzzzz now, this soup is and has all the amazingness in it. Like number one…you guessed it, broccoli (frozen or fresh), then we move on over to celery, some coconut milk, cashews, onions, garlic, veggie broth, some spices, and one of my faves, nutritional yeast. Boom, Bam, Holla.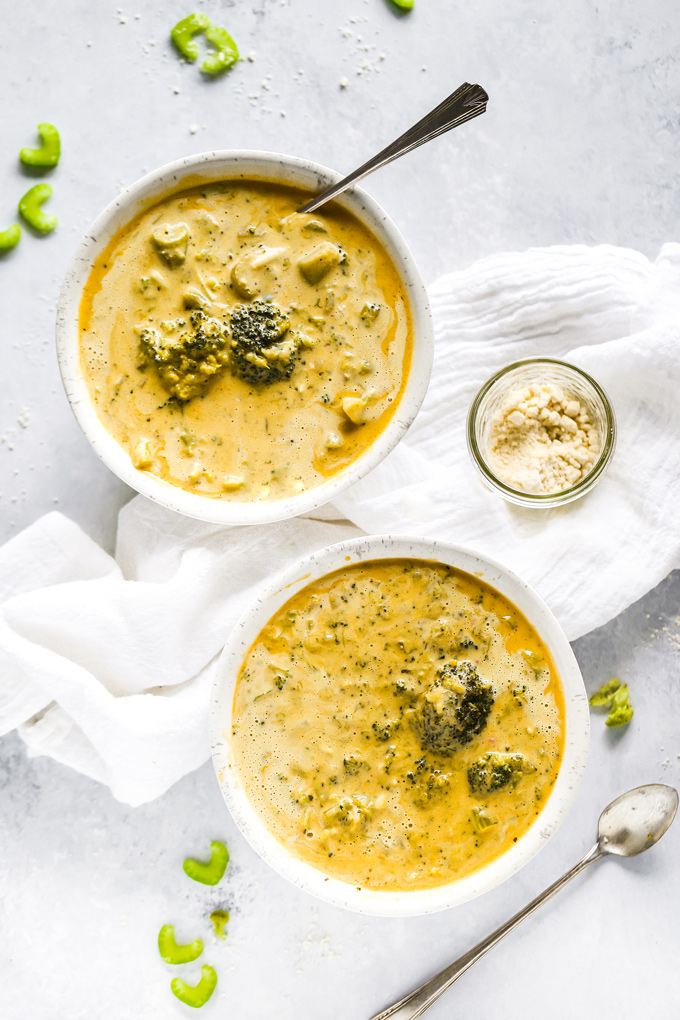 All The Fall Feels
Since this is loaded with all the healthified goodness, you know it's heart healthy, brain healthy, and has all the gut vibe digestive feels healthy too.
No crockpot or slow cooker needed as this will be done and ready to go in 30 minutes. That's it! This recipe makes a nice big batch too so you'll most likely have leftovers and it pairs super nicely with a Vegan Grilled Cheese, so says my hubs and kids. You really can't beat soup and a sammie on a nice fall rainy day now can ya. Living your best life now I see with this recipe, lololol.
Side note, I seriously have the jokes coming in hot today and I'm not even meaning to be funny. I mean I am typically funny but today I'm really on top of my game. At least I think. I'm laughing. hahaha
No but seriously…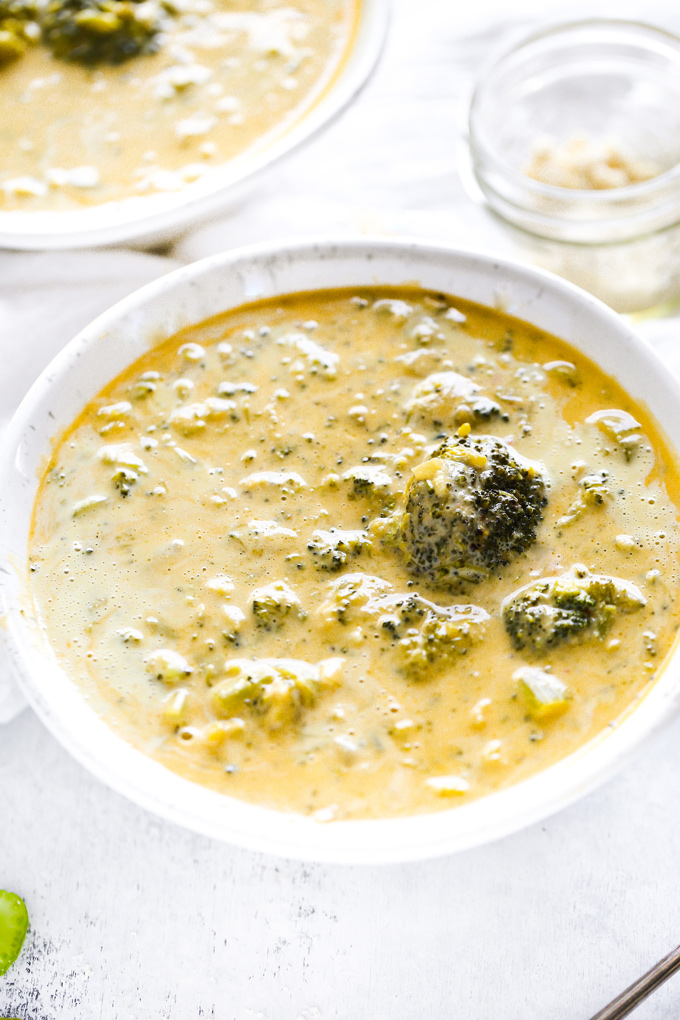 Do you see that broccoli?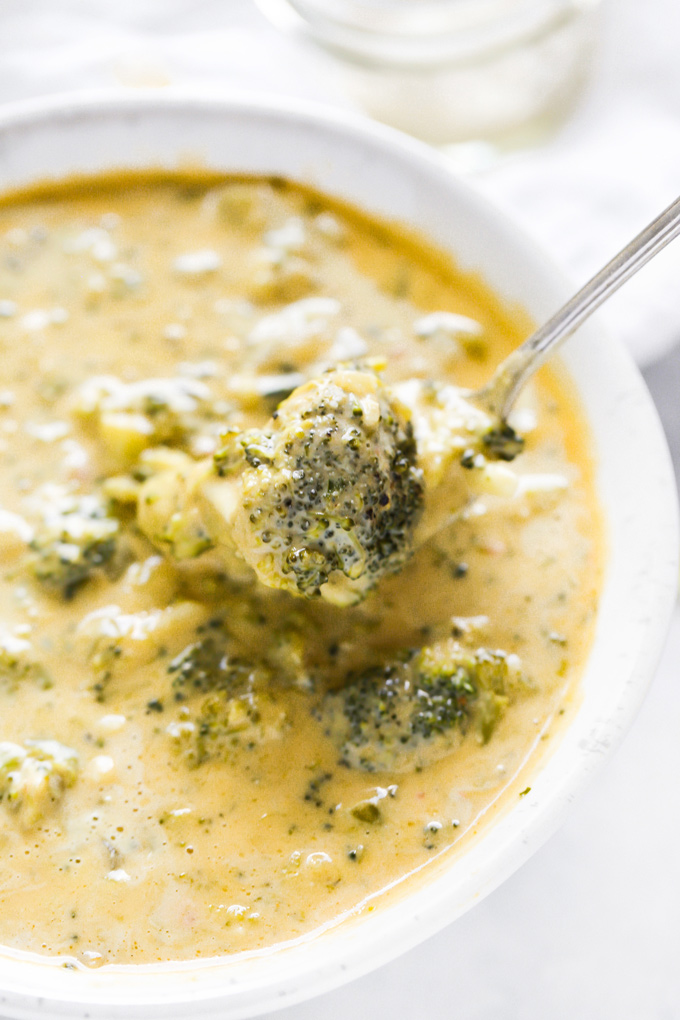 Do you see how ultra creamy, delicious and oh so cheddary this is! Vegan Broccoli Cheddar Soup is 100% fall soup all the way. Made for autumn. *insert falling leaves here*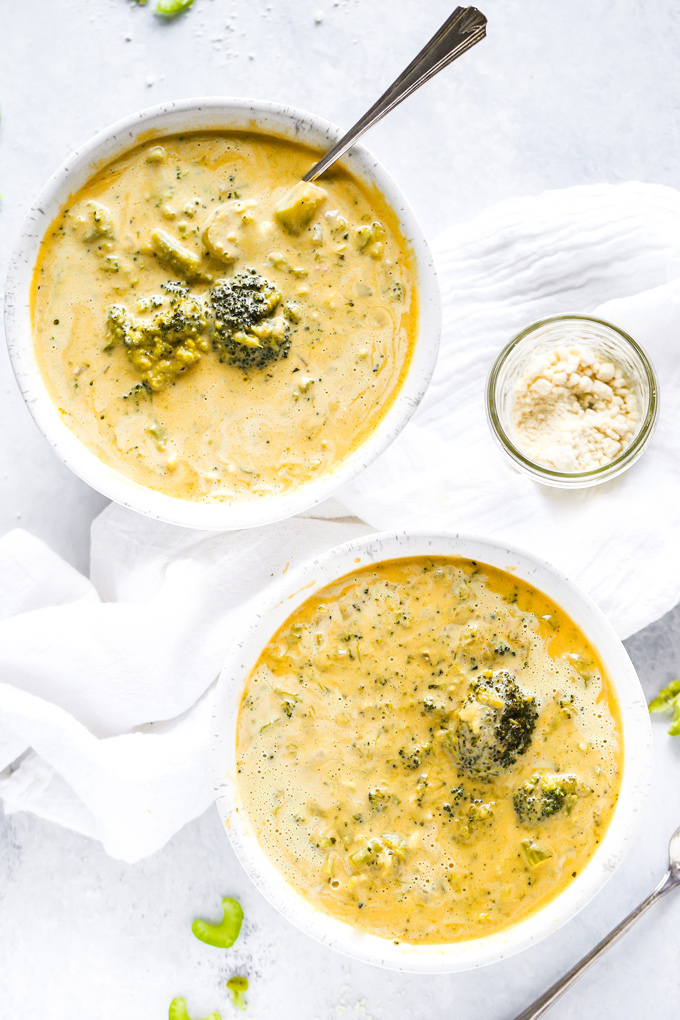 Making It Keto Friendly
If you make the soup as is and measure out all of your ingredients, I calculated that for 1 serving it's 7g net carbs. Here's what you can do to lower that net carb count: decrease the amount of cashews, increase the amount of coconut milk, and add in a bit more water or almond milk (see recipe notes). But I will say that when on Vegan Keto our meals tend to be a little bit higher in net carbs but that's ok. Ideally you want to be eating 3 meals a day (high fat, moderate protein, low carb) with a few snacks in between not going any higher than 30g net carbs. Some people do 20g net carbs. I go in between 20g and 30g each day. Some days are lighter for me than others and that depends on what I'm eating. You have to find what works for you.
Now that we got all the yums out of the way I need not hinder you any longer. We must go and make Soup!
I would also love to know your thoughts if you make this. Tag me on Instagram and show me yo' pics so I can share them in my stories!
If you want more broccoli recipes check some of my faves out below!
Lentil Pasta with Vegan Butter & Garlic Sauce
Broccoli and Quinoa Breakfast Patties
Vegan Broccoli "Sausage" Rice Bake
friendly
Vegan Broccoli Cheddar Soup
Cozy, warming and loaded with healing foods like broccoli, celery, and cashews. So creamy and full of cheddar flavor!
Ingredients
6 grams garlic, (about 4 cloves, minced)
62 grams white onion, (half of an onion)
2 tbsp avocado oil
136 grams celery, (sliced)
379 grams broccoli florets, (4 cups, frozen or fresh. See notes)
443 grams vegetable broth, (2 cups)
3/4 cup full fat coconut milk, (unsweetened, 157g)
1 cup almond milk, (unsweetened, 240g)
1/4 cup water
3/4 cup cashews, (110g)
2/3 cup nutritional yeast, (43g)
salt/pepper to taste
Instructions
In a large soup pot ,on low to medium heat ,add avocado oil, minced garlic, chopped onions, celery, season with salt and pepper and cook until translucent about 5-7 minutes.

I used frozen broccoli for this and steamed it before hand. If you're using fresh broccoli you do not have to steam it as it will cook in the soup. If you're using frozen broccoli steam it for 10 minutes.

When the celery, onions and garlic are translucent add in the broccoli and vegetable broth. Once it reaches a boil, lower the flame down and let it simmer.

In a blender add in the coconut milk, almond milk, water, cashews, nutritional yeast, salt/pepper and run until super smooth and creamy. You may have to stop and scrape down the sides a few times.

Add in your cheddar cheese sauce to the soup pot with the broccoli and vegetable broth. Cook until completely warmed through. Season with salt and pepper to your liking.

Serve right away and enjoy and keep leftovers stored in the fridge in an air tight containter.
Topping Suggestions
Top with vegan parmesan, vegan mozzarella shreds, roasted red pepper flakes or vegan bacon bits. Even a dollop of vegan sour cream is amazing, and is oddly like eating a baked potato. (The toppings do not reflect the net carb count I mentioned in the post)
Notes
To make this more Keto friendly and to lower the net carb count, use 1/3-1/2 cup of cashews and up your coconut milk to 1 1/4 cup. Use 1/2 cup water instead of  1/4 cup and do 1.5 cups of almond milk instead of one cup. Adjust consistency as needed and taste and season as you  go. I like things on the saltier side.
~Pin This Recipe~