Maple Walnut NOatmeal (Oat Free Oatmeal)
jump to recipe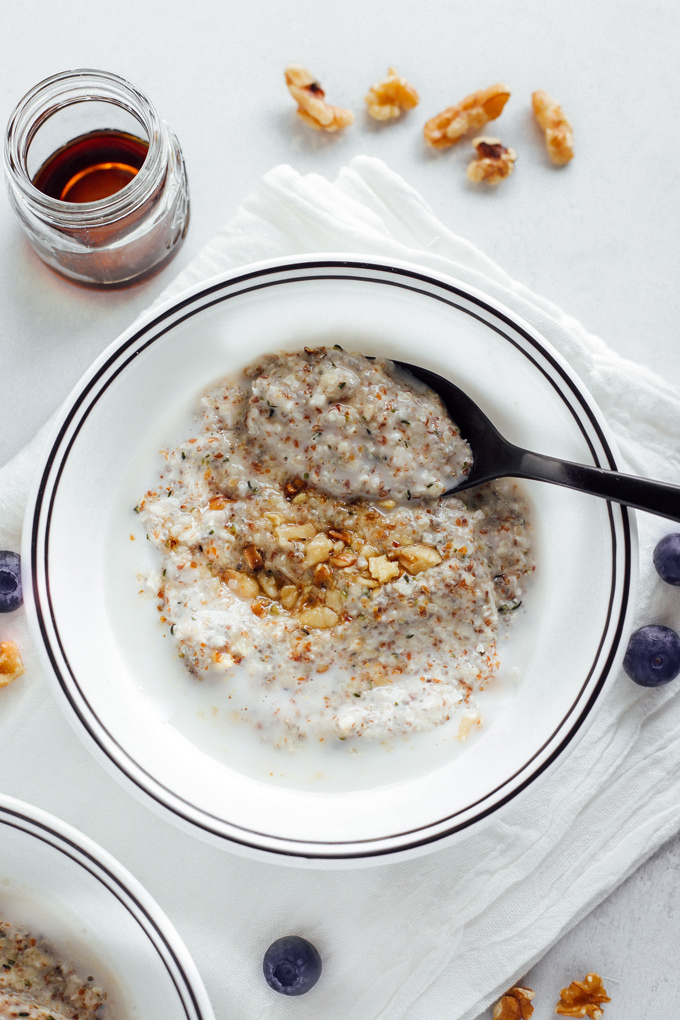 This post contains affiliate links in which I may make a small commission. I appreciate your support in this way.
You guys! This Maple Walnut NOatmeal (Oat Free Oatmeal) is a game changer. Especially if you're looking to do more low carb but still love oatmeal, you don't have to give it up! This version will satisfy you when you're craving a warm hearty breakfast. This is creamy and has all the nutrients you could ask for. On top of all this amazingness this also happens to be sugar and gluten free. And if you have a nut allergy, I have a sub for that too. With this breakfast, I've got you covered.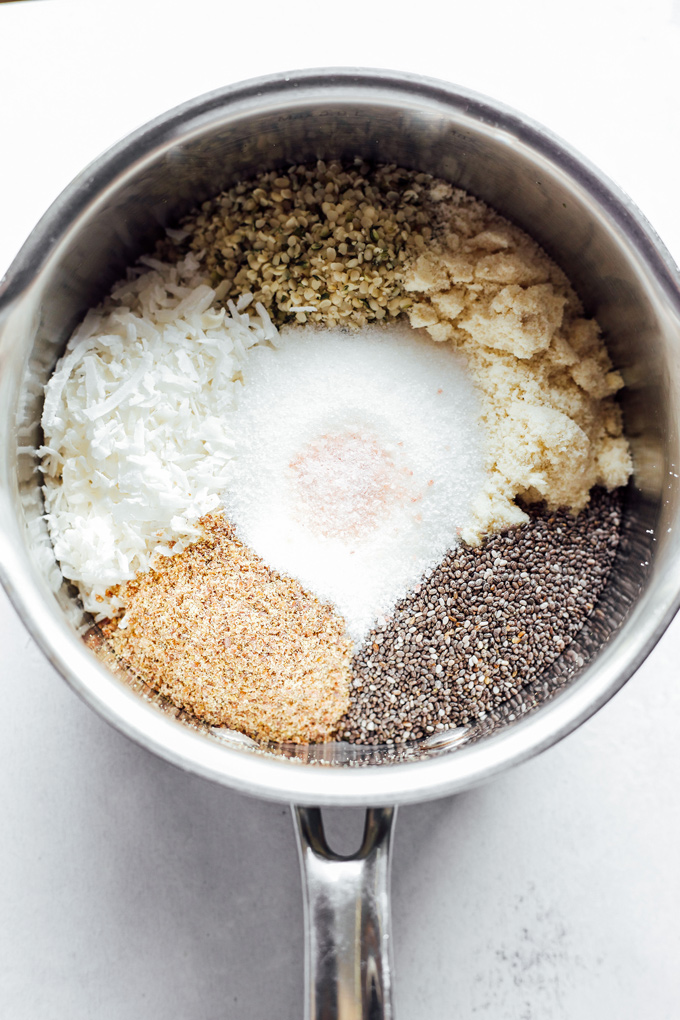 Essentially it's a porridge. It's very popular in the paleo world and I'm surprised it's not as big of a hit in the vegan world. This is great for anyone who has digestive issues and wants to avoid foods that cause inflammation throughout the body.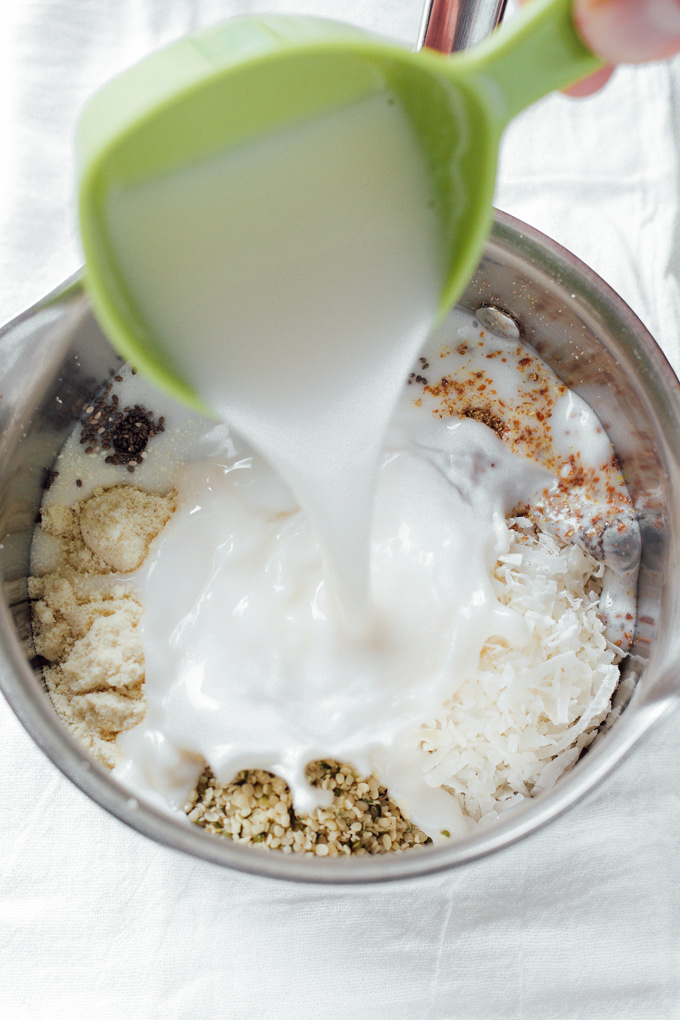 This is full of essential vitamins and minerals and a great source of omega fatty acids thanks to the chia seeds, flax meal, and hemp seeds. It's also full of fiber which is an A+ in my book. We like to keep things moving down in the GI tract.
This is sweetened with monk fruit sweetener which is a proprietary mixture of the highest purity monk fruit extract & Non-GMO erythritol. It's a perfect sweetener for blood sugar and weight management. It has zero calories and is low on the glycemic index.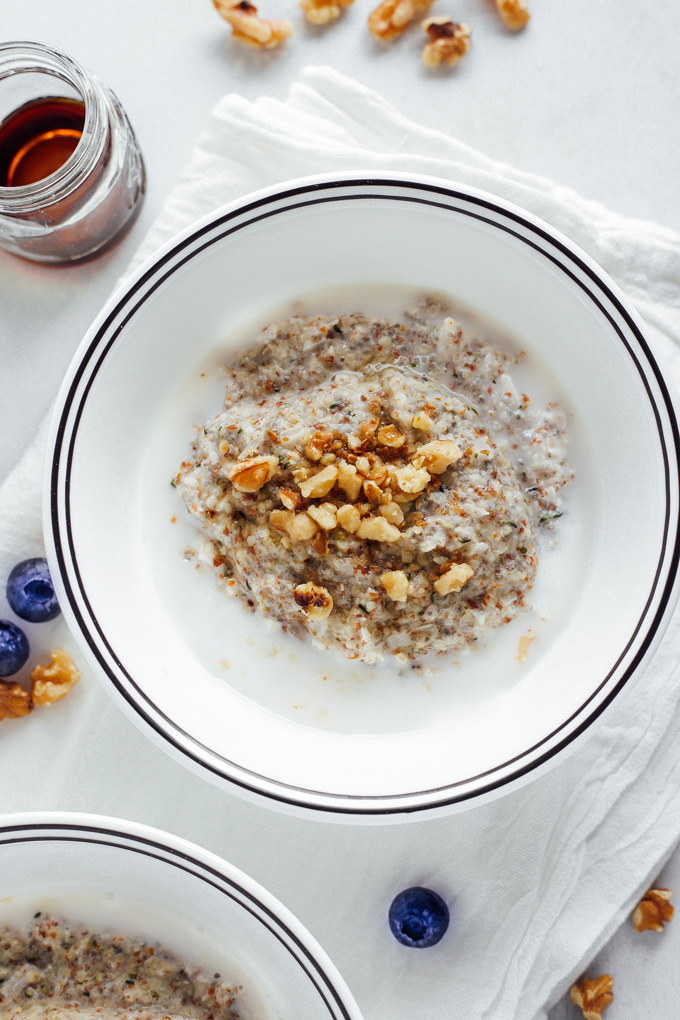 I've been recently dabbling in keto (ketosis) but vegan keto which is a little more difficult than the traditional keto that's made up of meat and dairy (but that's another blog post). I wanted to cut back a bit on carbs and everyone I know has been raving about keto so I figured I'd give it a go to help me shed some baby weight. But I also want to keep it healthy so I'm finding a balance for myself. I can't say goodbye to bananas forever.
So with a little research I found some vegan keto groups that I've been getting recipe inspiration from. For instance, just recently I discovered they make jackfruit, carnitas style, in my local health food store. I paired it with butter lettuce, vegan cheese and vegan sour cream. It was sensational. I'll be posting that recipe soon.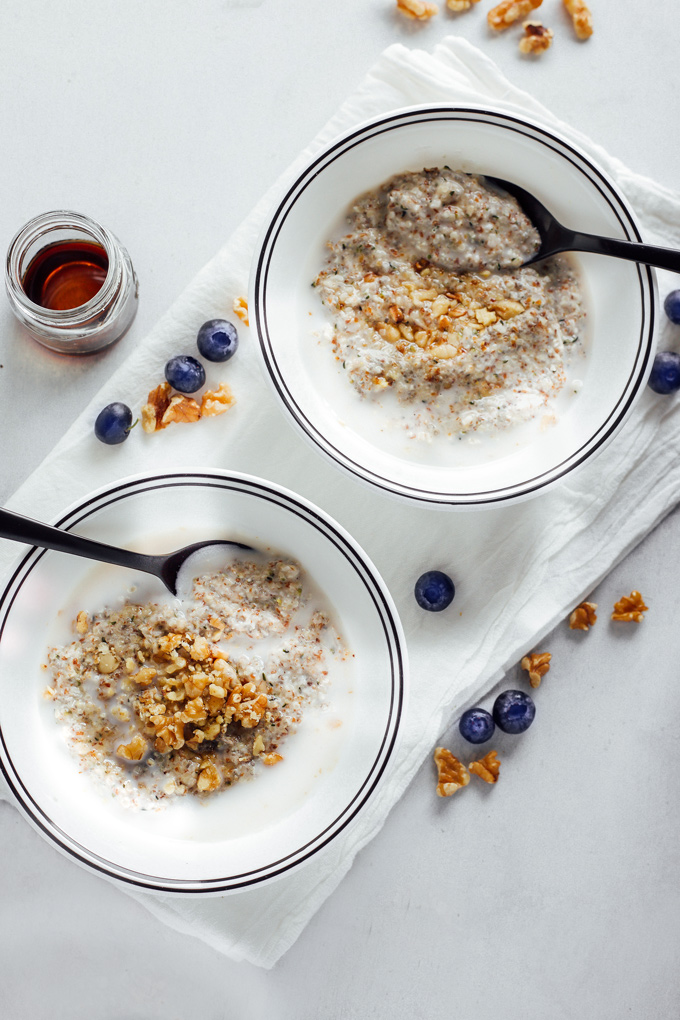 What I really like about this is that I can make it in the morning, it takes literally 5 minutes, or I can prepare it at night and it gives me and overnight oats feel. You can always warm it up but I like making extra and keeping it in the fridge as an afternoon snack. If you are counting net carbs (keto thing) it's only 3 net carbs. But this all depends on which brands you use to make this. So I may use one brand of hemp seeds and you may use another. It shouldn't be off by much at all because hemp seeds are hemp seeds but it can be slightly off. So still log in your meals as you would to track your macros and see where this is at. Because of the high fiber content it brings down the carb count by a lot making it 2 to 3 net carbs.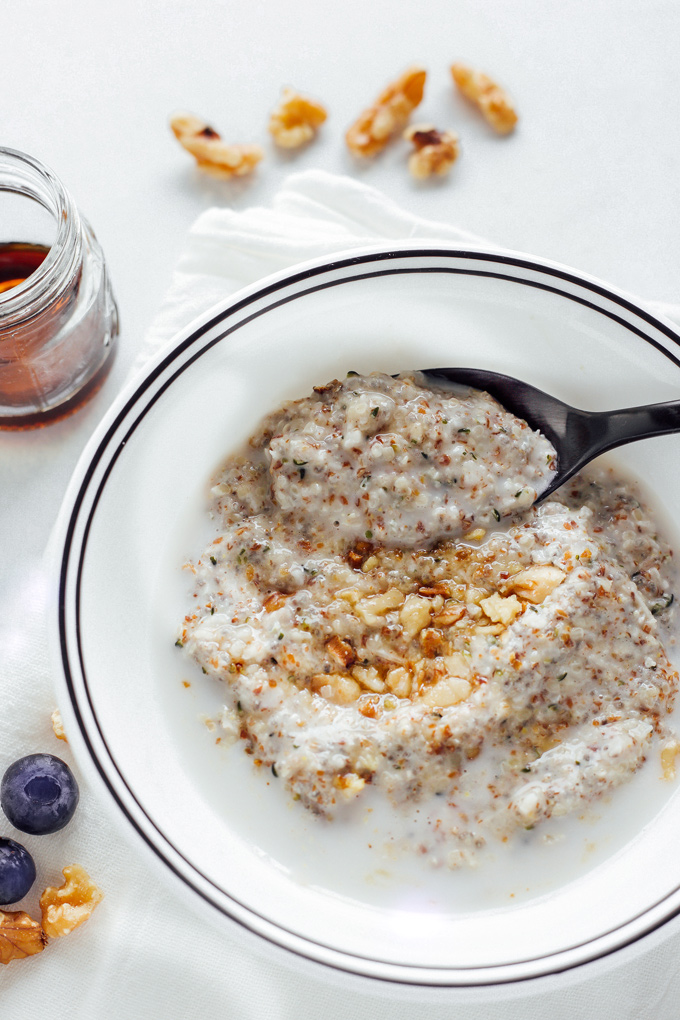 This is the basic version of this recipe. You can spruce this up anyway you like. You can make different variations using nuts and seeds or you can keep this one and just switch up the toppings which is what I find myself doing most of the time. My favorite lately has been the maple walnut combo because I really like the sweetness the maple syrup adds and I really like maple syrup with walnuts. You can do fruit, a tbsp of almond butter or peanut butter. If you want to stay low carb add just a few berries like raspberries, strawberries, blackberries, or blueberries. If you're not following a low carb you can top it with bananas (my son's favorite), apple slices, peaches, mangos, etc. Feel free to get creative.
I like to add a bit more almond milk once it's in the bowl because I like it super creamy. Feel free to use any nut milk, like coconut is a good one.
If you have a nut allergy and can't use the almond flour that's in this recipe, you can sub brown rice flower to keep it gluten free. If you're not gluten sensitive you can use any flour you want just keep in mind that the carb count will go up tremendously and it will no longer be considered a low carb, keto friendly meal.
Be prepared for more low carb vegan recipes to come!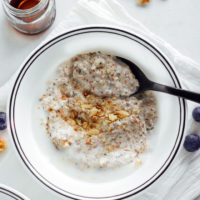 Maple Walnut NOatmeal (Oat free Oatmeal)
This is the creamiest, warmest oat free oatmeal ever! It's easy to make, high in fiber, low carb, and keto friendly. 3 net carbs per serving.
Ingredients:
1 cup almond milk (plus extra to top)*
4 tbsp hemp seeds
4 tbsp almond flour*
4 tbsp shredded coconut
2 tbsp flax-meal
2 tbsp chia seeds
2 tbsp monk fruit sweetener*
1 tsp vanilla extract
pinch of pink Himalayan salt
1 tbsp maple syrup
handful of chopped walnuts
sprinkle of cinnamon (optional but recommended)
Directions:
Add all ingredients (except maple syrup, walnuts, and vanilla extract) to a medium size sauce pan over medium to low heat.
Mix well. It will start to thicken up right away but keep stirring until it's warmed through no more than 5 minutes.
Remove from heat and stir in the vanilla.
Pour into bowls and top with extra almond milk, maple syrup, and chopped walnuts.
sub almond flour for brown rice flower if you have a tree nut allergy.
sub monk fruit sweetener with sweetener of choice.
sub almond milk with any milk of choice.
top with blueberries, raspberries, blackberries, or strawberries to keep the carb count low.
Recipe adapted from healthysweeteats.com.
~Pin for Later~