Almond Cookies Dipped In Dark Chocolate (Vegan – Sugar free)
jump to recipe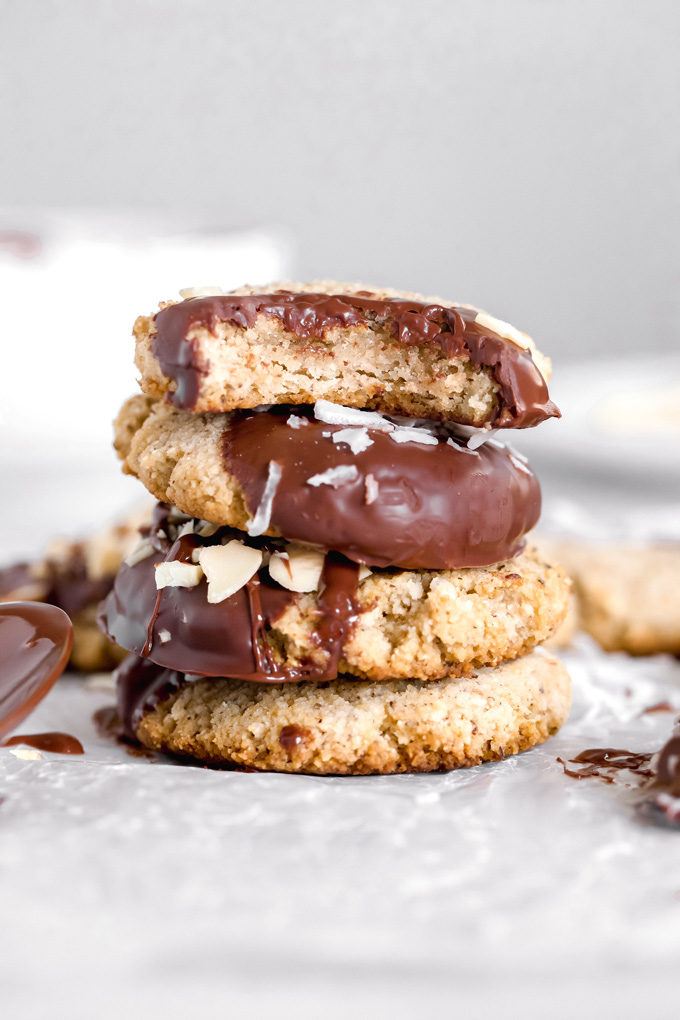 This post contains affiliate links in which I may make a small commission. Opinions are in no way influenced by compensation. You can read our full disclosure policy for more information.
Recipe Video Below!
I LOVE to snack, like truly, it's one of my favorite things. To be honest I haven't really met anyone who didn't enjoy a little snack time. And because I know what a hard core snacker I am I do my very best to keep healthier snacks on hand in my house otherwise I can't be trusted. These Almond Cookies Dipped In Dark Chocolate (Vegan – Sugar Free) are my go to for when I want cookies and chocolate at the same time. (trust me, it happens) I couldn't of made this happen without Lakanto's Dark Chocolate Bar sweetened with monkfruit making these babies (in their entirety) not only vegan but gluten free and sugar flipping free!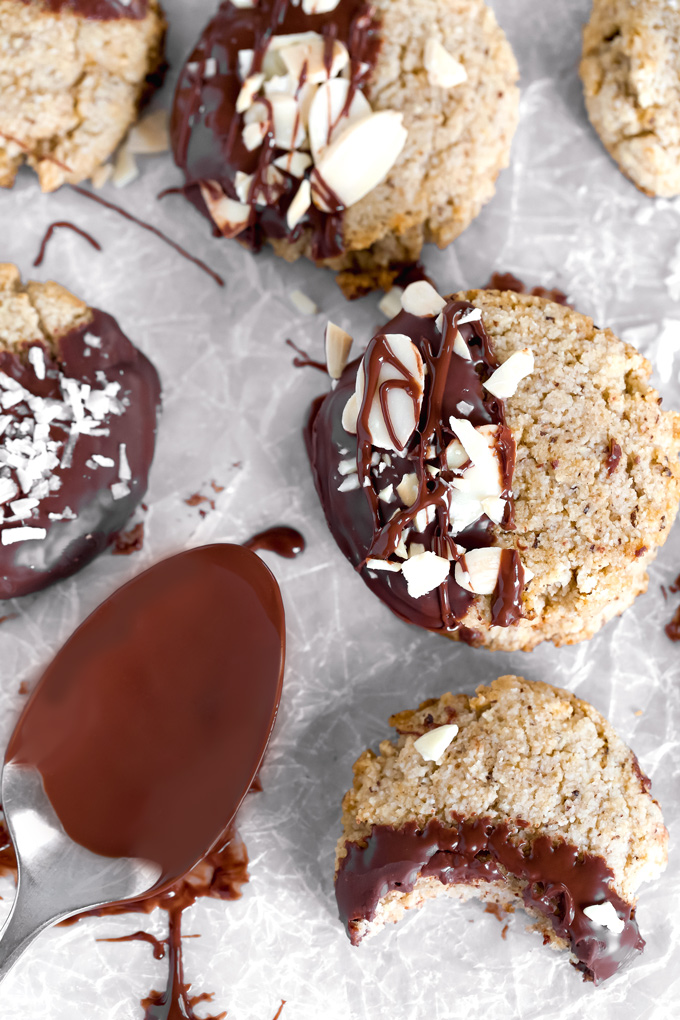 Refined sugar is super addicting and wreaks havoc on the body in so many ways. I'm so happy to now have this sugar alternative so I can make all the treats, snacks, and bakes I want without sacrificing texture, flavor, sweetness, and most importantly, MY HEALTH! Lakanto's Monkfruit is an equal substitution too so there won't be any crazy measurements. I'm going to give you the lowdown on this sweetener and why I only use mostly this now. Although I do love maple syrup and coconut nectar, this by far takes the cake for me when sweetening things up in the kitchen.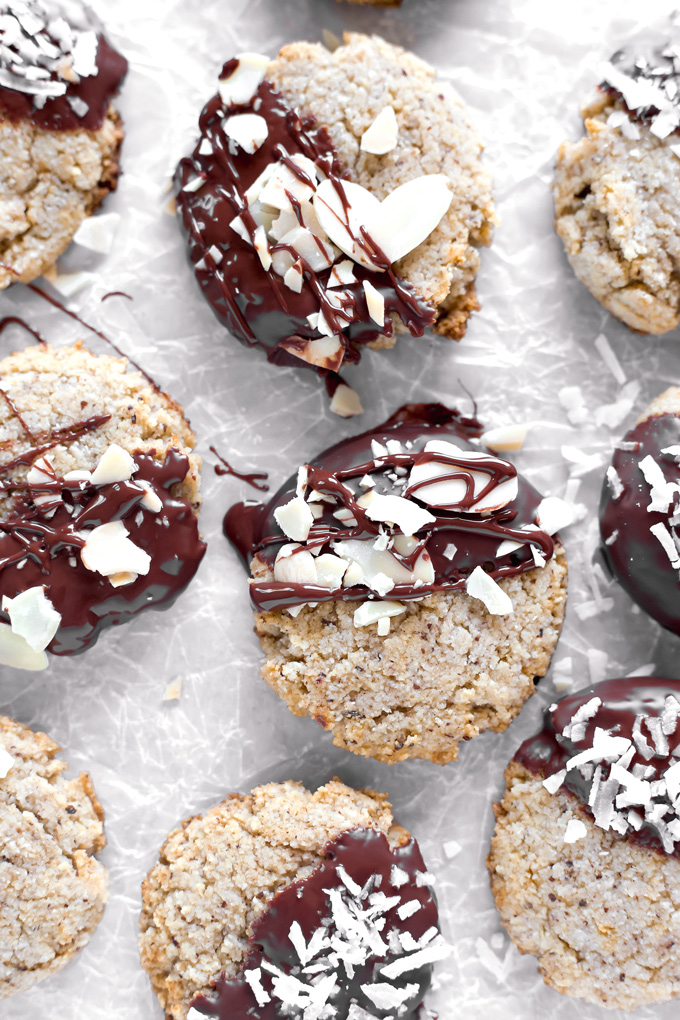 ABOUT LAKANTO MONKFRUIT SWEETENER
ONLY all natural, zero calorie, zero glycemic sweetener. Lakanto Sweetners are sugar free and have none of the bitter chemical after taste like Stevia and Xylitol.
PROPRIETARY mixture of the highest purity Monk Fruit extract & Non-GMO erythritol. Lakanto is a perfect sweetener for blood sugar and weight management.
1:1 SUGAR REPLACEMENT – Unlike monk fruit in the raw that has a light yeast flake feel; Lakanto has a perfect mix of monk fruit and erythritol (naturally found in many fruits and vegetables) to match the sweetness of sugar and maintain 1 for 1 sugar replacement.
ZERO EFFECT on blood sugar or insulin levels, making it a great sweetener for blood sugar and weight management. Ideal for sports enthusiasts, ketosis diets and those trying to watch their sugar consumption.
CLASSIC & GOLDEN | Golden Lakanto is a brown sugar substitute and the Classic White is a white sugar substitute. They use Non GMO Eurythritol and they don't use Xylitol that can cause gas.
DESCRIPTION
Lakanto Monk Fruit Sweetener is the only zero calorie, zero glycemic sweetener that is just like sugar without the bad side effects. It is made from Monk Fruit which was used for centuries in eastern traditional herbalism to increase chi and well-being, earning it the nickname "The Immortals' Fruit". They still grow and harvest Monk Fruit for LAKANTO® in the same pristine area and according to traditional and environmental methods.
IMPORTANT INFORMATION
Ingredients
They use only Non-GMO erythritol and Monk Fruit extract.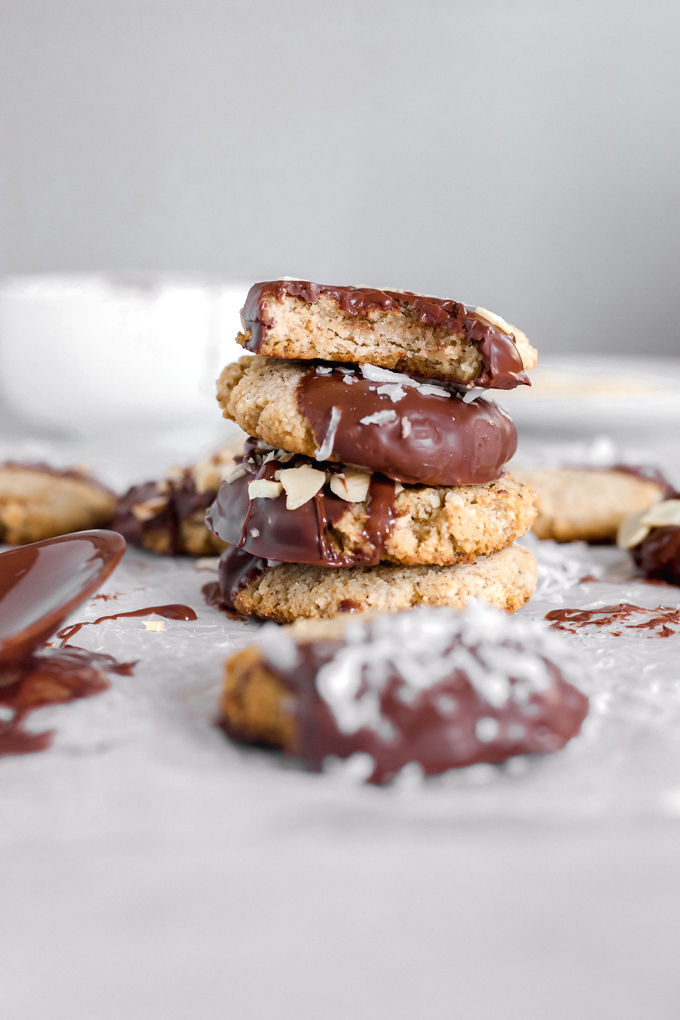 So the other day on my IG Stories I was venting about how nothing fits me post baby and one of my friends said "When a cookie calls it's rude not to answer" and I literally laughed out loud. It went from 30 degrees out to 75 over night and I had nothing to wear that I would have felt comfortable in. I am soooo not ready for summer just yet. I'm taking the rest of winter and all of spring to bounce back as much as I can. But on my way back to my pre baby bod I can't not have some sweets. That's just crazy right!? And since we all know sugar is the enemy, the trouble maker, losing weight with a diet full of it is nearly impossible. This gives me so many options. Like just check to these cookies! Ah-mazing right!
I put this video together of how I made these cookies using Lakanto Dark Chocolate and Lakanto Monkfruit Sweetener. You can see first hand how it works and creates an amazing, sweet little snack that ideally no one would really know the difference if you didn't tell them!
I've made a promise to myself, to you guys, and to the integrity of my website that I am going to partner with only trustworthy, ethical companies that we can all feel good getting behind and supporting. I think it's really important to know how are food products are made, where they come from, and overall to trust the source.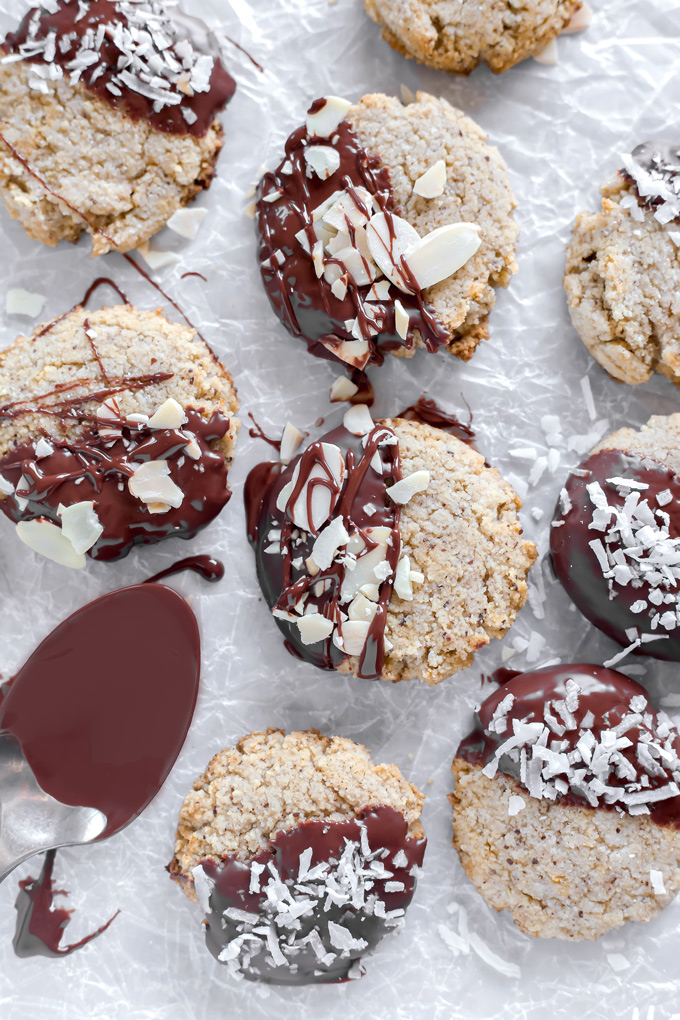 Ok, now you've got the complete lowdown on my new fave product. If you want more recipes that are made with Lakanto's Monkfruit Sweetener check out my Vegan Cookie Dough Cheesecake Bites, Vegan Coconut Macaroons, or my Maple Walnut Noatmeal (Oat free oatmeal). All are To.Die.For.
Check out all their amazing products from dark chocolate bars to maple syrup here. Use code neuroticmommy for 20% off your purchase!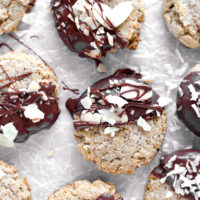 Almond Cookies Dipped In Dark Chocolate (Vegan - Sugar Free)
Where chewy cookies meet dark chocolate for an awesomely sweet sugar free snack you can feel good about! Recipe video above!
Ingredients:
2 cups almond meal
1/2 tsp baking soda
pinch of salt
pinch of cinnamon
1/4 cup Lakanto Monkfruit Sweetener
4 tsp coconut oil, melted
4 tbsp almond milk
1 flax egg
1 tsp vanilla extract
1/2 tsp almond extract
Topping
Directions:
Preheat oven to 350F and line baking sheet with parchment paper.
In a large bowl combine all ingredients except for the toppings. Mix well.
Take double tbsp size portions, roll into a ball and place on baking sheet. Alternatively you can use a cookie scoop of 1tbsp portions (cookies will be slightly smaller).
When all cookies are on baking sheet, slightly flatten with the palm of your hand.
Bake for 15 minutes or until slightly golden on edges.
Remove from oven and let cool completely before dipping them in chocolate.
While the cookies are cooling melt down dark chocolate using the double boiler method of in the oven. I don't use a microwave so I can't tell you how many minutes for that.
Once the chocolate is melted and cookies are cooled line a cookie rack or cutting board with parchment paper and make room in your freezer. Dip one side of the cookies in the melted chocolate, sprinkle with either coconut shreds or almond slices, then place in the freezer to set for 5-10 minutes.
Remove cookies from freezer and enjoy right away with some almond milk or store in an air tight container. Will last up to a week. Enjoy!
This post contains affiliate links in which I may make a small commission. Opinions are in no way influenced by compensation. You can read our full disclosure policy for more information.
~Pin this Recipe~