Roasted Cauliflower Cabbage Wraps
jump to recipe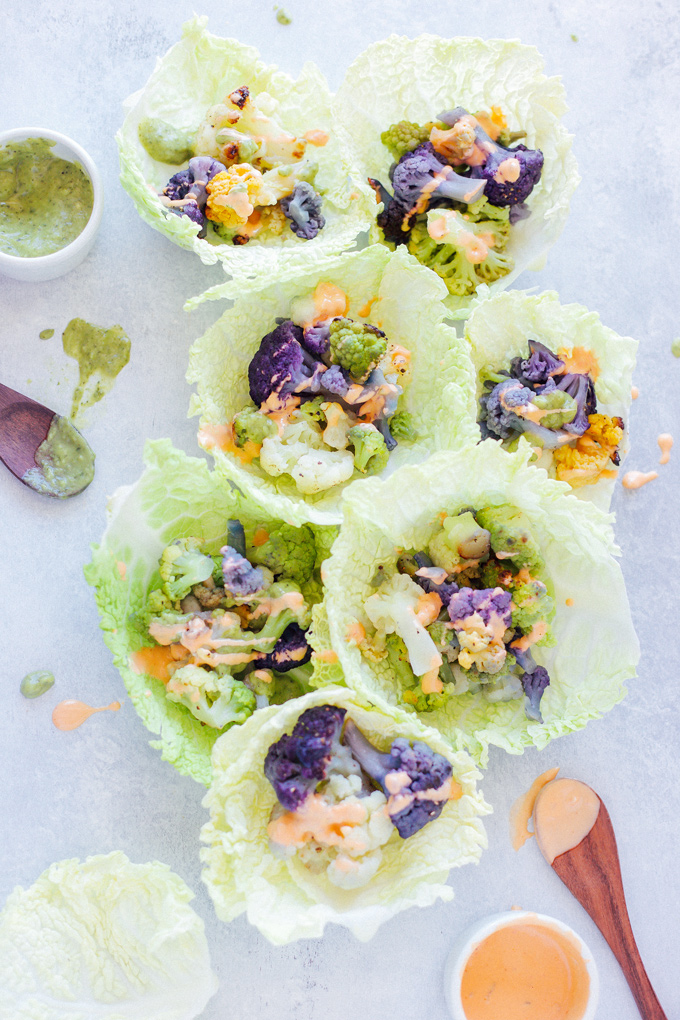 A few weeks ago I signed up to take a course on Energy Medicine. It's been a calling of mine since I was a little girl. I've always "felt" energies. What has held me back my entire life (up until now), was the fear of bringing in or inviting unwanted energies. Growing up I was afraid of porcelain dolls and I still don't watch scary movies till this day because they will keep me up at night and give me nightmares. But now that I am older I know better about such things and I know I am loved and protected by source; God and the Angels.
The reason I'm bringing this up is because during my course so far I've learned how to test my body for foods that are good for it, neutral, or that are just terribly wrong for it. It's something we all can do and I'm going to share a little exercise with you here! These Roasted Cauliflower Cabbage Wraps are not only healthy (obviously) but they really are actually good for my body. Cabbage and cauliflower are both highly beneficial to me and now you can check to see if they are for you too!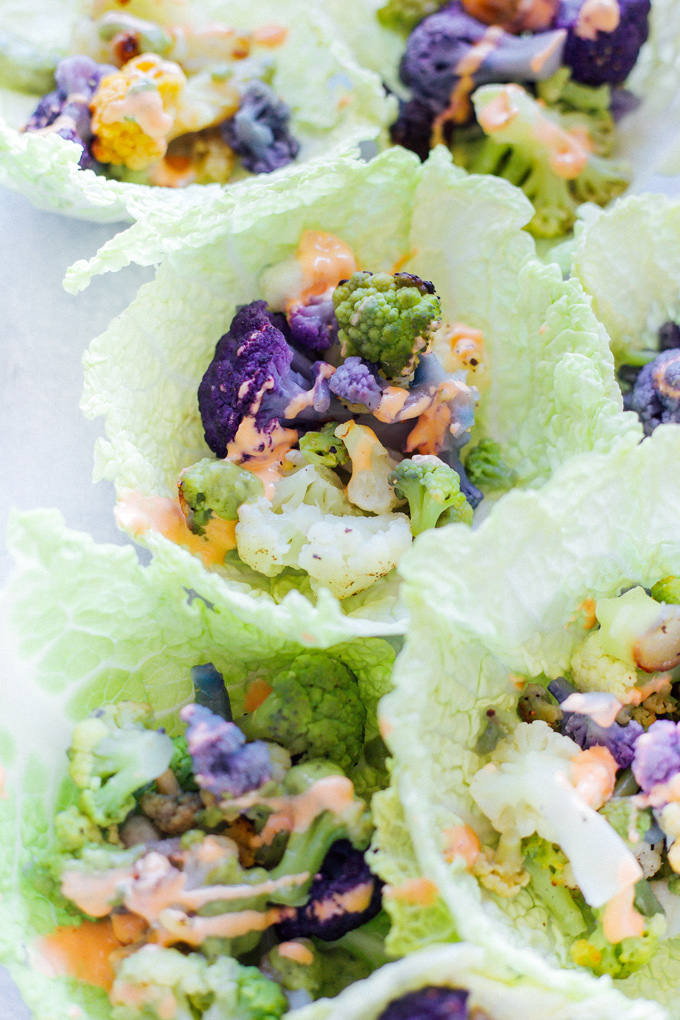 I learned this from Donna Eden. She is a renowned Energy Healer and Teacher. I respect and admire her work and feel privileged to be learning under her and her husband David.
THE FOOD TEST
This organic rainbow cauliflower is absolutely gorgeous isn't it along with the savoy cabbage. It's probably one of the simplest things I make but also one of the tastiest.
So how you test to see if a food is right for you or not is you start by standing up nice and straight. I'll use cauliflower as a reference but use whatever food you like. Take a piece of cauliflower (cooked or not) and place it in your right hand. Close it into a fist and hold against your stomach it in front of your belly button with your left hand over your closed right hand. Take a deep breath and feel your body, pay attention to it. If you sway towards the back it's not the best choice for you and if your body leans forward to the front then it's a go ahead. And if nothing happens then it's neutral and doesn't do anything good or bad for you.
You can test this out holding an organic fruit like a banana or orange and see how your body reacts and then you can hold a piece of plastic or something that's not healthy just so you can see, feel and understand for yourself how the body responds because everything is energy. If you test this out report back here and let me know how it went! 🙂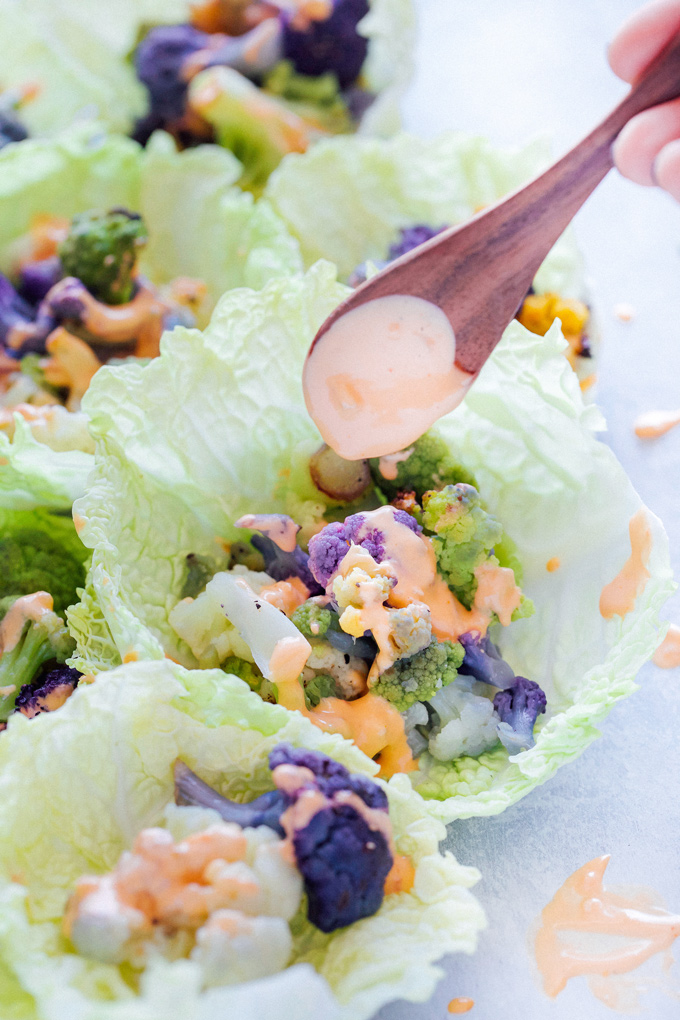 Since I've learned this I've been testing it on everything. People once looked at me weird for standing in the isles too long in the grocery store reading labels, now I'm energy testing my food so I could only imagine what they're thinking now…hahaha. But it's all for the greater good.
My husband lets me practice everything I learn on him and then I teach it to him and my son. My son is so intrigued by it. I think it's a really great tool for kids especially because they're much more attuned than we are as adults.
You don't have to try this at all either if it's not your thing. I just wanted to share with you what I've been up to and what's been inspiring my food posts lately. Since I've been testing my food I feel a lot better and lighter. Lighter is always a plus.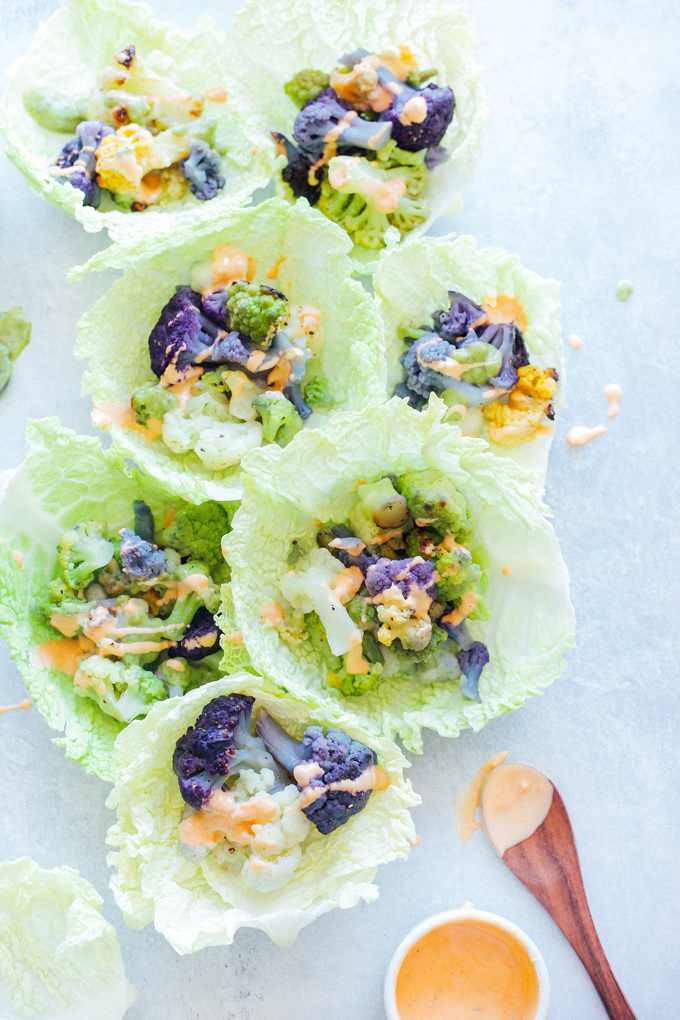 For this recipe you'll need a head of savoy cabbage or any cabbage you like, a bag of organic rainbow cauliflower (I found mine at Trader Joe's), or you could use regular cauliflower too, no biggie. (You know what would be good in these Roasted Cauliflower Cabbage Wraps? My Roasted Radish recipe! All the yums.) Then as dressing I used a vegan Thousand Island or you can make a vegan avocado cream. Ooor have both on hand like I did because both are totes delish. You're going to love how easy and tasty these are all while looking totally fab. Also don't stop at cauliflower, add in as many veggies as you'd like or use a different veggie all together!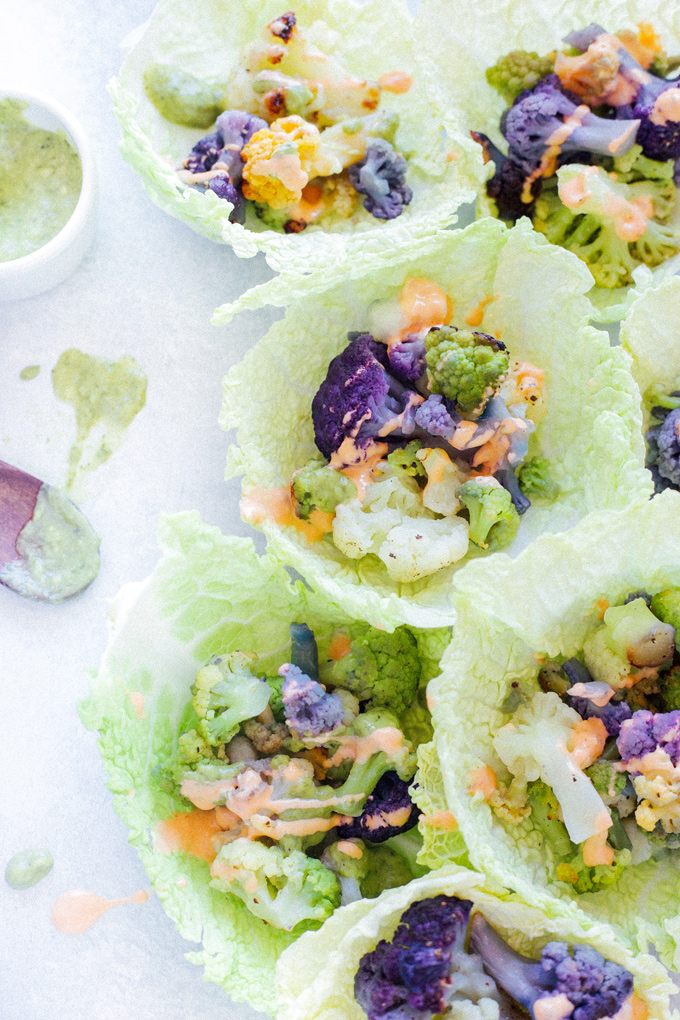 Are you interested in hearing more on my journey with energy medicine or is this something you yourself are interested in and have always had a calling? Drop me a line below and lets chat!
Want more wraps? Check out these posts:
Mashed Lentil Wrap Loaded With Veggies
Buffalo Chickpea Pinwheels With Vegan Blue Cheese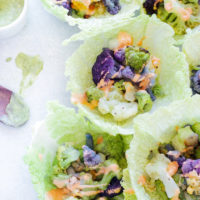 Roasted Cauliflower Cabbage Wraps
Ingredients:
Directions:
*This site is not intended to provide medical advice. All content, including text, graphics, images and information on this site are for general informational and educational purposes only. The content on this website is not intended to be a substitute for professional diagnosis or treatment. The author and publisher of this site are not responsible for any adverse effects that may occur with the use of the information on this site. You are encouraged to make your own healthcare decisions based on your research and in partnership with a qualified healthcare professional.
~Pin This Recipe~