Chocolate Chia Pudding with added Fiber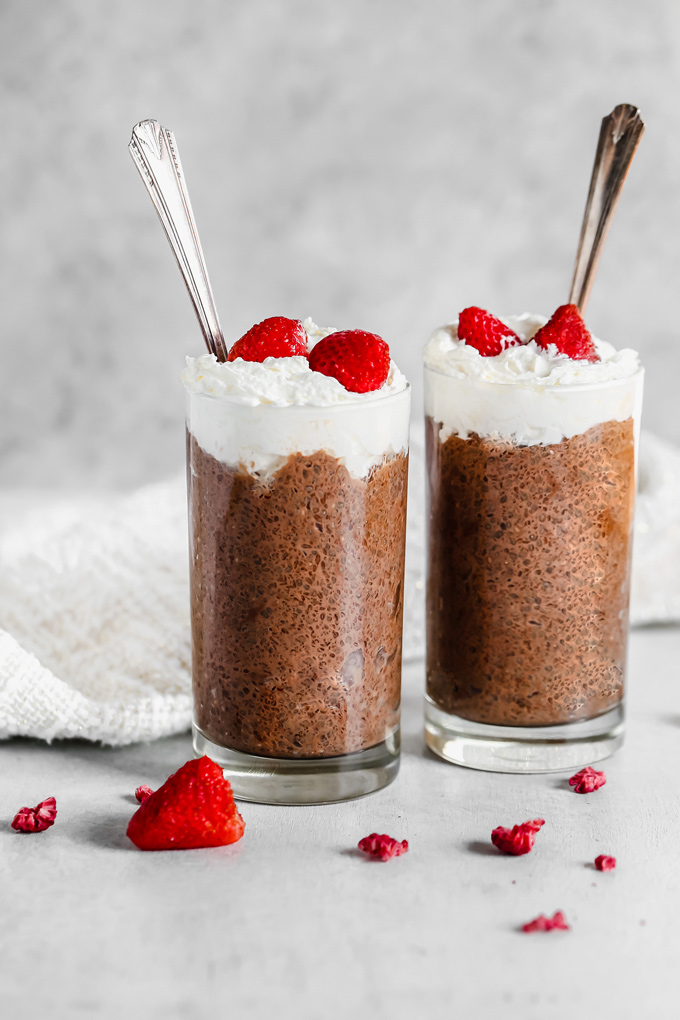 You could never go wrong with chia pudding. Especially Chocolate Chia Pudding with added fiber. Made with unsweetened almond milk and cacao for your chocolate super food pleasures, this is deliciously perfect for breakfast or as a snack. Preferably with homemade coconut whipped cream as you see pictured here.
The added fiber comes in the form of Psyllium Husk. Chia Seeds carry fiber all on their own but most people aren't getting enough fiber through their diet alone so this is a good way to ensure that you do. More information on this below.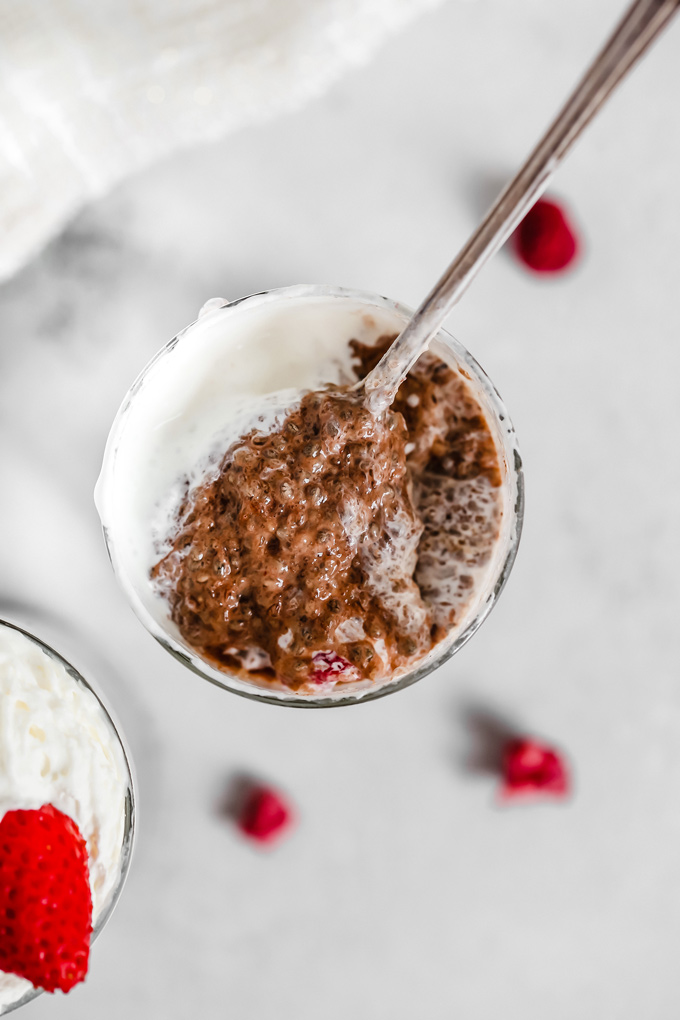 So What is Psyllium Husk
Psyllium is a soluble fiber that comes from the Plantago Ovata and is grown in the rolling fields of the Gujarat and Rajasthan regions of India. The name psyllium comes from the Greek word "psulla", which means flea, because seeds on the plant resemble clustered fleas. Each plant produces about 15,000 tiny seeds according to the International Journal of Science and Research. It comes in the form or husks, granules, powder, or capsules.
For this recipe I used Psyllium Husk Powder and it doesn't affect the taste what so ever. I do like the nice thick consistency it gives the pudding though, it's almost like a mousse but that's just an added bonus to what this has to offer.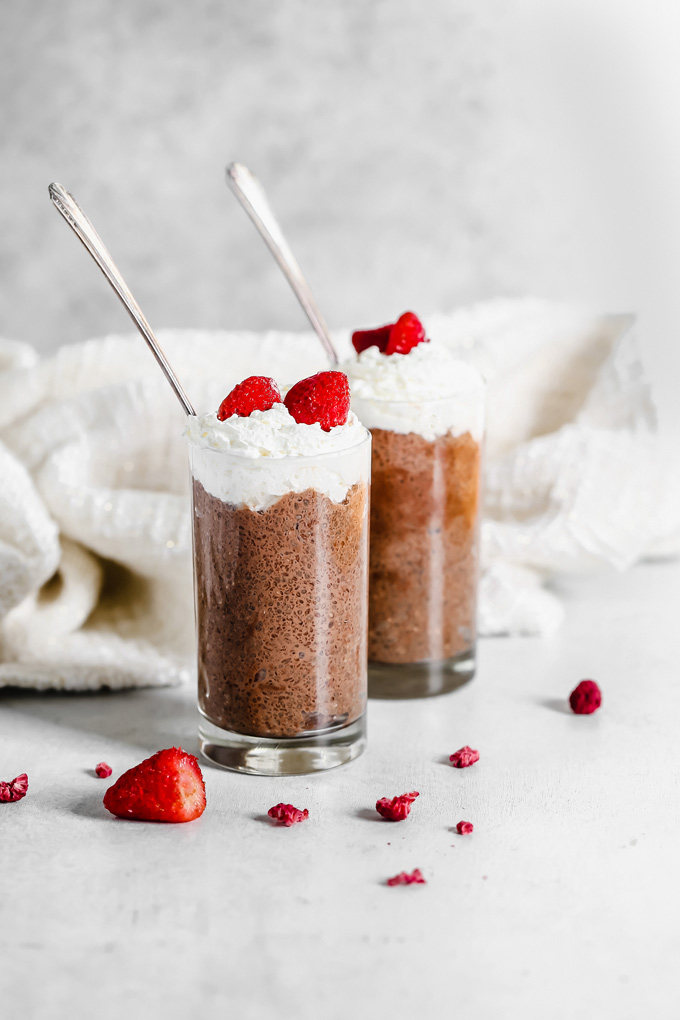 Relieves Constipation
Helps lower blood sugar levels
Aids in weight loss
Can lower cholesterol levels
Heart healthy
Has prebiotic effects
Safety
While eating enough fiber is healthy and we all want a steady flow of elimination, you don't want to overdo it with fiber either because then it can cause unwanted digestive issues. Most people won't have an issue with psyllium husk, it's generally tolerated well. But 1 tbsp a day of Psyllium Husk is sufficient and I wouldn't do more than that with adding it to anything else. Don't forget, you'll also get fiber from the rest of your diet or the foods you eat.
You don't want to use this as a laxative either although some people do. I wouldn't suggest that unless you really needed to then you should consult with your health care professional and get their take on it. This goes for any time you're adding supplements to your diet or switching things up. It's always good to just double check make sure all is good to go.
Another thing that's super important is you must make it a point to drink water. Be diligent when you eat things like this Chocolate Chia Pudding with added Fiber. Chia seeds hold up to 9x their volume in water weight and psyllium husk doubles in size and swells. They both form into a gel like substance inside your intentional tract. It makes you feel full longer but also scrapes down the unwanted sludge from inside that's been stuck there. However if you don't drink enough water you will just feel bloated and that's never a good thing. Water is key in keeping things moving.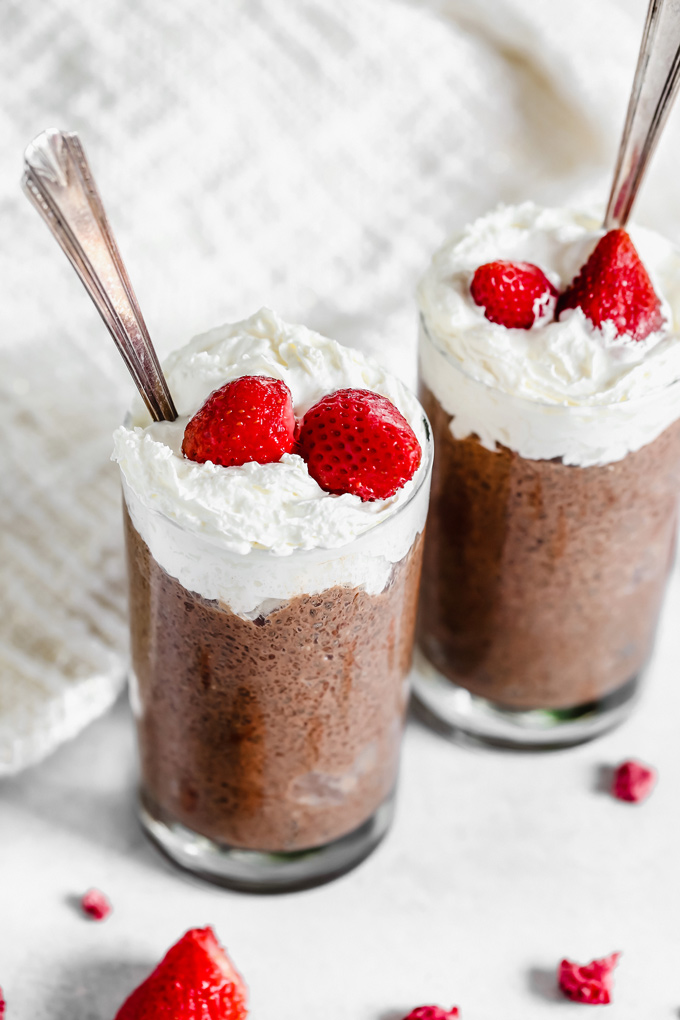 Now that you know the benefits of this yum yum we can move on. If you know me then you know I love all things chocolate. Not a day goes by I don't have at least one thing that made up of chocolate. I mostly use cacao powder to get my fix on because well that's a superfood all on it's own and I use it whenever, wherever I can. Like in this Chocolate Chia Pudding for instance.
Sure you can totally use cocoa powder but why when you can have all the added cacao benefits. Plus I like that in this particular recipe it doesn't have a super bitter chocolatey taste. I add a little bit of keto friendly maple flavored syrup for sweetness, some vanilla extract and I top it with coconut whipped cream. Throw on a few berries and viola, amazingness all up in your pie hole like whoa. My husband adds a tbsp of peanut butter for the added protein and fats. You could do a tablespoon of almond butter too! Actually any nut or seed butter would be amaze.
What I like to do is make this at night so it's ready for the next day. However because of the psyllium husk you can enjoy this within 2 hours, it firms up pretty quickly. But my personal fave is overnight. And I make a bunch too for me and my hubs. I don't add the fiber to the kids though because I feel they're too little as of yet and they're good without it. If making for the littles just omit the tablespoon of the psyllium and make the rest as is.
What you can do for the kids is add about 1/2 cup of gluten free oats to the mix, let that sit over night and the kiddos will love that. Top with some bananas and dairy free yogurt, breakfast (or snack) of champions right served up right.
If you have any questions drop me a line below or you could always hit me up on Instagram. I answer all my messages and am super interactive with my readers. Looking forward to chatting with you – Enjoy!
Sources:
https://www.medicalnewstoday.com/articles/318707.php
https://www.ijsr.net/archive/v4i9/SUB158459.pdf
Chocolate Chia Pudding With Added Fiber
Made with unsweetened almond milk and cacao for your chocolate super food pleasures, this is deliciously perfect for breakfast or as a snack and loaded with healthy fiber.
Ingredients
1 cup unsweetened almond milk
3 tbsp chia seeds
1 tbsp maple syrup or keto friendly maple flavored syrup , (see below)
1 tbsp organic cacao powder
1 tbsp psyllium husk powder
1 tsp vanilla extract
Instructions
Place all ingredients in a jar and shake until combined well. Place in the fridge to set. After 10 minutes of being in the fridge go back in and give it a good stir or shake again.

Will thicken up and be ready to eat within 2 hours but I prefer to leave it in the fridge overnight.

When ready to eat serve up with coconut whip and berries. If not doing keto you can add bananas and granola, the choices are endless. Enjoy!
~Pin This Recipe~

*THESE STATEMENTS HAVE NOT BEEN EVALUATED BY THE FOOD AND DRUG ADMINISTRATION. THIS POST IS NOT INTENDED TO DIAGNOSE, TREAT, CURE, OR PREVENT ANY DISEASE.*