Vegan Cauliflower Mac n' Cheese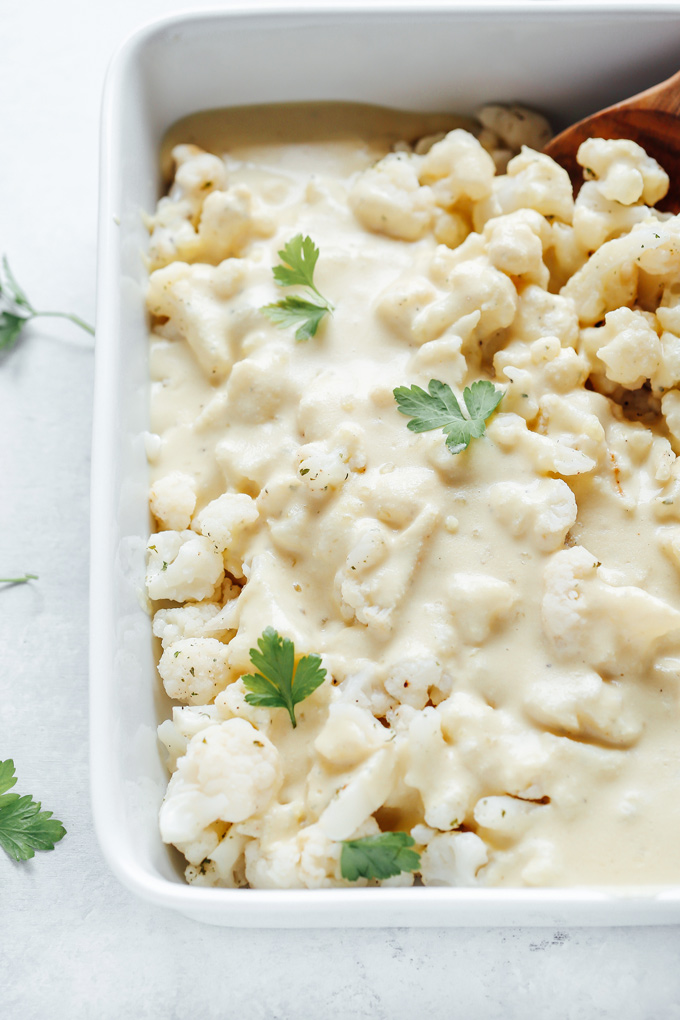 Vegan Cauliflower Mac n' Cheese because is there really anything else that is the perfect side dish to just about anything!?! I think not!
This whole recipe just warms my heart and gets me all giddy.
And I seriously hope you're not over cauliflower (when were you under it, lol, reference to Friends) or sick of it in any way, shape or form. I know there are tons and tons of ways to use cauliflower in recipes but trust me that's a good thing.
No one or thing I should say has had a better glow up than cauliflower. Just a few years ago no one even cared about it. Now it's everything and I mean that. Legit everything and this Vegan Cauliflower Mac n' Cheese is no exception. Except it's not pasta it's cauliflower. You get it.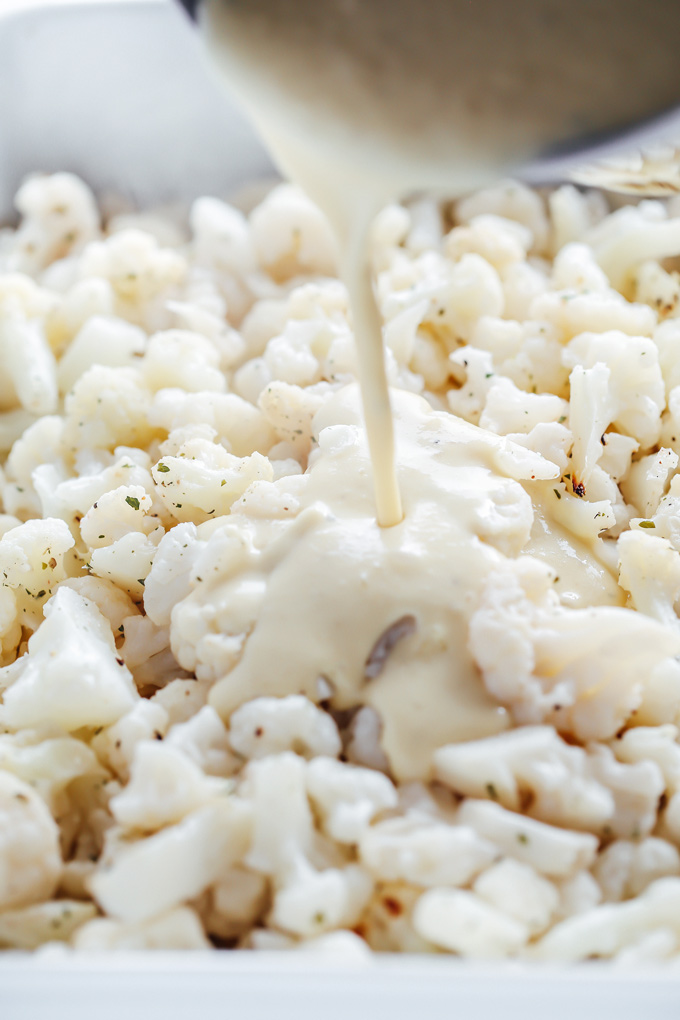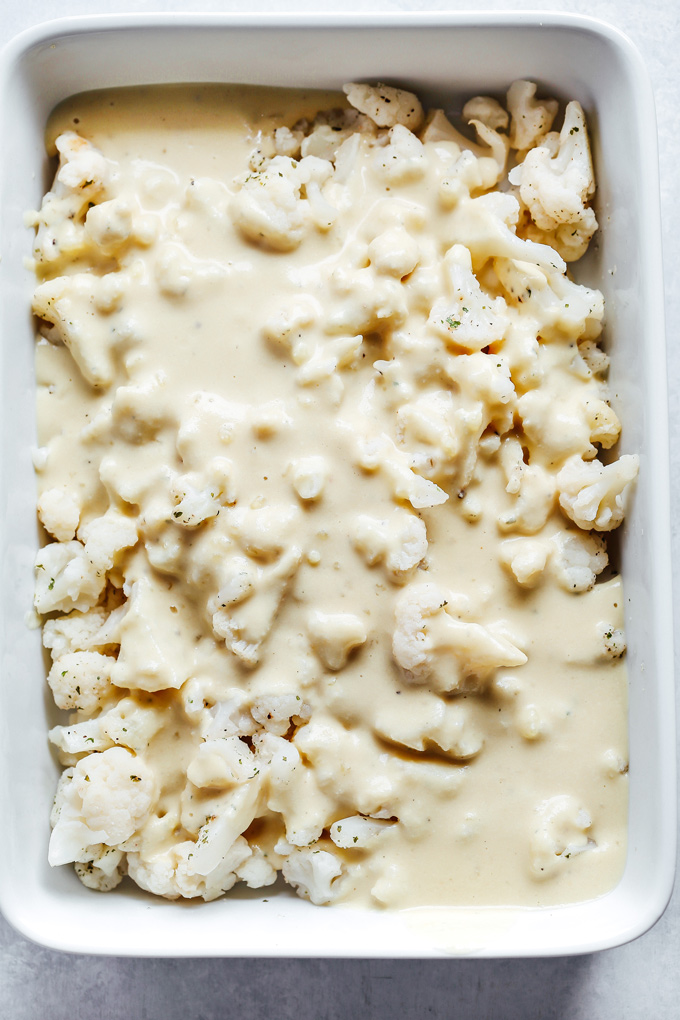 But wait, before you roll your eyes at yet another cauliflower sub let me explain. Mac n' Cheese generally is warm, comforting, and a meal everyone wants to come home to. I mean seriously, cheesiness all up in your grill is the way to go I get it. But hear me out. You can still get that goodness all up in your pie hole all while being low carb, keto (if that's your thing), or just want to eat a tad healthier and need some alternatives. See, I got you.
Since personally going vegan keto Mac n' Cheese has been something I terribly missed. For reals, who wouldn't miss on some pasta. However, not to screw up my progress, cauliflower was the way to go for me and now you. Even if you're not low carb, keto, paleo, or any other label out there, you can still whip this up to keep things fresh and new in the kitchen. And if I say so myself, it's nice to have a constant change in the food rotation at home so no one gets bored.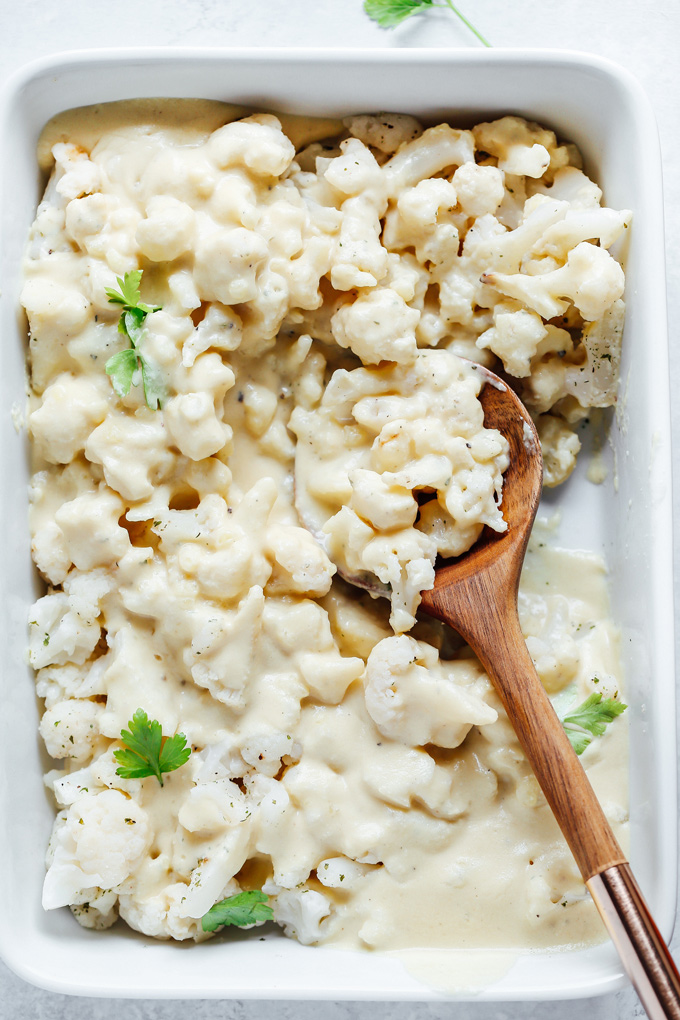 Does it taste just like pasta or is it pasta?  Clearly no, obvi. But similarly to traditional Mac n' Cheese, this one is super creamy, delicious, and savory all at the same time! Everything you could want in an all around Mac n' Cheese dish.
Not to mention (and this is the best part I'd say) that it's ridiculously easy to make. Yes…now we can be besties.
You can use fresh or frozen cauliflower for this. I always have bags of frozen cauliflower in my freezer so I usually just go with that. I also like to steam the cauliflower first then when the cheese is added it will bake in the oven. You don't want them too soft to where they turn to mush, you want them just right and I'll tell you how to do that. Easy peasy.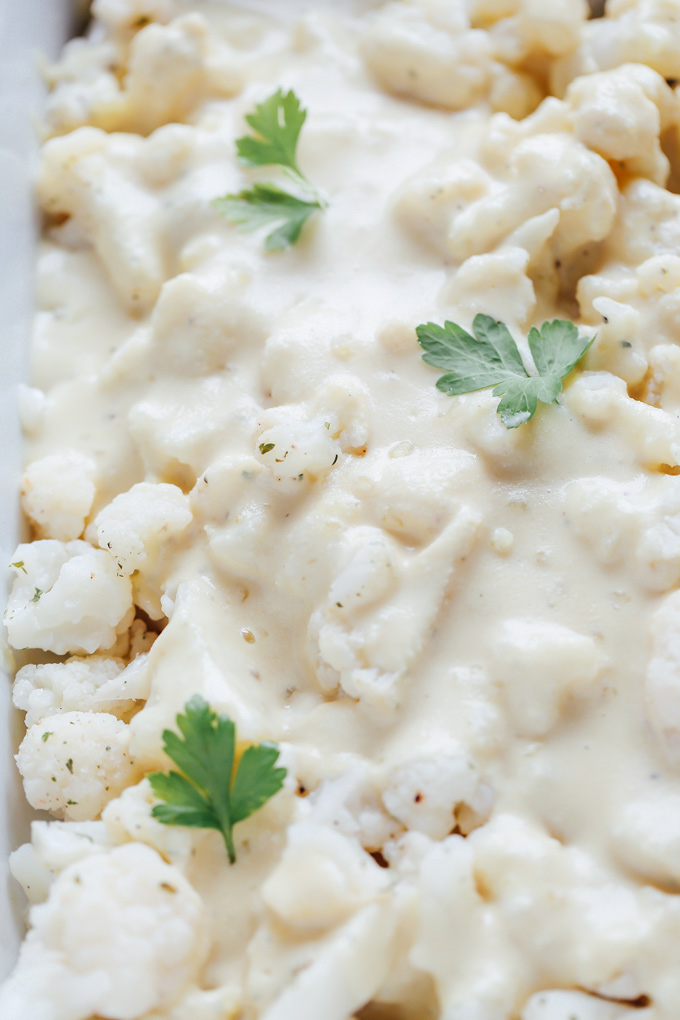 Steam your cauliflower for about 10 minutes. While that's steaming you can go ahead and make the vegan cheese sauce. Totes easy.
If you don't want to steam your cauliflower you can roast them on 350F for 10-15 minutes but make sure to drizzle them with a little avocado or olive oil. Remember they're going back in the oven with the cheese sauce for an extra 10.
Take out all the ingredients you'll need for the cheese sauce. It all goes in a medium sauce pan and takes about 8 minutes to cook up. So by the time your cauliflower is done so will your cheese. You can then put your cauliflower in a baking dish and pour the cheese on top. oooooh la la
Put it in the oven for 10 minutes. If you want, you can top with breadcrumbs if you're not low carb or keto, or you can top with vegan parmesan cheese. That's a good one too. So yummy. When it's done you can take it out of the oven, give it a few minutes to settle then sprinkle it with some fresh parsley, maybe some vegan bacon bits, a dollop of vegan sour cream, and serve it up right away. Your whole crew will be like go girl, lol.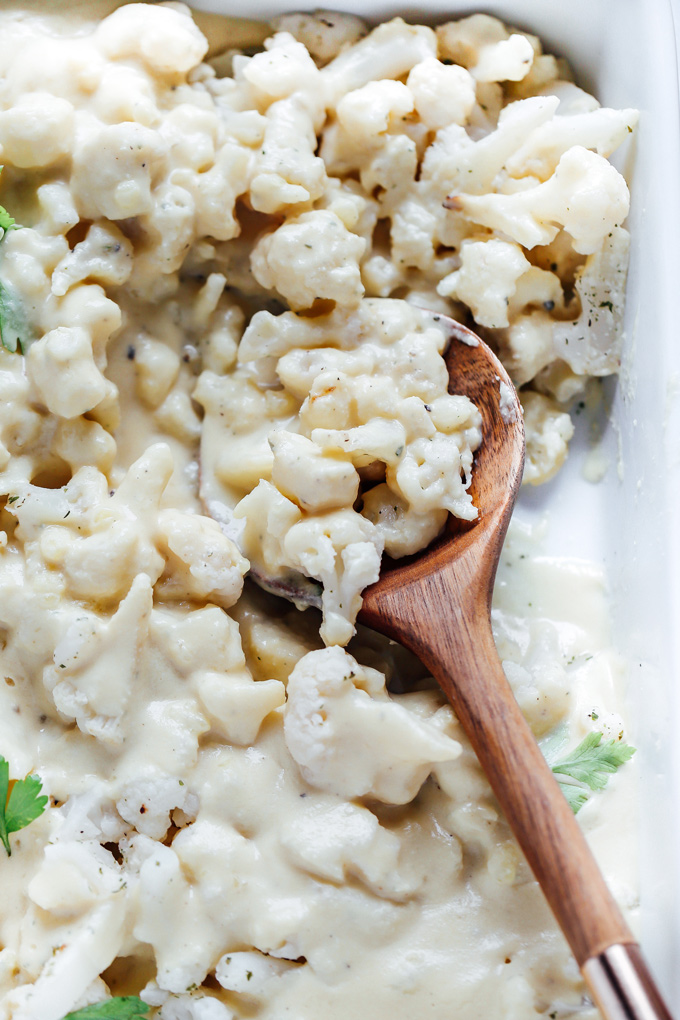 Also, bonus, you can use the cheese sauce to put on actual pasta if you're carbing it up. Or you can use it as a veggie dip, an Alfredo sauce, truly anything you want. You'll just be serving up the goodness one meal at the time. Enjoy!
Vegan Cauliflower Mac n' Cheese
Just like traditional Mac n' Cheese, this one is super creamy, delicious, and savory! Everything you could want in an all around Mac n' Cheese dish.
Ingredients
2 -16 oz bags of frozen cauliflower, (steamed or roasted, see notes)
3 cups almond milk , (unsweetened)
3 tbsp vegan butter
3 tbsp nutritional yeast
3.5 tbsp almond flour
4 tbsp coconut flour
1.5 tsp yellow mustard
2 tsp Braggs Liquid Aminos
1.5 tbsp garlic powder
1.5 tbsp onion powder
salt/pepper to taste
1.5 tbsp organic cornstarch or arrowroot flour, (optional, for thickness)
handful of parsley to garnish
Instructions
Preheat your oven to 350F.

Steam or roast your cauliflower for 10-12 minutes. If you're roasting them drizzle a tbsp of avocado oil on top.

While the cauliflower is steaming or roasting prepare your vegan cheese sauce.

Have all your ingredients out and add it all to a medium sauce pan and cook on medium heat. Whisk all the ingredients together until no clumps are left. Taste and adjust seasonings to your liking. Let it cook for 8-10 minutes.

If you want it thicker you can add up to 2 tbsp of cornstarch however if you're strict keto this ingredient is not allowed and you can add either more almond flour or coconut flour. It will thicken up as it bakes. It won't be as thick as it would be if you use the full cornstarch but it will still have a nice mac n' cheese consistency.

Once cauliflower is all set and cheese is done transfer the cauliflower to a baking dish and pour the vegan cheese sauce on top. You can reserve some vegan cheese sauce for another dish or use the whole thing up on this.

Optional: top with vegan parmesan or breadcrumbs ( breadcrumbs if not low carb or keto), pop in the oven and let bake for an extra 10-12 minutes.

Remove from oven, let settle for about 5 minutes, sprinkle on some fresh parsely, serve it up and Enjoy!
Notes
If roasting the cauliflower be sure to drizzle a tbsp of avocado oil on top or olive oil. 
Can sub any plant milk of choice.
Can sub cauliflower for broccoli or pasta. (Pasta, if you're not low carb or keto)
Corn starch is not super keto friendly but very little is used in this recipe and when divided between all the servings you're really not ingesting that much of it. 
You can use apps like MyFitnessPal or Cronometer to track nutritional info. 
~Pin This Recipe~