Vegan Keto Classic Style Cheesecake

"It's the holiday season and Santa Claus is coming back" with a Vegan Keto Classic Style Cheesecake because that's how he rolls these days. Pun I guess intended.
Dreams do come true when you have a super creamy plain good ole fashion cheesecake with a delicious, melt in your mouth, buttery crust. It's extremely easy to put together and won't take up much of your time. You're going to be SO HAPPY with this. And guess what? Did you guess that there are NO Cashews in this bad boy!? That's right absolutely zero cashews. I love cashews just as much as the next guy but sometimes I want a break from them and not have to put them in every single thing I make.
You can have cashews on keto however they are higher up in net carbs so I like to have a handful as a snack. For this recipe though I didn't want to add a whole cupful and up the carb count. I wanted to keep the net carb count as low as possible. So without using cashews, the net carbs for one slice roughly is 3.9g. Stop yourself, I know.
This post contains affiliate links in which I may make a small commission and am super grateful for. Opinions are in no way influenced by compensation. You can read our full disclosure policy for more information.
This can also be looked at as a giant fat bomb. Once slice (115g) will give you 33.4g of fat! Will totally help you with your fat goal for the day. If you're not following a keto diet that's totally ok! You can just disregard all this talk of it and still enjoy the cheesecake in all it's glory. It's still sinfully delicious.
Enjoy more fat bombs here and here.
(All of the nutrition info is an estimate. Please log in your measurements to whatever app you use to get a more direct (for you) estimate.) This is with the ingredients I used. It will either be right on point or depending on what you use could be a tad off. It shouldn't be way off though so double check and make sure your ingredients are all keto friendly. Again, only if you're following a keto diet. The apps I love using are Cronometer and Carb Manager)
I made this 3 times to perfect it. The last time I made it and it came out Ah-maze, I inhaled a giant slice. Like inhaled it. I made myself kinda sick after that, so note to self don't do that again, lol.
When I was younger I use to work in a bakery. Yes at first you want to eat all the things but then you grow use to it all and can find the determination to contain yourself. I've always loved cheesecake though. I even love the one with the fruit on top but I especially love just plain, classic style cheesecake. Dusted with powdered sugar, you seriously can't go wrong. It's cheesecake heaven. For this particular cake however I used a keto friendly powdered sugar to keep with the keto theme. But use as you wish.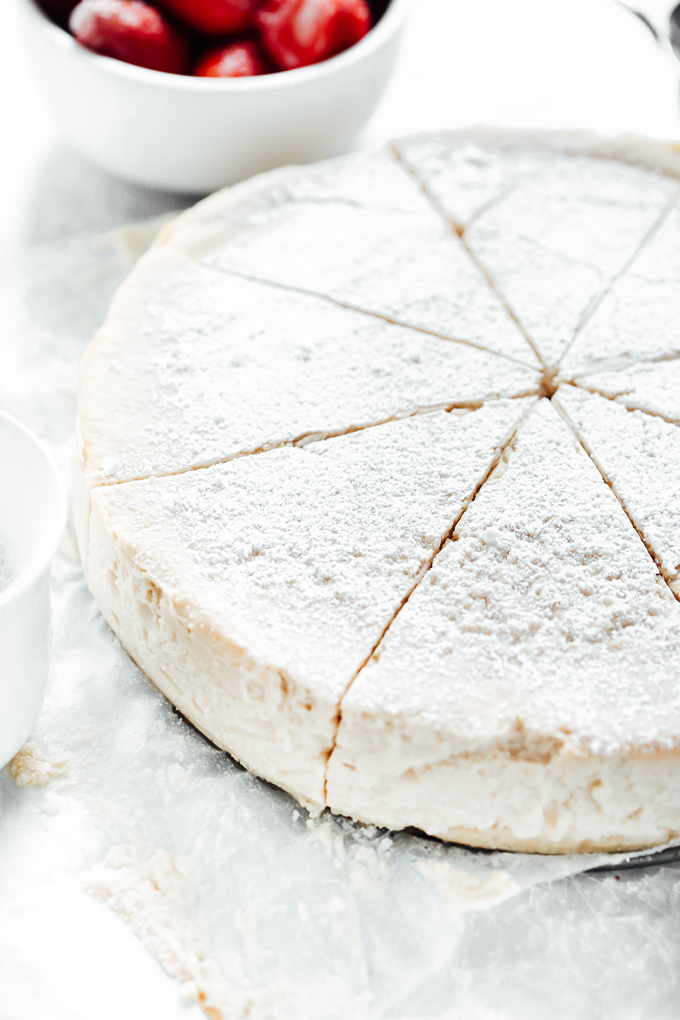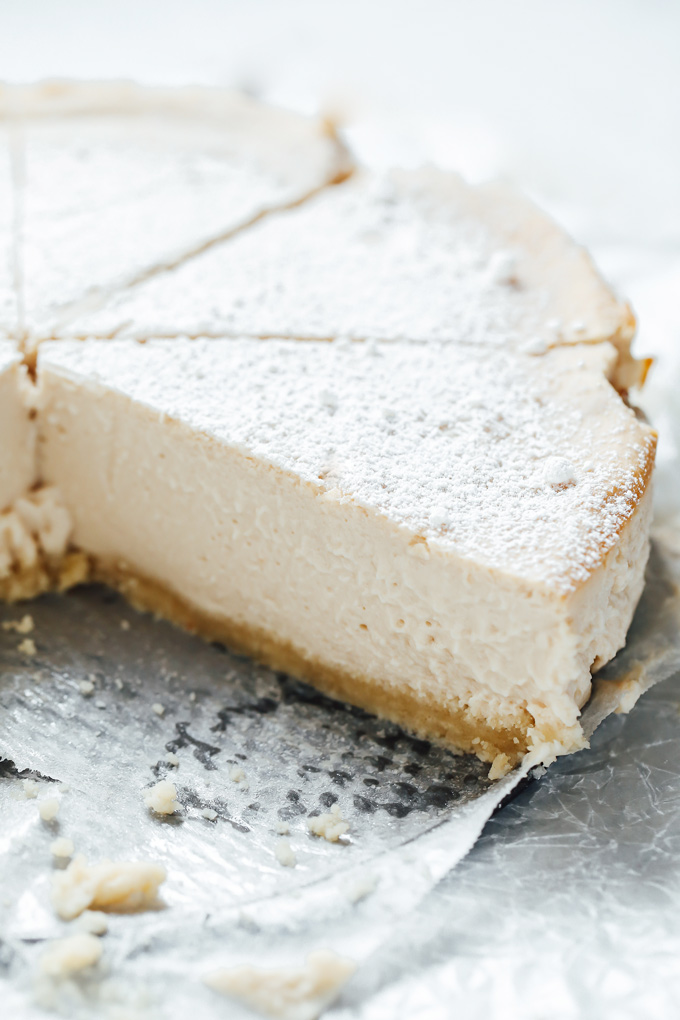 The crust is made up of only 4 ingredients: almond flour, pinch of salt, vegan butter (I love this one), and sweetener (I use this one). The filling is made up of vegan cream cheese, coconut cream (doesn't taste like coconut at all), vanilla extract, a little bit of ACV (apple cider vinegar) sweetener, and a few tablespoons of almond meal for thickening. The top is dusted with as I mentioned above, keto friendly powdered sugar. All. The. Yums.
You'll need an 8″ round spring form pan as it makes life a whole lot easier to get this cheesecake out in tact. You'll wrap the bottom of the pan in foil then put it in a water bath. I think that's probably the most labor you'll do. Then the hard part – letting it bake, then allowing it to chill. I chill mine overnight. When it comes out of the oven it's going to be quite jiggly and that's what you want. You don't want to over bake this. Turn the oven off and let it sit in there for 10-15 minutes. Then remove it from the oven, carefully, disregard the water and let the cheesecake cool on your counter for half hour before you place it in the fridge to set.
Note: While it's baking don't open up the oven. This prevents cracking.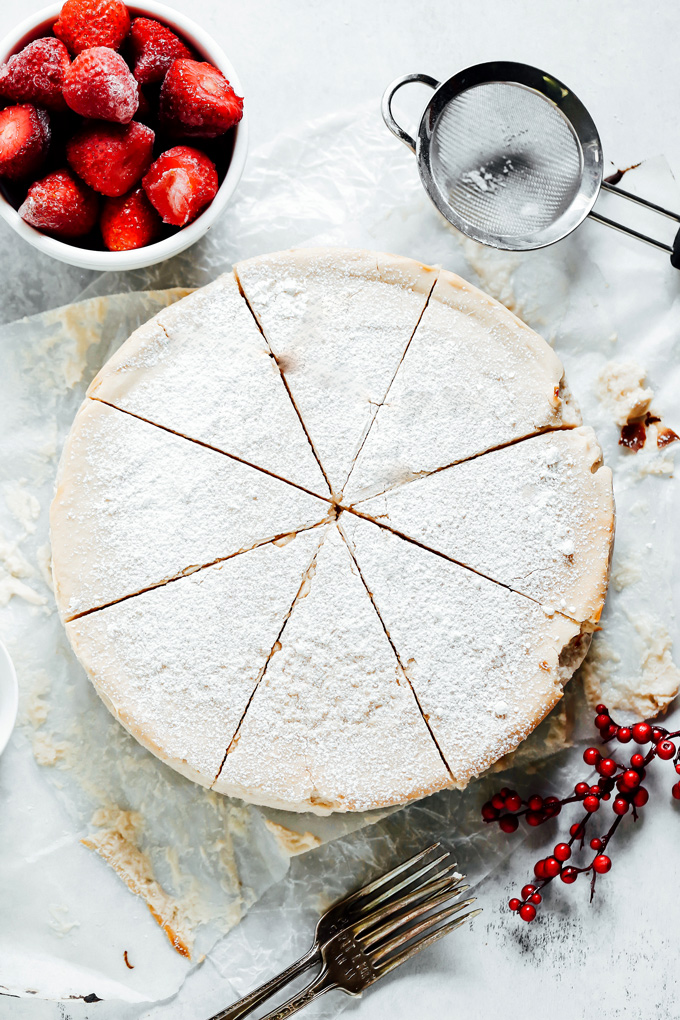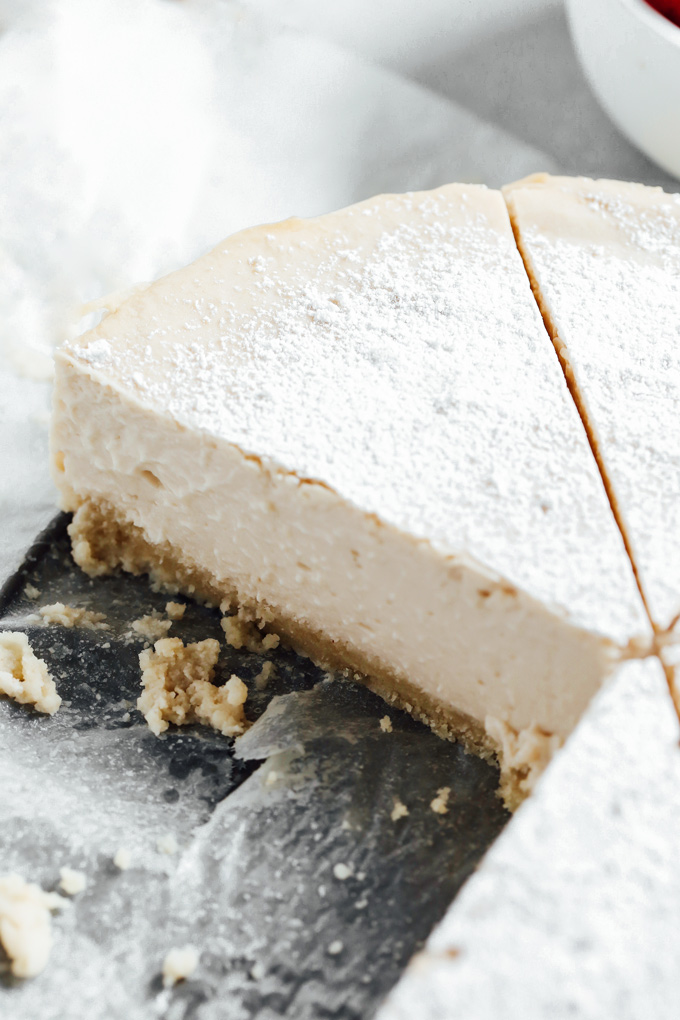 Now that you have all you need to know about this delectable deliciousness I think you're ready to venture off and go bake in the wild. LOL. No but seriously, I'm not a professional baker and I don't really fully understand the science behind baking besides the basics so I'm super proud of this. I know you're going to love it. You can bring this with you to a family party and make sure you have something keto you can have and enjoy. Nothing worse than going somewhere and can't eat, amirite. And also if you're following a keto diet and are the host for the holidays and not everything you make is keto, you can add this to your list!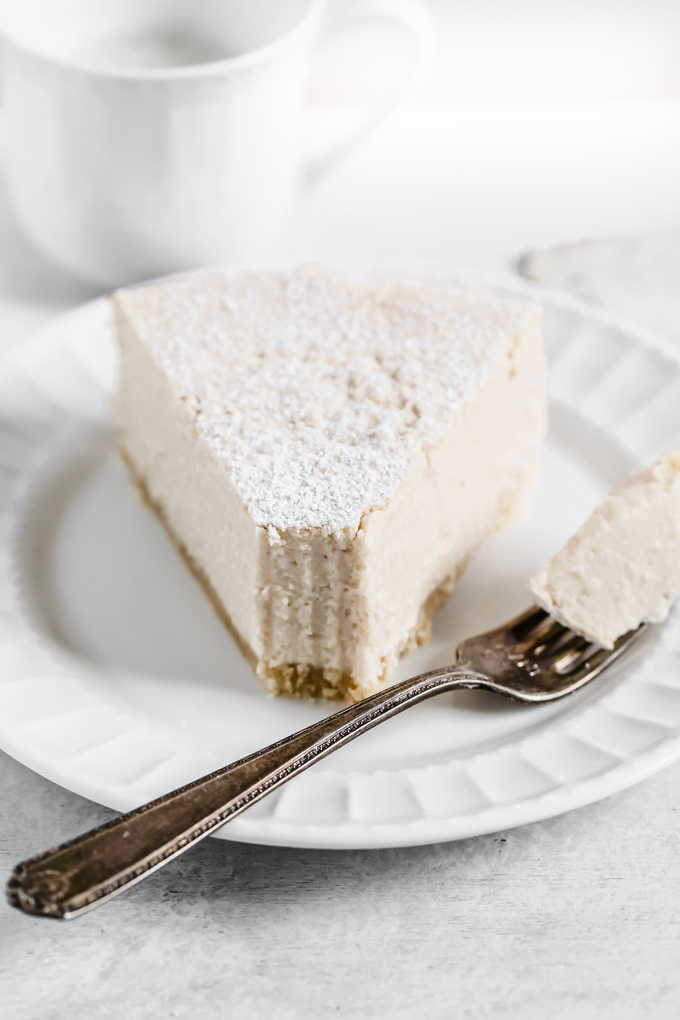 Also recommended topping it with a handful of berries, either blackberries, raspberries, strawberries, or blueberries. All keto friendly just don't go overboard. A handful will suffice. And you didn't hear this from me but Oreos or something like it are the shiznits in cheesecakes, just saying.
Can't wait to hear what you guys think! Enjoy!
Vegan Keto Classic Style Cheesecake
A creamy plain cheesecake with a delicious buttery crust. Super easy and will be eaten by anyone and everyone, it's that good!
Ingredients
For the Crust
6 tbsp vegan butter, (melted)
3 tbsp monkfruit sweetener, (or sweetener of choice)
1.5 cups almond flour
pinch of salt
The Filling
32 oz vegan cream cheese, (I used 4 Trader Joe's vegan cream cheese tubs)
1 can (13.5oz) coconut cream
1 1/4 cup monkfruit sweetener, (or sweetener of choice)
4 tbsp almond flour
2 tbsp apple cider vinegar, (or lemon juice)
2 tsp vanilla extract
Optional Toppings
dusting of powdered sugar, (make sure to use powdered monkfruit for keto)
handful of berries per slice
vegan caramel sauce
Instructions
For the Crust
In a large bowl add all the ingredients and mix until well combined. It should be crumbly and a bit wet and you should be able to mold it to the bottom of your pan.
For the Filling
Preheat oven to 350F and spray an 8" round springform pan with coconut oil spray or any non stick cooking spray.

Using a stand or electric hand mixer place all the filling ingredients into a large bowl and mix until combined and super creamy.
The Assemble
Press crust into bottom of your springform pan, distributing it evenly.

Pour the cheesecake filling on top of the crust and even out the top using a spatula.

Cover the bottom of the springform pan in foil, letting it come up the sides a little bit. Place the pan in a large tray and pour water half way up. The water should not go higher than the foil.

Place in the oven carefully and bake for 50 minutes. Do not open the oven.

Once the 50 minutes are up, turn the oven off and let the cheesecake sit in there for an extra 10-15 minutes.

Remove from oven carefully, remove the springform pan out from the water bath and onto your counter. Carefully disregard the water from your water bath. Let the cheesecake sit out on your counter for 30 minutes. After the 30 minutes are up place in your fridge to set. I like to set mine overnight but you can slice into it at 6 hours.

When ready to serve dust the top with powdered sugar and berries, serve and Enjoy!
Notes
I have cut into the cake at the 4 hour mark after it's been in the fridge and I still found that it wasn't quite set enough. It wasn't as firm as I'd like it to be. I also cut into it at the 6 hour mark and I still wasn't satisfied with the consistency. After being in the fridge overnight I found it to have the best consistency. 
To keep this keto make sure you're using keto sweeteners like this one.
Keto Friendly powdered sugar.
You do not taste the coconut in the recipe.
I have not tried subbing the coconut cream for anything else. If you do and it turns out quite nice, please let other readers know in the comments.
To learn more on the keto diet read this post.
~Pin This Recipe~