Vegan BBQ Chickpea Pizzas
jump to recipe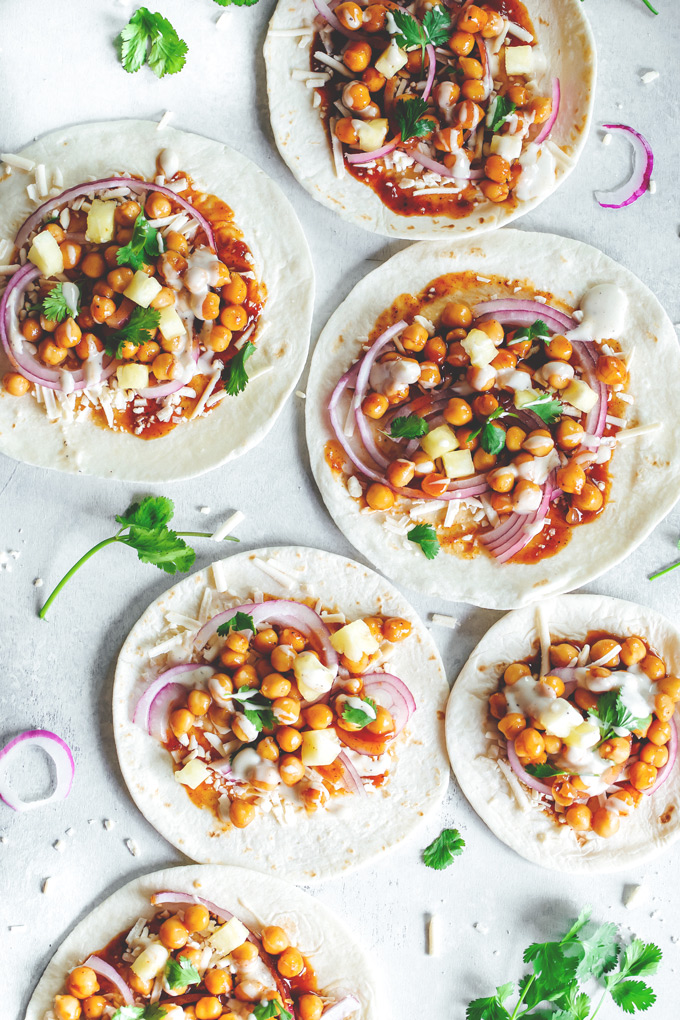 There are literally some nights I'm just so tired the thought of cooking exhausts me even more. Sometimes I just want things made so fast and easy that it's almost like I didn't even really do it. Yea sure I mean, there's takeout, but there really isn't anything better than a home cooked meal.
The other night we got home from running errands later than usual and we still needed to eat dinner. This was one of those nights where I was just done and wanted the kids to go to sleep so I can lay and just stare at my ceiling. But we were all so freakin' hungry. You could hear our stomachs rumbling. So I knew I had to get dinner going ASAP. Vegan BBQ Chickpea Pizzas is 100% the easiest and fastest thing you can ever put together in your life.
This post contains affiliate links in which I may make a small commission. Opinions are in no way influenced by compensation. You can read our full disclosure policy for more information.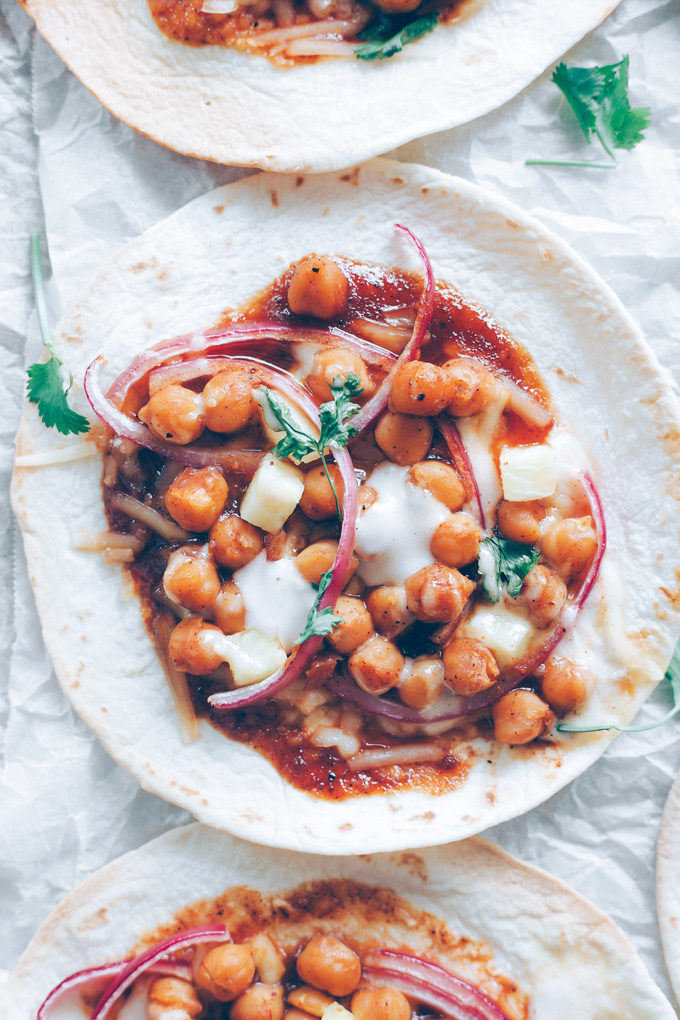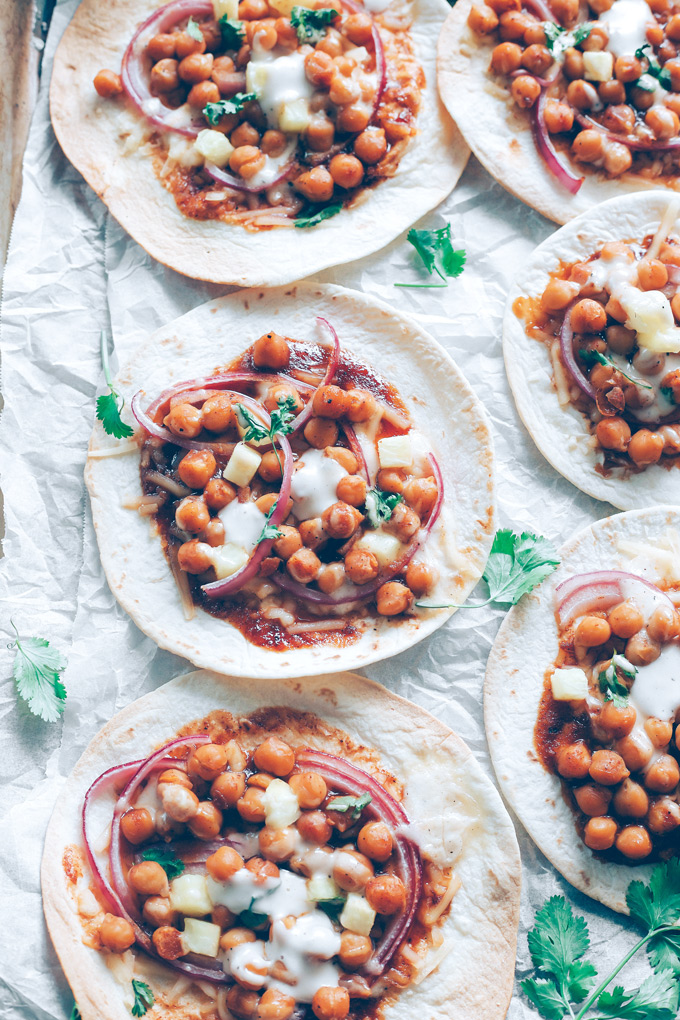 On my Instagram Stories that same night I was showing you guys what I made for dinner, which was this, and how easy and quick it was to put together. Literally I think you just put in the bare minimum and let the oven do all the work. You don't even have to precook the chickpeas! I know right!? Awesome-Sauce! (are people still saying that?)
The only thing I added to this recipe is diced pineapples, cilantro, and instead of a yellow onion I used red. But you can stick with the yellow onion and don't have to add the pineapple or cilantro. They do add a nice touch and in each bite quoted by my husband himself he said "You can taste every single flavor and it's so delicious". Husband mic drop and boom.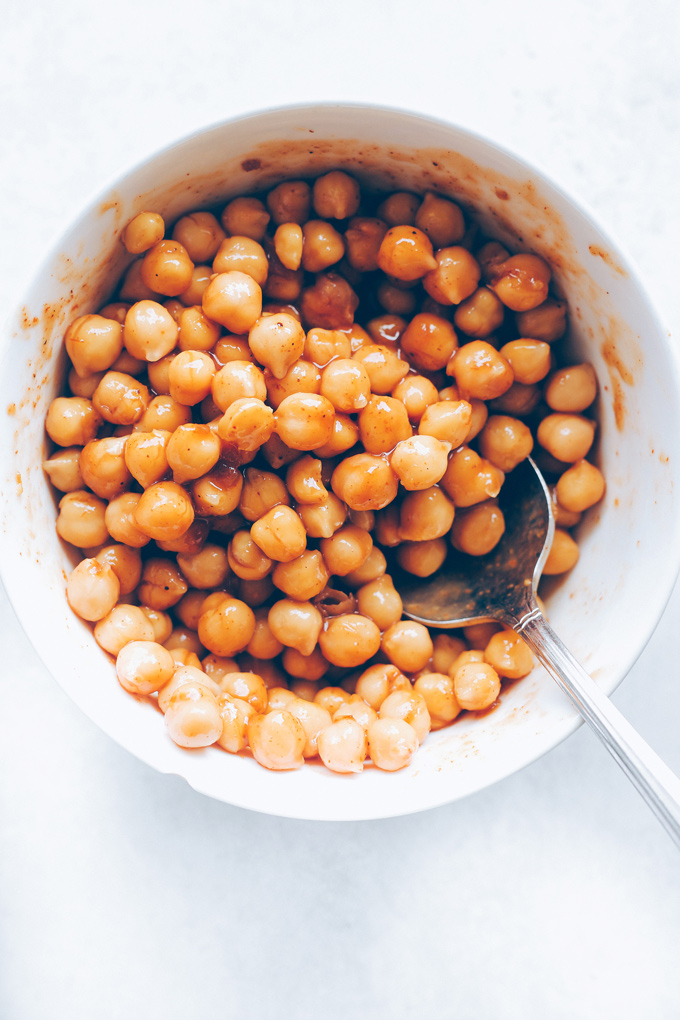 I made about 6-8 of these Vegan BBQ Chickpea Pizzas using small flour tortillas. I think they're about 6″ in size, so no dough prep required. Like come on, how flippin' easy is that!
You know what's even more awesome-r? If you don't want, you don't even have to put it in the oven! I do because I want my vegan cheese nice and melty but you can totes just eat it as is. If you're feeling extra lazy like that, go for it. No judgments.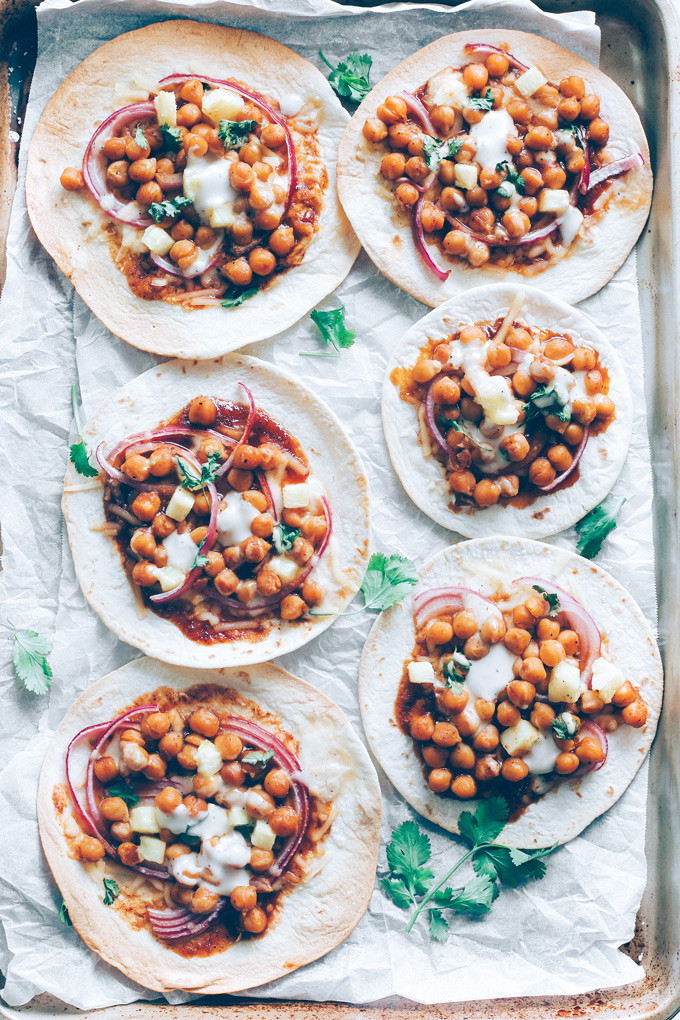 Another little tasty thing I like to add to this is vegan ranch dressing. Not a lot, just about 1/2 tbsp on each pizza. Along with the BBQ sauce it really gives this it's umph. If you don't have a vegan ranch on hand you can do a vegan caesar, either or would work.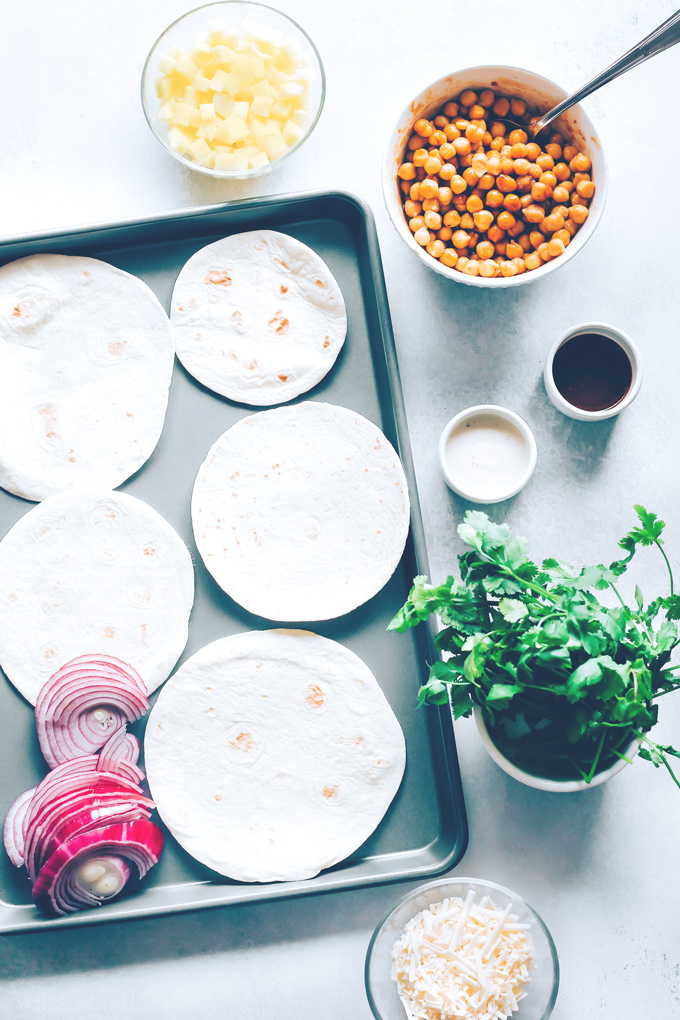 The pineapple is yum-maze because it adds juicy sweetness. It reminds me of a Hawaiian Pizza. Warm pineapple is so yum on all levels, it's one of my faves. Ever grill pineapple in the summer? If you haven't, get on that immediately. Like, just stop right now and go grill one up then come back here so you can understand fully what I'm talking about. Ok not seriously this moment but you get the urgency I'm throwing out because trust me when I say, it's effin' fantastic.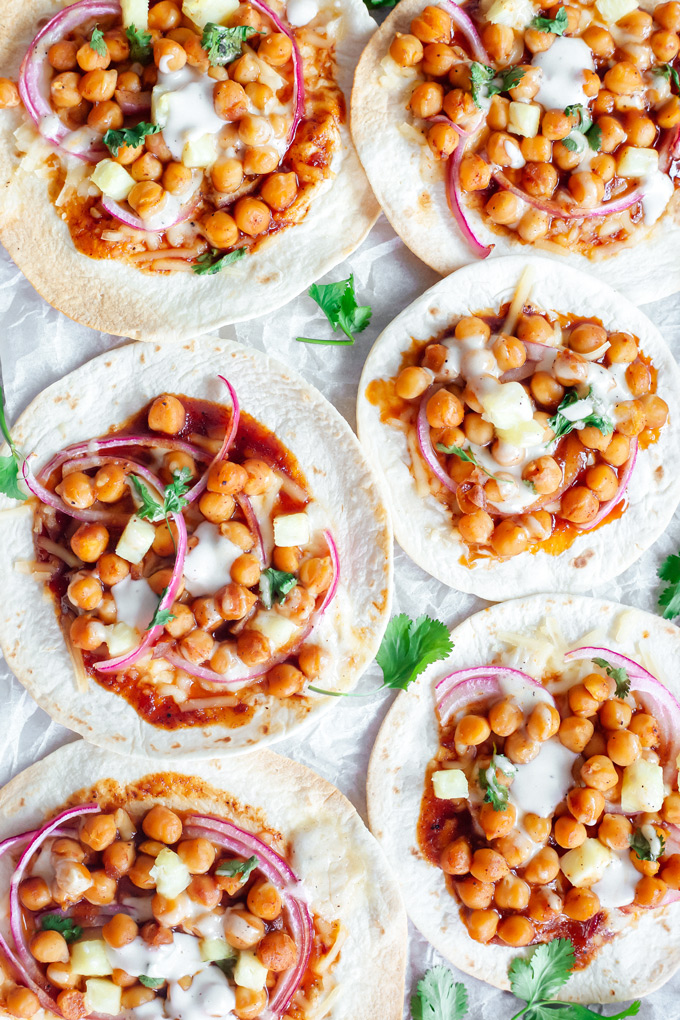 And that's really all there is to it. They look super complicated but you know the saying – never judge a book by it's cover peeps!
These Vegan BBQ Chickpea Pizzas are loaded with plant based protein, are high in fiber, vitamin C, and are mouth watering delicious on top of being a healthy, super easy, throw together dinner.
This is just one of the many ways we can enjoy some vegan pizza. Do you love the combinations in this? What's your go to, must have toppings on your pizza?
Still want more chickpeas? Check out these recipes:
Vegan Chickpea Masala with Pineapple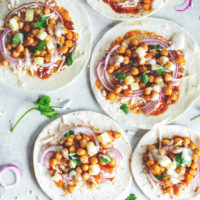 Vegan BBQ Chickpea Pizzas
BBQ coated chickpeas on top of melty vegan mozzarella cheese and loaded with so much goodness, makes this vegan pizza night a keeper!
Ingredients:
6 small (6 or 8") flour tortillas
1 - 15oz can of chickpeas, drained and rinsed
1/4 cup BBQ sauce for the chickpeas
1 tbsp BBQ sauce for the flour tortillas
1/8 cup vegan mozzarella, per pizza
1/2 tbsp vegan ranch dressing, per pizza
1 red onion, sliced
1/2 cup pineapple, diced
cilantro, to garnish
Directions:
Preheat oven to 350F and line large baking sheet with parchment paper.
Place the chickpeas in a medium bowl with the 1/4 cup BBQ sauce and mix well. Place in the fridge for 5-10 minutes while you prep the other toppings.
Place flour tortillas on baking sheet right next to each other. Top each flour tortilla with one tbsp of BBQ sauce and spread it around the tortilla leaving an inch of the border.
Follow the BBQ sauce with the vegan cheese, sliced red onions, pineapples, the marinated chickpeas, then half tbsp of vegan ranch dressing. Garnish with cilantro is desired.
Pop in the oven to bake for 15 minutes so the cheese gets nice and melty.
Once done serve right away and Enjoy!
You can use yellow onion in place of the red onion. You can opt to not use pineapple or cilantro. But highly suggested.
You can use any tortillas you like and you can eat this cold without going into the oven.
Sub vegan ranch for vegan caesar.
This post contains affiliate links in which I may make a small commission. Opinions are in no way influenced by compensation. You can read our full disclosure policy for more information.
~Pin This Recipe~