Dole Piña Colada Ice Pops
jump to recipe
This recipe is sponsored by Dole Sunshine.
What does summer look like to me? Well it looks like Dole Piña Colada Ice Pops. Cool, refreshing, super juicy, just screaming summer. These ice pops are made with only 4 ingredients. If you'd like, you can add a 5th ingredient being white rum to Booze them up a bit. Nothing wrong with changing things up for the adults and having some 21 and over fun pops to bring to the party. WooHoo. Jello shots move over, you're sooooo 2004.
I'm really bumming that it's August. And even though we're in the beginning stages of August we all know how fast a month goes by. Not.Even.Right.Ugh. I'm not ready to let go of boozy Piña Colada Ice Pops, the beach, the boardwalk and fries. But let's not dwell on the end of summer, let's just focus on the now and all the pineapple, coconutty deliciousness we have at hand.
Watch the easy recipe tutorial below!
Remember being a little kid and watching the adults drink fancy beverages with cherries, pineapples, and umbrellas coming out of the top? I use to order virgin Piña Coladas back then and I still do sometimes because I just like the way they taste. So these pops can be made with or without the booze and honestly you wouldn't even know the difference. This is just a super fun, easy, and creative way to get your ice pop on.
It literally doesn't get any easier than throwing all 4 ingredients into a blender and whizzing it up for a solid 20 seconds to pour it into some sweet ice pop molds. I know I know, my pineapple ice pop molds are all the rave. I'm totes in love with them myself. BTW are people still saying totes because it's part of my vocab now and I don't intend on removing it. That along with probs, but anyway.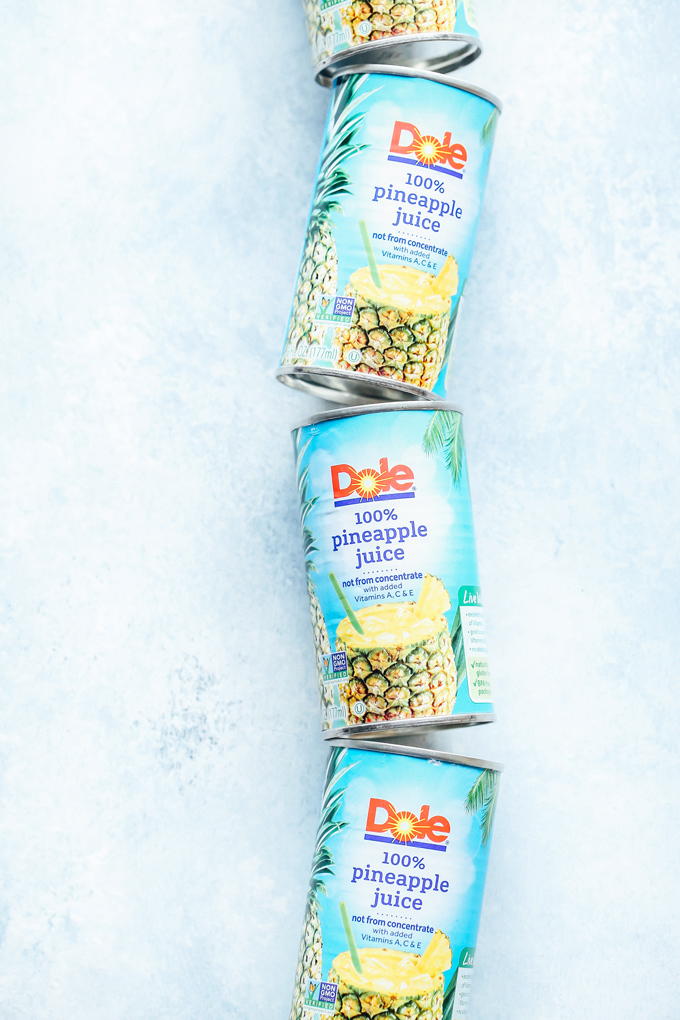 *This post contains affiliate links, which means that I make a small commission off all items you purchase at no additional cost to you. I appreciate your support in this way as it helps keep NM up and running.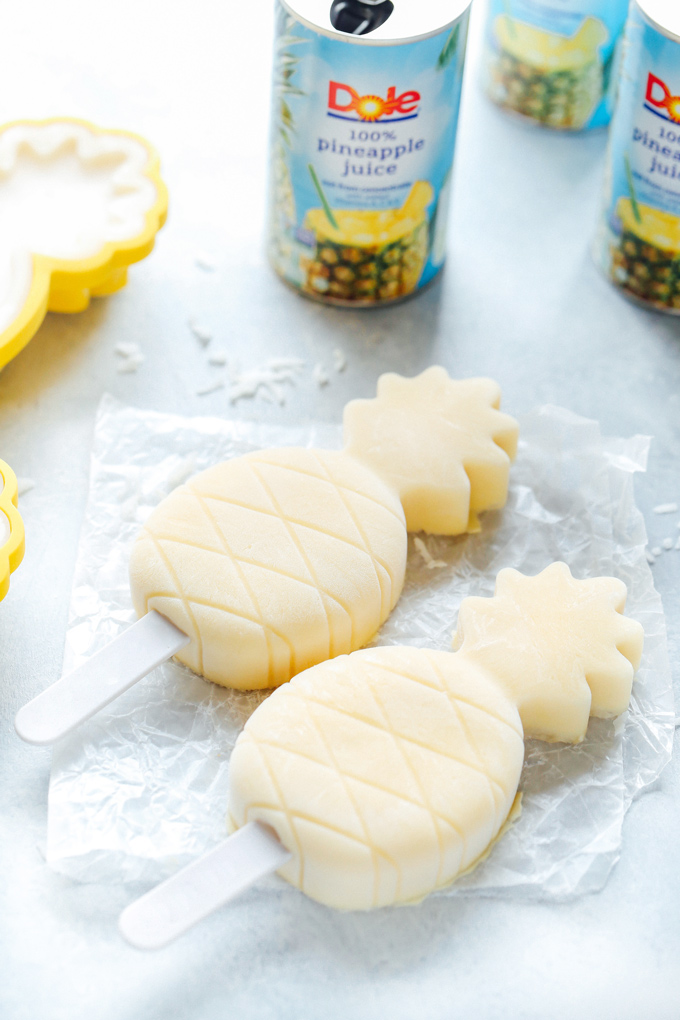 I used full fat coconut milk (left it in the fridge overnight and scooped out the cream), Dole Sunshine's 100% pineapple juice, frozen pineapple chunks, and some coconut sugar. It's.That.Simple.
They lay right in the middle of creamy and ice pop-ish. They are ice pops just with a slight cream to them so they're not technically ice cream bars. Two totally different textures. But because of the coconut I use, it does have that yum, delish cream factor in there but not too much.
I thought to use fresh cherries as a garnish to go with the fresh ingredients. I think you NEED cherries with Piña Coladas, it wouldn't be original without it. The only thing I am missing are the umbrellas but I think the cute molds make up for that.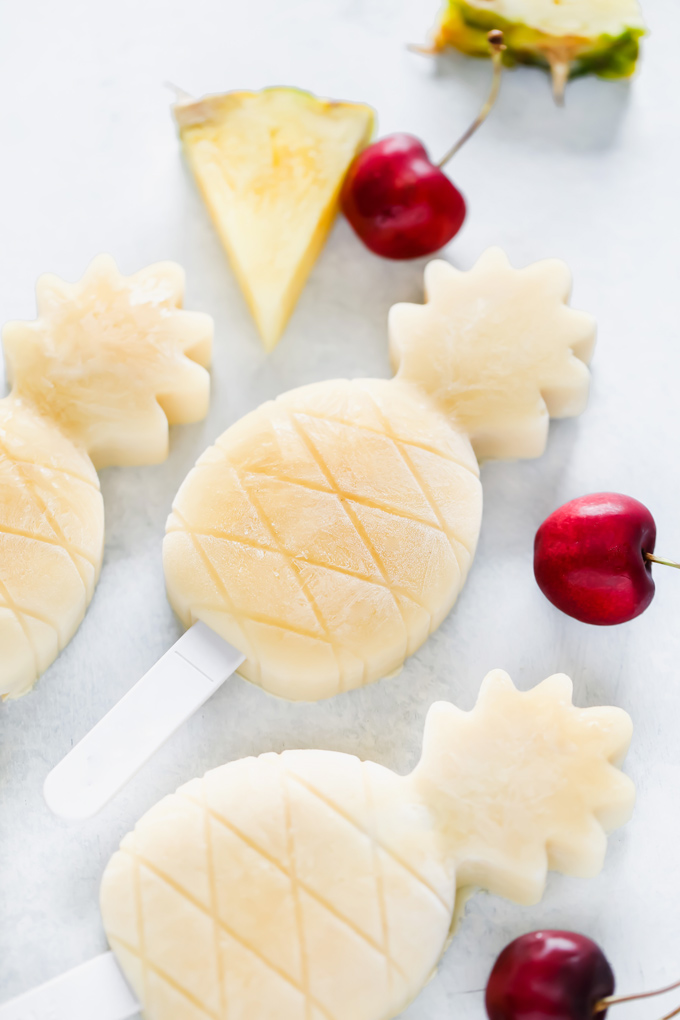 I literally can go on and on here about these Piña Colada Ice Pops but I don't want to keep you too long from making the most fun thing ever! You're going to enjoy these, the kids are going to enjoy these. Whip them out after dinner while sitting on the deck, patio or just staring out your window, watching movies, anything!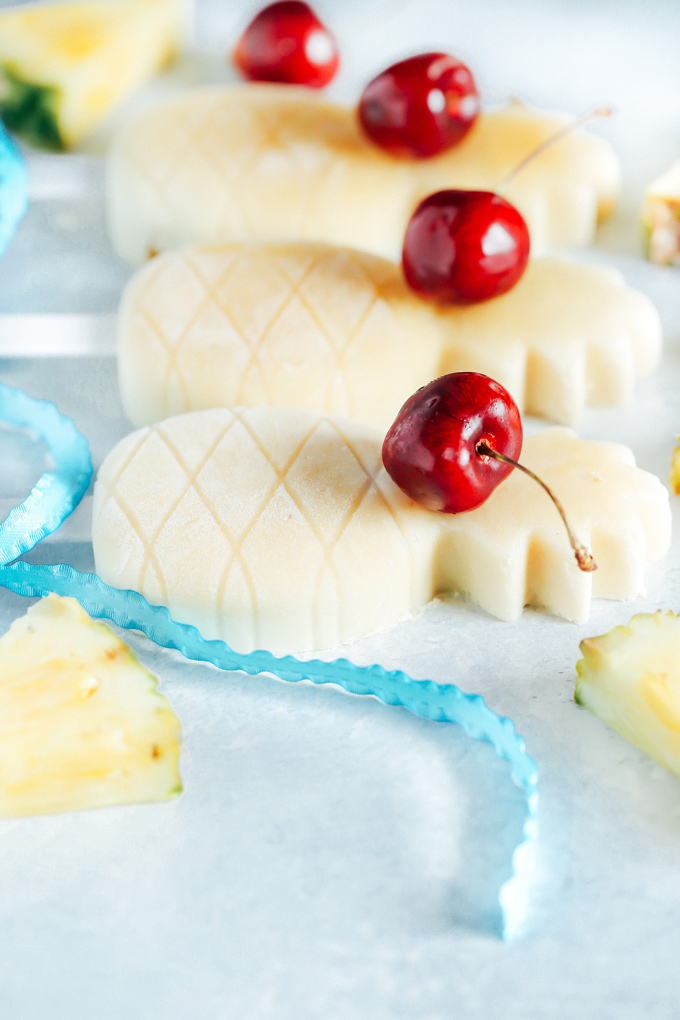 Now that I think about it, why leave these only to summer when you can have them at any time, during any season, right in the comfort of your own home without needing some fancy bartender to dazzle one up for you. You got this.
But for now you can watch this easy tutorial while I go looking for the summer wind.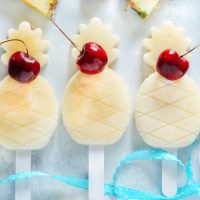 Dole Piña Colada Ice Pops
Dole Piña Colada Ice Pops - A charming classic that's super easy to make, refreshingly sweet and delicious as ever.
Ingredients:
2 cups Dole Sunshine 100% pineapple juice
1.5 cups full fat coconut milk (see notes)
1.5 cup frozen pineapple chunks
4 tbsp coconut sugar
0.5 cups white rum (optional)
Directions:
Place all ingredients into a blender and run until well smooth and creamy.
Pour into prepared ice pop molds and put in the freezer to set 4 hours or more or overnight preferably.
Serve with fresh cherries, pineapple wedges and enjoy!
We are a participant in the Amazon Services LLC Associates Program, an affiliate advertising program designed to provide a means for us to earn fees by linking to Amazon.com and affiliated sites.
~Pin This Recipe~