Almond Butter Apple Pudding Bundt Cake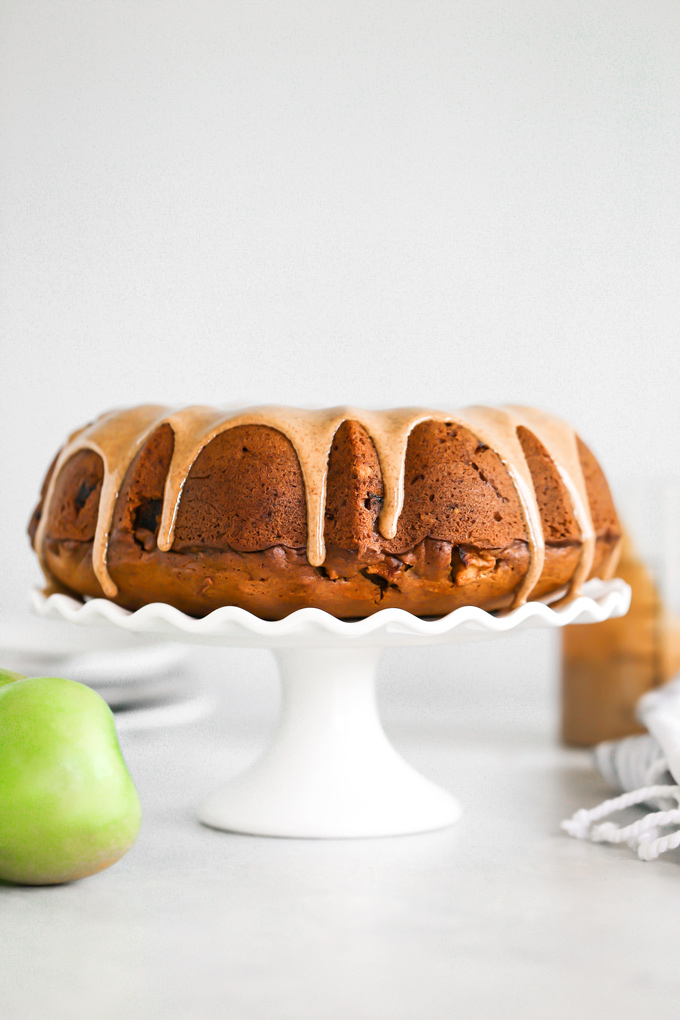 Hello Hello friends of the web! It's official, I'm a 200 hour certified Yoga teacher now and that gives me all the feels. Much like this Almond Butter Apple Pudding Bundt Cake. I made this for the fam and myself for our celebration of the big achievement and it's been a requested ever since.
This cake is sweetened with coconut sugar and maple syrup. There is no refined sugar up in this piece. It's not overly sweet as the apples bring a nice tart-ness to it. The cake itself is not that dense either even though it's a "pudding" cake. I like that it tastes like pudding, it's super fluffy and light with the perfect ratio to almond butter, date, caramel drizzle; it's all sorts of delicious.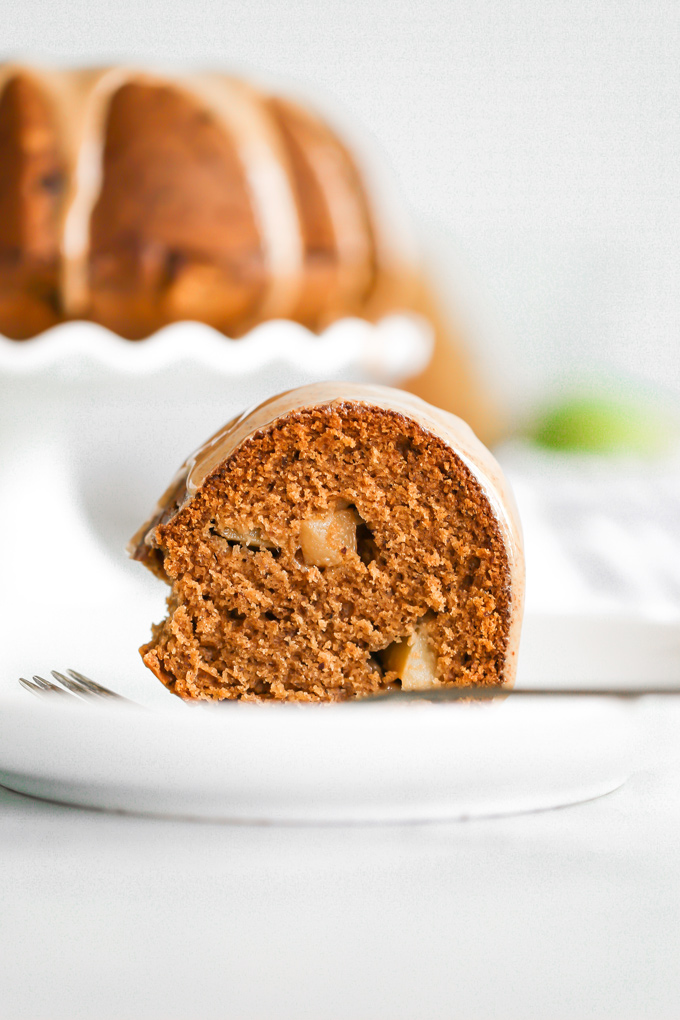 Funny Story
When I was younger I worked in a bakery. Yes to all your questions. I ate all the things and it was one of my fave jobs growing up. You do get sick of all the cookies, cakes and pastries but you NEVER give them up. When I worked at this bakery the baker use to sell some cakes by the slices and some he didn't. Anyway, there was this one cake called Apple Pudding Cake and I wanted it so badly one day but he didn't sell it by the slice. I didn't want the whole cake and I didn't want to pay for it either because I was like 15. Clearly not thinking, lol.
What I did next was quite beastly, haha. I waited until it was super quiet, I took a whole apple pudding cake to the bake and I presumed to shove my face into it like a wild boar and threw the rest in the garbage. I know I know, not my best idea or doing but it happened and I needed to share it with you so you now know where this cake inspo comes from.
You know what though, I had no regrets then and I'm not going to start now. That cake was delicious and the only thing I'm mad at myself for was not eating the whole thing or not wrapping it up and taking it home with me for later. What was I thinking right!? haha.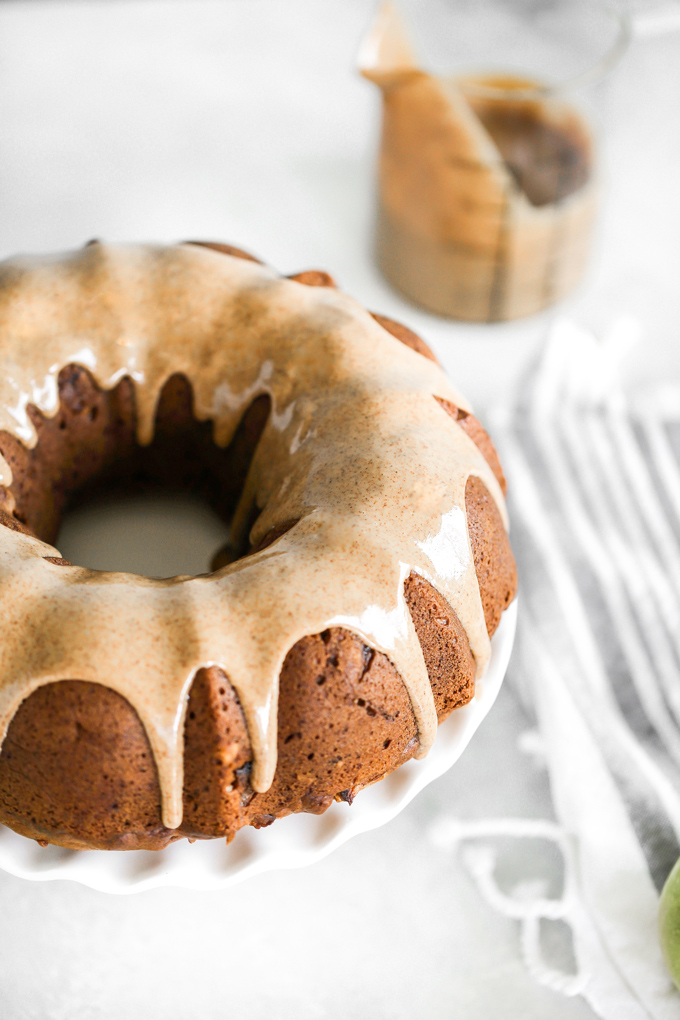 About This Cake
With that being said, I don't like dry cakes. You know the ones where you feel like you will choke if you don't drink almond milk or water asap? Yea, those are not for me and I'm guessing I'm not alone in that. When I made this and tested out all the ingredients, I was so happy that even with the hour it needs to bake it doesn't come out super dry. Seriously apples in every bite and moist throughout.
The drizzle on top is optional. My preference though was to eat it without the glaze actually and I surprised myself with that because I'm one for glazes, frostings and such. I mean, I like both ways but I personally like it plain  better so you can see which one you go for.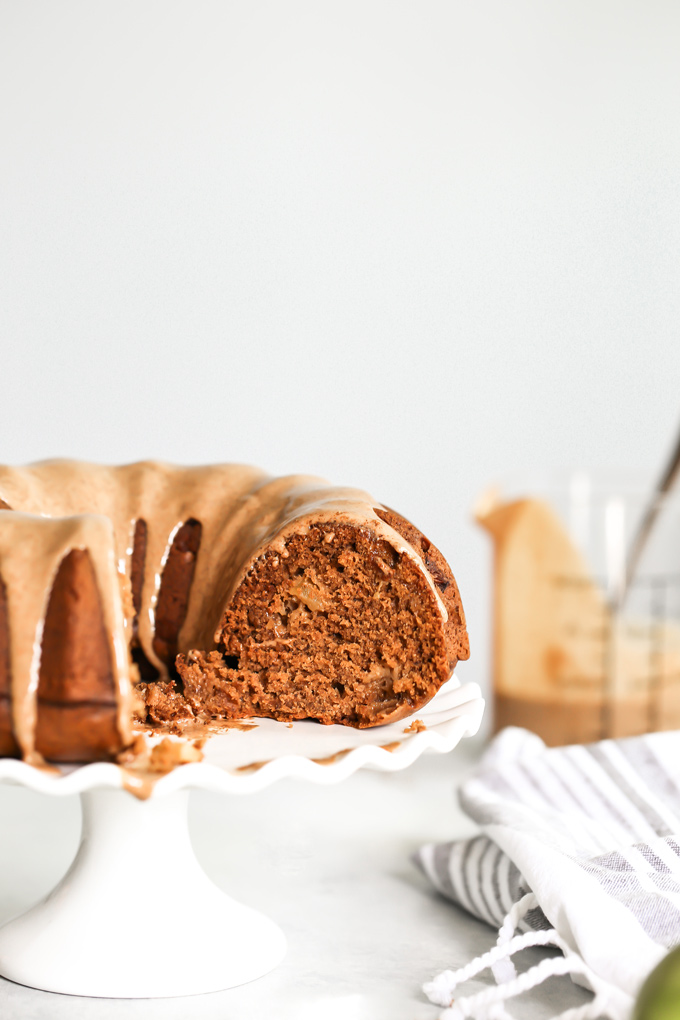 The Glaze
Apples and almond butter go hand in hand. When I eat apple slices as a snack I always dip them in almond butter. I love this combo and how it tastes so I thought why not add it in this so we can all enjoy the best of both worlds.
Made with almond butter, dates, coconut milk and maple syrup; so super easy, so super yum, you're going to love it. You can actually use this as a dipping sauce for fruit too. I always have left over after so I save it for my fruit which is totally bomb by the way and I can't wait for you to have this now too because then we can all be like OMG OMG OMG, totally bomb. LOL.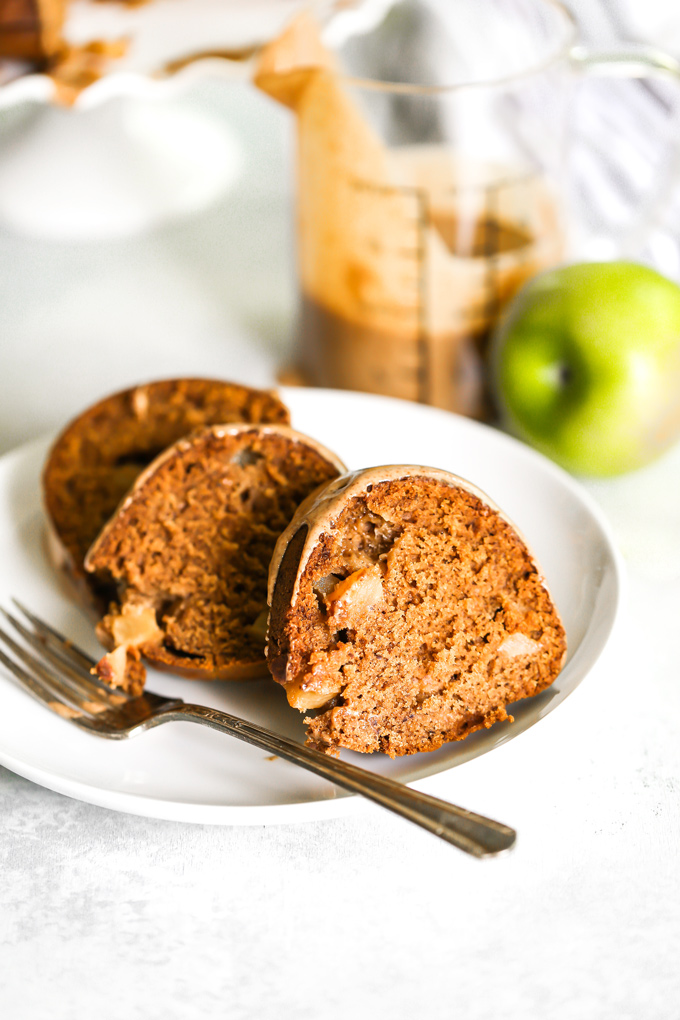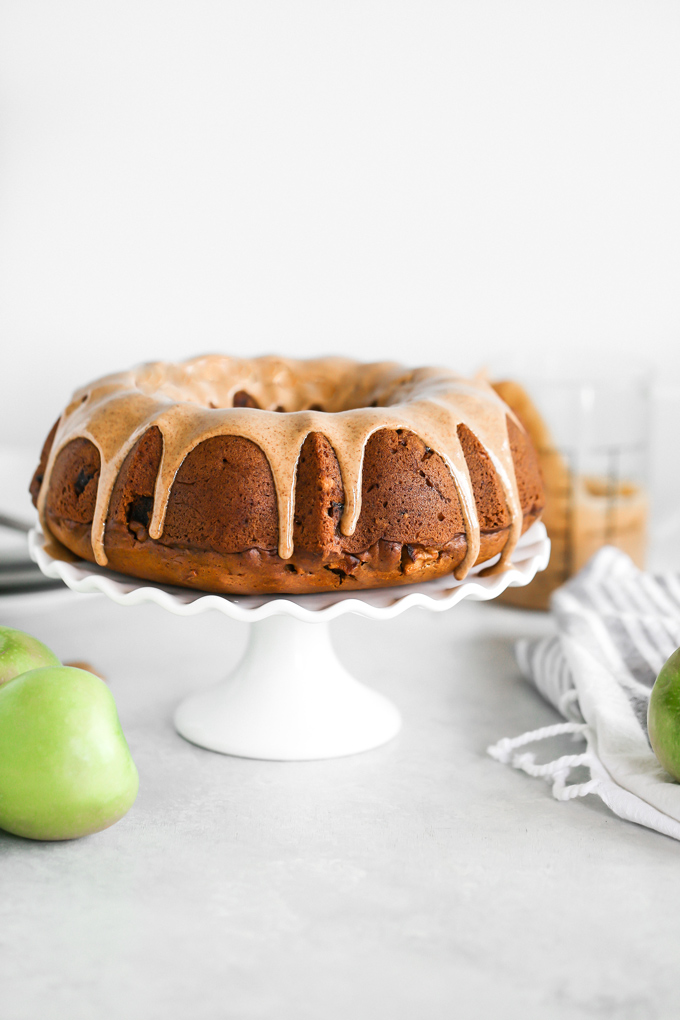 This is an around the way cake. Good for all the seasons and one of our fave desserts here in mi casa. Super moist giving it that yum pudding like taste and topped with an almond butter date drizzle that you're just going to swoon over.
Almond Butter Apple Pudding Bundt Cake (Vegan)
Ingredients
3 green apples , peeled and diced
1 tbsp lemon juice
2 tsp vanilla extract, divided
3 flax eggs, 3tbsp of water to 9 tbsp of ground flaxseeds
1 cup plus 3 tbsp of coconut sugar, divided
1 cup maple syrup
1 cup avocado oil
1/2 cup unsweetented almond milk
3 cups all purpose flour
1 tsp baking soda
2 tsp cinnamon
1/2 tsp nutmeg
pinch of salt
Almond Butter Date Glaze
8 pitted medjool dates, soaked in hot water for 15 minutes.
1/4 cup almond butter
1/4 cup full fat coconut milk, (just the cream not the water)
1/3 cup maple syrup
1 tsp vanilla
pinch of salt
Instructions
Preheat oven 350F and spray 9 or 10" bundt pan with non stick cooking spray or coconut oil spray.

Peel and dice the apples. Put them into a medium bowl and mix in a tbsp of lemon juice, 3 tbsp of coconut sugar, and 1 tsp of vanilla extract. Mix until all apples are coated and set aside.

Make your flax eggs by combining the water and ground flaxseeds. Stir and place in the fridge until ready to use.

In a large bowl whisk all dry ingredients: flour, baking soda, cinnamon, nutmeg, and salt.

In a seperate large bowl, using a hand mixer, mix the 1 cup of coconut sugar, maple syrup, avocado oil, vanilla extract, almond milk, and flax egg.

Stir the dry ingredients into the wet until just combined.

Drain any excess liquid from the apples and fold them into the cake batter.

Pour the batter evenly into the bundt pan and bake for 1 hour. You can start to check the cake at 50 minutes as oven times vary. Insert a toothpick to check. You can go up to an hour and 15 but mine was perfect at the hour mark.

For the glaze drain the water from the dates then add them and the rest of the ingredients to a blender and run until super smooth. If it's too runny, place it in the fridge and it will firm up a bit. Make double the batch for extra!

Let cake cool for 15 minutes before pouring the glaze. Serve right away or store in the fridge for up to 4 days. Enjoy!
~Pin This Recipe~

If you loved this recipe be sure to give these a go too!
Vegan Sweet Potato Breakfast Bowl